The Fastest Internet Providers in 2022
We analyzed data from millions of speed tests to find the fastest and fastest-growing internet providers
Aug 1, 2022 | Share

Brand Guides, Featured, Internet Speed Guides
Fastest overall

Fastest fiber-optic speeds in the United States
Very limited availability
Integrated speed score: 185.2
Max advertised speeds: 2,000 Mbps
Prices: $70.00–$100.00mo.

Best availability

Widely available fast speeds
High price for the fastest plan
Integrated speed score: 159.6
Max advertised speeds: 3,000 Mbps
Prices: $19.99–$299.95/mo.

Lowest latency

Largest fiber network in the country
Expensive gigabit plan
Integrated speed score: 155.4
Max advertised speeds: Up to 2,048 Mbps
Prices: $49.99–$119.99/mo.
*Data effective 6/17/2022. Data taken from internet user results conducted on HighSpeedInternet.com's speed test between June 1, 2020, to June 1, 2022. Not all speeds and packages available in all areas and are subject to change.
Data shows that American internet speeds are getting faster—a lot faster. But what are the fastest internet providers around?
According to our analysis of millions of results on our internet speed test, Google Fiber is the fastest internet provider in the United States. Its average upload and download speeds dominate over other, much larger internet service providers (ISPs)—often by a wide margin. But it's not the only fast ISP in the US. Xfinity, Verizon, and MetroNet also rank in the top five for fastest speeds.
The question of which internet providers give customers the fastest speeds has never been more timely, as more Americans need a fast connection to get by and more ISPs compete to one-up each other on the fastest internet plans possible. There are multiple ways of looking at internet speed, and in this report, we dive deeper into the question of which ISPs are the fastest and why.
To get answers, we've analyzed four years' worth of speed test data from HighSpeedInternet.com's speed test tool. Millions of netizens take our speed test each year, and the results give us a comprehensive view of how internet speeds have been shaped by industry developments, technological advancements, and the global COVID-19 pandemic. Below, you'll find our rankings for the fastest internet providers in the United States, along with an analysis of how major ISPs' speeds have improved almost universally since 2018.
Google Fiber is the fastest internet provider, followed by Xfinity and Verizon

| Rank | Provider | Integrated Speed Score (ISS) | Max advertised speed | View plans |
| --- | --- | --- | --- | --- |
| #1 | Google Fiber | 170.0 | 2,000 Mbps | |
| #2 | Verizon Fios | 156.0 | 2,048 Mbps | |
| #3 | MetroNet | 147.7 | 1,000 Mbps | View Plans |
| #4 | Xfinity | 139.9 | Up to 3,000 Mbps | View Plans |
| #5 | Astound Broadband | 133.3 | 940 Mbps | View Plans |
*Data effective 6/17/2022. Data taken from internet user results conducted on HighSpeedInternet.com's speed test between June 1, 2021, to June 1, 2022. Not all speeds and packages available in all areas and are subject to change. The weighted speed score is not an actual internet speed.
Google Fiber is the fastest internet provider in the United States, delivering the fastest average speeds to its customers on the most consistent basis. With maximum advertised speeds up to 2,000 Mbps and 12-month average download speeds of 167.1 Mbps, the fiber provider earns an integrated speed score (ISS) of 185.2.
The ISS is HighSpeedInternet.com's method for ranking internet speed performance. It's based on a combination of 90% of a provider's average download speed with 10% of the same provider's average upload speed. We came up with the score based on analyzing data from 2.6 million speed tests conducted with our internet speed test tool from June 1, 2021, to June 1, 2022.
Though it's available in only 19 cities, Google's flagship fiber-optic service has been the fastest internet provider since 2018, handily beating out all competitors every year.
But other providers have also shown impressive scores. Xfinity is the second-fastest internet provider, with max advertised speeds up to 3,000 Mbps and an ISS of 159.6. Verizon, MetroNet, and AT&T all come in close behind with scores ranging from 145.7 to 155.4.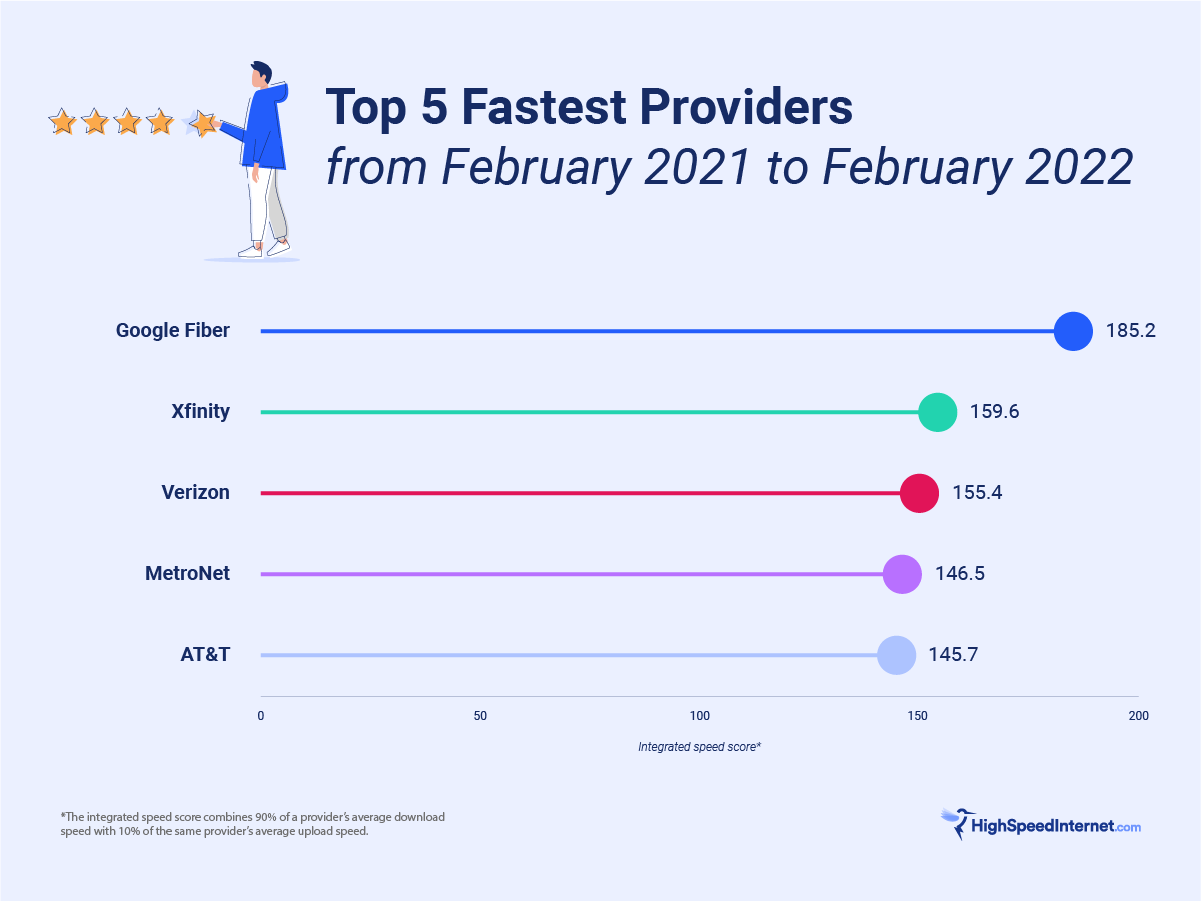 How internet speeds have changed from 2018 to 2021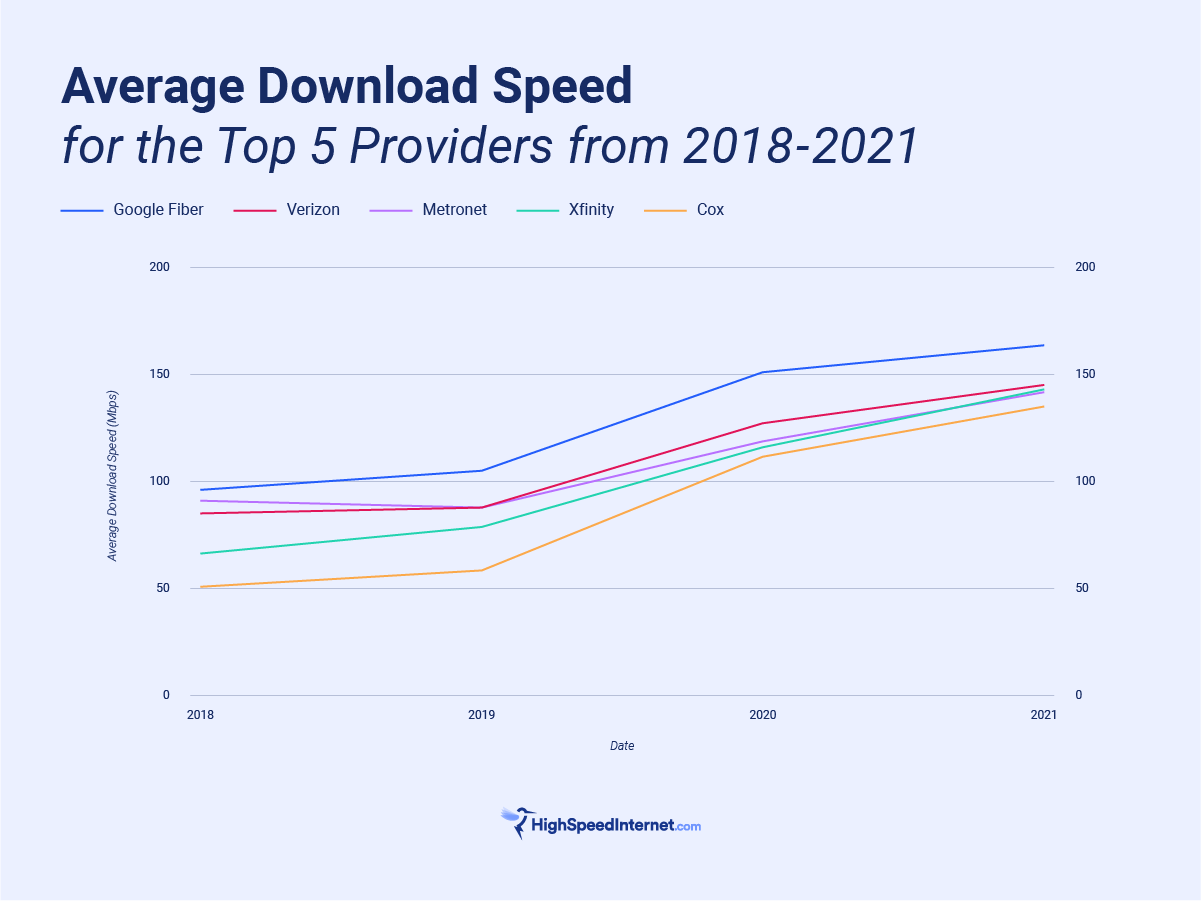 Between 2018 and 2021, the major internet providers in the US saw speeds trending upwards year over year. We tracked the progress of 16 internet providers during this time period, and all saw big improvements in average speed performance.
Fiber internet providers in particular have made major gains over the past five years. In 2018, Google Fiber was one of only two internet providers with average download speeds faster than 90 Mbps. By 2021, Google Fiber's average download speeds were vaulting up to 164 Mbps, well above the national average.
Fiber service expanded while DSL languished
Some providers made particularly notable gains as they pivoted away from DSL service to focus more on fiber internet.
DSL is widely available but has relatively slow speeds, topping out at 100 Mbps, and the number of DSL subscribers has declined in recent years. Fiber availability is far more limited nationwide. But internet companies are bulking up their fiber networks because it's much more powerful—fiber speeds often top out at 1,000 Mbps but sometimes reach even faster, multigigabit speeds.
Verizon has downplayed its DSL offerings in recent years while laying thousands of miles of fiber-optic cabling in new markets, partly to support its Fios internet packages but also to expand its 5G wireless footprint.13 Meanwhile, there was a massive increase in average download speeds on Verizon Fios plans—from 85 Mbps in 2018 to 145 Mbps in 2019.
AT&T also pulled back interest in DSL. The company briefly discontinued its DSL service in October 2020, and in March 2022, an executive announced plans to decommission half its DSL network by 2025 to make way for fiber and 5G.5 AT&T has added upwards of a million new fiber internet subscribers each year since 2018.6 Meanwhile, its average download speeds increased nearly 200%, from 40 Mbps in 2018 to 117 Mbps in 2021. (See more details on AT&T's speeds in the section below).
How are internet users upgrading their speeds?
While fiber internet providers typically double as DSL providers, it's not likely that large numbers of DSL customers are simply switching over to a fiber internet connection. Fiber internet is the least common internet connection type in the United States, and experts believe that ex-DSL customers more commonly flock to cable internet—a trend that's been ongoing for at least the last decade.16
As for new fiber customers, many of them previously had cable internet and eventually made the switch thanks to perks like faster speeds and straightforward pricing.18
Cable is slower than fiber, but catching up
Cable internet has also gotten way faster. Xfinity's average download speeds more than doubled from 2018 to 2021, from 66 Mbps to 143 Mbps. Cox took a big leap too, from 51 Mbps (2018) to 135 Mbps (2021).
Cable doesn't quite match fiber in terms of bandwidth. Gigabit plans aren't as widely available on cable connections as they are on fiber, and cable gigabit plans generally cost more. Cable also lags behind fiber when it comes to upload speeds. On a cable connection, uploads are often only 10% of the download speed, whereas fiber is the only type of connection that offers symmetrical upload and download speeds.
But coaxial cable connections are far more widely available than fiber nationwide, and cable internet providers have made technological leaps over the past several years to streamline performance. Beginning in 2013, the introduction of DOCSIS 3.1—a technology standard that allows for the high-speed transfer of internet data over coaxial cable TV infrastructure—paved the way for gigabit download speeds over cable connections. More recently, the pandemic compelled major cable providers like Xfinity and Cox to offer faster speed options to meet customers' rising demands.
Satellite internet has actually gotten slower for most users
Of all the providers we looked at, only two were flat or slowed down over the past four years—HughesNet and Viasat. Both of them are satellite internet providers, suggesting that internet speeds in rural areas lag behind national upward trends. The stagnation of DSL services also hasn't helped rural customers, although new services like 4G LTE internet and Starlink may eventually improve speeds in the most remote parts of the country.
Pro tip:
Want to learn more about how internet speed works and what kinds of speeds you can get? Take a look at our internet speed guide for the full rundown.
Which internet providers improved their speeds the most between 2018 and 2021?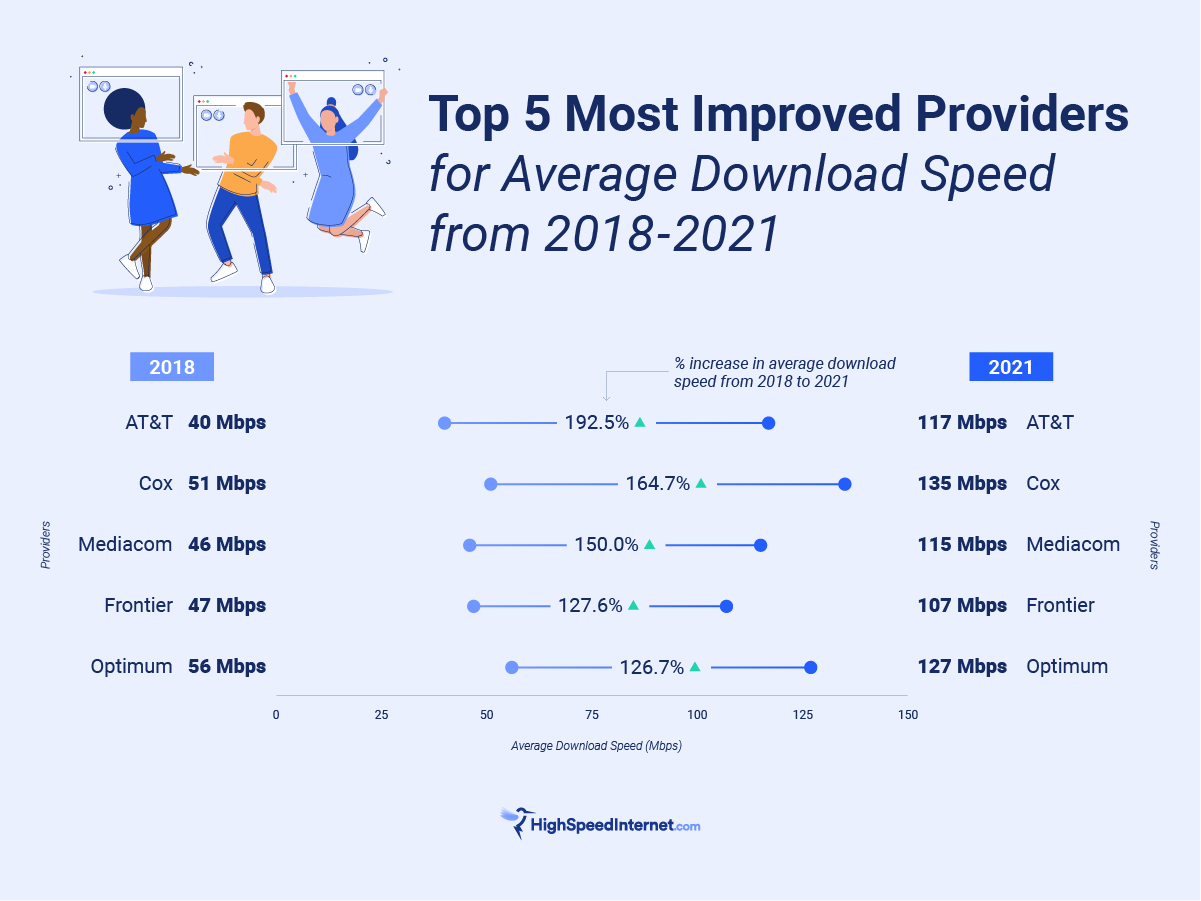 Although AT&T isn't the fastest internet provider in the country, it delivered the biggest improvements in speed between 2018 and 2021, according to our data.
Cox, Mediacom, Frontier, and Optimum also showed major gains during this period.
How did AT&T make such a big improvement?
AT&T's internet speeds improved so radically because of the company's focus on and investment in its fiber service in recent years. As the company laid more fiber-optic cabling across 21 states, it made fiber service more affordable with a variety of pricing tiers. It also vastly boosted advertised speeds to record levels. (The fastest plan you can currently get on AT&T is 5,000 Mbps.)
Before the pandemic, it was typical for fiber internet providers to offer a single internet plan with 1,000 Mbps speeds. Those speeds are top notch, but they also often come at a premium price—anywhere from $65 to more than $100 per month.
But in October 2020, AT&T rolled out three new fiber plan options, including a 100 Mbps plan that costs the bargain-basement price of just $35 per month.2 Seven months later, the company sweetened the deal even further by upping speeds on the $35 per month plan to 300 Mbps.3 That's not gigabit fast, of course, but 300 Mbps is still a great speed for most households.
Interestingly, AT&T now seems to be shifting its fiber strategy away from discount plans in favor of luring in new customers with the fastest fiber plans on the market. In 2022, AT&T raised the initial, 12-month prices on its lower-tier fiber plans to $55 per month and introduced a series of new, pricier multigigabit plans.
On paper, AT&T's plans look faster today than ever before—the provider's max advertised speed is an eye-popping 5,000 Mbps. While a handful of smaller regional providers also offer 5–10 Gbps plans, AT&T's 5,000 Mbps package is the fastest residential internet plan currently offered by a widely available, national ISP.
It remains to be seen whether customers are more interested in 300–500 Mbps speeds at a lower price or a 1–5 Gbps plan at a higher price. Only 12% of North American internet users have gigabit speeds at home, while the majority settle for slower speeds. But the number of gigabit customers is steadily growing each year.4
The first pandemic year saw the biggest spike in internet speed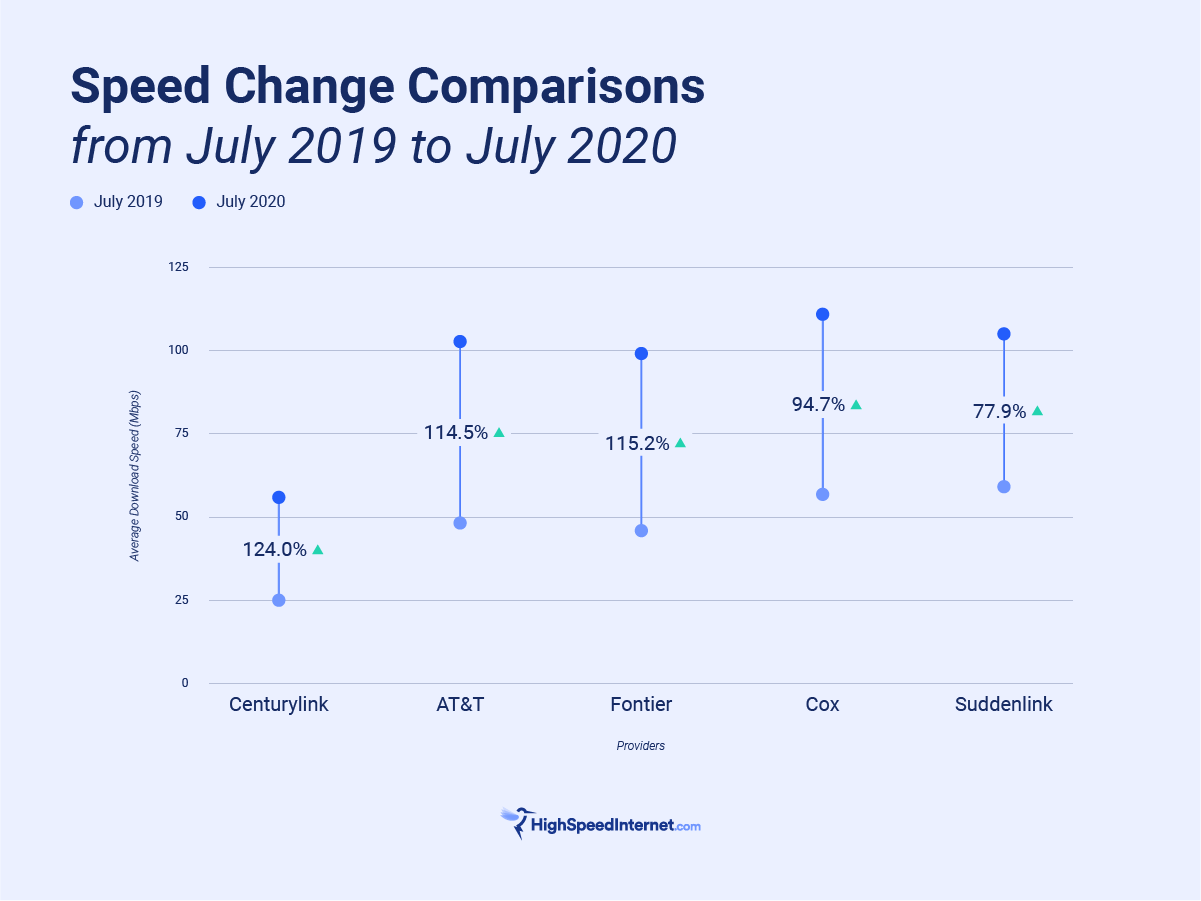 Not surprisingly, the biggest spike in internet speed among major providers happened during the first year of the pandemic.
Between July 2019—eight months before the global COVID-19 pandemic was declared by the World Health Organization—and July 2020, download speeds went up an average of 62.5% among the 16 internet providers we looked at, with improvements ranging anywhere from 29% to 124%. By comparison, download speeds went up an average of 15% from 2018 to 2019, and 14.6% from July 2020 to July 2021.
The spike in speeds reflects increased demand for internet bandwidth after lockdown and shelter-in-place orders sent Americans indoors. Suddenly, millions of Americans were forced to rely solely on the internet for everything from remote work to virtual doctor's appointments, and many found they needed faster speeds to support the extra screen time. According to one report, downloads for education-related apps went up by 1,087% between March 6 and March 12, 2020, while data usage for online gaming spiked 75% during the week of March 19, 2020.14
CenturyLink showed the biggest jump. Its average download speed was just 25 Mbps in July 2019 and then leaped to 56 Mbps in July 2020. Frontier and AT&T also more than doubled average download speeds during this time period: Frontier's speeds went from 46 Mbps to 99 Mbps, while AT&T went from an average download speed of 48 Mbps to 103 Mbps.
Despite all the gains, speeds lag for rural customers
| Provider | Avg. download speed, 2018 | Avg. download speed, 2019 | Avg. download speed, 2020 | Avg. download speed, 2021 | View plans |
| --- | --- | --- | --- | --- | --- |
| HughesNet | 11 Mbps | 11 Mbps | 8 Mbps | 8 Mbps | |
| Viasat | 15 Mbps | 16 Mbps | 13 Mbps | 14 Mbps | |
| Starlink | N/A | N/A | 52 Mbps | 55 Mbps | More Info |
The only providers that didn't show marked improvements in our data were HughesNet and Viasat. Viasat's download speeds dipped slightly from 2018 to 2021; it had an average of 15 Mbps in 2018 and 14 Mbps in 2021. HughesNet's average download speeds went down even further during that period, from 11 Mbps to 8 Mbps.
HughesNet and Viasat are both satellite providers, mostly serving customers in rural areas. They're the most widely available options for rural internet users who don't have access to faster internet types—satellite availability is pretty much available anywhere in the US.
But satellite internet has limited bandwidth capacity to up its speeds, since technical limitations mean it can support only so many people at a time. Each satellite provider has a limited number of satellites, and expanding satellite infrastructure for more bandwidth requires a ton more investment and bureaucracy than there is for the average cable or fiber provider.
It appears that the rising customer needs of the pandemic may have put extra strain on the providers' systems. As the table shows below, both providers experienced particularly stark decreases in speed between July 2019 and July 2020. (Starlink isn't included because there wasn't enough customer data available for the beta-testing service.)
Satellite speeds have likely taken a hit due to the sudden increased needs of individual internet users, schools, and other institutions in the wake of the pandemic. Internet access was already limited in small towns, rural areas, and Indian reservations before COVID-19. In 2020, demand surged as rural users turned to the internet for work, school, healthcare, and more. Schools in rural towns and Indian reservations also increasingly relied on internet connections for teaching and administrative purposes.17
Satellite internet speed changes, July 2019–July 2020
| Provider | Avg. download speed, July 2019 | Avg. download speed, July 2020 | % decrease | View plans |
| --- | --- | --- | --- | --- |
| HughesNet | 11 Mbps | 7 Mbps | 36.3% | |
| Viasat | 14 Mbps | 11 Mbps | 21.4% | |
When will rural internet users get faster speeds?
Rural internet customers will get faster speeds when LEO satellite providers like Starlink and 4G LTE internet—a novel, cellular-based technology geared towards rural customers—gain wider availability.
In 2020, Starlink—Elon Musk's much-hyped satellite internet service—delivered average download speeds of 52 Mbps, according to our speed test data. Average download speeds were even faster in 2021, clocking in at 55 Mbps. These speeds represent a huge leap compared to the sub–20 Mbps speeds of the other two satellite providers. Now, it's just a matter of waiting as Starlink expands US availability in 2022 and getting service to customers on its lengthy wait list.
Some rural internet users can sign up for 4G LTE internet from cellular carriers like Verizon and T-Mobile. Speeds for 4G internet range from 25 to 100 Mbps. Again, 4G LTE is not as ubiquitous as service from HughesNet or Viasat, since it's still relatively new. But this does suggest that faster speeds may be attainable soon for rural web surfers.
Fastest regional internet providers in the US
| Rank | Provider | Integrated speed score (ISS) | Max advertised speed | Service area | Get connected |
| --- | --- | --- | --- | --- | --- |
| #1 | Ting Fiber | 218.2 | 1,000 Mbps | 15 markets in Arizona, California, Colorado, Idaho, Maryland, North Carolina, and Virginia | View Plans |
| #2 | Allo Communications LLC | 210.0 | 1,000 Mbps | Parts of Nebraska, Colorado, and Arizona | View Plans |
| #3 | Tachus Fiber Internet | 183.2 | 1,000 Mbps | Parts of Houston, TX, and surrounding suburbs | View Plans |
| #4 | Cumberland Connect | 181.2 | 1,000 Mbps | Parts of Northern Tennessee | View Plans |
| #5 | Sonic.net | 179.6 | 10,000 Mbps | Sacramento, San Francisco Bay Area, and Los Angeles | View Plans |
While major providers like Verizon Fios and Xfinity bubbled to the top of the list of fastest nationwide providers, several regional providers—which serve customers in five states or less—also stood out for their fast speeds.
The fastest regional provider over the past 12 months is Ting Fiber. Ting is an up-and-coming internet provider that offers fiber-optic internet service in 15 markets across the United States, with operations in Arizona, California, Colorado, Idaho, Maryland, North Carolina, and Virginia.
Allo Communications, which serves small parts of Nebraska, Colorado, and Arizona, came in with the second-fastest integrated speed score (ISS). The other three providers also have service in relatively contained service areas, usually clustered around suburban areas and cities.
All five of these regional providers offer fiber-optic connections, giving them an edge on much bigger cable and DSL competitors thanks to fiber's incredibly fast download and upload capabilities. It just goes to show that local and regional internet providers are often worth signing up with. Though a small provider can be easily overlooked when you have bigger names to choose from, a local company can sometimes get you faster speeds and more personalized customer service as well.
Is speed all that matters? Here's what internet users think
Although EarthLink doesn't have the fastest internet speed test results, it does have the happiest customers when it comes to internet speed. That's according to our most recent customer satisfaction survey, an annual report in which we ask thousands of internet customers to rate their experiences with the biggest US internet service providers.
Our survey findings make it clear that the fastest internet speed isn't always everything. An internet provider can make a customer happy not just by delivering fast speeds, but by simply delivering on the speeds the provider promised.
In our survey, EarthLink swooped to the lead in the internet speed category with a score of 4.1 out of 5. Verizon comes in second place with 3.9 out of 5, followed by a batch of several providers all tied for third with a score of 3.8: Cox, AT&T, Optimum (formerly Suddenlink), Mediacom, Astound Broadband, and Sparklight.
EarthLink offers both fiber and DSL service. DSL internet tops out at around only 100 Mbps, so a DSL provider wouldn't rise to the top in our speed test results for fastest providers. But it's definitely possible that EarthLink could still have robust DSL service along with speedy fiber service.
Methodology: How HighSpeedInternet.com ranked the fastest internet providers in the US
We measure providers' internet speeds using our own internet speed test. Millions of internet users take our test each year, and we recalculate the results every three months to generate an integrated speed score (ISS) for the top-performing internet providers.
We calculate the ISS by adding 90% of a provider's average download speed to 10% of the provider's average upload speed, a blend that reflects the relative importance of these different speeds to a user's needs.
Most internet providers advertise only download speed as the standard-bearer for internet speed as a whole. We factor in upload speeds as well because they're important to consider as internet users increasingly depend on upload bandwidth for Zoom, livestreams, and social media.
For this edition of our report, we also pulled data from 16 major internet service providers going back to 2018 in order to analyze internet speed trends over time. We looked at average annual download speeds for each provider in 2018, 2019, 2020, 2021, and the first months of 2022. And we studied average monthly download speeds for each provider from July 2019 through to February 2022.
Fastest internet providers—the raw data
The tables below offer a sampling of some of the raw data we used to calculate the fastest internet providers. There are a lot of ways to look at the fastest internet providers—and we chose these data points to show an accurate picture of how speed works, rather than simply relying on advertised numbers from providers.
Fastest average download speeds, June 1, 2021–June 1, 2022
| Provider | Avg. download speed, June '21–June '22* | Connection type | Get connected |
| --- | --- | --- | --- |
| Google Fiber | 167.1 Mbps | Fiber | |
| Verizon Fios | 158.6 Mbps | Fiber | |
| Xfinity | 155.7 Mbps | Cable | View Plans |
| MetroNet | 147.3 Mbps | Fiber | View Plans |
| AT&T | 128.1 Mbps | Fiber | |
*Data effective 6/17/22. Data taken from internet user results conducted on HighSpeedInternet.com's speed test between June 1, 2021, to June 1, 2022. Not all speeds and packages available in all areas and are subject to change.
We used these average download speeds to help generate the integrated speed scores for the above sections on the fastest internet providers of the past 12 months and the fastest regional internet providers. Some of the providers ended up ranking higher because we also factored in average upload speeds to generate our Integrated Speed Score.
Fastest average download speeds, 2018–2021
| Provider | Avg. download speed, 2018 | Avg. download speed, 2019 | Avg. download speed, 2020 | Avg. download speed, 2021 | View plans |
| --- | --- | --- | --- | --- | --- |
| Astound Broadband | 73 Mbps | 81 Mbps | 120 Mbps | 133 Mbps | View Plans |
| AT&T | 40 Mbps | 57 Mbps | 96 Mbps | 117 Mbps | |
| CenturyLink | 33 Mbps | 38 Mbps | 55 Mbps | 63 Mbps | View Plans |
| Cox | 51 Mbps | 58 Mbps | 112 Mbps | 135 Mbps | View Plans |
| Frontier | 47 Mbps | 59 Mbps | 94 Mbps | 107 Mbps | View Plans |
| Google Fiber | 96 Mbps | 105 Mbps | 151 Mbps | 164 Mbps | |
| HughesNet | 11 Mbps | 11 Mbps | 8 Mbps | 8 Mbps | |
| Mediacom | 46 Mbps | 53 Mbps | 87 Mbps | 115 Mbps | View Plans |
| MetroNet | 91 Mbps | 88 Mbps | 119 Mbps | 142 Mbps | View Plans |
| Optimum | 56 Mbps | 64 Mbps | 100 Mbps | 127 Mbps | View Plans |
| Spectrum | 52 Mbps | 59 Mbps | 93 Mbps | 110 Mbps | View Plans |
| Starlink | N/A* | N/A* | 52 Mbps | 55 Mbps | View Plans |
| Verizon | 85 Mbps | 88 Mbps | 127 Mbps | 145 Mbps | |
| Viasat | 15 Mbps | 16 Mbps | 13 Mbps | 14 Mbps | |
| Xfinity | 66 Mbps | 79 Mbps | 116 Mbps | 143 Mbps | View Plans |
A timeline of multigigabit speeds, 2015–2022
| Date | Internet speed change |
| --- | --- |
| April 2015 | Xfinity announces Gigabit Pro plan with 2,000 Mbps speeds.7 |
| October 2015 | Chattanooga, TN boosts its citywide fiber network to 10,000 Mbps speeds.19 |
| September 2020 | Google Fiber launches trial run of its 2,000 Mbps plan in parts of Tennessee and Alabama.8 |
| November 2021 | Xfinity raises Gigabit Pro speeds from 2,000 Mbps to 3,000 Mbps.9 |
| January 2022 | AT&T and Ziply announce new multigigabit plans, each offering tiers of 2,000 Mbps and 5,000 Mbps.10, 11 |
| February 2022 | Frontier introduces 2,000 Mbps service. |
| May 2022 | Optimum introduces 2,000 Mbps and 5,000 Mbps fiber service in the New York tri-state area.20 |
As we explain in our section on the recent race among ISPs to increase internet speeds, Xfinity was the first major internet provider to offer a residential internet plan with multigigabit speeds—it introduced the 2,000 Mbps Gigabit Pro plan way back in 2015. But the biggest run towards higher speeds has happened over the past two years.
Google Fiber announced a trial run for its 2,000 Mbps speed tier in September 2020. Xfinity upped its Gigabit Pro plan to 3,000 Mbps in November 2021. AT&T, Frontier, and Ziply all unveiled multigigabit plans in January and February 2022.
Why are an internet provider's measured speeds often slower than advertised speeds?
As you look at the numbers, you may be startled to see the huge differences between the average tested speeds that most people get and the max speeds these internet providers are capable of delivering.
For example, Google Fiber advertises internet plans with gigabit speeds of either 1,000 Mbps or 2,000 Mbps, and our speed test results show that some customers get very close to that mythical 2 Gbps peak.
However, the majority of Google Fiber's customers clearly get far slower speeds, considering that the average speeds are less than a tenth of the top speed. It's likely many customers are on older plans, since Google Fiber used to offer 100 Mbps plans until 2019 and at one point it had 25 Mbps plans available in certain areas.
This is the case for many internet providers, and there are a few reasons why.
Why measured speeds are slower than advertised speeds
Customers can be on older, slower plans that are no longer advertised by their provider.
The fastest internet plans aren't always widely available or widely purchased.
Some internet plans are too fast or too expensive for the average user.
Internet speeds can slow down over Wi-Fi due to wireless signal interference.
Routers and other equipment can slow home network speeds.
Some providers don't actually deliver on the promise of advertised speeds.
In short, just because a provider's average speed is slower than the internet speeds you want doesn't mean that's the speed you'll get. You can opt for faster speeds from any of these providers, so long as they offer internet in your service area.
Author - Peter Holslin
Peter Holslin has more than a decade of experience working as a writer and freelance journalist. He graduated with a BA in liberal arts and journalism from New York City's The New School University in 2008 and went on to contribute to publications like Rolling Stone, VICE, BuzzFeed, and countless others. At HighSpeedInternet.com, he focuses on covering 5G, nerding out about frequency bands and virtual RAN, and producing reviews on emerging services like 5G home internet. He also writes about internet providers and packages, hotspots, VPNs, and Wi-Fi troubleshooting.
Editor - Rebecca Lee Armstrong
Rebecca Lee Armstrong has more than six years of experience writing about tech and the internet, with a specialty in hands-on testing. She started writing tech product and service reviews while finishing her BFA in creative writing at the University of Evansville and has found her niche writing about home networking, routers, and internet access at HighSpeedInternet.com. Her work has also been featured on Top Ten Reviews, MacSources, Windows Central, Android Central, Best Company, TechnoFAQ, and iMore.