Frontier's Bankruptcy: What Does it Mean for Customers?
May 18, 2020 | Share

Brand Guides
On April 14, 2020, Frontier Communications filed for bankruptcy. This has made a lot of Frontier's customers a bit nervous. Many are wondering what will happen to their Frontier internet, TV, or phone service. The specifics are a bit complicated, so we're here to walk through what the likely outcomes will be for Frontier customers.
Here's the bottom line: If you're a Frontier customer, you're probably fine. Your internet service isn't going to be shut off because of the bankruptcy. For most Frontier customers, there won't even be any interruptions of service. But if Frontier owes you a lot of money, this might not be the best news for you.
What is bankruptcy?
If you've ever played Monopoly or watched Wheel of Fortune, bankruptcy might seem like the end of the line for a business. Fortunately, this isn't usually the case. Bankruptcy occurs when a company can no longer pay its debts. There are several kinds of bankruptcy (the kind where an entire business is liquidated is Chapter 7), but the kind that Frontier filed for is known as Chapter 11 bankruptcy.
Chapter 11 is probably the most complicated form of bankruptcy, which involves the courts restructuring the company's debts and obligations so that those who are owed money can be paid back. Companies who file for bankruptcy can usually stay open and keep running. In fact, continuing normal operations is often a central part of the court's plan for getting the company to pay back its debtors, which is also good news for customers.
Although Bankruptcy can be the end of the road and often means selling off assets, companies can bounce back and even emerge stronger than they were before. Some examples of successful companies that once went bankrupt include GM, Chrysler, and Marvel Entertainment (before they started making movies). American Airlines, Delta, and United have also all filed for bankruptcy at one point in time.
How did Frontier go bankrupt?
The short answer of why Frontier went bankrupt is that they had a lot of outstanding debts and a payment was coming up that the company was unable to pay. This wasn't a surprise—it had been a long time coming. At the root of this problem was the issue that Frontier had failed to invest enough in fiber infrastructure.
Much of Frontier's fiber network was originally built by Verizon, which sold this infrastructure to Frontier in 2016. Unfortunately, this was too little too late, and the debt from such purchases, along with customer service problems and the general decline of landline services like DSL led to billions of dollars worth of debt that hadn't paid off the way the company had hoped.
What happens to Frontier customers?
While the bankruptcy does create some uncertainty, there is good reason for customers to be optimistic. Frontier had already worked out a deal with most of its creditors before filing for bankruptcy, so while Chapter 11 can lead to lengthy legal battles, this seems unlikely in this case.
Furthermore, Frontier's new CEO announced that with this new deal, ". . . we can now focus on executing our strategy to drive operational efficiencies and position our business for long-term growth." In other words, Frontier is not only planning on continuing to operate but also focusing on growing and improving. It certainly has plenty of room for improvement. Hopefully this will mean good news for Frontier customers moving forward.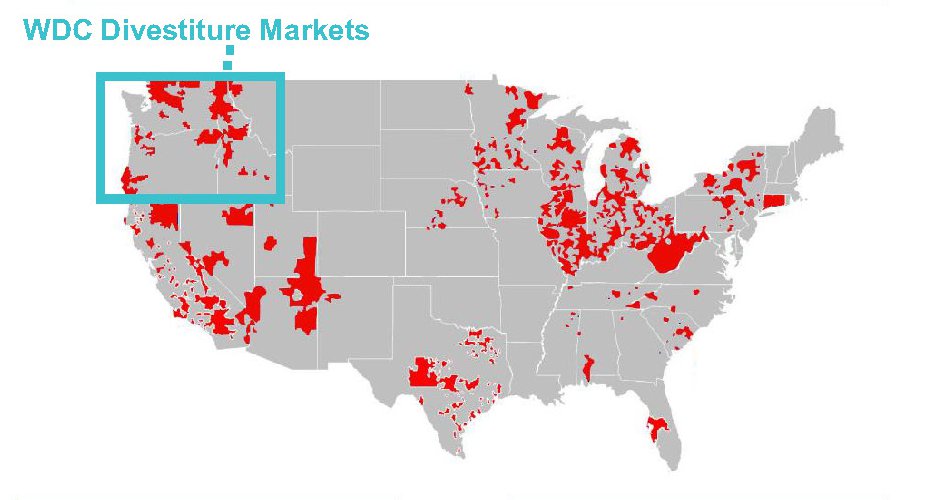 The biggest impact of the bankruptcy will be felt by Frontier customers in the Northwest, where Frontier is selling their operations in Washington, Oregon, Idaho, and Montana to WaveDivision Capital. Both Frontier and WaveDivision have said that there won't be any disruptions for existing Frontier customers, although Frontier has promised the same thing in past transfers, which have not gone as smoothly as planned.
Is Frontier offering service to new customers?
Yes, you can still Link not provided if you are not currently a customer, as long as you live in an area that Frontier currently serves. The whole point of Chapter 11 bankruptcy is to reorganize debts so that companies once again have cash to help them expand and invest in things like new infrastructure, so if you're outside Frontier's service area, they might expand their coverage in the future, but I certainly wouldn't hold my breath.
If you live in one of the areas that Frontier sold to WaveDivision Capital, Frontier will no longer be covering your area, but a new provider will be making use of their network, so you'll soon have another ISP to choose from.
So, what's the takeaway for Frontier customers?
The Frontier bankruptcy should have a minimal impact on most customers. In most areas, it should be business as usual. Customers in the Northwest will soon have a different name on their bill and might have some service disruptions during the transfer. But as long as you're not one of Frontier's investors, you should be okay.
However, if you've made it this far and are still uneasy about your future with Frontier (or if you weren't such a big fan in the first place), type your zip code below to see what other providers are available in your area.
Check to see what service providers are available in your area.
Author - Peter Christiansen
Peter Christiansen writes about satellite internet, rural connectivity, livestreaming, and parental controls for HighSpeedInternet.com. Peter holds a PhD in communication from the University of Utah and has been working in tech for over 15 years as a computer programmer, game developer, filmmaker, and writer. His writing has been praised by outlets like Wired, Digital Humanities Now, and the New Statesman.
Editor - Cara Haynes
Cara Haynes has been editing and writing in the digital space for seven years, and she's edited all things internet for HighSpeedInternet.com for five years. She graduated with a BA in English and a minor in editing from Brigham Young University. When she's not editing, she makes tech accessible through her freelance writing for brands like Pluralsight. She believes no one should feel lost in internet land and that a good internet connection significantly extends your life span.