2016's Best Internet Providers in Customer Satisfaction
Apr 22, 2016 | Share

Industry Exclusive/Entertainment
Finding the best Internet speeds at an affordable price can be an elusive endeavor. Take heart, though, because we're here to help. We asked thousands of high-speed Internet customers to rate their providers based on several key areas of satisfaction. From ease of installation to superior customer service, from blistering speeds to affordable monthly pricing, we mined the ins and outs of a complicated industry to bring an informed perspective to your choice for internet service. Now, we're ready to announce the best of 2016's Internet providers.
But first, some background info. Our survey asked the following questions:
Who is your Internet service provider?
How satisfied are you with your Internet service installation and setup? (Fees, scheduling, etc.)
How satisfied are you with your Internet speed?
How satisfied are you with your Internet's reliability and uptime?
How satisfied are you with your monthly Internet bill?
How satisfied are you with your Internet provider's technical support and customer service?
Because we do sell cable and Internet service, we teamed up with a third-party to ensure our results were objective, unbiased, and representative of Internet service customers. We compared the following major brands and types of service:
Cable Internet providers: Brighthouse, CableONE, Charter (Spectrum), Cox Communications, Mediacom, Optimum, RCN, Suddenlink, Time Warner Cable, XFINITY from Comcast
Satellite Internet providers: Exede, HughesNet
DSL Internet providers: AT&T, Centurylink, Frontier
Fiber Internet providers: AT&T U-Verse, CenturyLink, FiOS from Frontier
We've separated the types of service (Fiber and DSL) for providers who offer both because satisfaction can vary based on the type of Internet customers utilized.
Want more data for a website or publication? We've got you covered. Contact us directly and we'll send you the data you need.

Let's take a look at the providers in our survey and a breakdown of the customers they serve but first, find and compare ISPs in your area:
Question: Who is your Internet service provider?

Many customers in rural areas still don't have access to high-speed Internet, so they are more likely to be serviced by DSL or satellite providers. In urban areas, the market for fiber is growing quickly and the infrastructure to support it is expanding rapidly across the United States. Once we determined who the service provider was, we asked users to rate their satisfaction in five separate areas on a scale of 1 to 5 stars. Here's an example of what users would have seen:


How'd our providers do? Let's start with overall satisfaction and then break the results down by area.
Overall Satisfaction

Our overall rating of Internet service provider customer satisfaction is an average of all responses in the five areas of customer satisfaction.
Internet Installation & Set Up

Internet Speed

Internet Reliability

Internet Bill

Internet Tech Support & Customer Service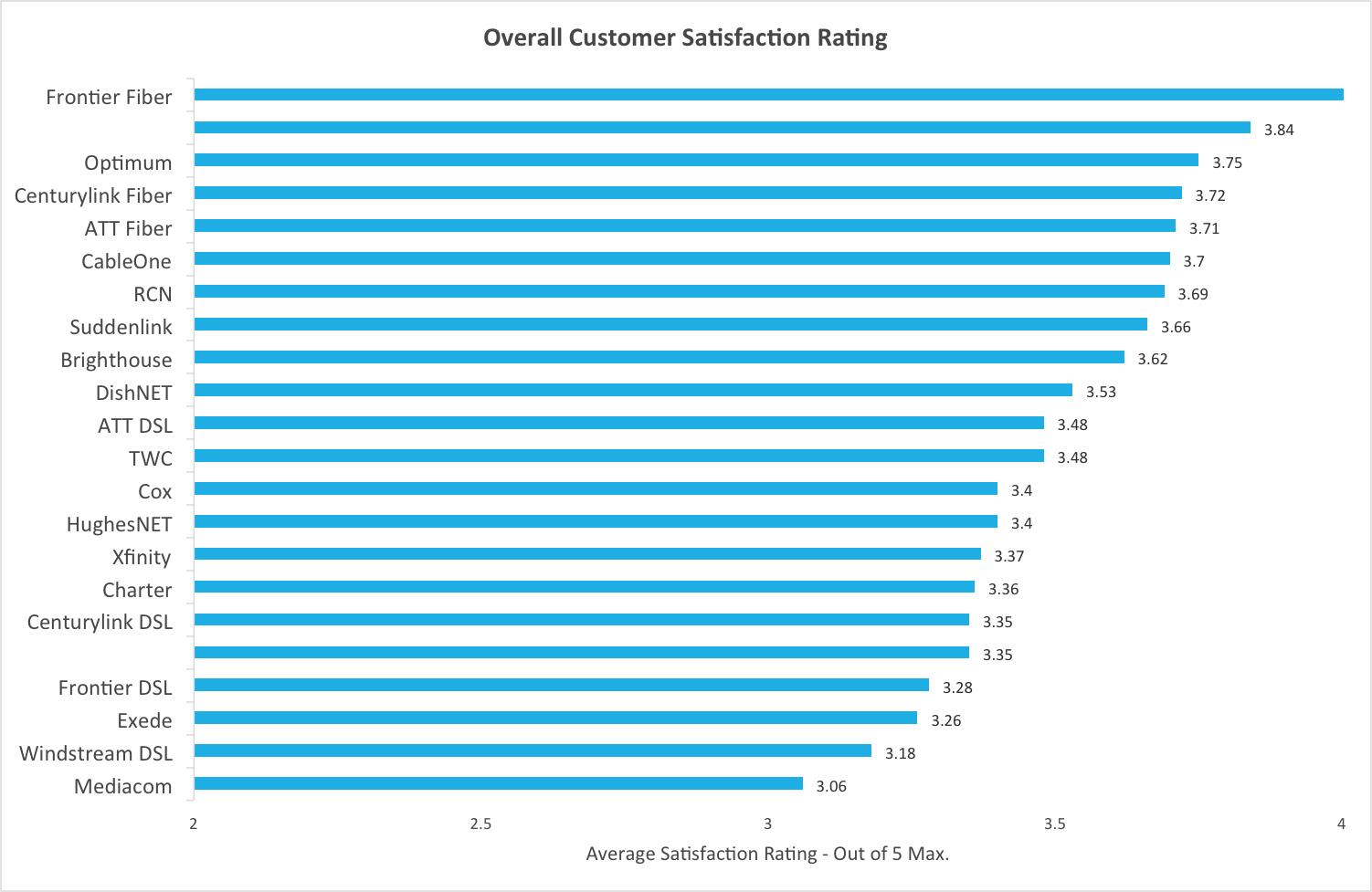 In general, customer satisfaction with Internet service is on the rise. Most providers managed to demonstrate gains across all of the satisfaction categories in comparison to last year's survey results. And as you might expect, the faster speeds among fiber providers make for happier customers. Frontier, AT&T and CenturyLink Fiber dominated the ratings both overall and in each individual category.
Of note is the steady rise of  SuddenLink and Bright House. These cable providers made significant progress in the satisfaction ratings since last year, trailing just behind Optimum and newcomer RCN in the overall results. This indicates that cable Internet services still have the speed and the reliability to compete with fiber in many areas across the country.
New to this year's survey are RCN and Exede. RCN is a cable provider with a small footprint focused on major urban areas like Boston, New York, Chicago and Philadelphia. What this provider lacks in size, they make up for in excellent service and superior speeds. RCN earned 2015"s Best in Speed and Reliability from PC Magazine and their ratings as a newcomer in this year's survey reflect a high level of customer satisfaction. In contrast, Exede, a satellite provider, comes in near the bottom of our overall rankings with lukewarm reviews. They'll need to make significant gains across all areas of customer satisfaction to compete with other well established providers like HughesNET.
Mediacom is at the bottom of the barrel across the board in our Internet service provider satisfaction survey. While they offer fairly fast speeds in most areas, customers report Mediacom fails to deliver those speeds consistently. A confusing pricing structure, hidden fees, poor customer service, and the lack of the option to self-install all contribute to Mediacom's below average ratings. Apparently, despite the snazzy speeds, customers would rather struggle with satellite Internet than deal with Mediacom. That's not a ringing endorsement.
2016's Best Internet Provider: Frontier FiOS (Fiber)
Frontier has been steadily expanding their service area in the last few years, providing fiber in rural areas that up to this point have only had satellite or cable Internet. Their domination in the overall ratings is likely a result of these customers, who are enjoying the exhilaration of unfettered speed for the first time. Frontier also makes fiber more affordable by offering some inexpensive packages at slower speeds that are still a step up for DSL and cable users. It's  hard to beat Frontier's no contract, three year price lock. In the opinion of the average customer, Frontier is getting it right.
While 2015 saw some widespread issues with outages and reliability in areas absorbed by Frontier, this year's survey results indicate the company has rebounded from the debacle. Frontier Fios led in every category, including customer service and support.
Installation and Setup Satisfaction
How satisfied are you with your Internet service installation and setup? (Fees, scheduling, etc.)
This is a tricky area of service for some Internet providers. Customers often choose to self-install and support during the initial process can be crucial to satisfaction. In general, fiber companies receive higher marks in the survey for installation satisfaction than DSL or satellite providers.
Suddenlink and Bright House have made significant gains over last year's results. Similar to Frontier, SuddenLink has been busy expanding broadband cable service in rural areas where customers previously only had access to DSL or satellite. Bright House has a limited footprint across just five states, but their no contract approach makes them an attractive option.
Time Warner Cable, in response to feedback regarding their abysmal customer service and lack of technical support, endeavored to transform their installation experience with a robust menu of guides and better support. That effort seems to be paying off as TWC enjoyed a small bump in the ratings for installation satisfaction and overall.
Best in Customer Satisfaction, Internet Service Installation & Set Up: Frontier FiOS (Fiber)
Again, Frontier outshines the competition with a superior installation and set-up experience. They offer self-install kits for many areas, which wave the pricey $50.00 fee. A glance at Frontier's website indicates a healthy array of troubleshooting guides to accompany each step of the installation process and they also provide modems free of charge. Yep. I said "free". Who doesn't love those four little letters strung together?
Internet Speed
How satisfied are you with your Internet speed?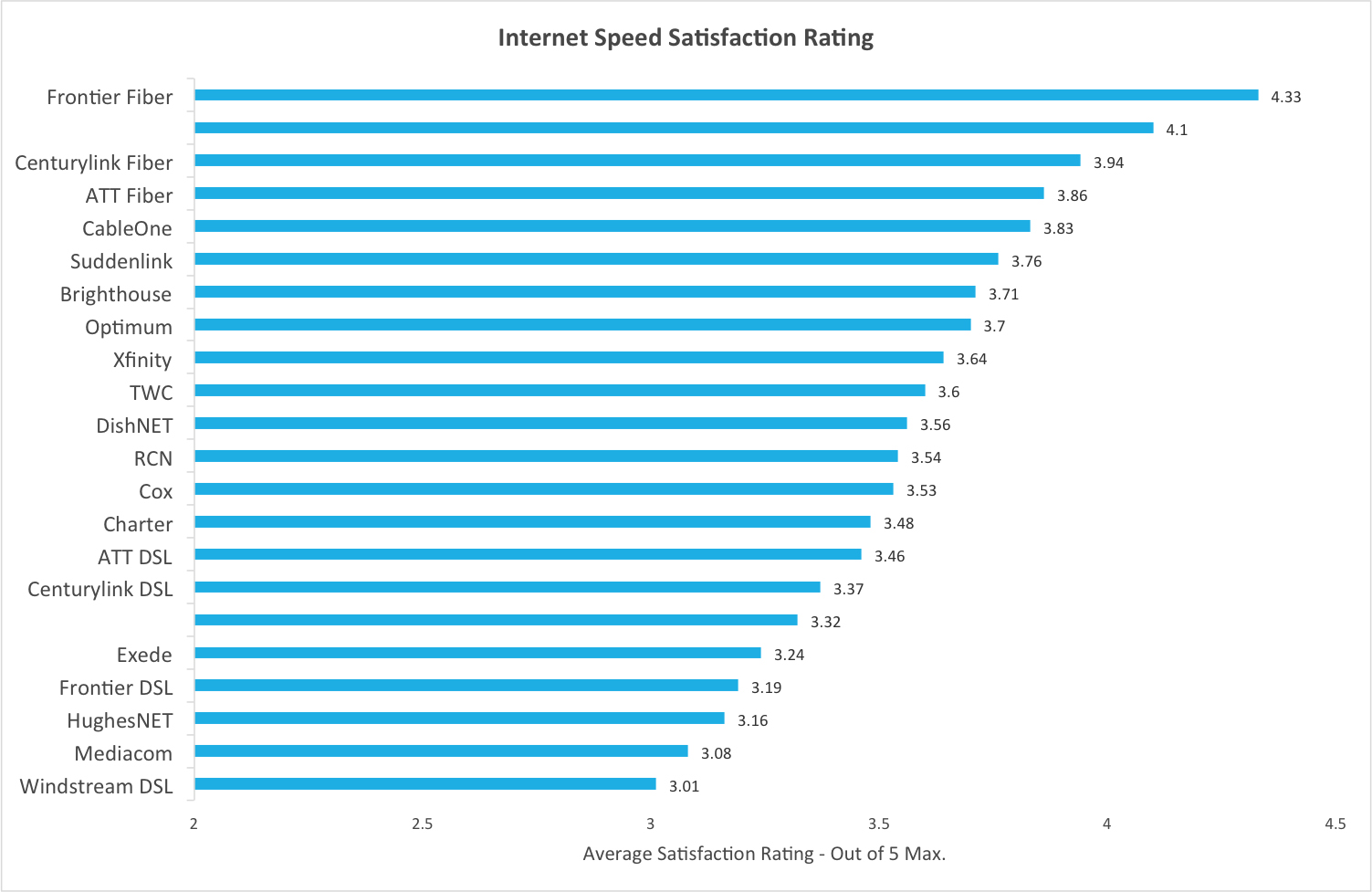 For many customers, this is the whole point of the Internet. A ballooning market of households utilize multiple devices and extensive streaming. And they want it all. Great upload and download speeds, fast enough to support online gaming and streaming movies in HD. Providers who can't keep up are slowly but surely getting edged out of the market.
While overall satisfaction among fiber providers is up, DSL customers are growing more and more disillusioned with their inferior speeds. Worth recognizing is the significant rises in satisfaction among SuddenLink, Bright House and Optimum customers. All three providers offer speeds approaching 100 Mbps, which, in some areas, is nearly three times faster than DSL and satellite.
Windstream brings up the rear in this category for good reason. As a DSL provider, their service tops out at 25Mbps. In comparison, it seems deceptive to refer to Windstream as "high-speed" Internet. As frustrating as the speeds may be, this provider services many extremely rural areas and may be the only Internet option available beyond dial up.
Best in Customer Satisfaction, Internet Speed: Frontier FiOS (Fiber)
Frontier's FiOS edges strikes again for top honors in this category. Frontier boasts evenly matched upload and download speeds on their network. The difference may be Frontier's expanding rural customer base. Many of these users have never experienced the wonder of fiber optics and they may be a little wide eyed with amazement at how these speeds are transforming their Internet experience.  
Reliability
How satisfied are you with your Internet's reliability and uptime?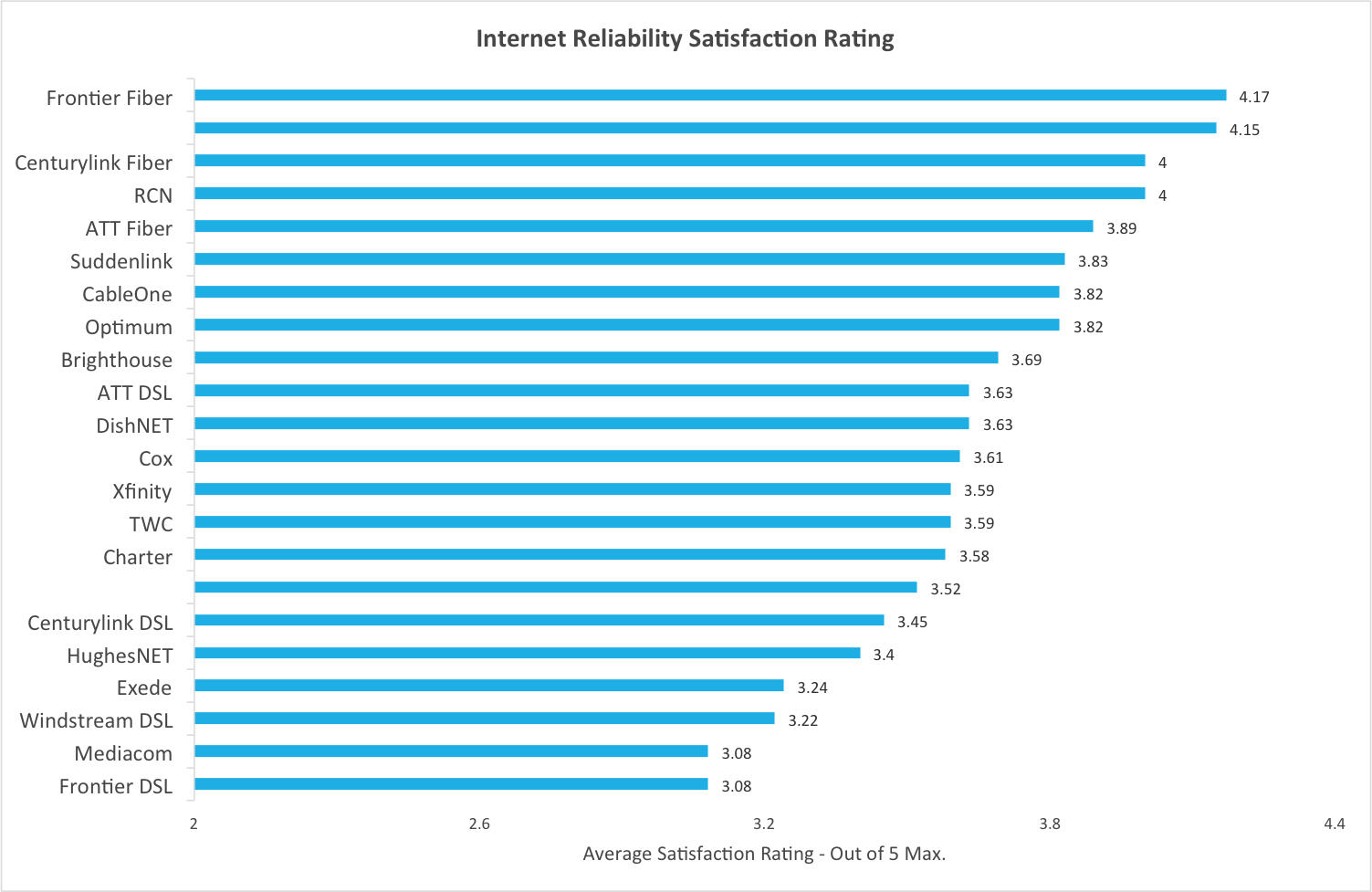 Lightening speeds are no consolation without the reliability of a consistent connection. Which providers excel at avoiding outages and keeping their customers connected? Our satisfaction survey results indicate fiber providers are still leading the pack here, delivering high speeds users can count on.
Frontier and CenturyLink all top the rankings in customer satisfaction for reliability. However, cable providers like RCN, Suddenlink and Optimum aren't far behind. As previously stated, RCN has garnered praise from PC magazine for both speed and reliability. Suddenlink is still relatively small but growing in rural areas that have previously only had access to DSL or satellite. Suddenlink also offers a $20.00 credit to their customers anytime they aren't able to resolve an outage in 24 hours.
Mediacom and Frontier's DSL service settled on the bottom of these rankings for a myriad of reasons. Mediacom's disgruntled customers may be tying their response to the provider's failure to deliver advertised speeds in some areas. 
Best in Customer Satisfaction, Reliability: Frontier FiOS (Fiber)
Frontier's triumph  in this category is less pronounced than other areas. They barely edged out fiber provider, CenturyLink. The results in reliability were a virtual tie, with cable company RCN nipping at the larger provider's heels. Keep an eye on RCN, folks. They're still a fledgling company, but their consistently strong results in every category of this survey indicate they could be on track to outshine fiber providers in customer satisfaction.
Monthly Bill Satisfaction
How satisfied are you with your monthly Internet bill?
Cost and billing is always a pain point for high-speed Internet consumers. You want the speeds, you have to pay the price. All that state-of-the-art infrastructure is delightful, but it sure isn't free. We're happy to report that in almost every instance, providers have shown improvement in customer satisfaction with cost and billing. While this is still the lowest rated area of satisfaction, fiber, cable and DSL providers are all getting better at offering a more transparent pricing and billing structure.
Of note in this year's ratings are strong improvements by Bright House and CableONE. Bright House has some very attractive bundles that afford significant savings and don't require a contract. CableONE offers lots of speed for bargain-basement pricing, making them one of the most affordable broadband Internet providers.
XFINITY by Comcast and Mediacom took a heavy hit in this survey with the worst ratings for monthly billing. Both Internet cable companies have a reputation for confusing bills, hidden fees, and steep price increases after the promotional period. In addition, Mediacom still uses data caps, a practice that endlessly frustrates the average Internet user.
Best in Customer Satisfaction, Monthly Internet Bill: Frontier FiOS (Fiber)
Frontier is trouncing other fiber optic providers in this category, offering superior affordability and more transparent pricing. Their lower priced monthly package offers plenty of speed for heavy Internet users with a free router and no contract. While a few other cable providers offer similar advantages, none of them have the speeds fiber optics can provide.
Tech Support & Customer Service
How satisfied are you with your Internet provider's technical support and customer service?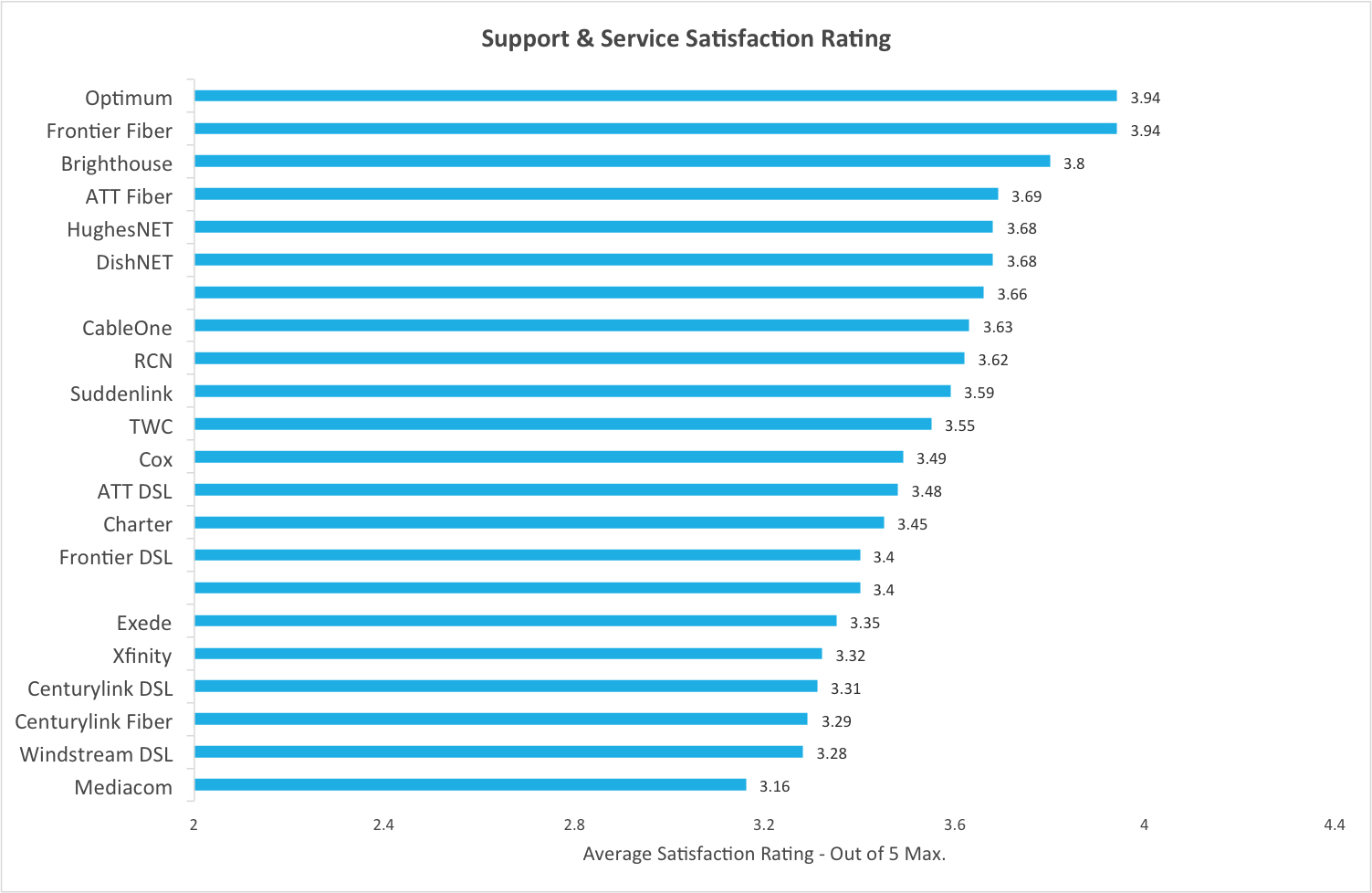 Irate about an extended outage or data usage caps? A pleasant, sympathetic voice on the other end of the phone has the power to console and correct a difficult situation. However, like most of the telecommunications industry, high-speed Internet providers turn in notoriously poor ratings for customer service. Fear not, friend. Good news is on the horizon. Our survey indicates providers are getting better at anticipating their customer's service and support expectations.
While nearly all of the providers in this survey moved up in customer service and support satisfaction, cable companies saw the largest gains. Optimum and Bright House turn in stellar performances, elbowing out popular fiber companies like AT&T Even Time Warner Cable made noticeable improvement after committing to transform the customer experience in response to systemic issues and widespread complaints last year.
On the flip side, if you thought it couldn't get much worse for Windstream and Mediacom, you were wrong. Both providers slipped from last year's ratings well below XFINITY by Comcast, a company that usually receives the bulk of consumer ire. CenturyLink Fiber also turned in a puzzlingly low rating in customer service and support satisfaction, but that could be a result of expanding too rapidly in some underserved markets as they make efforts to bring fiber from sea to shining sea.
Best in Customer Satisfaction, Tech Support & Customer Service: Frontier  FiOS (Fiber) & Optimum
Optimum makes a surprising showing for a cable Internet provider, vying with Frontier Fios for the top position in customer service and technical support. One of the reasons may be Optimum's wide array of options to access assistance via their online app, live chat, 24/7 phone service and more. Frontier has a reputation for friendly, responsive customer service and this survey indicates they've earned the right to be called the best Internet provider.
Find and compare internet providers in your area:
Author - HSI Staff
Kaz is a writer, blogger and social media junkie. She uses her tenacity to investigate the best of the Internets.