States That Pay the Most and Least for Internet in 2020
Nov 10, 2020 | Share

Industry Exclusive/Entertainment
The COVID-19 pandemic and its socioeconomic repercussions have made many Americans more reliant on affordable internet connections than ever. While we can't visit loved ones or participate in the activities we usually enjoy, the internet keeps us connected. But just how affordable is the internet we rely on so much? And how does it differ across the US?
We compiled 350,000 data points from internet customers across the country to compare what people really pay for internet in each state.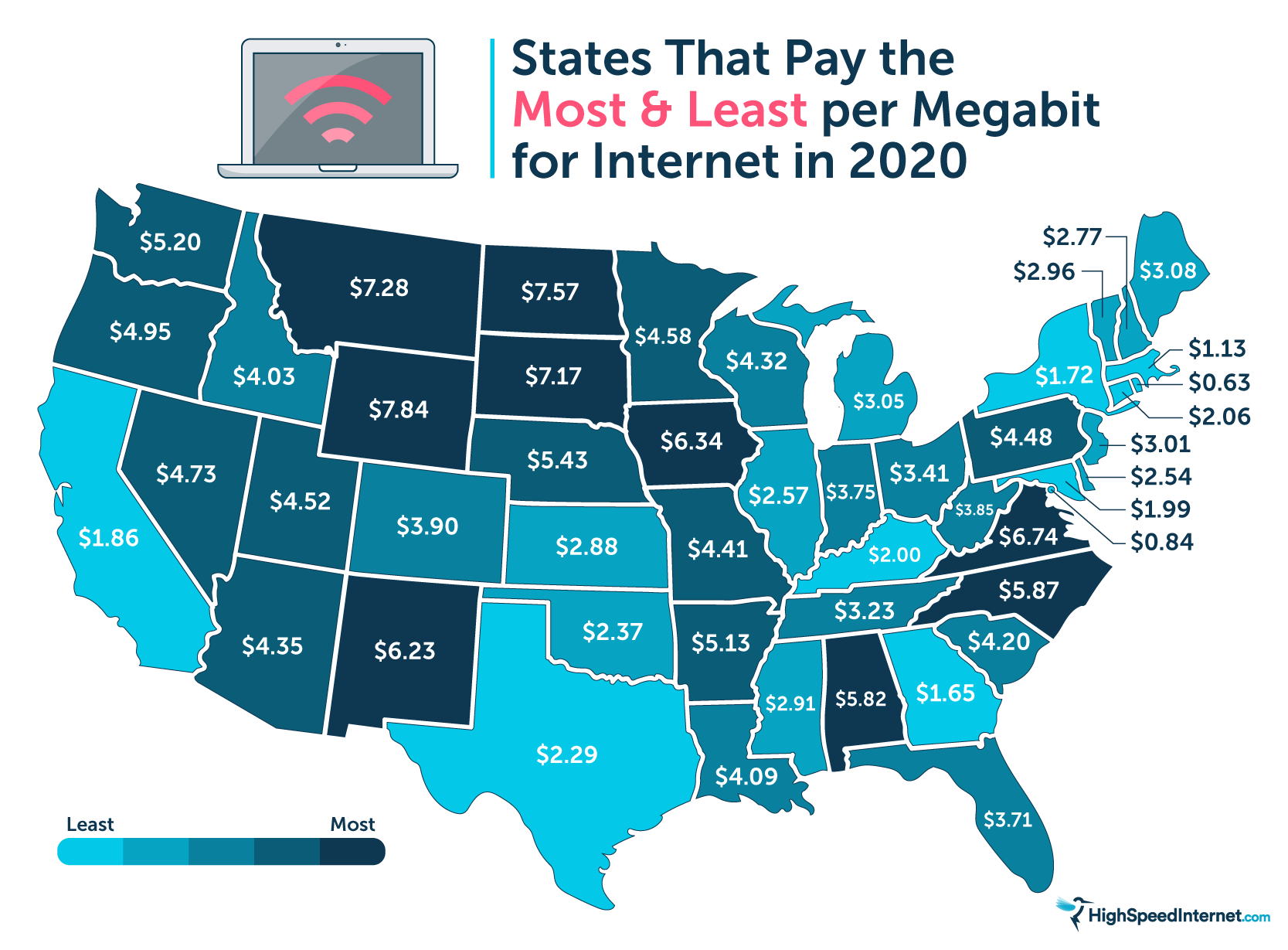 States that pay the most for internet, per Mbps:
Wyoming – $7.84
North Dakota – $7.57
Montana – $7.28
South Dakota – $7.17
Virginia – $6.74
Iowa – $6.34
New Mexico – $6.23
North Carolina – $5.87
Alabama – $5.82
Nebraska – $5.43
States that pay the least for internet, per Mbps:
Rhode Island – $0.63
D.C. – $0.84
Massachusettes – $1.13
Georgia – $1.65
New York – $1.72
California – $1.86
Maryland – $1.99
Kentucky – $2.00
Connecticut – $2.06
Texas – $2.29
Why did we use "per Mbps" in our data set?
We averaged how much each state pays per Mbps because it better reflects the value of internet service than ranking by average monthly payments. The latter doesn't take into account the balance between cost and internet speed quality. 
For example, California and South Carolina residents pay a similar average monthly amount for their internet plans ($45.43 and $45.47 respectively). But while Californians pay just $1.86 per Mbps, South Carolinians pay $4.20 per Mbps, which illustrates how much better a deal people are getting in the Golden State.
Rural states pay more; urban states pay less
Our data shows that states with large rural areas tend to pay more per Mbps of internet than states with more urban areas. There are a few reasons that could contribute to this divide, including the type of internet available, internet speeds, and competition. We'll dive into each of those reasons more below.
There are a few different types of internet widely used in the US. Certain types offer more bang for your buck, while others offer comparably slower speeds for higher prices. Fiber-optic internet and cable internet tend to have lower costs per Mbps, while DSL and satellite internet tend to cost more per Mbps. 
DSL and satellite are also the two types of internet most likely found in rural areas because cable and fiber infrastructure are both expensive and usually confined to more populated areas.
One of the reasons why different types of internet cost more or less per Mbps is because faster internet plans usually cost less per Mbps—and cable and fiber internet are faster than DSL and satellite. 
Available internet speeds range from 5–2,000 Mbps (2 Gbps) in the US, while internet prices range from $15–$200 per month. While prices increase as speeds increase, they don't increase at the same rate as speed, so higher-speed plans tend to cost less per Mbps.
Competition is good for consumers. Areas that give people multiple options for internet providers give people the option to comparison shop and go with the best deal. But a lot of the US population has access to only one or two internet providers—so they have to choose from whatever is available. 
Cities and urban areas tend to have more providers drawn to the large, dense population, so competition is better than it is in rural areas.
Final thoughts
This year has thrown the unequal access to affordable, fast, and reliable internet services in America into stark relief against the backdrop of a global pandemic. The internet is our lifeline to work, education, healthcare, family, entertainment, and life in general—and while some internet providers lowered prices and upped speeds to help lower-income households during the pandemic, those services are still mostly available in urban areas. Rural communities are still paying more for slower internet.
Methodology
The data analysts at HighSpeedInternet.com compiled proprietary data points from 350,000 internet users across the US to see how much each state pays for internet services. We analyzed this data to find the average monthly price for internet service in each state and further broke it down into the average price per Mbps to better highlight the differences in cost among different states.
Author - Rebecca Lee Armstrong
Rebecca Lee Armstrong has more than six years of experience writing about tech and the internet, with a specialty in hands-on testing. She started writing tech product and service reviews while finishing her BFA in creative writing at the University of Evansville and has found her niche writing about home networking, routers, and internet access at HighSpeedInternet.com. Her work has also been featured on Top Ten Reviews, MacSources, Windows Central, Android Central, Best Company, TechnoFAQ, and iMore.
Editor - Cara Haynes
Cara Haynes has been editing and writing in the digital space for seven years, and she's edited all things internet for HighSpeedInternet.com for five years. She graduated with a BA in English and a minor in editing from Brigham Young University. When she's not editing, she makes tech accessible through her freelance writing for brands like Pluralsight. She believes no one should feel lost in internet land and that a good internet connection significantly extends your life span.