Encalife Portable Wifi Extender Review
A decent Wi-Fi 5 extender to fill the dead spots your router can't reach.
Sep 5, 2023 | Share

Equipment Guides, Product Reviews
*Encalife price (as of 8/24/23 17:35 MST).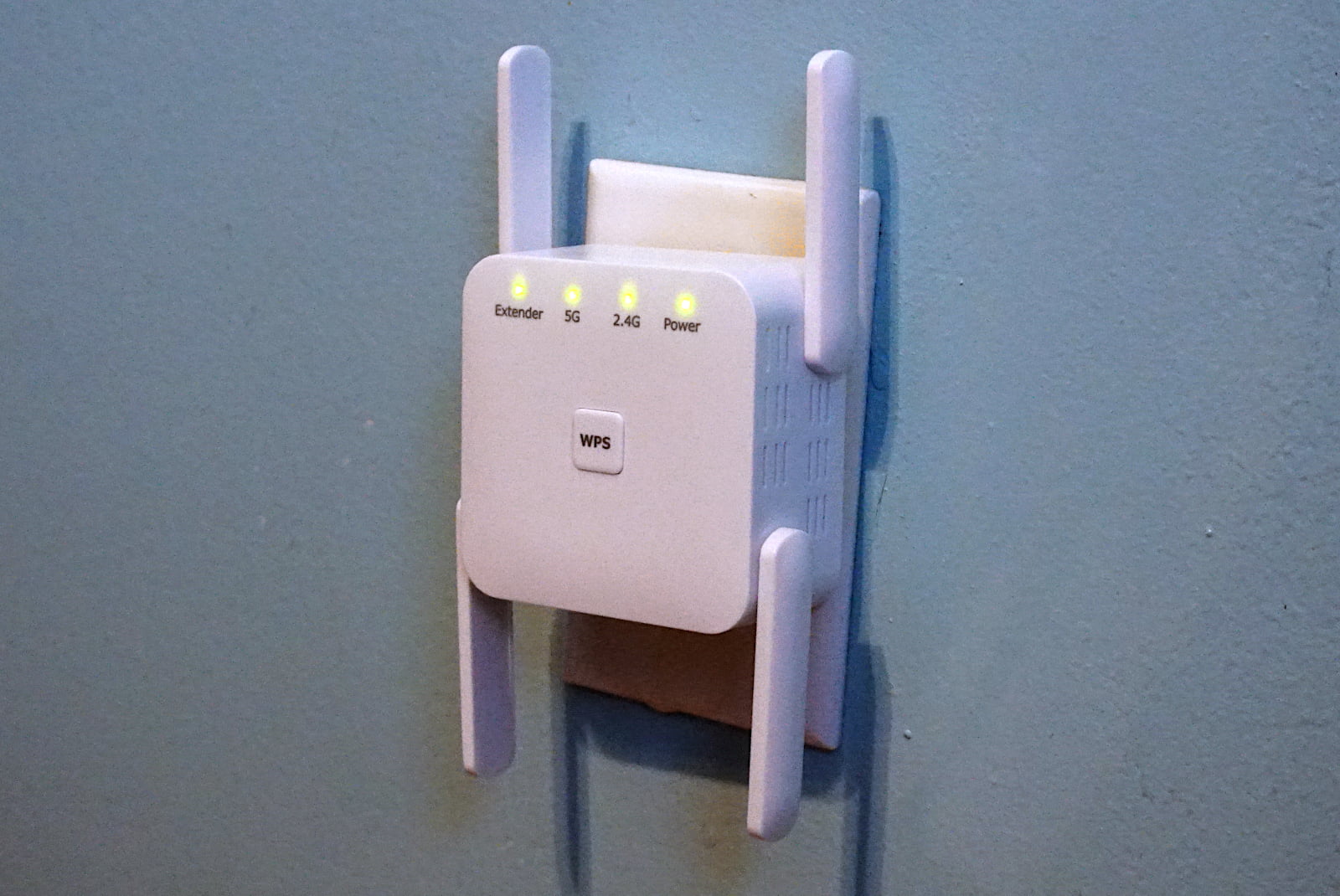 The Encalife extender provides decent Wi-Fi 5 speeds based on our tests. Kevin Parrish | HighSpeedInternet.com
Is the Encalife Portable Wifi Extender right for you?
The Encalife Portable Wifi Extender can fill those pesky dead spots in your home based on our tests, but don't expect superfast downloads. It's a W-Fi 5 device backed by a slow Fast Ethernet port, which is a little surprising since you can find a more current extender for almost the same price. You may want to shop for a more powerful Wi-Fi 6 model if you need the best speeds in the far reaches of your home.
Pros:
Cons:
Slow Ethernet port
Wi-Fi 5 speeds
Encalife Portable Wifi Extender standout features
This Wi-Fi extender doesn't include any notable standout features. It's portable, as the name suggests, but that's it.
Our Encalife Portable Wifi Extender scoring breakdown
| | | |
| --- | --- | --- |
| Category | Score* | Summary |
| Performance | 4 | Extends your Wi-Fi 5 speeds beyond your router's reach. |
| Features | 2 | Lacks notable features like guest networking and app management. |
| Design | 3 | Packs an outdated Fast Ethernet port and Wi-Fi 5. |
| Setup | 4 | Leads you through a quick and easy two-minute setup. |
| Ease of use | 3 | Includes a web interface we couldn't access. |
* out of 5 points
So here's the thing. We're going to do a little deep diving so you understand how the Encalife extender can be beneficial to your Wi-Fi network. It's a mixture of methodology and numbers, so feel free to skip ahead and take our word on the performance score.
First, we paired the Wi-Fi extender to the TP-Link Archer AXE75 we had in the lab for testing. It's a Wi-Fi 6E router, but we can still use it to test Wi-Fi 5 speeds.
Next, we placed the Wi-Fi extender in the dining room, where we usually put a second mesh system satellite for testing. The router's Wi-Fi signals must push through several walls, cabinets, appliances, and a door to reach the device we're testing. Technically, it's a 20-foot trip in a straight line, but the number is always lower than our regular 20-foot marker test due to these obstructions.
The Wi-Fi extender's wired speeds are limited to 100Mbps, so we can't connect a laptop and confirm the actual Wi-Fi 5 speeds the extender receives from the router. To get around this roadblock, we ran speed tests next to the extender using our Google Pixel 3 to get an idea. We recorded a 353Mbps average, which is about right based on similar Wi-Fi 5 numbers we've pulled from testing mesh system satellites in that spot.
But when we switched over to the Wi-Fi extender, the best average we recorded was around 210Mbps. Why the slower speed? That's a good question, and here's our best answer: The extender receives data at a rate of 353Mbps and must move your data from one signal (incoming) to another (outgoing). This process requires a little work on the extender's part, so the resulting outgoing rate should be around 247Mbps at close range once it's done with the conversion.
After that, we moved 10 feet away from the Wi-Fi extender and tested a 176Mbps average straight from the router and a 167Mbps average when reconnected to the Wi-Fi extender. Both speeds look around the same, right?
Here's the skinny. While we lost around 177Mbps in moving ten extra feet from the router, we lost only 43Mbps when we tested ten feet from the extender. So, if we follow that pattern, we wouldn't have a connection to the router 20 feet further away, but we could have a 120Mbps connection from the extender.
That, folks, is the magic of Wi-Fi extenders.
This Wi-Fi extender doesn't have any notable features. Some callouts we look for include mesh networking support, a mobile app for settings access, and guest networking. You don't get any of that here. The only placement help you get from this device is through the LEDs on the front: Red for a weak or no signal, and green for a good signal.
The Wi-Fi extender measures 2.75 inches tall and wide and 1.5 inches deep, so we can't expect blazing speeds—size does matter when it comes to routing data signals. It plugs into any wall outlet and includes four adjustable antennas measuring just over two inches long. It's tiny, for sure, and easy to pack for business trips and vacations.
The Wi-Fi extender includes one Fast Ethernet port with a theoretical max speed of 100Mbps, but the max usable speed is around 96Mbps. We didn't test this Wi-Fi extender in access point or bridge mode since we recorded faster speeds using the device as a Wi-Fi repeater. It's 2023, where Wi-Fi 6 and Gigabit Ethernet are the standard connections, so using Wi-Fi 5 paired with Fast Ethernet is a huge disappointment, especially at this price.
Setup is this Wi-Fi extender's strongest point. Simply plug it in, connect to it using a wireless device, enter your Wi-Fi network's password, and you're good to go. You can rename the extender's two connections and reset their passwords as needed, but that's it. Simple and quick. It has a WPS button, too, if you'd rather pair it without entering your Wi-Fi network password.
We had to write something here. On one hand, it's easy to use because it's small, portable, and plug-and-play. On the other hand, the provided web address wouldn't work, so we couldn't access the extender's web interface (if there is one outside the setup process). We assume you need to reset the extender to use it in AP mode or bridge mode, which we didn't do since it uses Fast Ethernet versus Gigabit Ethernet.
Are there any additional costs?
No, there are no additional costs.
Our Encalife Portable Wifi Extender review: The verdict
We're already on the fence about Wi-Fi extenders, since we know modern routers generally push good speeds at 120 feet based on our tests. That's a minute's walk to our marker across the street—which means our Wi-Fi interferes with our neighbors' Wi-Fi networks if we're on the same channel group (sorry).
The thing to keep in mind with the Wi-Fi extender sold by Encalife is that if we place it in the dining room where there are a lot of obstructions, it has a stronger signal than the paired router, and that's really the whole point. You're less likely to see a disconnect when using the extender.
And while our 10-foot testing from the extender was disappointing at first, we soon realized what was happening. The router's direct connection lost 177Mbps at that marker, while the extender's connection only lost 43Mbps. That's a significant difference and a good example of why Wi-Fi extenders like this one from Encalife can be beneficial to your wireless network.
FAQ about the Encalife Portable Wifi Extender
Repeater vs. access point vs. bridge vs. booster: What's the difference?
We'll try to make this quick and painless here but we talk more about the comparison in a separate article.
Repeat mode: The extender logs on to your existing Wi-Fi network and creates a new one. It retrieves data from the incoming Wi-Fi streams and applies the data to new Wi-Fi streams.
Access point mode: The extender connects to your router through Ethernet and creates a new Wi-Fi network. Data is pulled from the wired connection and applied to new Wi-Fi streams.
Bridge mode: The extender connects to your desktop or laptop through Ethernet and serves as your Wi-Fi adapter. It pulls data from the incoming Wi-Fi streams and sends it through Ethernet to your PC.
Booster mode: The extender connects to an empty antenna socket on your router. It's the only one of the four that actually amplifies your Wi-Fi range and works only on routers with removable antennas.
Author - Kevin Parrish
Kevin Parrish has more than a decade of experience working as a writer, editor, and product tester. He began writing about computer hardware and soon branched out to other devices and services such as networking equipment, phones and tablets, game consoles, and other internet-connected devices. His work has appeared in Tom's Hardware, Tom's Guide, Maximum PC, Digital Trends, Android Authority, How-To Geek, Lifewire, and others. At HighSpeedInternet.com, he focuses on network equipment testing and review.