Your Guide to HughesNet Installation
What to expect when you sign up for HughesNet
Apr 6, 2023 | Share

Brand Guides, Equipment Guides
When your internet connection requires mounting large pieces of equipment onto your roof, there often isn't an option for self-installation. When you sign up for HughesNet, you set up an appointment with a technician, who comes to your home to install your dish. We tested out HughesNet and got to experience its installation process first hand. Here's a walk through the process so you know what to expect.
We had an excellent experience with HughesNet's installation process. Since HughesNet offers service all over the country, it contracts out its installation to local contractors. Naturally, this means that there can be a great deal of variability between different areas and different third-party installers, but HughesNet does work with some excellent technicians.
On the day of the installation, a technician arrives at your home with the satellite dish, your HughesNet router, coaxial cables, and any additional tools and equipment they might need. We were able to book our appointment within a couple of days, and the installation just took a few hours, so it was a fairly smooth process all around.
Where do they put the dish?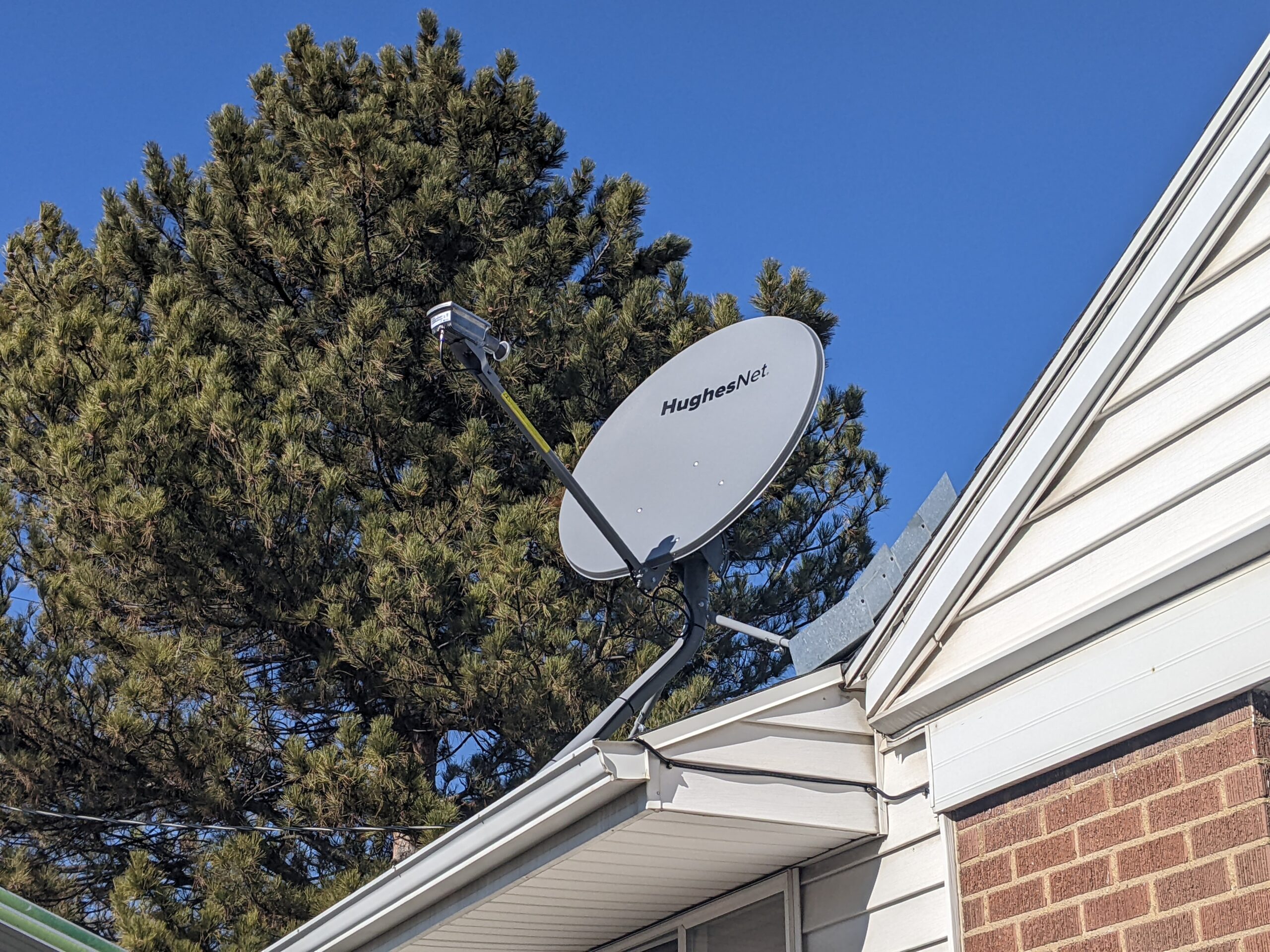 There are two main factors that determine where your dish is placed. First, it must be facing south and have a clear view of the sky with no trees or buildings. Second, you want to place it close to where you want your router.  This usually means close to a centrally located office or bedroom.
You can discuss the dish placement with your technician. Depending on your house and its surroundings, you might have a lot of flexibility on where to put it, or there might only be one or two possible locations. You should also be sure to discuss where you want the cable from the dish to enter the house, to reduce the amount of cable winding around the outside of the building and to make sure that you're able to place your router where you want.
What happens on the outside?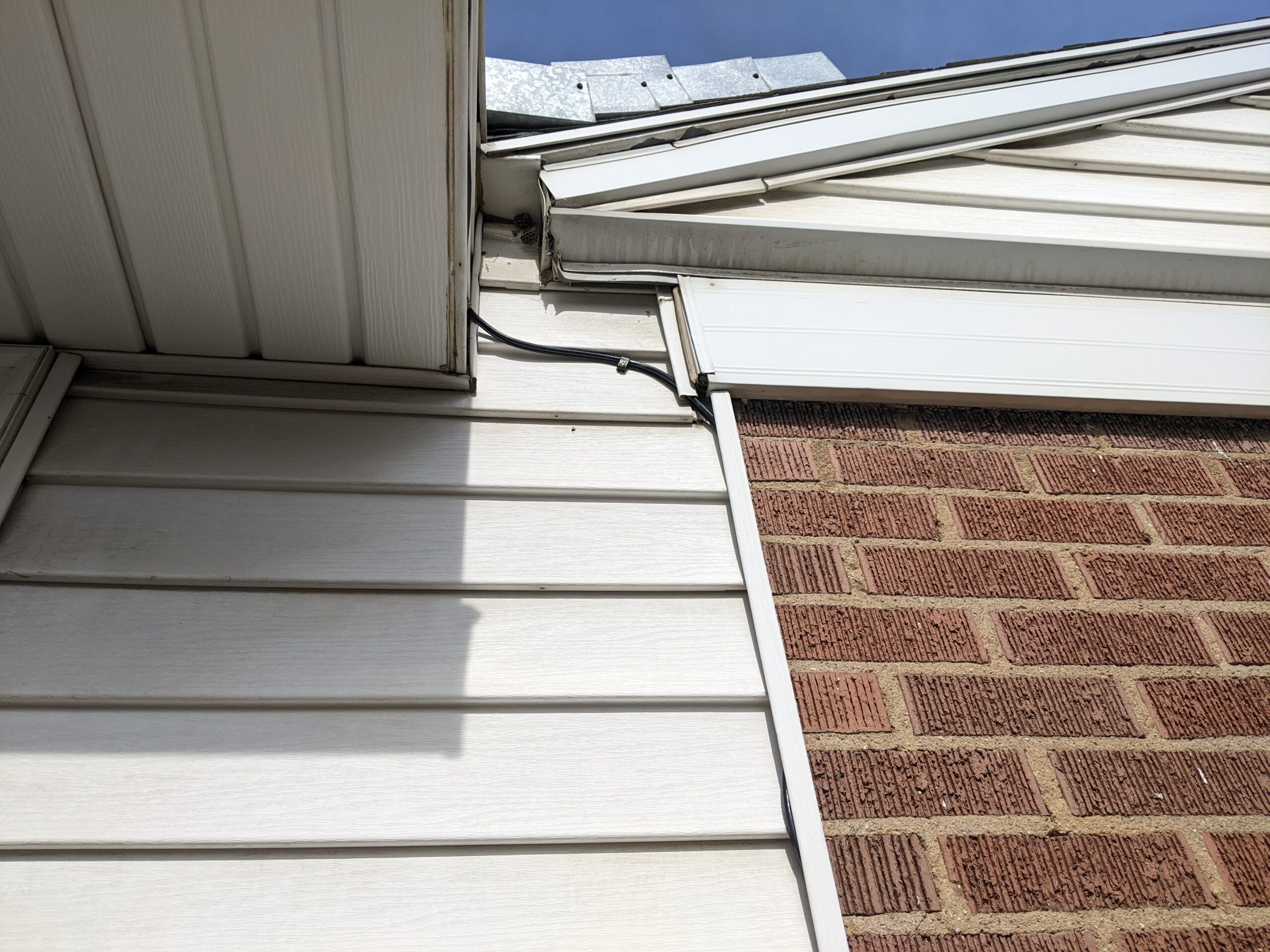 Once the technician has mounted the dish to the roof of your house and properly aligned it, they will run a cable down the side of your house to the point where it passes inside. Again, our experience with HughesNet's technician was excellent, as he was able to tuck it neatly along the vinyl siding, making it barely visible.
To bring the signal inside your house, the technician has to drill a small hole, which they cap on both sides. In our installation, this was the most visible part of the equipment other than the dish itself, and it's still pretty discreet. The whole external installation was incredibly neat and tidy, which has not been our experience with all providers. HughesNet definitely earned some bonus points on this one.
What happens on the inside?
Just as on the outside, the entry point is very small, simply a tiny port in the wall with a coaxial cable coming through. In fact, there was barely any mess to clean up afterward. This cable then connects to your new HughesNet router, which the technician also sets up.
With your router up and running, you can now begin connecting your devices to your home network.
There are pros and cons to HughesNet (satellite internet in general has a lot of downsides), but the installation process was about as painless as it could possibly be. If the process of installing a dish on your house is one of your concerns about signing up, we can say from firsthand experience that HughesNet does excellent, professional work when it comes to installation.
Want to see if HughesNet internet is available in your location? Enter your zip code below.
HughesNet Installation FAQ
Can I self-install HughesNet?
No, HughesNet plans require professional installation in order to make sure the dish is properly aligned to HughesNet's satellites.
How much does HughesNet installation cost?
HughesNet professional installation costs $99.00.
How big is the HughesNet satellite dish?
The HughesNet satellite dish is 35.25 inches by 36.25 inches.
Will the satellite dish damage my house?
During the installation, the satellite dish mount has to be screwed directly into your roof. The technician also has to drill a small hole in your outside wall to pass the cable inside. Other than these small holes, there should be no damage to your house.
Is there an option to put the dish somewhere else on my property other than on my house?
Yes, you also have the option of mounting the dish on a secure pole in your yard. The location must still have an unobstructed view of the southern sky and be close enough to your house that the coaxial cable connecting the dish to the router inside the house doesn't exceed its maximum length. Be sure to talk with your technician to find the location that works best for you.
Author - Peter Christiansen
Peter Christiansen writes about satellite internet, rural connectivity, livestreaming, and parental controls for HighSpeedInternet.com. Peter holds a PhD in communication from the University of Utah and has been working in tech for over 15 years as a computer programmer, game developer, filmmaker, and writer. His writing has been praised by outlets like Wired, Digital Humanities Now, and the New Statesman.
Editor - Rebecca Lee Armstrong
Rebecca Lee Armstrong has more than six years of experience writing about tech and the internet, with a specialty in hands-on testing. She started writing tech product and service reviews while finishing her BFA in creative writing at the University of Evansville and has found her niche writing about home networking, routers, and internet access at HighSpeedInternet.com. Her work has also been featured on Top Ten Reviews, MacSources, Windows Central, Android Central, Best Company, TechnoFAQ, and iMore.