How to Self-Install Suddenlink Internet
Mar 29, 2017 | Share

Brand Guides, FAQ
Step by step guide to Suddenlink self-installation
When you place your initial order with Suddenlink Communications, you can choose to either have a technician come to your home to set up the equipment or to install it yourself. If you choose to install it yourself, follow the directions below.
1. Note your activation date
Even if your box of Suddenlink equipment arrives twenty-four hours after placing an order, you should wait until your activation date to connect the equipment. You won't be able to test the service or set up your account before your activation date.
2. Check the Suddenlink equipment
Your box of Suddenlink equipment should contain six items: cable modem, power adapter, coaxial cable, Ethernet cable, two-way cable splitter, and instructions. If anything's missing from your box, contact Suddenlink Customer Support at 1-877-794-2724.
Looking for a good modem or router?
We've got you covered. If you don't want to use Suddenlink's provided equipment, here are our recommendations of what to use instead. Before you buy any of these, check to make sure they're compatible with Suddenlink. The equipment's tech specs are usually the best place to check:
3. Choose a location
Scout your home for a centralized location with access to both cable and power outlets. Finding a good spot will help transmit the internet signal throughout your home.
4. Turn off the computer
Whether you're using a desktop or laptop, power it down before continuing. Doing this can help prevent signal confusion and interference during the installation and activation phases.
5. Connect the modem
Connect the coaxial cable to the cable wall outlet and the port labeled "Cable In" on the back of the modem. Plug the power cord into a wall outlet and connect it to the modem.
6. Plug in the Ethernet cable
With the modem connected to the cable line and receiving power, plug in the Ethernet cable and connect it to either your computer or router.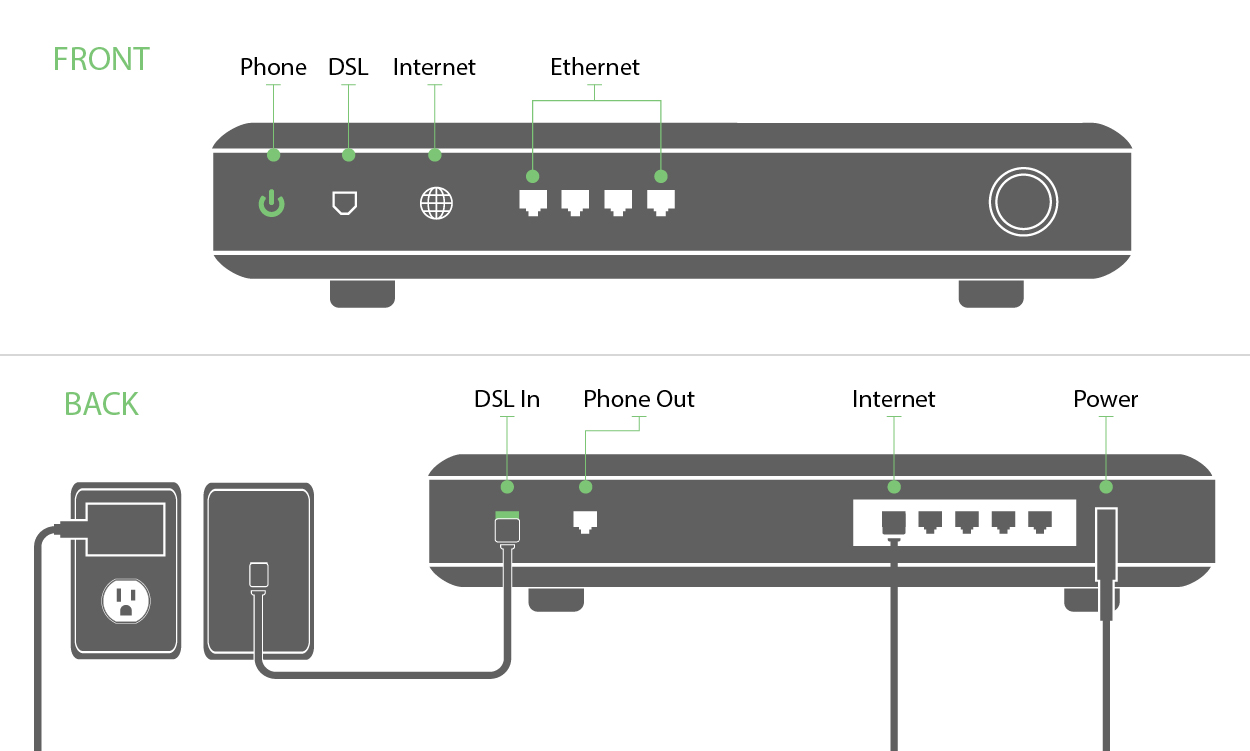 7. Look for the LED light
If all the connections are secure and working properly, the "Online" LED light on the front of the modem will turn a solid color.
8. Turn on the computer
Once you turn on the computer, you will need to run through either the Internet Connection Wizard (Windows) or System Preferences (Mac OS).
9a. Run the internet connection wizard (Windows only)
Click the "Start" button. It's usually in the lower left-hand area of the screen.
Click "Run."
When the window opens, type "INETWIZ" and click "OK."
The Internet Connection Wizard will open. When it does, select "Connect using my local area network (LAN)" and click "Next."
On the next screen, uncheck any checked boxes before clicking "Next."
The following screen asks if you would like to set up your email. You can skip this step if you plan to set up your email through the Suddenlink web portal or another email client such as Outlook or Mail. Click "Next" to continue forward.
Click "Finish" to save your settings and to close out the wizard.
9b. Set your system preferences (Mac OS only)
Click the Apple icon (upper left-hand corner) and navigate to "System Preferences."
Select the "Network" icon.
When it opens, click on "Advanced."
A new pane opens. When it does, click on "TCP/IP."
Look at the "Configure" dropdown and choose "Using DHCP." Click "OK."
You will return to the basic "Networks" pane. If "Apply" lights up, click it to save your settings.
Close "System Preferences."
Once you complete the steps above, you are ready to activate your account.
How to activate your Suddenlink account
With the LED light on the modem turned on and the computer powered up, you can now activate your Suddenlink account. The setup shouldn't take more than thirty minutes.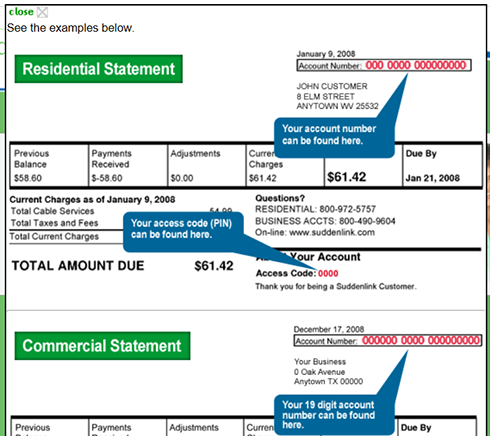 Open your web browser.
This will automatically direct you to the Suddenlink welcome page, which will prompt you for your sixteen-digit account number.
Enter your account number and click "Continue."
Confirm your other contact information. If correct, click "Yes."
Suddenlink will run a test on your cable lines to assess signal strength.
Once it finishes, a "Terms of Service" page appears. Click "Agree" to continue.
The next screen shows a transaction number. Save it for your records.
Wait five minutes, then restart the computer, the modem, and the router. You may hear this process referred to as "powercycling." Its purpose is to make sure the internet connection is steady and to clean up any rogue signals.
How to change your Suddenlink modem's settings
Suddenlink makes it easy to update your modem's settings. To change them, log in to the modem.
Open a web browser.
Type 192.168.0.1 in the address bar. Hit "Enter."
A login screen will appear. If accessing the modem for the first time, use your default login information.

Username: cusadmin
Password: password

Click "Apply" to enter the modem's interface.
The home screen summarizes a number of settings. Look at them carefully to ensure they're correct.

Your SSID is "suddenlink.net-xxxx," with the four x's being the last four digits of the RF Cable Mac address (found on modem's label).
The channel should be set to "Auto."
The security mode should be WPA/WPA2-PSK.
The encryption algorithm should show TKIP/AES.
The pre-shared key generates automatically. You can also find the information below the SSID name on the modem's label.

Click on "Change Password."

Enter your old password.
Enter your new password twice, once to set it and once to confirm it.
Click "Set" to store your settings.

Confirm any changed settings and close out the browser.
How to solve common self-installation issues
Before you call Suddenlink Communications about an issue, try some basic troubleshooting. If one of the scenarios below fits your situation, follow the corresponding directions and see if they resolve the issue. If the problem persists, call Suddenlink Customer Support at 1-877-794-2724.
Problem: The "online" LED light never turned on.
A power cord could be loose.
If the cord seems secure, try a different outlet.
Check the coaxial cable—the connector can sometimes get bent.
If the cable is bent, replace it with a new one.
If none of those steps work, contact Suddenlink Customer Support.
Problem: The internet speed is really slow.
Assess the number of wireless devices accessing the internet. They could be dragging down your speed. You can solve this problem by hardwiring certain devices, such as a DVR or TV.
Run a speed test from a hardwired computer. The hardwiring is essential; Suddenlink bases its download and upload speeds on wired equipment.
Check the age of your devices—it could be time for an upgrade. An older modem, computer, or laptop sometimes runs at slower speeds. Suddenlink recommends using a DOCSIS 3.0 modem for speeds of 20 Mbps or higher.
Consider traffic congestion. Speeds will slow depending on the time of day or number of people in your home.
If none of those options solve the problem, it could indicate a network problem or the need for more speed. Contact Customer Support to troubleshoot your account and to discuss options.
Problem: The internet connection seems choppy.
Signal interference is likely to blame.
Reboot the modem and computer. The reboot shuffles the devices through their settings and clears out the gunk signals.
If the reboot doesn't fulfill your expectations, check the cable and see if internet and TV share the cable connection.
If they do, you should install the two-way cable splitter provided by Suddenlink. The cable splitter separates the frequencies in order to avoid mixed signals.
Self-installation vs. professional installation
While you can let the Suddenlink professionals install the modem and set up your internet service, it's not too much work to do it yourself. However, deciding between the two options involves a few considerations.
Professional installation
Expertise: Suddenlink's technicians install and troubleshoot internet service, day in and day out. They know what they're doing.
Reliability: When the professionals set up your modem and home network, you know the work will be right the first time.
Extra Fee: Suddenlink charges a fee close to $30 for its installation service.
Time Commitment: Working with a technician takes a large chunk of time out of your day. Suddenlink somewhat eases the disadvantage of this with its "Where's My Tech?" feature that you can use to track your technician's status and arrival time.
Free: The only things you expend with a self-installation are time and elbow grease.
Convenience: You self-install the Suddenlink modem and activate your account whenever it fits your schedule.
No Physical Support: If you elect to self-install, you're on your own when internet connectivity issues arise.
Uncertainty: If the thought of connecting several cables and cords causes the slightest sliver of anxiety to run down your spine, you may want to set up an appointment for professional installation.
It might be time for a new modem…here are our top picks
Suddenlink provides the ARRIS/Motorola model, which is a powerful modem. However, you shouldn't feel obligated to use it. You can use a different modem as long as it meets Suddenlink's compatibility requirements. The two modems below are not only compatible with the ISP, but also crowd-pleasers on Amazon.
ARRIS SURFboard SB6190
The ARRIS pairs well with high-speed internet service, including 1 Gbps. Even if you start with a slower speed initially, you can ramp up to higher ones with this modem.
Notable Features: This modem delivers on its promise for speed. It can go up to 1.4 Gbps download and 262 Mbps upload. It also features thirty-two download and eight upload channels and four Ethernet ports.
NETGEAR DOCSIS 3.0 Cable Modem
NETGEAR's modem is an Amazon Best Seller, earning almost five stars from over 3,000 reviews. It won't provide the same speeds and feeds as the ARRIS, but it complements Suddenlink's mid-tier internet service packages.
Notable Features: This modem offers download speeds of 343 Mbps and upload speeds of 131 Mbps. It also claims eight downstream and four upstream channels.
How to contact Suddenlink Communications
Suddenlink Communications offers multiple avenues to get in touch with its support team. You can participate in an online chat, email, visit a local office, or call 1-877-794-2724 to speak with an agent. You also can use its online tool to track your technician's status and estimated time of arrival.
Congratulations! You successfully set up your Cox High Speed Internet and it didn't even require walking across glass or climbing down an elevator shaft. Go celebrate.
Author - Erin Feldman
Erin is a freelance writer based in Austin, Texas. She has over ten years of experience, with a background in marketing and creative writing