Cox TV Plans
Everything from basic cable to custom channel lineups
Price
$50.00–$130.00*/mo
Channels
75–140+
Add-on TV channel Paks
Contour mobile app
No contract for TV plans
Cox's basic Contour TV Starter package is a good budget plan because it gives you access to the essentials and local channels for a low price. However, up to 50 of its 75+ channels can be music channels, depending on your location. So unless you're really into TV music, that's not what you want to pay for.
Cox Contour TV Preferred has 140+ channels, including all the ones from the Contour TV Starter plan. You can add on premium channels or channel packages—like the Sports & Info Pak or the Movie Pak—to expand your options. The setup lets you customize your channel lineup more than other TV companies, which often have multiple TV tiers in addition to premium add-on channels. But on the downside, adding a lot of extra channels and packages gets expensive quickly.
Check out our top picks.
Contour TV Starter
Inexpensive basic cable
75+ channels
Contour TV Preferred
All the necessities plus expandable options
140+ channels
From
$6999/mo
for 12 mos.
Contour TV Preferred
Available only in Cox wired, serviceable, residential areas. Advertised rate includes monthly recurring service fees, one Cox Voice Remote rental, and one Contour Box or CableCARD™ rental but excludes professional installation, additional TV and Premium Packs, sports packages, PPV events, some On Demand titles, taxes, franchise fees, and surcharges, which are subject to change. For additional connections, a Contour Box or a Cox-provided CableCARD together with a certified compatible CableCARD retail device required. See CableCARD FAQs on www.cox.com for details.. High Speed Internet connection required for streaming with Contour App; not all channels and shows available for out-of-home streaming. Availability of On Demand programming is based on the channels included in Contour package. Number of digital outlets per household may be limited. Not all services and features available everywhere. A credit check and/or deposit may be required. Additional fees and other restrictions may apply. Separate charges apply to streaming services and subscriptions required for Netflix, Prime Video, and other streaming services. Streaming usage counts toward Cox data plans. For more details on data plans and data usage, see cox.com/dataspeedplans and cox.com/datausage. Netflix streamingsubject to the Netflix Terms of Use at www.netflix.com/TermsOfUse. Amazon, Prime Video and all related logos are trademarks of Amazon.com, Inc. or its affiliates. Prime membership or Prime Video subscription required. YouTube and the YouTube Icon are trademarks of Google LLC. Peacock © 2020 Peacock TV LLC. Peacock and related marks are trademarks of Peacock LLC. All Rights Reserved. Activation required to access Peacock. Not all services and features available everywhere. A credit check and/or deposit may be required. Additional fees and other restrictions may apply.
Charges Included
Pricing, packages, and policies are subject to change, including when adjusting or removing services or equipment. Prices do not include applicable taxes, surcharges, usage-based charges (such as data, toll usage, pay-per-use service), and other fees. After any promotional period, regular rates apply (see www.cox.com). Prorated charges may appear on your bill if you change services before the billing cycle is complete. Rates, and/or when applicable, term agreements, may differ from those presented here as a result of customer's account features, such as existing discounts, bundles, term agreements, or service address. Other restrictions may apply. All services and plans subject to Cox Residential Customer Service Agreement (including mandatory arbitration provisions), Acceptable Use Policy (including Cox's right to terminate service for abuse of network), and other policies at: cox.com/policies.
How good is Cox TV service?
It's a solid option. Contour TV gets a little pricey, especially when you have to add Paks to get the channel variety you want. But it does let you customize your channel lineup and doesn't require a contract like DIRECTV and DISH do. Contour TV starts out at a slightly lower monthly rate for the first year, but the price jump after the introductory period isn't much more expensive.
Pros
Limited price bumps after intro period
Customizable channel lineup
No contracts
Cons
Up to 50 music-only channels
Compounding price increases for add-ons
Cox TV packages
Cox has two TV packages: the basic TV Starter and Cox Contour TV. The TV Starter is bare-bones basic cable. Contour TV is the main event. It starts with a base of 140+ channels (the specific number depends on where you are), and you can build up more channel variety by adding premium channels or themed channel Paks.
If you want to add a lot of channels, your Contour bill gets expensive fast. Each premium channel costs $10–$16 per month, and each Pak costs $10–$12 per month. At the time of writing, we added all the premium channel options and Paks as well as one HD receiver to our cart for a random address in Las Vegas, and the monthly amount shot up to $185.99 per month. That's with a promotional discount. Unless you're made of money, that's a lot to pay for TV every month.
Beyond watching prime-time programming on your actual TV set, both TV packages work with the Contour app, so you can watch your soaps on the go. The Contour app also lets you watch on-demand content and recorded shows and movies from your DVR on your phone.
Plan
Price*
Channel count
Best for
Contour TV Starter
$50.00/mo.
75+
Local channels
Our pick
Contour TV Preferred
$90.00/mo. **
140+
Channel curation
*Data as of 5/26/20. Offers and availability may vary by location and are subject to change.
**For 12 months.
Cox TV tech
Is Cox keeping up with the times? Pretty much. The cable company gives you all the tools you need to watch TV however you want. You can go the traditional route and plop on the couch to watch Brooklyn Nine-Nine, record the latest episode to watch later, or stream it from wherever you are using a mobile app.
Cox also gives you the option of using your own set-top box (like TiVo). Usually, you have to rent equipment from your TV company because the signals are coded to stop non-subscribers from using them, but not with Cox. If you want to use your own set-top box, Cox lets you rent CableCARDs for $2.99 per month so your devices can unscramble everything.
Picture quality
Cox's channel lineup includes a good mix of standard-definition (SD) and high-definition (HD) channels. Most stations have both SD and HD versions. In Tucson, for example, you can watch Guy Fieri on Diners, Drive-Ins and Dives on the Food Network in SD on channel 38 or channel 1038 for HD (to better appreciate those frosted tips).
Cox cable TV doesn't have any 4K programming yet, but the Cox Contour 2 receivers support 4K streaming content from apps like Netflix and YouTube.
DVR
Cox has two HD DVR options: the Contour Record 2 and the Contour Record 6. The main differences between the Record 6 and Record 2 are the number of simultaneous recording options, storage, and price. As the names suggest, they can record up to two or six shows at the same time.
The 6 costs about $7 more per month and can also hold up to 1,000 hours of recordings compared to the 2's 200 hours. Both DVR devices can handle the normal DVR tricks: pausing, rewinding, and fast-forwarding (up to five minutes) live TV, as well as giving recommendations based on shows and movies you've already watched.
You can schedule recordings on your TV, online, or through the Cox Connect mobile app.
Mobile Apps
Cox Connect is a general account management app with a few useful features. You can set DVR recordings and view your TV listings with it, as well as contact support and pay your bills.
Contour is Cox's TV-focused mobile app. You can use it to watch live TV and on-demand shows both at home and away, but the away selection is much more limited.
This isn't Cox-specific, but your cable subscription gives you access to TV networks' mobile apps too. So if your favorite channel isn't available on the Contour app, it might have its own streaming app (like HBO does with HBO GO) that you can access with your Cox subscription.
Contour 2 Voice Remote
Of several widely used Cox remotes, the Contour 2 Voice Remote is the most noteworthy. Its voice-control feature makes it easy to search for specific channels, shows, or recordings without spending seven years typing out search terms with a remote.
Cox TV installation
With any Cox TV service, you have the option between Cox's Easy Connect self-installation or scheduling a professional installation from a Cox technician. If you are just getting Cox TV services, Easy Connect self-installation costs you $20, while the scheduled professional install is $75. However, if you order Cox's Double Play package, the self-installation option is free. And if you order Cox's Triple Play package, both the self-installation and the professional installation options are free.
With any Cox TV service, your first set-top box is included in your price.
Cox TV service vs. the competition
CenturyLink vs. Cox
CenturyLink bundles with DIRECTV, but Cox's in-house TV and internet services offer better bargains.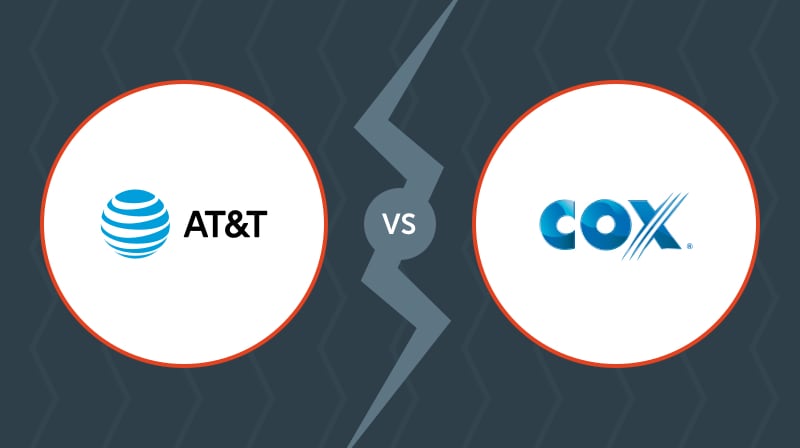 AT&T vs. Cox
AT&T beats Cox for customer service, but Cox's fastest speeds are more widely available.
Our verdict
If you're not a fan of contracts, want to customize your channel lineup, or just need inexpensive basic cable, Cox TV is a good pick. Overall, Contour TV is fine by itself, but it's much improved by bundling with internet. The cable company's discounts on combined internet and TV service make it worth the two-year service agreement.
Pick your plan and start watching now.
How much is basic cable with Cox?
Cox offers basic cable with its Starter TV plan for $25 per month for 75 channels.
How do I reset my Cox cable box?
The simplest way to reset your Cox cable box is to unplug it for 15 to 30 seconds and plug it back in again. It's not an elegant solution, but it works. Just make sure not to reset right before your favorite show because it can take up to 15 minutes for your receiver to reconnect your TV signal.
What channel is Fox on Cox cable?
Stations and channels are different in different regions. Check Cox's channel lineup to find FOX (or your other favorite channels ) in your area.
How do I program my Cox remote?
Cox uses a lot of different remote styles, all of which have slightly different instructions. You can find all the remotes (with identifying pictures) and their user manuals on Cox's website.
Usually, you need to turn on the device you want to program and enter a four-digit code that matches the brand of your device. For example, if you were trying to connect your M7820 remote to a Sony TV, the code would be 0000 or 1100. The codes and buttons you have to press are all over the place, so you really need the manual for this.
How do I cancel Cox cable?
To cancel your Cox cable, internet, phone, or Homelife services, either call their customer service line or visit one of their physical locations. You have to talk to an actual person (who will probably try to stop you from cancelling) because you can't cancel online. Call 844-227-3943 to cancel.