D-Link AC2600 D-Fend Router Review
Dec 30, 2019 | Share

Equipment Guides, Technology
D-Link partnered with Intel and McAfee to produce a wireless router that could both stand up to heavy internet use and add built-in security to your whole network. But how does it live up to its promises?
I set up the D-Link DIR-2680 and used it for two months to see how it performed in a home network.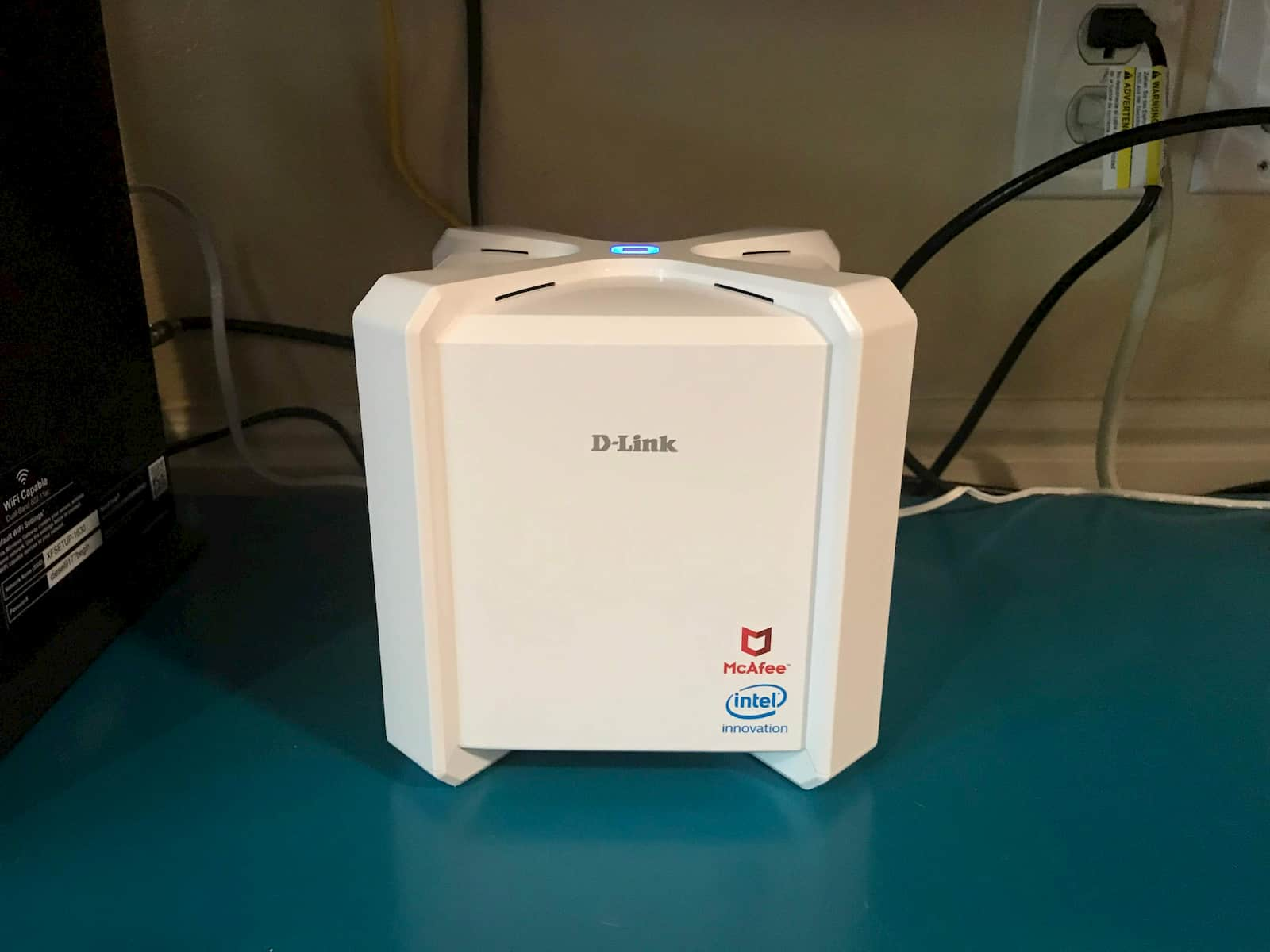 Bottom line: Is the D-Link D-Fend AC2600 good?
The D-Link D-Fend AC2600 router has great security and parental control features, but its range and reliability are less than ideal.

Pros:
Parental controls
McAfee router and device security
D-Link Wi-Fi and D-Fend apps

Cons:
Poor range
Unreliable performance
Limited McAfee security subscriptions
Your router is in charge of your entire home network. So the idea of building security features into the router itself makes a lot of sense—especially because so many people neglect their router security by keeping default login credentials. (If this is you, go change that now.)
Besides the D-Link D-Fend router, there are a few other network security options that protect your home network at the router level. Here's a quick rundown of two other popular products so you can see how the D-Link router stacks up.
| | | Price* | Max throughput | Wireless standard | Security suite | Parental controls | Year released | Smart assistant integration | |
| --- | --- | --- | --- | --- | --- | --- | --- | --- | --- |
| D-Link D-Fend 2600 Wi-Fi Router | | $$$ | 2,600 Mbps | Wi-Fi 5 | McAfee Secure Home Platform (5-yr. subscription) and McAfee LiveSafe (2-yr. subscription) | Yes | 2019 | Alexa, Google Assistant | View on Amazon |
| Norton Core Secure Wi-Fi Router | | $$$$ | 2,500 Mbps | Wi-Fi 5 | Norton Core Security Plus (1-yr. subscription) | Yes | 2017 | Alexa | View on Amazon |
| Bitdefender BOX 2 | | $$$ | Plugs in to router | Plugs in to router | Bitdefender Total Security (1-yr. subscription) | Yes | 2017 | Alexa, Google Assistant | View on Amazon |
D-Link D-Fend 2600 Wi-Fi Router
Price*
$$$
Max throughput
2,600 Mbps
Wireless standard
Wi-Fi 5
Security suite
McAfee Secure Home Platform (5-yr. subscription) and McAfee LiveSafe (2-yr. subscription)
Parental controls
Yes
Year released
2019
Smart assistant integration
Alexa, Google Assistant
View on Amazon
Norton Core Secure Wi-Fi Router
Price*
$$$$
Max throughput
2,500 Mbps
Wireless standard
Wi-Fi 5
Security suite
Norton Core Security Plus (1-yr. subscription)
Parental controls
Yes
Year released
2017
Smart assistant integration
Alexa
View on Amazon
Bitdefender BOX 2
Price*
$$$
Max throughput
Plugs in to router
Wireless standard
Plugs in to router
Security suite
Bitdefender Total Security (1-yr. subscription)
Parental controls
Yes
Year released
2017
Smart assistant integration
Alexa, Google Assistant
View on Amazon
The Norton Core and Bitdefender BOX 2 were not tested for this review. This table is provided as a reference for superficial comparison of home network security products.
*Prices as of 9/11/2019
Router setup
The D-Link D-Fend Router comes packaged with a short Ethernet cable, power adapter, quick install card (with default password), and a Simple Setup Guide.
All the included documentation tells you to download the D-Link Wi-Fi App to set up your router, but there's also a manual option and an online setup wizard you can use instead. You can find instructions for these in the user manual available through D-Link's support page.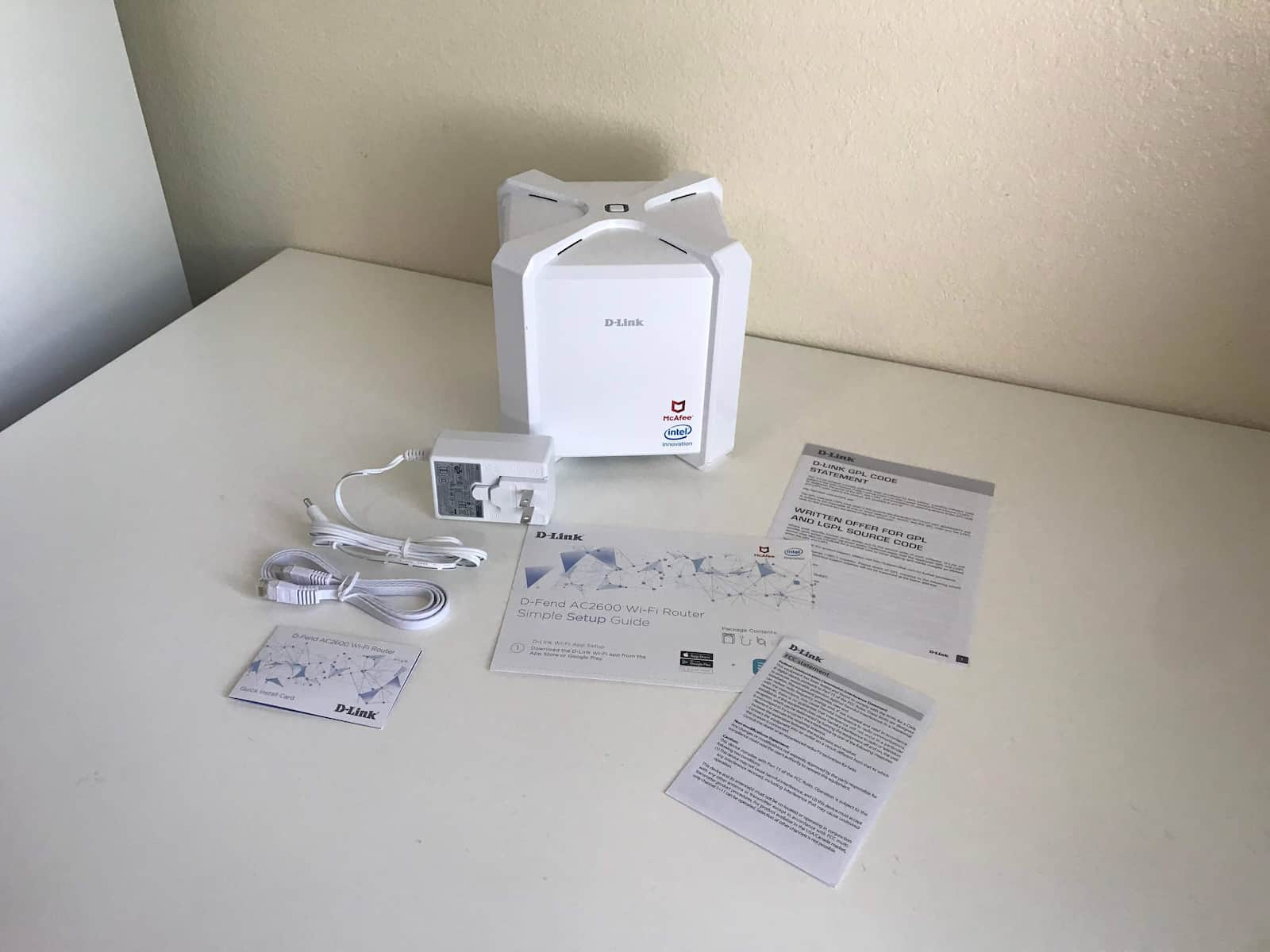 I went with the app setup process because it's the most apparent way to go. The process of getting the router up and running (not including the time it took to connect and identify all my devices) took about 40 minutes. It would have been extremely easy, but the process didn't work at first.
Initially, the router failed to establish an internet connection. The app isn't equipped to handle that situation. It cycled through trying to repair the nonexistent internet connection and telling me to manually configure the settings for the internet connection before trying to repair again several times. Finally I shut everything down and started over. Everything went smoothly the second time, and it took about seven minutes for the Wi-Fi to be up and running.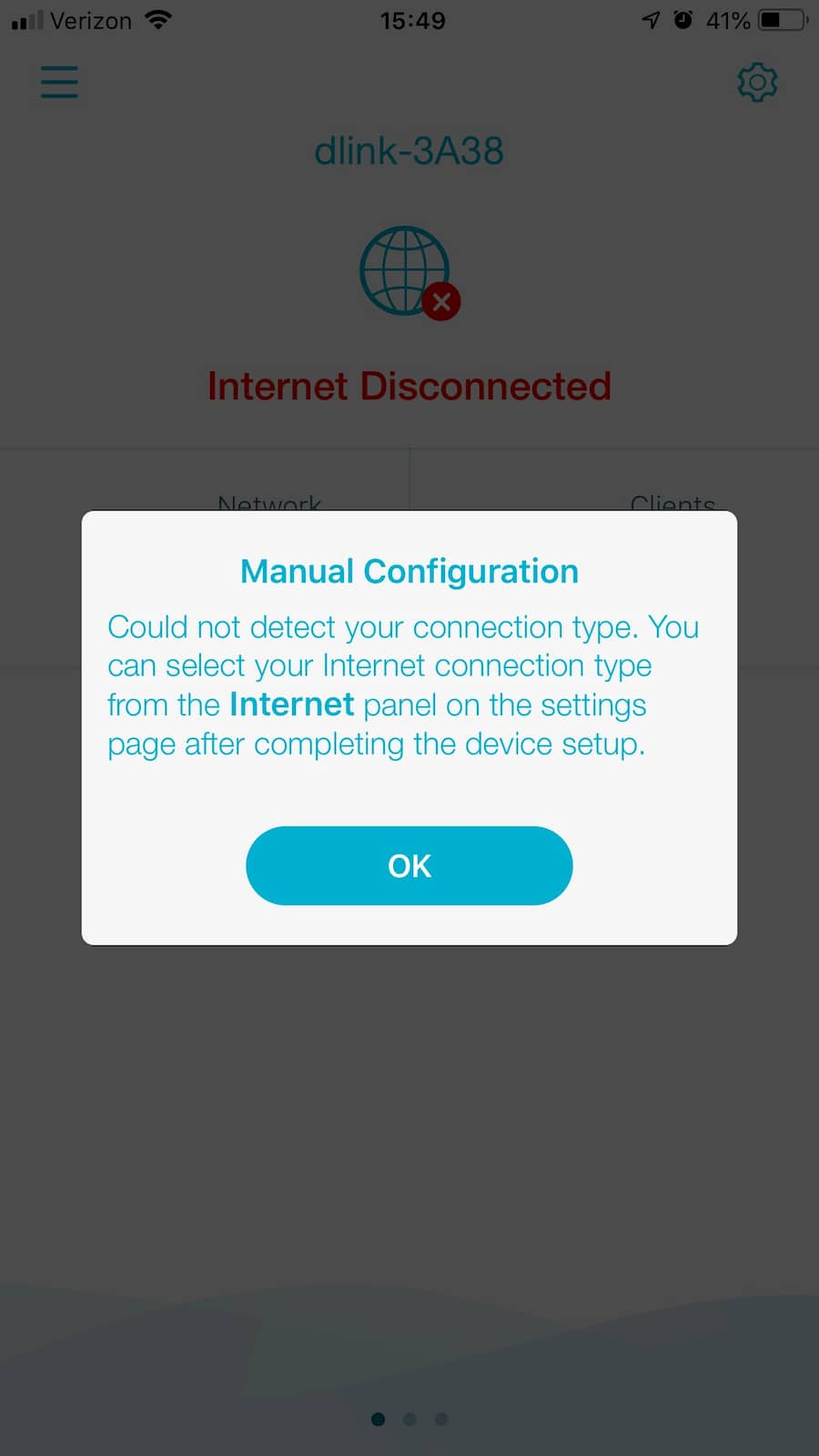 Without the first experience for context, the installation and setup process for the D-Link router would rate five out of five. When it worked, the app's setup process was simple and easy to follow.
But when it didn't work, the app's directions started going in circles and didn't offer any troubleshooting options. There were no troubleshooting tips or FAQs in any of the router's included documentation either. So, it loses one star for that.
After setting up the router, you then need to connect all your devices to the D-Link router's network and identify them in the D-Fend app. I added them all at once and tried to figure out which connections were which devices later. Don't be like me.
Connect a device, immediately give it a name, and assign it to its user profile one at a time so you actually know what is what. The app identifies devices by IP address, so it can get confusing when you're trying to sort through 10+ devices.
Interface and mobile apps
There are two mobile apps you need to use all the D-Link router's nifty features. There's a little crossover in functions between the two, but each app primarily controls a separate set of tasks.
The first app is D-Link Wi-Fi, which you use to set up the router and manage your network settings. But you can use it only when connected to the D-Link router's network.
The second is the D-Fend app, which handles the security side of your D-Link router's features. This one can be used remotely, but it requires setting up an account.
Both apps are easy to navigate and use. It would just be simpler if they were combined into one because toggling between them gets tiresome.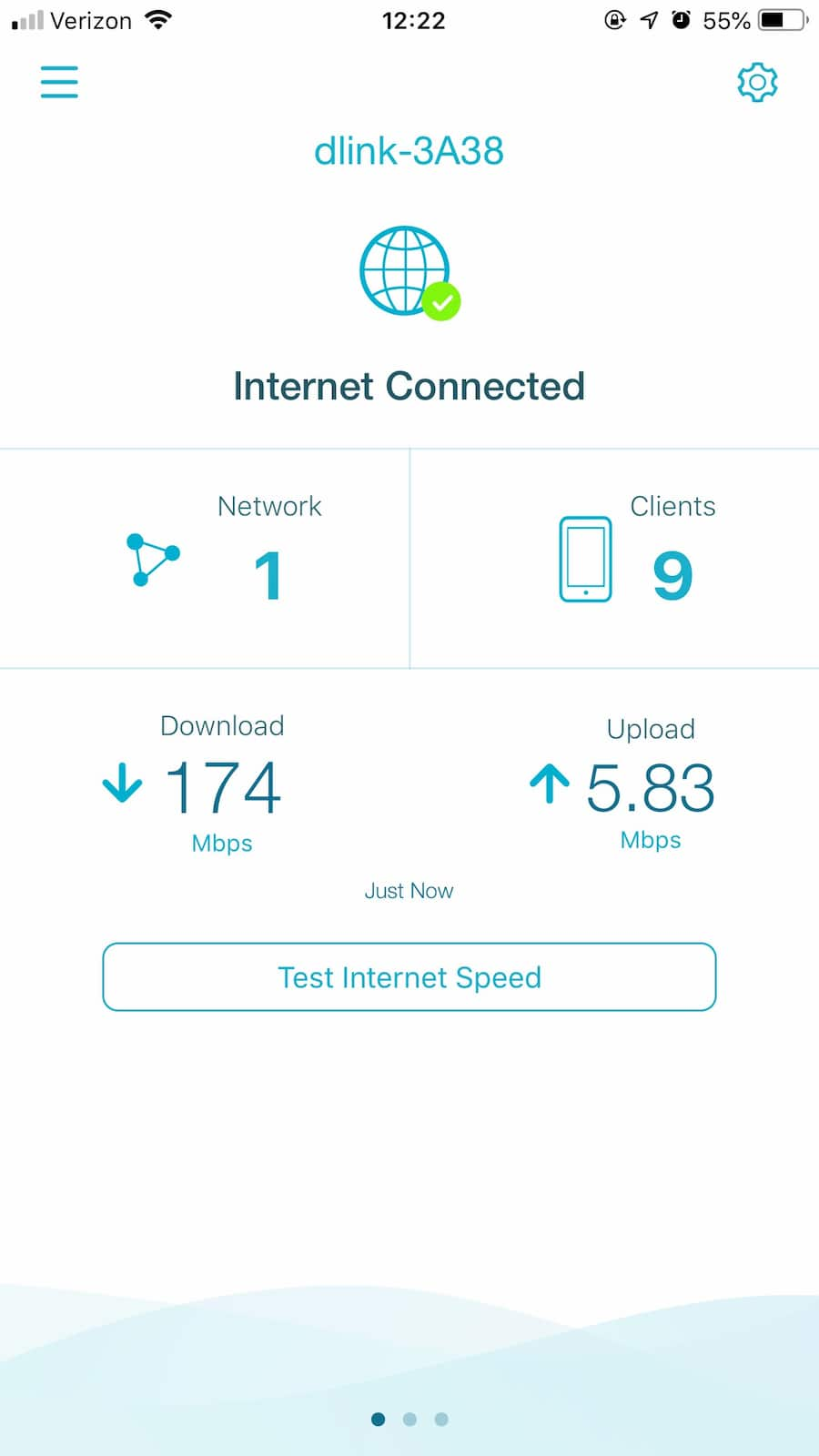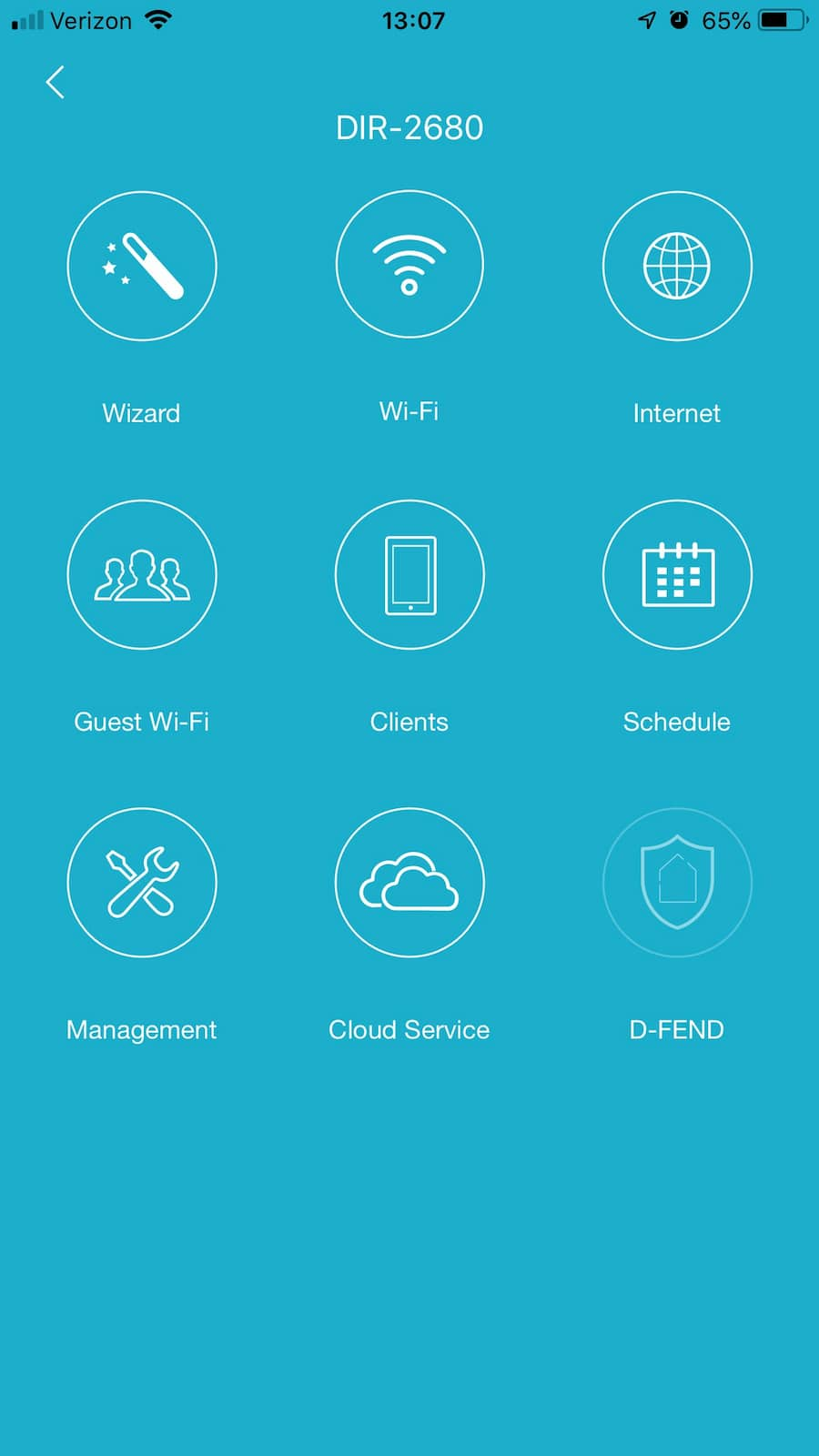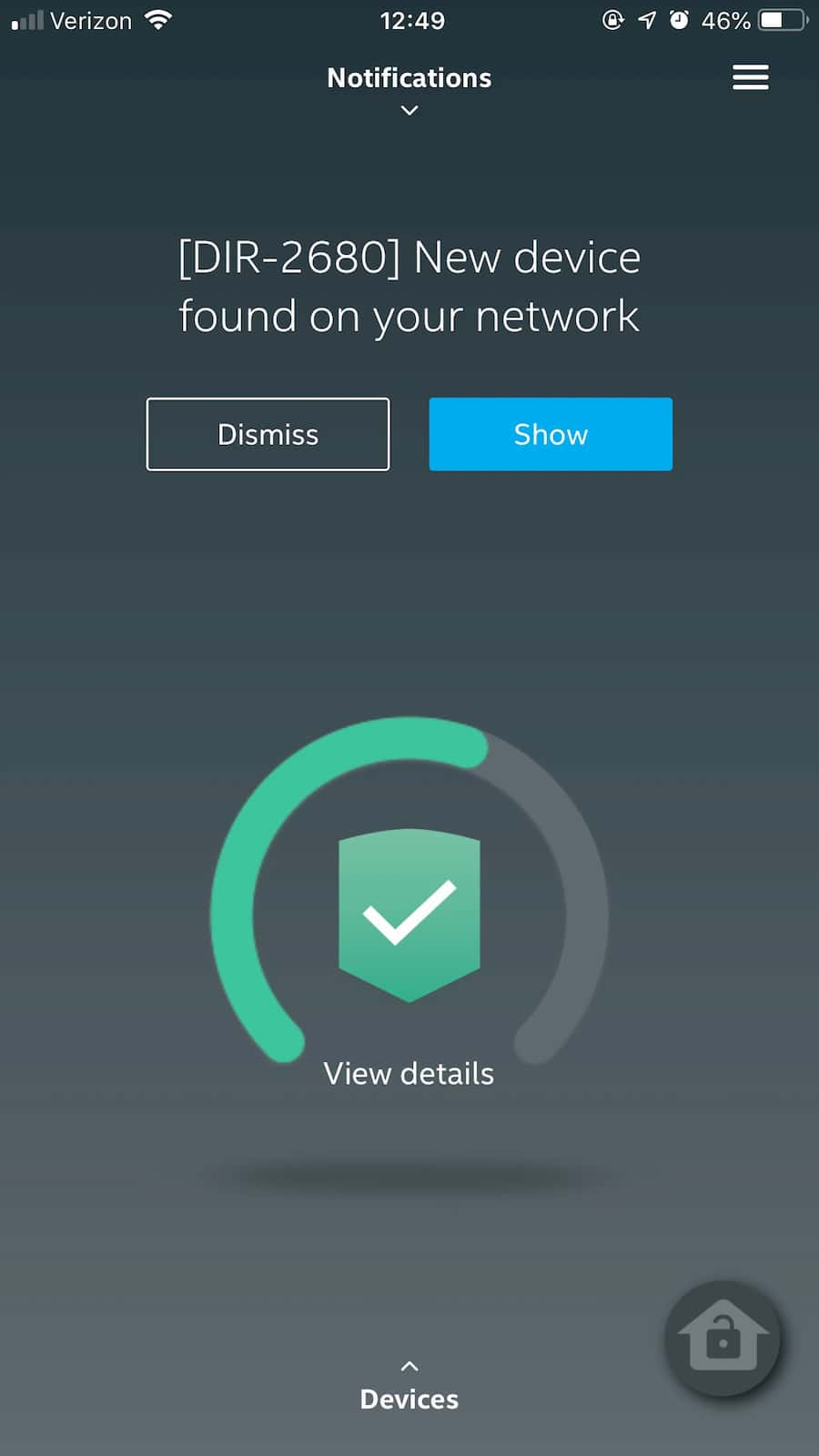 Security features
The D-Fend router includes two McAfee security subscriptions that you can activate when you set up your router. You get a five-year subscription to Secure Home Platform, which keeps an eye on your network as a whole. And you get a two-year subscription to McAfee LiveSafe, which protects individual devices.
The best thing about the D-Link D-Fend's security features is that they're really easy to use. You can handle pretty much everything through the D-Fend app.
The two different subscription lengths aren't ideal. You don't necessarily need the LiveSafe features to use the router. But if you wanted to keep using the service past your two-year subscription, it costs about $120 per year.
Secure Home Platform is more integral to the router's core functions, so it's good that a longer, five-year subscription is included when you buy the router. You manage this service through the D-Fend app, and it handles your parental controls, user profiles, network vulnerability scanning, IoT threat detection, and Away mode. I couldn't find the price to continue the Secure Home Platform subscription after the first five years, but it would probably be time to upgrade by then anyway.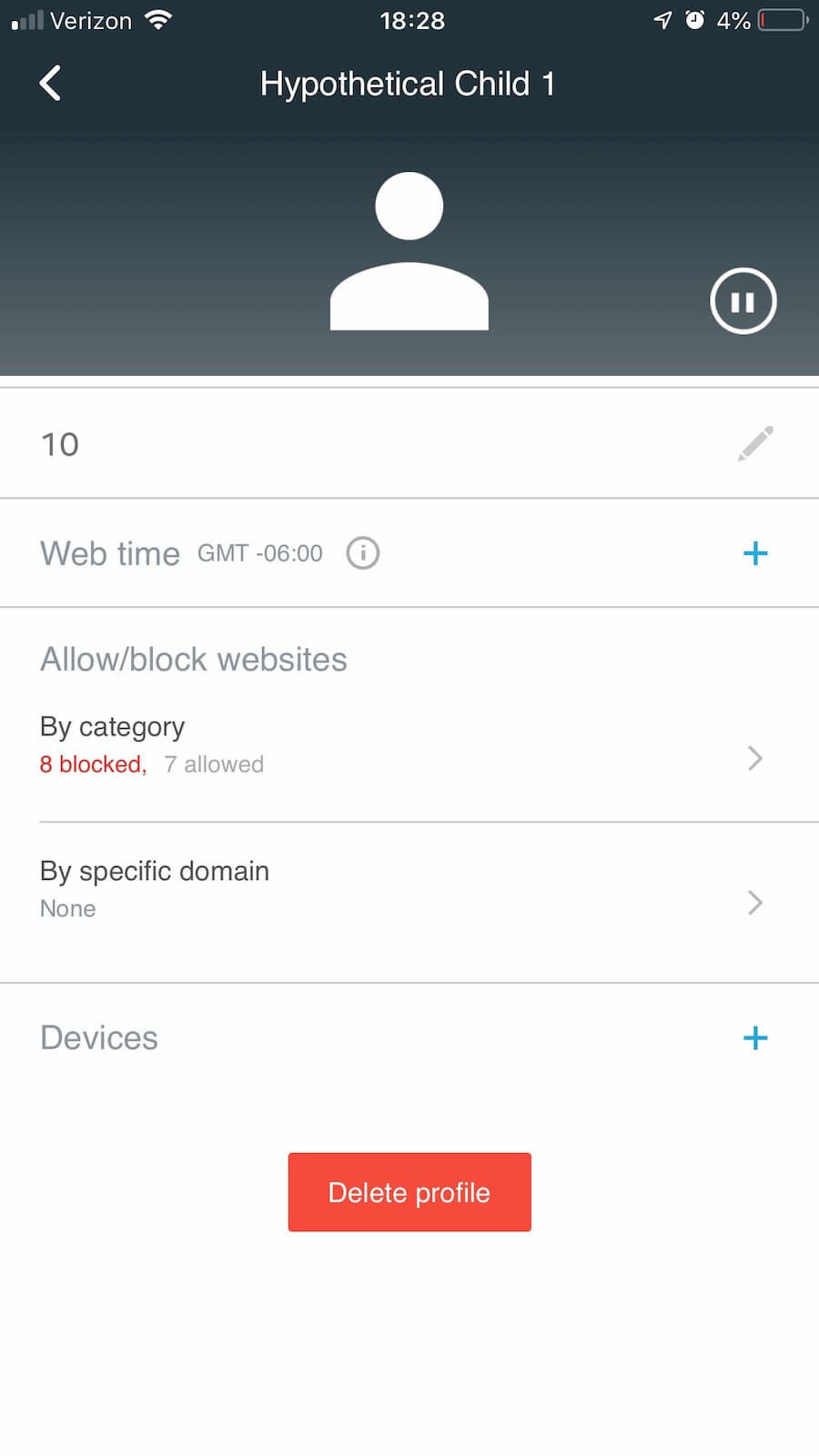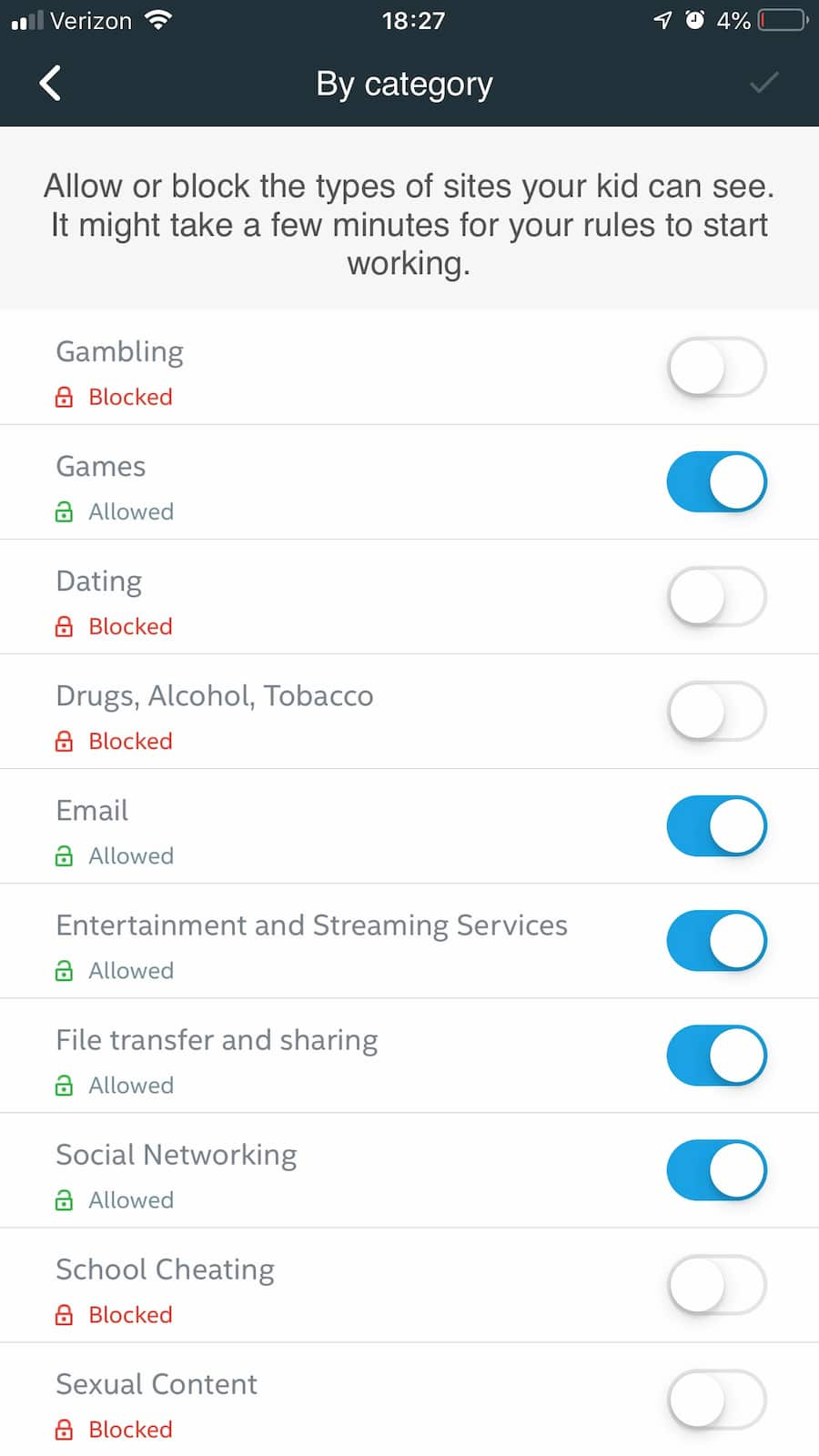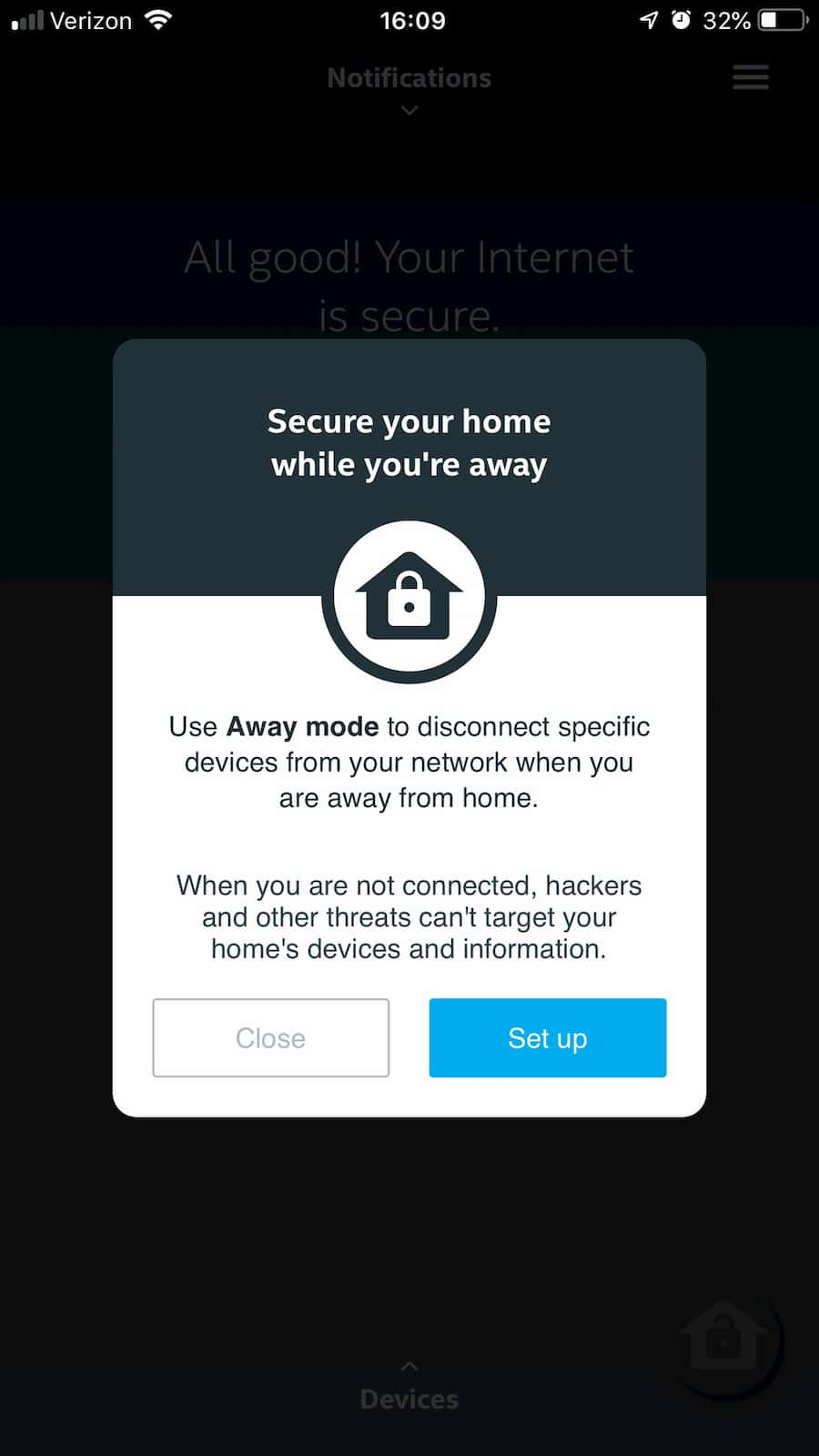 I enjoyed testing these features and found them useful. I don't have to worry about children on the internet, so I used the parental controls to block internet distractions like social media, streaming sites, and games from my work laptop. The control freak in me loved being able to identify and keep track of every device connected to my network. It put any suspicions that my neighbors might be using my Wi-Fi to rest. And it showed when devices not currently in use were connected.
Away mode is interesting, but I didn't find many uses for it. Basically, Away mode lets you set it up so certain devices cannot connect to the internet when you're away from home. So if you don't want your kids to have unsupervised access to streaming services, you could just pause the internet to your smart TV unless you're there.
| | |
| --- | --- |
| Processor | 1.6 GHz Intel GRX350 |
| Antennas | 4 internal |
| WAN port | 1 gigabit Ethernet port |
| LAN ports | 3 gigabit Ethernet ports |
| USB port | 1 USB 3.0 port |
| WPS | Yes |
| Wireless standard | Wi-Fi 5 (802.11ac) |
| MU-MIMO | Yes |
| Beamforming | Yes |
| Wireless bands | 2.4 GHz and 5 GHz |
| Max throughput | 2,600 Mbps |
The D-Link D-Fend has all the specs, bells, and whistles you'd look for in a router. In fact, it has slightly better specs than my usual router. It has a high max throughput (the theoretical fastest speed the router can process)—way more than I need for my 150 Mbps internet connection. So I figured it would handle my household network well, especially with its MU-MIMO and beamforming features.
The router also has all the ports you need for common network connections. There are four gigabit Ethernet ports for wired internet connections and a USB 3.0 port for shared network storage.
Tested performance
Firstly, there are no complaints about the performance of any of the D-Link router's McAfee security features. I like them, and I'd be down to keep using them (except that the Secure Home Platform is available only for specific router models like this one). But the router part of this router gets two stars because it did work—just not as well as it should have worked.
Wi-Fi range
The router had pretty consistent issues with Wi-Fi range and reliability. I live in a narrow three-story townhouse, and the router was placed near the middle of the second floor—exactly where my own router usually sits. In my usual home network ecosystem, there are no coverage issues with a standalone router, and I run almost everything over Wi-Fi (even my gaming consoles and PC).
With the D-Link router, there were noticeable Wi-Fi signal issues in any room that had more than one wall (or floor/ceiling) between the router and that room. My upstairs bathroom is the most extreme example, as there are four walls between the router and that space. It was the only room that didn't get signal at all. But every device on the first or third floors were basically working with half-strength or weaker Wi-Fi.
It's hard to tell how the D-Link's horizontal range compared to its poor vertical range because of the layout of my house and community. But I don't imagine it would be much different, judging by the placement of the router's four internal antennas. (Two are placed along the top edge for vertical range and two are placed in the sides for horizontal range.)
I'm not sure how the D-Link router's smart beamforming factored into all this, but I expected slightly better range performance than I got. Bottom line: it's not a great router if you have a lot of ground to cover.
Router reliability and speed
The biggest issue with the D-Link wireless router is that it sometimes just stops working. This happened three times during my two-month test. In all three cases, the issue was fixed by power cycling the router (which implies the issue was caused by the router, not the modem or Internet Service Provider).
After the first issue, I figured out that the status light on the router is for the power connection—not like the internet connection or Wi-Fi or anything necessarily useful. I thought it was weird that the router just stopped working but was still glowing blue like nothing was wrong, but I guess that's on me for not reading the 178-page user manual. You can turn the light off in the D-Link Wi-Fi app.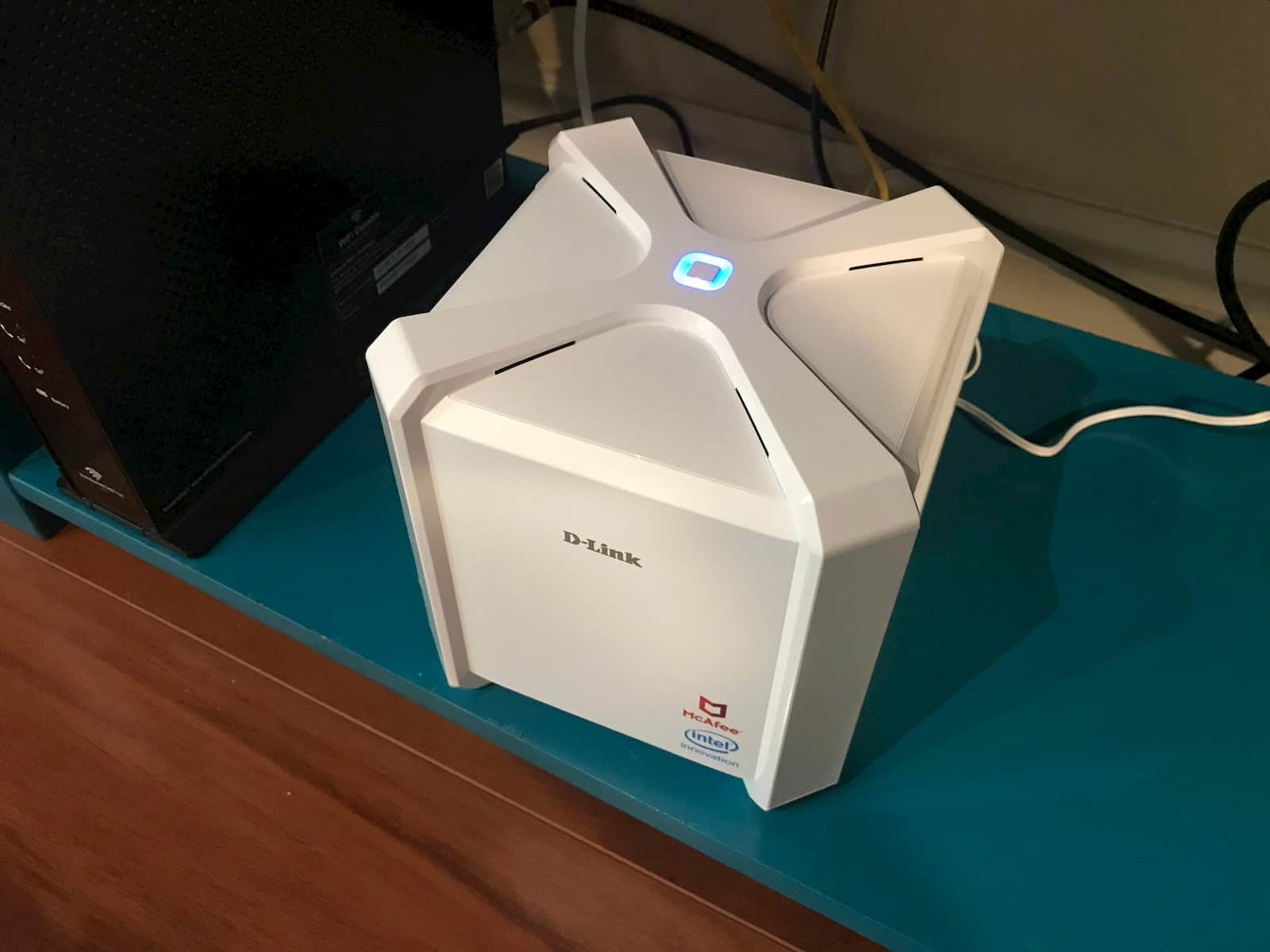 In addition to the random outages, the router had some issues with overload. At any given time, my household has at least seven connected devices. And sometimes there are two online gaming sessions plus a Netflix stream happening at the same time (my husband and I watch The Great British Baking Show while playing Overwatch together). I've never had issues with this setup until I started using this router. Then it was like walking into the city of lag and buffering.
I was still able to do most of my usual activities while testing the D-Link router. The lag didn't prevent me from playing online video games. It was just enough to be very annoying and discourage me from playing competitive Overwatch. And I could still stream movies and TV shows—they just stopped to buffer more frequently than I'm used to.
How I tested
I received a preproduction review unit of the D-Link D-Fend router from the manufacturer for this review. Because of this, it is possible that any quirks found in testing were worked out before the product's wider release.
I set up the D-Link DIR-2680 in my three-story townhouse and used it for two months. It was connected to a modem router combo device in bridge mode. I didn't change any of my internet-using habits during this time, but I did make sure to test as many use scenarios and features as possible.
I set up all the McAfee features, including downloading antivirus protection onto a few of my devices. I created user profiles, which included profiles for theoretical children in order to test the parental controls and internet filters. And when things got messy, I worked through them instead of throwing in the towel and plugging my own router back in.
D-Link Router FAQ
How do I reset my D-Link router?
The D-Link DIR-2680 has a recessed reset button on the bottom of the router. Pressing it for more than 10 seconds resets the router back to its default settings. You can also reset or reboot your router in the D-Link Wi-Fi app under Management settings.
How do I change my router password?
You can change your router's admin password during setup or through its online interface. There is also the option to change your router's password in the Management menu of the D-Link Wi-FI app.
What's my router's IP address?
The D-Link D-Fend router's default IP address is http://192.168.0.1.
What is D-Link Wifi?
D-Link Wi-Fi is a network management app that allows you to control certain functions of your D-Link DIR-2680 router. It can also be used to quickly set up your D-Link D-Fend router, set up a network schedule, and configure your Wi-Fi networks. It's available for iOS and Android.
How do I find the default password for my D-Link router?
Your router's default password should be printed on a label somewhere on the device, as well as on the included Quick Installation Card.
If you set a different password for your router and can't remember it, you can reset your router to its default settings by pressing the reset button for 10 seconds.
Can I block websites with the D-Link D-fend router?
You can block individual websites and specific types of content using the D-Fend app's parental controls. If you want to block one website across your whole network, make sure that every device is assigned to a user profile and block the specific domain in every profile. You can also customize access so that certain users can go to that site but others can't.
Author - Rebecca Lee Armstrong
Rebecca Lee Armstrong has more than six years of experience writing about tech and the internet, with a specialty in hands-on testing. She started writing tech product and service reviews while finishing her BFA in creative writing at the University of Evansville and has found her niche writing about home networking, routers, and internet access at HighSpeedInternet.com. Her work has also been featured on Top Ten Reviews, MacSources, Windows Central, Android Central, Best Company, TechnoFAQ, and iMore.
Editor - Cara Haynes
Cara Haynes has been editing and writing in the digital space for seven years, and she's edited all things internet for HighSpeedInternet.com for five years. She graduated with a BA in English and a minor in editing from Brigham Young University. When she's not editing, she makes tech accessible through her freelance writing for brands like Pluralsight. She believes no one should feel lost in internet land and that a good internet connection significantly extends your life span.