The Most Popular Netflix Show in Each State for 2019
Dec 16, 2019 | Share

Industry Exclusive/Entertainment
The average Netflix user watches about two hours of content per day. (High five if you also just found out you're above average.) Everyone has different tastes, of course, but some shows are too good—or too ingrained in pop culture—to miss.
Did you watch your state's most popular Netflix show in 2019?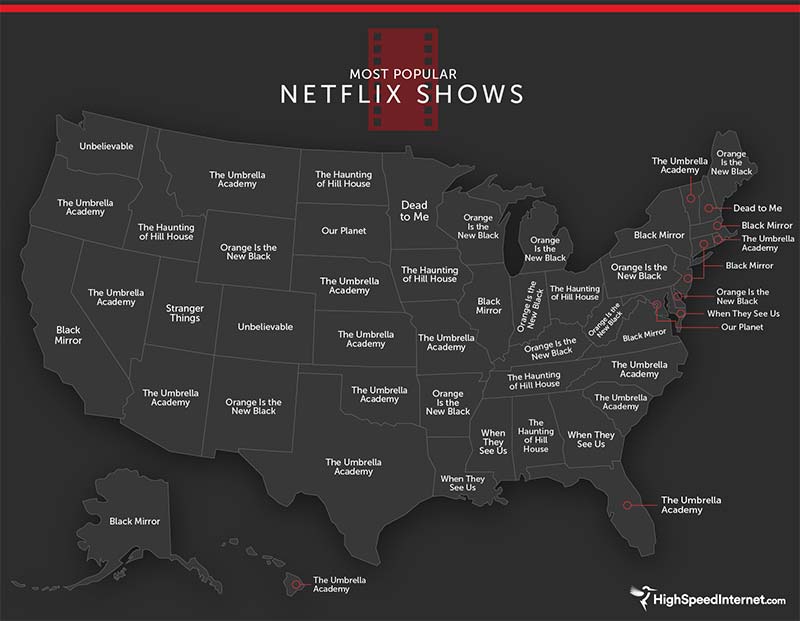 America's most popular Netflix show in 2019 was The Umbrella Academy.
Premiering in February 2019, The Umbrella Academy was watched by 45 million households within the first four weeks. And it was the most googled Netflix show in 15 states for 2019.
Comic adaptations were also popular choices in last year's report, when 19 states' favorite shows were based on comics or graphic novels. Many of those shows (RIP Luke Cage, Iron Fist, and Daredevil) were cancelled in 2018, which let The Umbrella Academy swoop in to fill that niche when the Marvel properties jumped ship.
Orange Is the New Black finished strong.
Orange Is the New Black has been one of the most successful Netflix originals since its debut in 2013. The show's final season released in July, so it's no surprise that it was this year's second-most popular show.
Orange Is the New Black claimed the honor of being 11 states' most popular Netflix show in 2019. Two of these states—West Virginia and Michigan—also favored the show last year (and it's been the most searched Netflix show in West Virginia three years in a row).
We're creepin' it real with Black Mirror,The Haunting of Hill House, and Stranger Things.
Black Mirror and The Haunting of Hill House were the most popular Netflix shows in eight and six states, respectively.
Stranger Things—despite dropping its most popular season to date in July 2019—was repped as the favorite only in Utah, where it has been the most popular Netflix show for the past three years. What can we say? Utahns know what they like, and what they like is sci-fi mixed with '80s nostalgia and government conspiracies (and Suzie).
How We Ranked the Shows
Our team at HighSpeedInternet.com compiled a list of the most popular shows on Netflix in 2019. We narrowed the list down to the top 11 shows with the highest search volume this year and then used Google Trends to find and rank each state's most searched Netflix show.
Author - Dave Schafer
Dave has written professionally for tech companies and consumer technology sites for nearly five years, with a special focus on TV and internet. He uses his industry expertise to help readers at HighSpeedInternet.com get the most out of their services. No matter the project, he prefers his coffee black (the stronger, the better).