When Love Bites: 2019 Catfishing Numbers by State
Jun 10, 2019 | Share

Industry Exclusive/Entertainment
What do you get when you combine romance, greed, and the internet? You end up with the perfect habitat for a digital bottom feeder: a catfish. Catfish feed on hearts, reputations, identities, and bank accounts. And their numbers are growing. The Better Business Bureau (BBB) reports that as many as one in seven online dating profiles are frauds.
Despite warnings from the Federal Trade Commission (FTC), there were more than 50% more catfishing victims last year than there were three years ago.
So if we know they're out there, why are they still so alluring?
Well, for one, catfishers use stolen photos of attractive people and impersonate them. They're also highly skilled at manipulating others into trusting them. Some move fast while others take years developing relationships with the people they swindle. But across the board, catfish share one thing in common: they always have an excuse why they can't meet you in person.
How often do people get catfished in your state?
If you're worried about falling for a catfish in your state, check out where it lands on our map. Catfishing is much more common in some states than others. This map ranks each state according to the number of catfishing and romance scams reported to the FBI in 2018.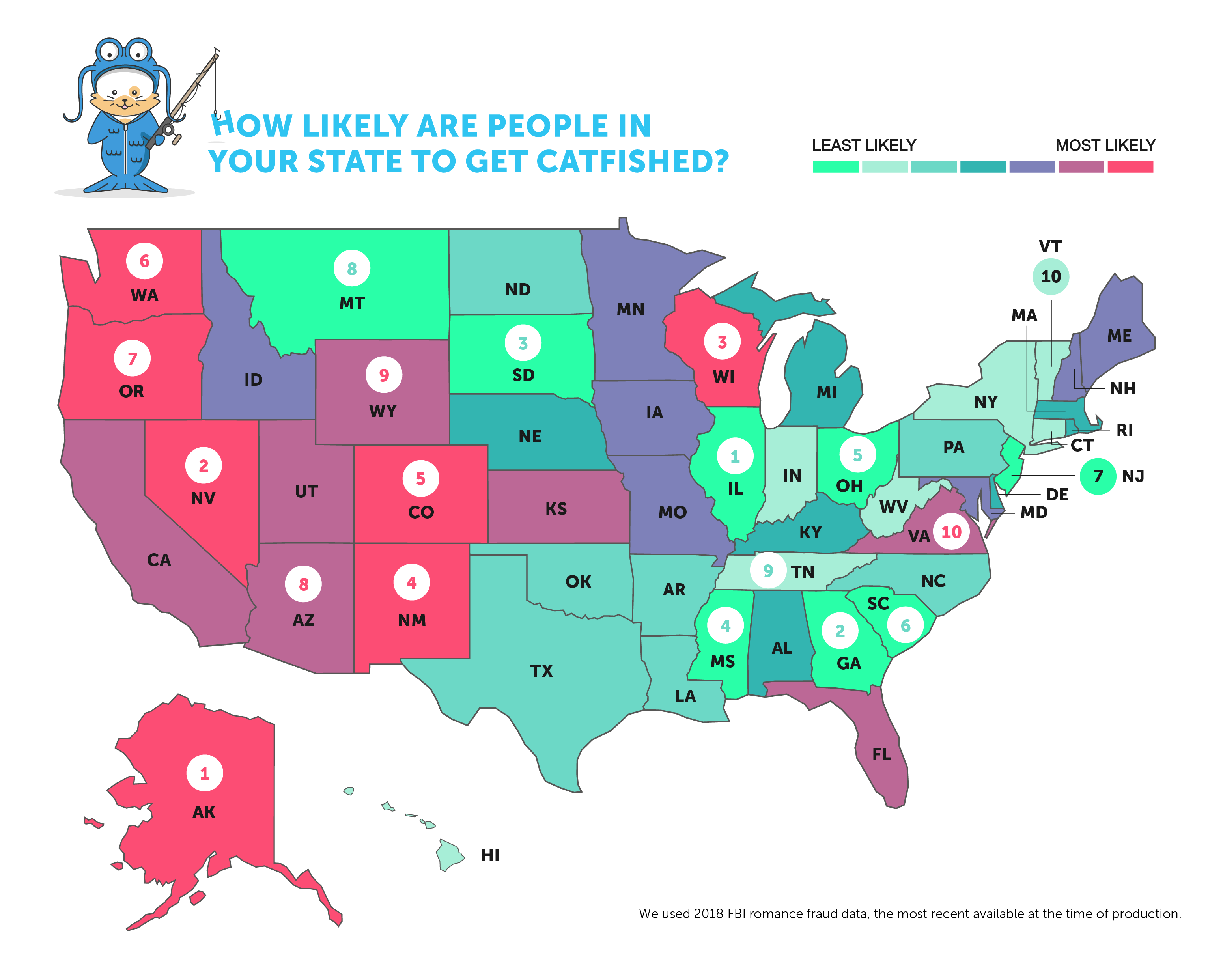 States with the most catfishing scams
When it comes to catfishing, the western states are where it's really happening the most. If you look at the 10 states with the highest number of reported catfishing incidents, you'll see that eight of them are in the West (Alaska, Nevada, New Mexico, Colorado, Washington, Oregon, Arizona, and Wyoming).
The generally lower population density of the western states might contribute to this trend, making it possibly more likely for people in the West to seek long-distance relationships online. And who knows? Maybe westerners are also more likely to report an incident.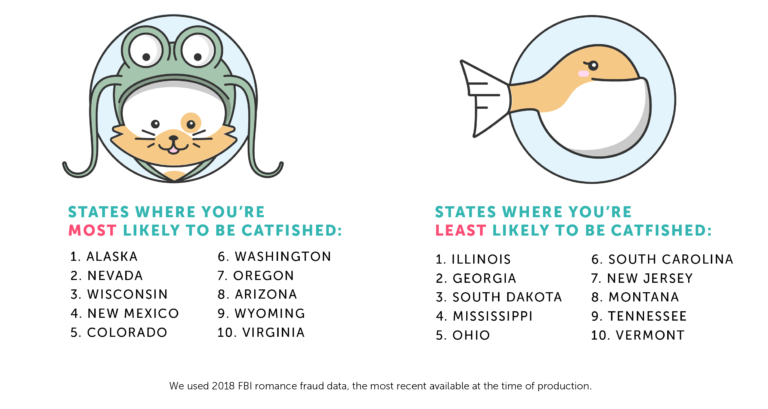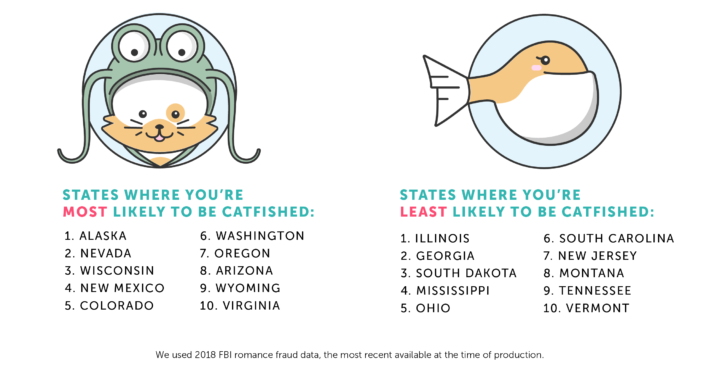 States with the least catfishing scams
The numbers suggest that easterners tend to be wary of romance scams. The 10 states with the fewest reports of catfishing includes seven states that are in the eastern part of the country (Georgia, Mississippi, South Carolina, Tennessee, Ohio, Vermont, and New Jersey), two in the Midwest (Illinois and South Dakota), and only one in the West (Montana).
Illinois
Georgia
South Dakota
Mississippi
Ohio
South Carolina
New Jersey
Montana
Tennessee
Vermont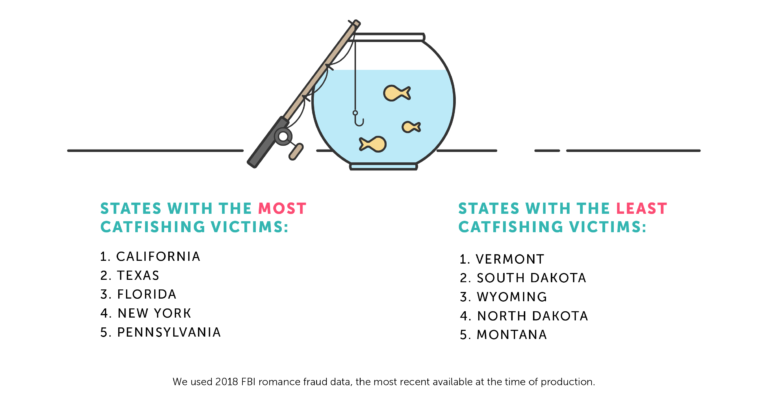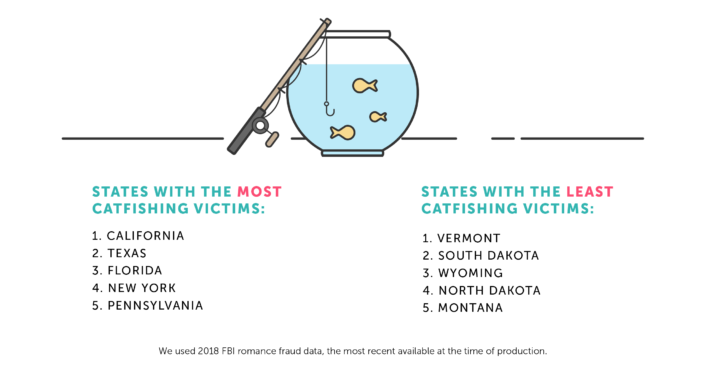 For the second year in a row, the state with the highest number of catfishing victims in one year is California with 2,105 victims in 2018. California also has the highest population, so even though it had the most victims overall, the number of victims per capita is actually much lower than other states (it ranks 37 nationwide).
The state with the lowest number of catfishing victims in one year is Vermont with 25 victims. Vermont also has the second-to-lowest population among all the states.
Despite increasing awareness, catfishing incidents have skyrocketed in the past few years. In 2015, the first year the FBI started issuing the Internet Crime Report, there were 10,256 reported incidents in the US. By 2018, the number of confidence/romance fraud incidents in the US was 15,658. These numbers tell us that there's been a 52% increase in catfishing in the past three years.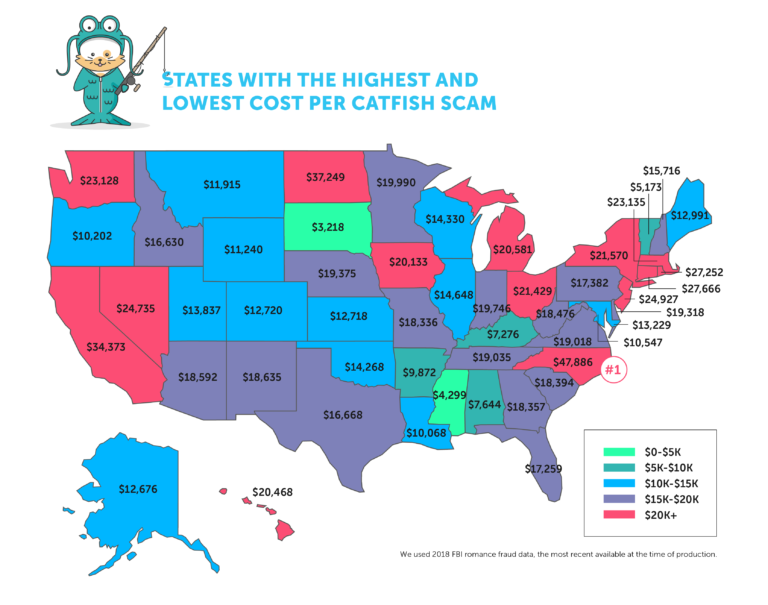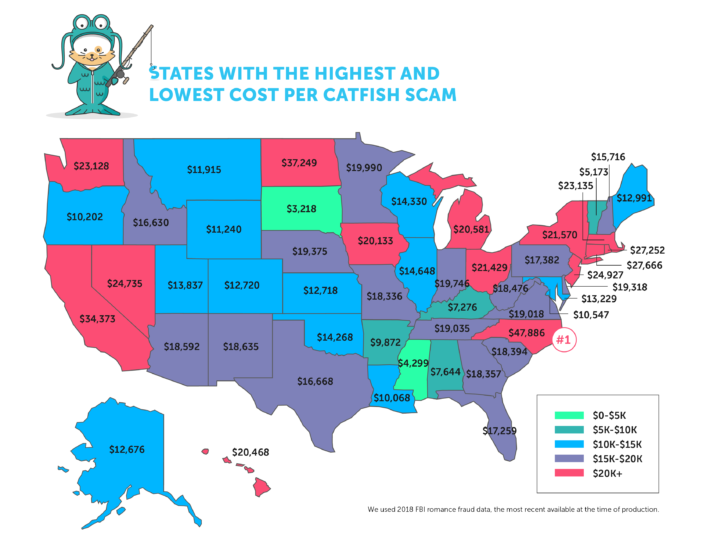 The state with the lowest cost per victim is South Dakota, with $3,281 per crime. Even though that's the lowest in the country, that's still enough money to buy four annual passes to Disneyland and have a wad of cash leftover. Or you could give it to someone online who claims to be in love with you. Your call.
The state with the highest cost per victim is North Carolina, with $47,886 per crime. That's a lot of money to spend in the name of love! You could buy a brand-new Mercedes-Benz C-Class with that much money, and still have enough leftover for a $6,000 trip to Hawaii.
According to the FBI Internet Crime Report, the total amount of money lost to catfish in 2018 in the US was $323,952,461. That's about the net worth of Robert Downey, Jr. and more than four times as much as the amount lost to credit card fraud in the same year.
How to avoid catfish online
When a catfish bites, it hurts. Protect your heart (and your wallet) with these tips.
Keep conversations in an online dating app for as long as possible. Once you take conversations to text or social media, you give a potential scammer more of your personal information to work with.
Be wary of anyone who asks you for information that could be used in identity theft. This includes the obvious types of data, like bank information, but it also includes answers to questions that could be used to verify your identity like the name of your childhood pet or your mother's maiden name.
Don't send money to someone you haven't met in person. Never. Even if you've been in an online relationship with this person for years, don't trust them with your money.
Trust your gut instinct. If something seems strange, or too good to be true, cut off communication. You're probably talking to a catfish.
You can learn how to spot a catfish by watching a video about online romance scams from the FTC , or by reading the 2018 study on romance scams conducted by the BBB.
Are you wondering where your state stacks up in catfishing scams? Here are this year's rankings from the state where you're the least likely to get catfished (Illinois) to the state where you're most likely to get catfished (Alaska).
| | |
| --- | --- |
| Ranking | State |
| Illinois | 1 |
| Georgia | 2 |
| South Dakota | 3 |
| Mississippi | 4 |
| Ohio | 5 |
| South Carolina | 6 |
| New Jersey | 7 |
| Montana | 8 |
| Tennessee | 9 |
| Vermont | 10 |
| New York | 11 |
| Connecticut | 12 |
| Indiana | 13 |
| West Virginia | 14 |
| Hawaii | 15 |
| Oklahoma | 16 |
| North Carolina | 17 |
| Texas | 18 |
| Louisiana | 19 |
| Arkansas | 20 |
| Pennsylvania | 21 |
| North Dakota | 22 |
| Michigan | 23 |
| Kentucky | 24 |
| Nebraska | 25 |
| Alabama | 26 |
| Rhode Island | 27 |
| Delaware | 28 |
| Massachusetts | 29 |
| New Hampshire | 30 |
| Idaho | 31 |
| Maine | 32 |
| Minnesota | 33 |
| Missouri | 34 |
| Iowa | 35 |
| Maryland | 36 |
| California | 37 |
| Utah | 38 |
| Kansas | 39 |
| Florida | 40 |
| Virginia | 41 |
| Wyoming | 42 |
| Arizona | 43 |
| Oregon | 44 |
| Washington | 45 |
| Colorado | 46 |
| New Mexico | 47 |
| Wisconsin | 48 |
| Nevada | 49 |
| Alaska | 50 |
Studies show that only 10% of people who've been catfished report the incident. But reporting the incident could help prevent additional crimes. To report a catfishing incident, go to the FBI Internet Crime Complaint Center at www.ic3.gov.
Do you know someone who's been catfished? Share your story or advice below.
Author - Kristin Cooke
After graduating with a degree in English from the University of Utah, Kristin learned to geek speak while working as a technical recruiter, interviewing software developers and tech companies in the Pacific Northwest. Over the past 20 years, she has created award-winning content for technology, health, and finance companies, eventually bringing her talent to HighSpeedInternet.com where she writes unbiased reviews of internet providers and tech products. Her work has been featured in the New York Post, PC Magazine, Forbes, Business Insider, Space.com, and Fox News.