Survey: Is There a Better Streaming Service Than Netflix?
Mar 16, 2020 | Share

Industry Exclusive/Entertainment
Streaming services have been popping up left and right for years now, and they don't show any signs of slowing down—but is that a good thing? Next up is NBCUniversal's Peacock, a streaming platform that's available for Comcast X1 and Flex customers in April and launches nationally on July 15.
So, with yet another service joining the ranks, we figured it was a good time to check in on how people feel about their streaming options.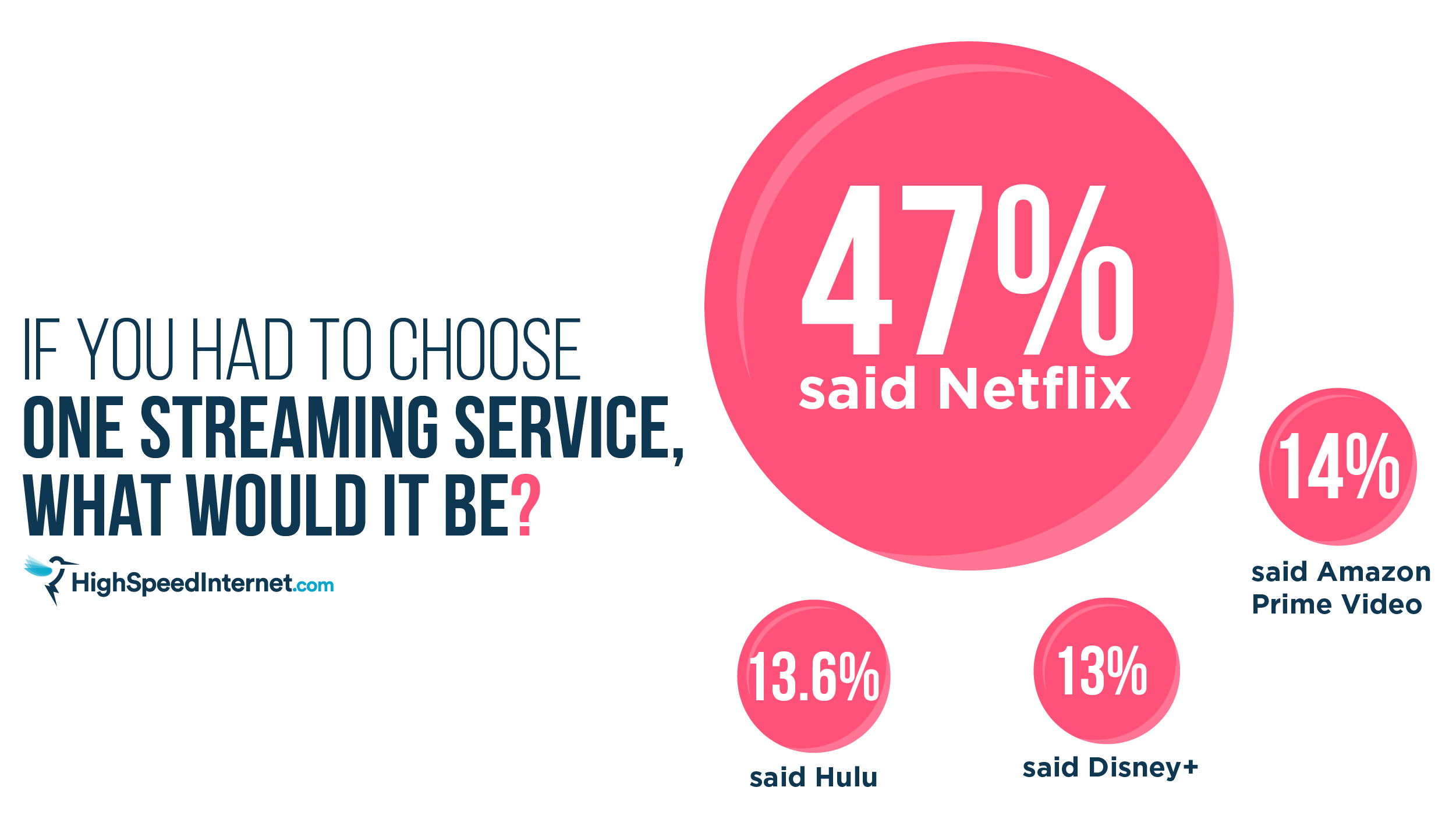 Netflix reigns supreme: 47% of respondents choose Netflix over other streaming services
When asked which streaming service they would pick if they could choose only one, 47% of respondents said they would choose Netflix.
It's hard to imagine a world without ever hearing the phrase "Netflix and chill," and many people's first experience of bingeing a show started with Netflix. It'll always hold a place in our hearts as the king of the stream—at least until another service can prove they have the goods to take it out of the top spot.
Although Netflix dominates most people's first choice, some respondents chose these other streaming services as their first choice:
Amazon Prime Video (14%)
Hulu (13.6%)
Disney+ (13%)
Maybe these three services can combine to form a Voltron bundle of streaming services to take down Netflix and give people what they want. In fact, there are some streaming bundles already available, like the Disney+, Hulu, and ESPN+ package. Additionally, most streaming services give you premium add-on options like HBO and CINEMAX for bundle prices. We expect to see the bundling trend continue.
Content is king: 75% of respondents choose based on content
According to our survey, content beats out other considerations like price, user experience, and bundling options: 75% of our respondents said content was the top reason for picking their favorite streaming service.
Netflix's place as the first streaming service certainly counts for something. But it also has a knack for cranking out original content that continues to be worthy of water-cooler discussions and all-night binges. Pair that with an ever-expanding library of non-original content, and you have a winning combination.
Too many choices—many respondents are overwhelmed
According to our survey, 49% of respondents said they are overwhelmed with the number of available streaming services. We can't blame them.
You've got Netflix, Hulu, HBO NOW (HBO Max will arrive in May 2020), Disney+, Amazon Prime Video, AT&T TV NOW, SlingTV, and more. Whew. We get winded just listing them.
And in July, we're all getting yet another streaming service in the mix: NBC's Peacock, which will feature hits like The Office, Parks and Recreation, and 30 Rock—titles which have been some of Netflix's most streamed shows. Peacock will have three tiers of service: free with ads for Comcast subscribers, $5 for ad-based service for everyone else, and $10 to get the ad-free version.
It's hard to imagine Peacock knocking out Netflix for the top spot in the land of streaming. However, it may end up being one of many streaming services people subscribe to.
One service is not enough: 57% of respondents pay for at least 2 streaming services
How many subscriptions do you really need? About 57% of our respondents pay for at least two or more services. Some require even more: 10% of people currently pay for three or more streaming services.
Monthly prices range from $5 to $135, with most being $10 to $20. It's quickly becoming as expensive to get your TV through multiple streaming services as it is with cable or satellite TV. By comparison, the average price of a standalone TV service is $72.60 per month.
So, how do people keep down the costs of streaming?
Finding free TV—kinda: 43% of respondents use someone else's login
In our survey, as many as 43% of respondents said they use someone else's login for at least one other streaming service that they don't pay for.
Streaming companies have clear(-ish) rules against sharing logins across households, but we don't exactly see SWAT teams busting down doors to stop illegal binge-watching sessions either.
The other way to get some free streaming TV—at least for a little while—is pretty simple: 55% of respondents have signed up for a free trial and canceled it to save money. Most trials last 5–7 days, so it's not a permanent solution by any means.
Regardless of how people watch streaming services, we expect to see the number of services continue to grow along with the number of household subscriptions.
But we'll have to wait and see if Peacock can spread its feathers in a room crowded with giants like Netflix, Amazon Prime Video, and Hulu.
The team at HighSpeedInternet.com surveyed 500 people for their opinions on streaming services in 2020. We analyzed the results and compiled this report.
This survey was conducted by HighSpeedInternet.com and is in no way related to Netflix, Disney, Hulu, HBO, Amazon, or any related entities.
Author - Trevor Wheelwright
Trevor's written professionally for five years for editorial publications and retail/e-commerce sites. He lives in Salt Lake City and enjoys photography and making music in his spare time, or you can catch him on your local dance floor bustin' a move.
Editor - Cara Haynes
Cara Haynes has been editing and writing in the digital space for seven years, and she's edited all things internet for HighSpeedInternet.com for five years. She graduated with a BA in English and a minor in editing from Brigham Young University. When she's not editing, she makes tech accessible through her freelance writing for brands like Pluralsight. She believes no one should feel lost in internet land and that a good internet connection significantly extends your life span.