5 Ways You're Overpaying for Internet Service (and How to Start Saving Money)
Jan 28, 2021 | Share

Brand Guides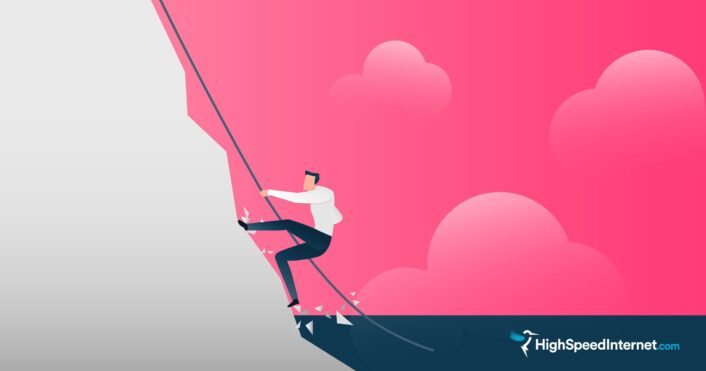 At HighSpeedInternet.com, we spend all day, every day thinking about internet service and how to help you find the best internet for your budget and lifestyle. So read on to find the most common pitfalls that could be costing you money—and the solutions to fix them. Whether you're actively shopping for internet or just worried about your current bill, these are some of the best ways to save.
You're paying for more speed than you actually need
Nobody wants to be stuck with slow or spotty internet service, so we tend to gravitate towards the biggest, baddest (and most expensive) internet plans. But most people would be surprised by just how little internet speed they can comfortably get away with.
Unless you live in a household with lots of people who are heavy internet users (doing things like streaming, video conferencing, and downloading/uploading large files), chances are a 100 Mbps connection is more than enough for you. So if you're paying for 500 Mbps or even a full gig of internet speed, you may be overpaying.
The solution: Take our How Much Speed Do I Need test to see what your internet needs actually are. Downsizing to a cheaper plan with less speed might be the perfect fit for you.
You're not comparing all your options
It's hard to pick the best internet option if you don't even know everything that's available to you. There are more than 2,000 internet providers out there in the United States: large and small, national, regional, and local. Your internet options completely change depending on where you live, so tracking down that info on your own feels impossible sometimes.
The solution: Enter your zip code below to see the full menu of internet options available in your area. HighSpeedInternet.com has a comprehensive database of internet providers by zip code, so if there's a better, cheaper plan where you live, we can help you find it.
You get sucked in by promotional prices
Many internet service providers attract customers by offering great rates for a short period, often three or six or twelve months. Sometimes those plans make sense, but you don't want to jump at an introductory price and then get stuck overpaying.
The solution: Choose a no-contract internet plan or a provider that promises not to raise your rates after you sign up. We have a rundown of the best no-contract internet plans, which provide you maximum flexibility, especially if you could be moving in the future or if your internet needs change. 
You're not getting the speeds you pay good money for
There's often a big difference between the speeds an internet provider advertises and the speed they actually deliver to your home. Providers aren't necessarily trying to trick you—there are a number of factors that can affect the speeds you receive. But if you're going to pay up for fast internet, make sure that's actually what you're getting.
The solution: Take our internet speed test to see how well your internet is actually performing. Take it a few times at different times of the day to get the most accurate view. If your speeds are coming in way slower than what you're paying for, you can try troubleshooting your slow internet or use these tips to speed up your Wi-Fi.
If those fixes don't work for you and you want to look for a new provider, enter your zip code below to see if there are better options available where you live.
You're not considering buying your own router
It doesn't make sense for everyone to buy their own router, but for some it definitely pays off. Depending on your current rental fee, the router you buy might pay for itself in a year or two. Though it'll obviously take longer to break even on a more expensive router, and by that point, you may be due to buy another new router anyway. So buying a router isn't automatically a money-saver.
But if your rented router doesn't cover all corners of your home, or if you're a serious gamer, you may be better off buying your equipment for the performance boost anyway.
The solution: Check out our list of the best routers on the market and see if you might save some money in the long run by buying it yourself. Rented routers tend to be one-size-fits-all and not always of the highest quality, so buying your own could also get you boosted internet performance.
At HighSpeedInternet.com we're always staying up to date on the newest and best routers you can buy, and we have router buying guides to suit whatever your needs may be.
If you live in a large home or have issues with Wi-Fi dead spots, you should think about a mesh router or a long-range router. If you're a serious gamer, you're probably going to need a good gaming router, and if you're paying for gigabit internet, you'll want to buy a gigabit router that can actually deliver the speeds you pay for.
In case you need more details, read on to the sections below for a rundown of how these different internet connections work and where they're most susceptible to disconnections.
Author - Bison Messink
Bison Messink is the managing editor of HighSpeedInternet.com and is excited to help connect people to one of the vital resources of modern life: an internet connection. He's spent his career in digital media as a news reporter, blogger, and editor, and he was previously the executive editor at Thrillist. He has a master's degree in writing from the University of Wyoming, and he's experienced the fastest and slowest of internet connections while living in Laramie, Michigan, New York City, Buenos Aires, and Utah.