An Explosion of Streaming Services in 2021: What Will America Watch?
Jan 26, 2021 | Share

Industry Exclusive/Entertainment
With the pandemic shutdowns and a slew of streaming services options, America watched many more TV shows and movies online last year. In 2021, we can expect to see a big boom in streaming services as the entertainment industry strives to adapt and thrive.
But what will America watch? And will theaters get left out of the big picture?
We asked 1,000 Americans about which streaming services they use, if they prefer going to the theater or streaming at home, and what they'll be watching online this year.
What streaming services does America use?
Most people (80%) use Netflix to stream movies, TV shows, and miniseries. Still, over half of Americans surveyed reported using Amazon Prime, Hulu, and Disney Plus.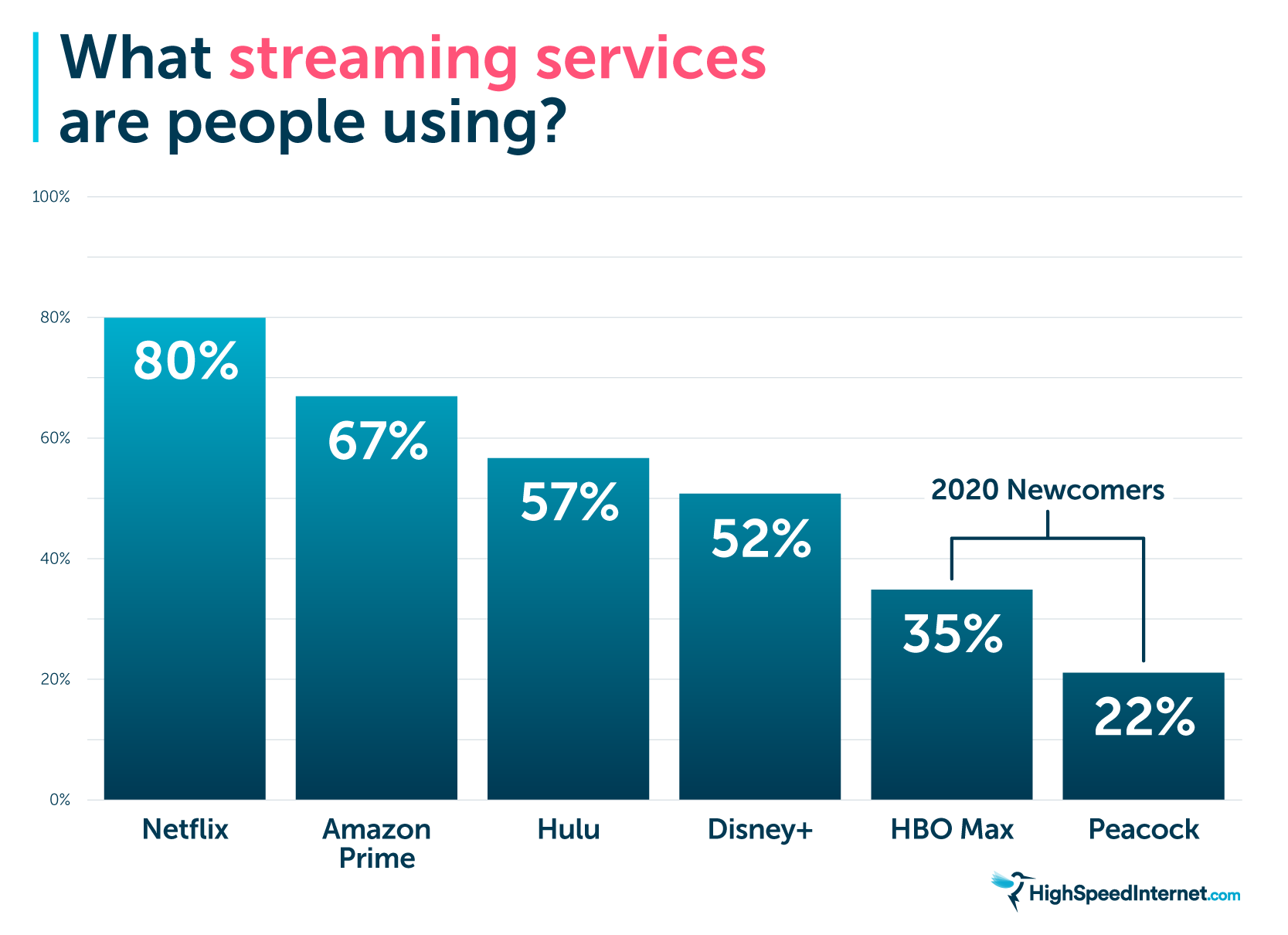 Percentage of survey respondents that use each streaming service:
Netflix: 80% 

Amazon Prime: 67% 

Hulu: 57%

Disney Plus: 52%

HBO Max: 35%

Peacock: 22%
HBO Max and Peacock both premiered in 2020 and showed a strong start to 2021. And with more new deals and exclusives (like their respective Gossip Girl and Saved by the Bell reboots), we expect each service to pick up even more firepower in the coming year.
Most folks are happy with what they've seen from streaming services, even if there's a lot to pick from.
Survey results—How America feels about the current state of streaming:
77% of streamers say they are satisfied with their streaming options.
Some respondents (14%) say they are overwhelmed with the number of streaming services.

8% feel like they are missing out on what they'd like to watch.

15% of respondents say they'd like to see more original content on streaming.

18% would like to see more documentaries.
As we saw in 2020, more streaming services are going for original and exclusive content and winning big. The potentially culture-shifting news of studios releasing movies through streaming platforms within a few weeks, if not the same day, as theater releases will shake things up in the streaming world.
Sign up for our newsletter. Get more from your internet.
Have a better, faster, more secure experience with your internet.
Will America (eventually) go to the theaters again?
For those that don't know, here's a brief rundown of the news:
Studios like Warner Brothers will release their entire new movie catalogue on streaming service HBO Max without a waiting period from theaters. 

Disney Plus will roll out a stellar lineup from Marvel, Lucasfilm, Pixar, 20th Century Studios, and Disney's Live and Animated studios.

We can expect some big hits from Netflix and Amazon Prime's studios too, which have a proven success record of original content.
While theaters may take an unrecoverable blow, people have more options to watch big movies than ever before as the streaming business booms.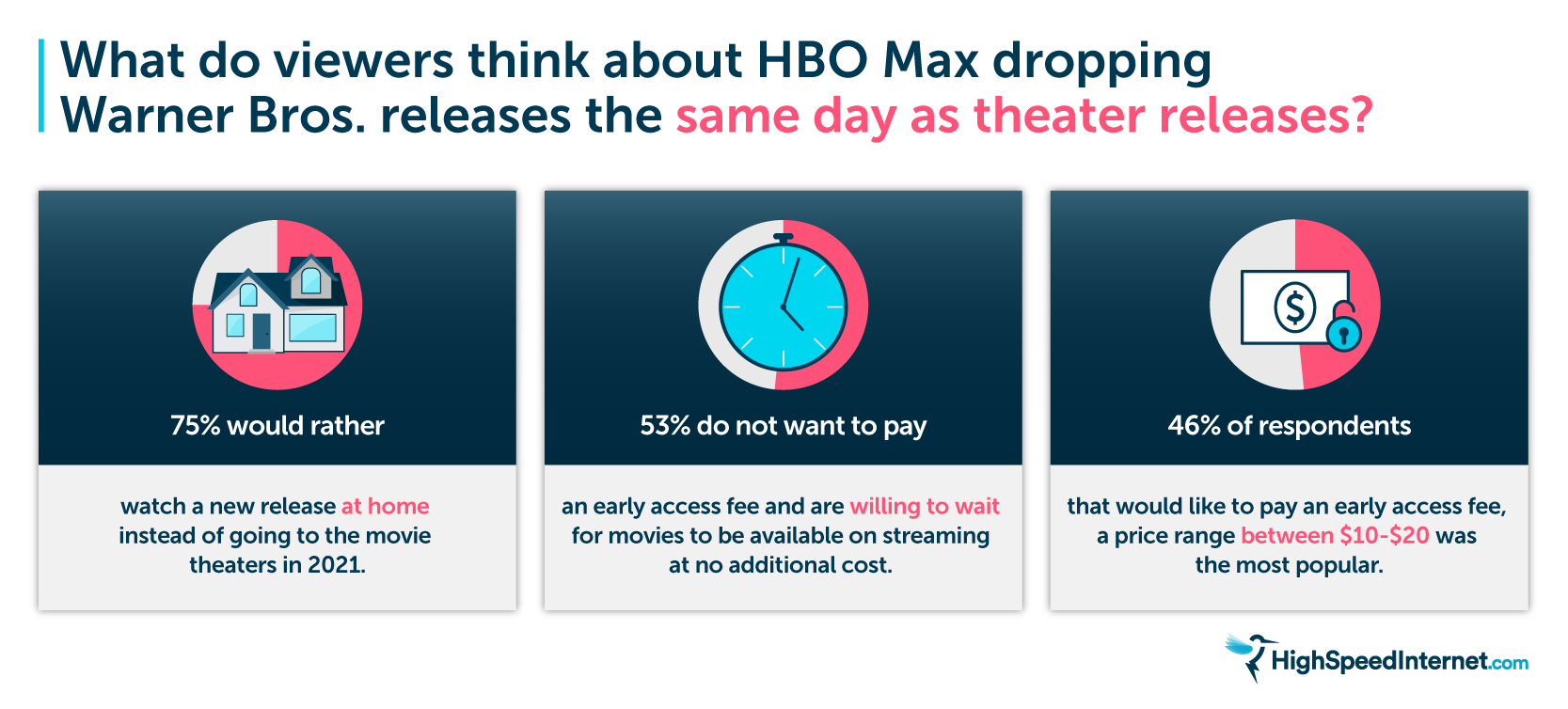 75% of respondents would rather watch a new release at home

rather than go to the theatres in 2021.

53% of respondents do not want to pay an early access fee and are willing to wait for movies to be available on streaming at no additional cost.

For the 46% of respondents that would like to pay an early access fee, a price range between $10–$20 was the most popular.
With an ongoing pandemic and all this new and original content available to stream online, will theaters be able to survive?
It's a big complex question with no clear outcome just yet. But it is clear that people love the accessibility of streaming new releases from home and are mostly willing to wait or pay lower additional fees.
One way or another, we're lucky to have so many good new streaming options coming out in 2021.
The most-anticipated streaming releases of 2021
Riding the buzz off of the Warner Brothers' announcement, HBO Max by far has the most highly anticipated new releases, which include Warner Brothers Studios movies like Dune, Space Jam: A New Legacy, and Godzilla vs. Kong.

The platforms with the most highly anticipated new releases for 2021:
HBO Max: 30.42%

Netflix: 19.65%

Disney: 19.11%

Amazon Prime: 13.06%

Apple TV: 4.47%

Hulu: 3.82% 
Not to be outdone, Netflix, Disney Plus, and Amazon Prime have proven they can make a bang in the streaming world before, and they are prepared to do it again.
As far as individual programs go, Coming 2 America on Amazon Prime has built the most anticipation out of any upcoming release, followed by Netflix's Cobra Kai and Stranger Things. Disney Plus found a winner with The Mandalorian, which will return with another season.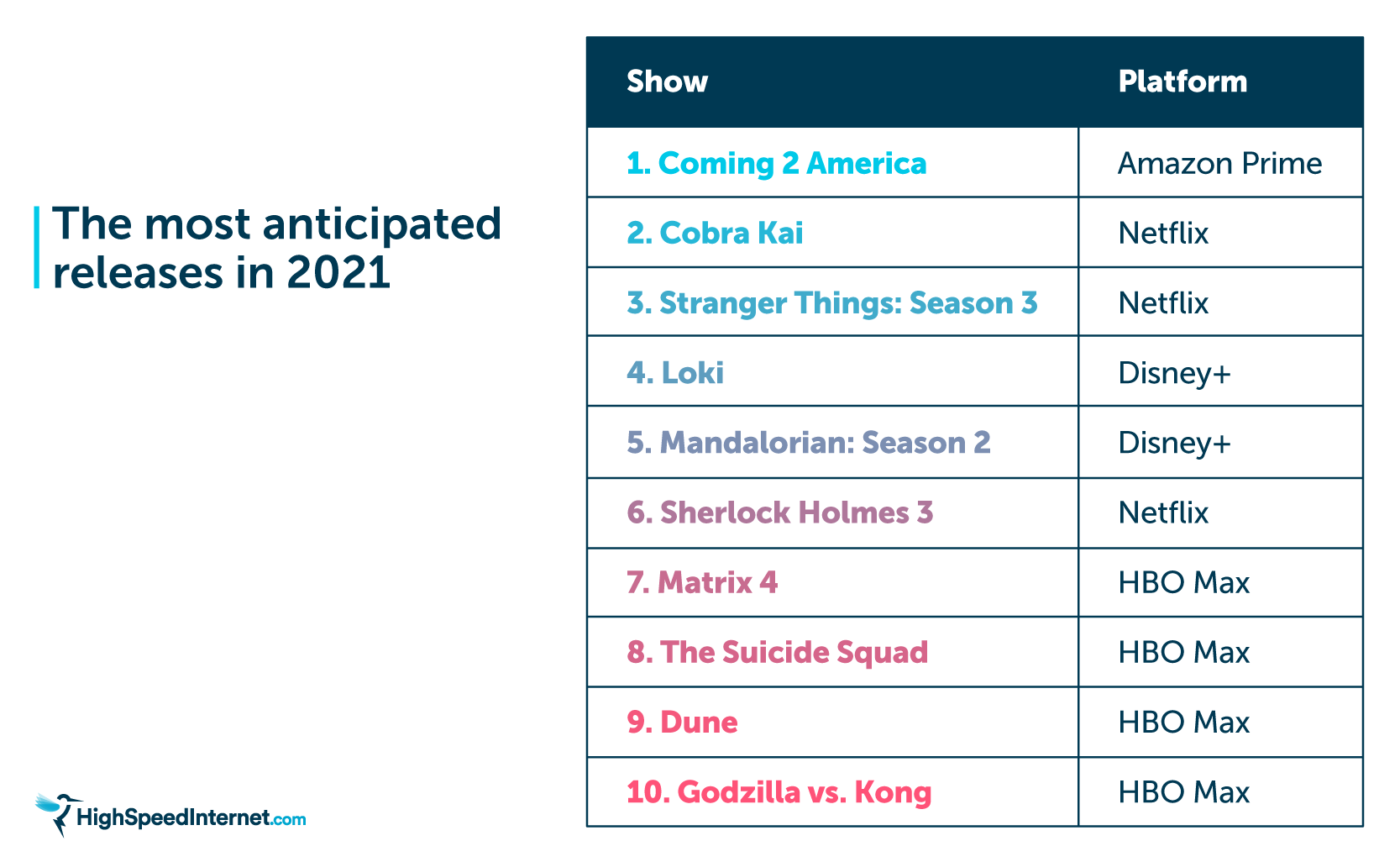 Other familiar characters will make appearances in shows and movies like Disney Plus's Loki and HBO Max's The Suicide Squad. And with so many options landing on the scene, you'll have plenty of TV shows and movies to choose from.
We're about to see a giant burst of new content throughout the year—what TV shows and movies are you looking forward to in 2021? And would you rather stay at home to stream instead of going out to the theater? Give us a share on social media and start the discussion.
Methodology: The team at HighSpeedInternet.com surveyed 1,000 Americans about their most anticipated releases on streaming services in 2021. We analyzed the results and compiled this report.
Author - Trevor Wheelwright
Trevor's written professionally for five years for editorial publications and retail/e-commerce sites. He lives in Salt Lake City and enjoys photography and making music in his spare time, or you can catch him on your local dance floor bustin' a move.