Best Powerline Network Adapters for Your Home
Jan 17, 2018 | Share

Equipment Guides, Technology
You love your Wi-Fi, but even you can admit it has issues. Some rooms miss out on the wireless connectivity entirely, and in others, small, handheld devices connect well, but the PS4 or DVR struggles.
If that situation sounds familiar, powerline network adapters may be the solution for you. They use existing electrical wires to deliver high-speed, always-on connectivity throughout the home.
Top Three 1,200+ Mbps Powerline Network Adapters
Best Overall
Amazon Rating: (4.2/5)
The TP-Link features the most bells and whistles, including MIMO and beamforming technologies, noise-filtering capabilities, and plug-and-play encryption.
Speed: 2,000 Mbps
Protocol: HomePlug AV2
Ethernet Ports: 2
Wi-Fi Access Point: No
Notable Features: TP-Link weds form and functionality, incorporating pass-through sockets and two Ethernet ports on each adapter.
Best Value
Amazon Rating: (4.3/5)
The ZyXEL and TP-Link are fairly similar devices with comparable features, but the ZyXEL comes in at a slightly lower price point.
Speed: 1,800 Mbps
Protocol: HomePlug AV2
Ethernet Ports: 2
Wi-Fi Access Point: No
Notable Features: The ZyXEL kit claims pass-through sockets and two Ethernet ports on each adapter. It also offers backward-compatibility with HomePlug AV devices.
Best Budget
Amazon Rating: (4.1/5)
For high, consistent speeds and a low price point, the NETGEAR PowerLine 1200 Mbps delivers. It also uses MIMO and beamforming to enable better 4K HD streaming and online gaming.
Speed: 1,200 Mbps
Protocol: IEEE, HomePlug AV2
Ethernet Ports: 1
Wi-Fi Access Point: No
Notable Features: Besides the basic IEEE and HomePlug AV2 compatibility, the NETGEAR kit features backward-compatibility with HomePlug AV and forward-compatibility with HomePlug Green PHY, a newer protocol deemed suitable for "smart, green applications."
Top Three 500+ Mbps Powerline Network Adapters
Best Overall
Amazon Rating: (4/5)
TrendNet edges past the TP-Link kit for one reason: MIMO technology. The quality enhances wireless coverage.
Speed: 500 Mbps
Protocol: HomePlug AV2
Ethernet Ports: 2
Wi-Fi Access Point: Yes
Notable Features: In addition to the MIMO technology, TrendNet's kit comes pre-encrypted and is compatible with select TRENDnet adapters.
Best Value
Amazon Rating: (4/5)
TP-Link's kit offers the best value because it offers multiple Ethernet ports and wireless connectivity. It also benefits from plug-and-play functions that make it a favorite among consumers.
Speed: 500 Mbps wired, 300 Mbps wireless
Protocol: HomePlug AV2
Ethernet Ports: 2
Wi-Fi Access Point: Yes
Notable Features: Extending your Wi-Fi proves superlatively easy with the adapter's "Wi-Fi Clone" button. When you press it, the second adapter automatically records your router's SSID and password settings to spread Wi-Fi coverage throughout the home.
Best Budget
Amazon Rating: (4/5)
You can't go wrong with ZyXel, particularly since it facilitates both IEEE and HomePlug AV2 protocols. The dual-functionality makes it easy to purchase compatible products and create a strong home network.
Speed: 600 Mbps
Protocol: IEEE, HomePlug AV2
Ethernet Ports: 1
Wi-Fi Access Point: No
Notable Features: ZyXel uses SmartLink Plus to reduce signal interference. The manufacturer says the technology even allows the adapter to work when plugged into most power strips.
Who Should Use Powerline Networking?
Powerline networking benefits people with either large homes or a large number of bandwidth-hogging devices. If you experience dead zones or notice that some devices grind the network to a halt, you should consider powerline networking. It's a fast and easy solution to a common—albeit frustrating—problem.
Powerline networking also proves useful if you own older devices. Rather than rushing out to buy the latest Samsung or Apple TV, you can hook your existing TV to a powerline network adapter. This solution saves you money, which can be put toward the TV you really want, such as the W7 Wallpaper OLED TV showcased at CES 2017.
What Is Powerline Networking?
Powerline networking is one of several solutions to spotty connectivity and slow download speeds. It enhances your home network by transmitting the Wi-Fi signal through the electrical lines and sharing it with hardwired devices.
How Does Powerline Networking Work?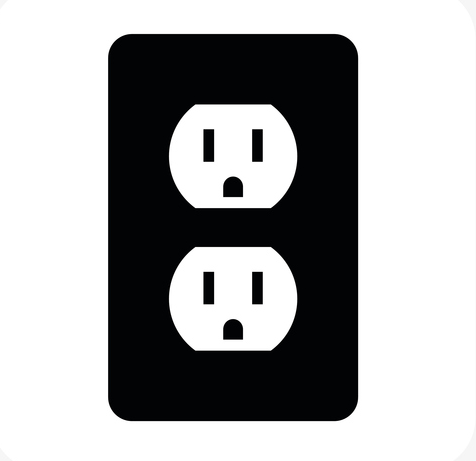 Powerline networking relies on electrical wiring and at least one set of adapters. One adapter plugs into an Ethernet port on your home router and into an electrical outlet. The second adapter plugs into an Ethernet port on a large device, such as a TV or stereo system, as well as a power source.
The two adapters then "find" each other. This happens when the router sends its signal to the first adapter; the first adapter relays it through the walls and out to the second; and the second adapter transmits the Wi-Fi signal to the device.
What Types of Powerline Network Adapters Are Out There?
Powerline network adapters come in all shapes and speeds and with varying feature sets. Some are bulky, while others are streamlined. In terms of speed, the adapters usually fall into the 500+ or 1,200+ Mbps categories—speeds of this level are essential when streaming video and playing games. Most adapters feature Ethernet ports, but the number of ports varies by manufacturer and adapter. Some offer pass-through connections, USB ports, and Wi-Fi access points as well.
What Are the Benefits of Powerline Networking?
Powerline networks extend several benefits, including the following.
Security
Since the Wi-Fi signal travels via internal wires rather than airwaves, your transmitted data stays private. Some adapters also require passwords to keep your home network safe and secure.
Speed
Wi-Fi speeds decrease as you increase the number of wirelessly connected devices. Powerline network adapters bear some of the load by hardwiring select devices to maintain fast upload and download speeds.
Reliability
Reliability typically deteriorates with obstacles, devices, interference, and range. Powerline networking adapters circumvent these issues by sending the Wi-Fi signal along a home's electrical lines rather than through walls and other barriers.
Efficiency
Adapters mean fewer cords to trip over or to be chewed on by a puppy. Adapters are also less expensive than installing in-wall Ethernet lines, which entails hiring a licensed electrician.
Functionality
Powerline network adapters only require Ethernet ports and electrical outlets to function properly. Just plug them in and most adapters will automatically connect and configure.
What Are the Disadvantages of Powerline Networking?
You might experience some downsides with powerline networking, but you can overcome most of them with the right equipment. Here are some of the issues you may run into.
Point-to-Point Networking
Most adapters pair a single device to the router, which would work great if you didn't also own a smart TV, DVR, and gaming system. You can solve this issue by purchasing a powerline network adapter with multiple Ethernet ports.
Lack of Outlets
If you aren't careful with your adapters, you'll quickly run out of electrical outlets. To skirt this danger, you should purchase slim-profile powerline network adapters or ones with pass-through sockets.
Incompatibility with Older Homes
If you don't see promised speeds with powerline network adapters, the electrical lines or signal interference could be to blame. Older homes and residences often come with older wiring, which doesn't always cooperate with newer technologies and devices. However, most adapters prevent signal interference through noise filters.
What Should I Consider before Buying a Powerline Network Adapter?
There are five things to take into consideration before buying a powerline network adapter: network speed, compatibility, Ethernet ports, auto-connectivity, and security.
Network Speed
To get optimal speeds with powerline networking, you will need to know the promised speed (measured in Mbps) for your internet service and router. The information will ultimately affect which powerline network adapters you buy—you want adapters that match speeds, not undercut them.
Compatibility
Compatibility refers to protocols, with powerline network adapters usually employing either HomePlug AV2 or IEEE. Another compatibility point includes the Wi-Fi, particularly when purchasing an adapter that simultaneously functions as a Wi-Fi extender.
Ethernet Ports
Unless you wish to buy multiple adapters, you should focus on Ethernet ports. Most powerline networking kits feature at least one Ethernet port per adapter. Some kits vary the number, with the first adapter having one or two ports and the second claiming three or more.
Auto-Connectivity
Some powerline network adapters feature auto-connectivity. That is, you plug them in and they automatically seek and find each other. You should look for this capability as it ensures easy plug and play.
Security Features
Lastly, prioritize data encryption and security features. Powerline network adapters are relatively secure by nature, but that doesn't make them impenetrable. To further secure your home network, pursue adapters with security functions and controls.
What Else Should I Know about Powerline Networking?
A few other considerations could impact your buying choice, including the following.
MIMO and Beamforming
MIMO and beamforming deliver higher speeds and minimize interference. Adapters equipped with them feature internal or external antennas designed to transmit a stronger signal, further.
Access Points
Some powerline network adapters also play double-duty as Wi-Fi access points. The second adapter not only hardwires to a device, but also extends Wi-Fi signal strength.
Other Features
A couple of other potential features may draw your attention, including power-saving functionality and pass-through sockets. The first helps reduce utility bills; the second keeps outlets open for other uses.
Before you purchase your powerline adapter, find out if you have the internet speed you need to satisfy your needs by clicking the button to the right.
Author - Erin Feldman
Erin is a freelance writer based in Austin, Texas. She has over ten years of experience, with a background in marketing and creative writing