This Hack Stops Your Kids from Sucking Up Your Internet Bandwidth
May 27, 2021 | Share

Brand Guides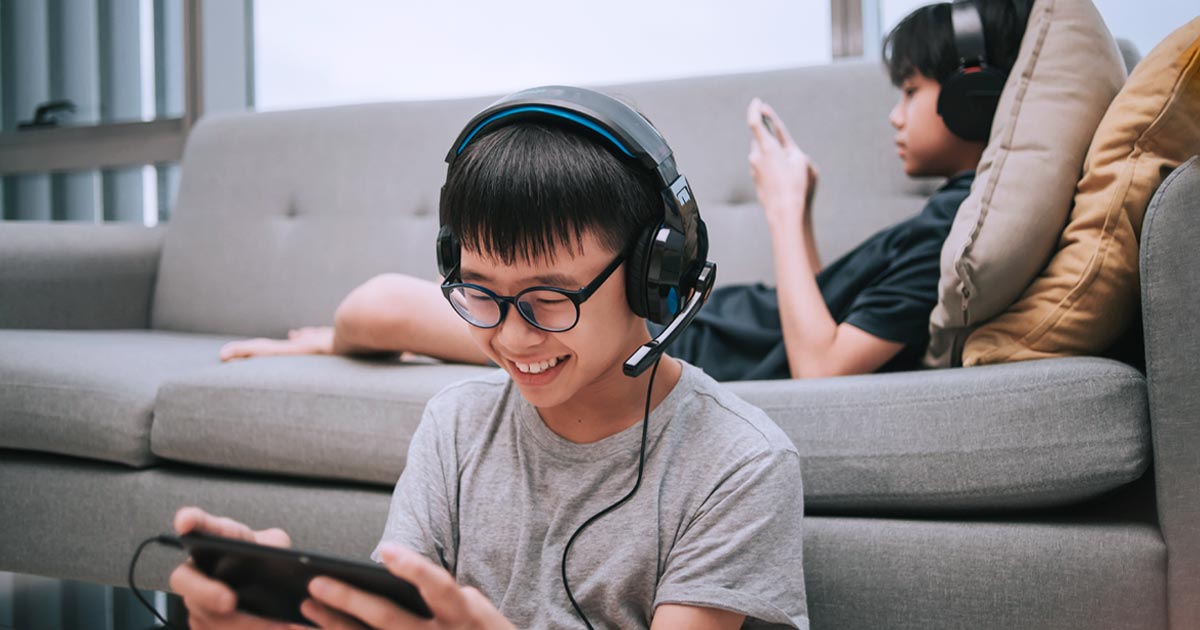 They say that sharing is caring—but sharing Wi-Fi with your kids can be a pain. If you work at home, you need a reliable internet connection to get stuff done. You'll be having a tough time on Zoom if someone's streaming The Lord of the Rings in 4K in the next room.
Thankfully, many routers allow you to prioritize which devices and websites get the fastest speeds on your Wi-Fi—which means you can make sure the TV or PS5 won't interfere with more important work. You can do it by adjusting Quality of Service (QoS) settings, accessible from your router's administrative account.
Read on to find out where to get a router with QoS capabilities and how to set it up to keep your workday running smoothly.
Before you start making adjustments, run a speed test for your home internet setup. It takes a minute to complete and gives you useful info about how much available Wi-Fi bandwidth you have to share with others.
Step 2—Get the right router
Routers deliver a Wi-Fi signal to all the devices on your home network. A basic router broadcasts the signal equally, so anyone can gobble up the speeds for any reason and leave you in the dust—even if you have something more important to do.
That's why you'll need an advanced, QoS-capable router to lay down the law.
Look up your router's specs or sign into your admin settings to see if it has QoS capabilities. If it doesn't, we recommend getting the ASUS RT-AX86U. Although it's technically a gaming router, this beast is great for all sorts of internet activities and has a range of QoS settings, including user-friendly setups as well as manual configurations.
Amazon.com Price (as of 5/21/2021 10:15 MST). See full disclaimer.
Your QoS options depend on what kind of router you have. For example, Google Nest is pretty basic, letting you prioritize a single device over others. ASUS models have more options, including a drag-and-drop list to let you arrange online activities in order of importance. You can also find routers with much more advanced setting interfaces, letting you get highly detailed with manual configurations.
We recommend keeping things simple to start out. Focus on one or two main goals—for example, directing the fastest speeds to your work laptop or prioritizing VoIP calls over online gaming. Sign into your router's admin menu on your browser and go to the QoS settings to make adjustments.
After that, take another speed test on the device you prioritized to see if you're getting the results you're looking for. Keep trying things out until you're happy with how it works.
Pro tip:
You can also improve your internet speed by restarting your modem and router, moving your router to a more centralized location in your home, or switching to a different Wi-Fi channel that isn't as congested.
We've got a bunch of tips and tricks in our guide to getting faster internet.
Step 4—If all else fails, consider an upgrade
If you've tried a bunch of different QoS settings and haven't noticed any difference in performance, try upgrading your internet. In many cases, you can call your provider and just order a package with faster speeds, and you won't have to deal with the hassle of signing up for a new provider.
But if your provider has limited coverage or stubbornly slow speeds, you may be better off switching to a different internet provider.
Not sure who's available in your area? You'll find all the details in a matter of seconds by running a search with our zip code tool. If you can find a fiber or cable internet connection with gigabit speeds in your area, then you'll never have to worry again. Bountiful bandwidth for all!
Disclaimer
Product prices and availability are accurate as of the date/time indicated and are subject to change. Any price and availability information displayed on Amazon.com at the time of purchase will apply to the purchase of this product. HighSpeedInternet.com utilizes paid Amazon links.
CERTAIN CONTENT THAT APPEARS ON THIS SITE COMES FROM AMAZON. THIS CONTENT IS PROVIDED 'AS IS' AND IS SUBJECT TO CHANGE OR REMOVAL AT ANY TIME.
Author - Peter Holslin
Peter Holslin has more than a decade of experience working as a writer and freelance journalist. He graduated with a BA in liberal arts and journalism from New York City's The New School University in 2008 and went on to contribute to publications like Rolling Stone, VICE, BuzzFeed, and countless others. At HighSpeedInternet.com, he focuses on covering 5G, nerding out about frequency bands and virtual RAN, and producing reviews on emerging services like 5G home internet. He also writes about internet providers and packages, hotspots, VPNs, and Wi-Fi troubleshooting.
Editor - Cara Haynes
Cara Haynes has been editing and writing in the digital space for seven years, and she's edited all things internet for HighSpeedInternet.com for five years. She graduated with a BA in English and a minor in editing from Brigham Young University. When she's not editing, she makes tech accessible through her freelance writing for brands like Pluralsight. She believes no one should feel lost in internet land and that a good internet connection significantly extends your life span.