Work From Home Wrap-Up 2021: The Expected, the Bad, and the Naughty
Dec 6, 2021 | Share

Industry Exclusive/Entertainment
Remote work means you don't have to commute to the office, you can shift your schedule around with less stress, and power through work with zen-like focus in your pajamas, right?
Well, we're pretty deep into the pandemic at this point, and remote workers have developed a few new habits while working from home—for better or worse.
We surveyed remote workers in the US and found out most folks have struggled to stay productive (mostly due to slow internet). They also struggle to avoid distractions and find the right work-life balance.
However, some remote workers have found some nice—and downright naughty—ways to make remote work a little more fun: 41% of our survey respondents said their remote work habits would put them on Santa's naughty list.
So for goodness' sake, let's get into America's bad WFH habits.
America's bad work from home habits
The transition from the office to home comes with challenges to productivity and work-life balance. According to our survey, three out of four remote workers have felt unproductive and struggled to maintain a work-life balance while working from home.
To catch a break, over half of respondents have added fake meetings to their calendars or faked a bad internet connection to turn off their camera during a video call (or avoid the meeting altogether).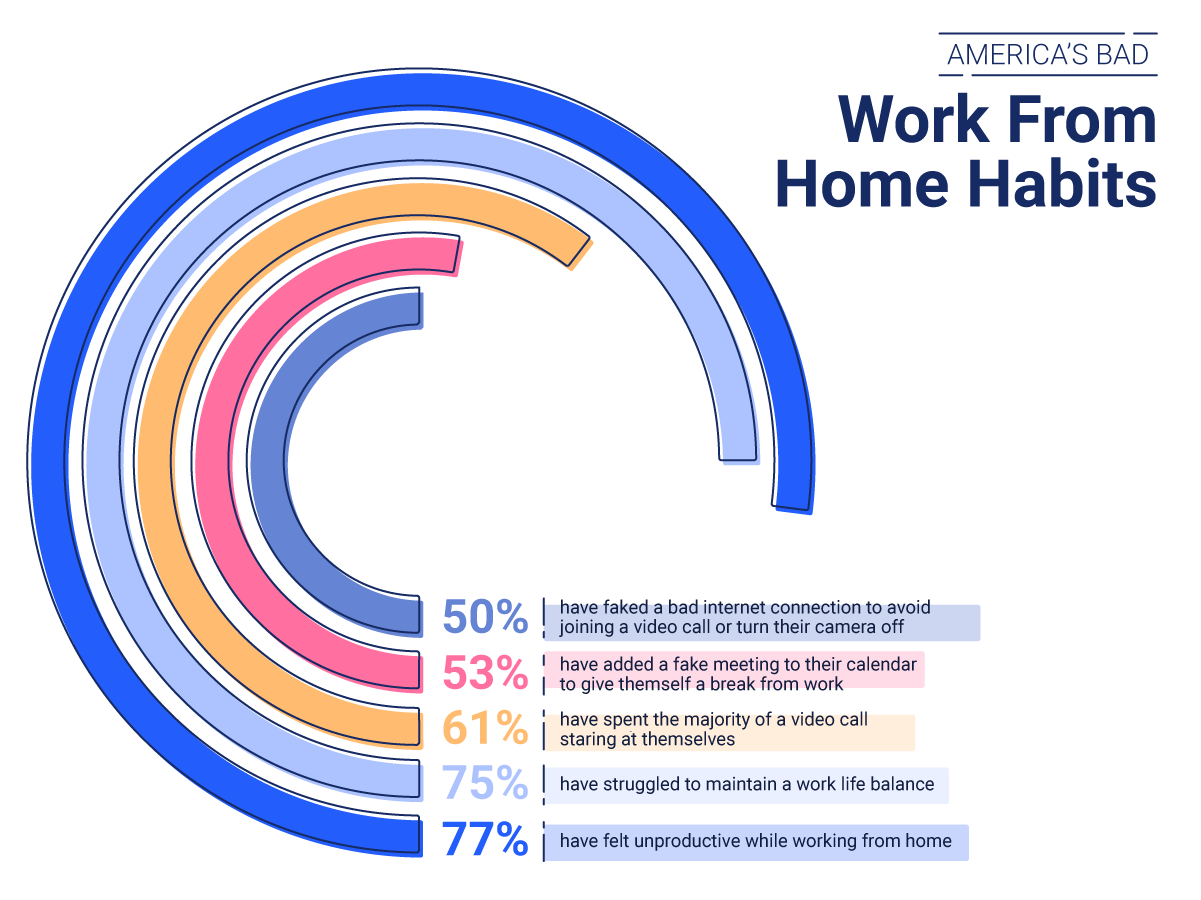 77% have felt unproductive while working from home
75% have struggled to maintain a work-life balance while working from home
53% have added a fake meeting to their calendar to give themselves a break from work
61% have spent the majority of a video call staring at themselves
50% have faked a bad internet connection to avoid joining a video call or to turn their camera off
And whether it's narcissism or boredom, 61% of remote workers have spent the majority of a video call staring at themselves. But daydreaming during a meeting isn't necessarily damning, even in the office.
So what are the worst things Americans try to sneak into work time now that they're at home?
America's naughtiest work from home habits
Perhaps people get bored without their office friends or staring at Zoom screens and spreadsheets:
77% of respondents use their work computer to check social media and shop online during company time.
Over half of respondents have played video games or spent their day streaming shows and movies instead of working.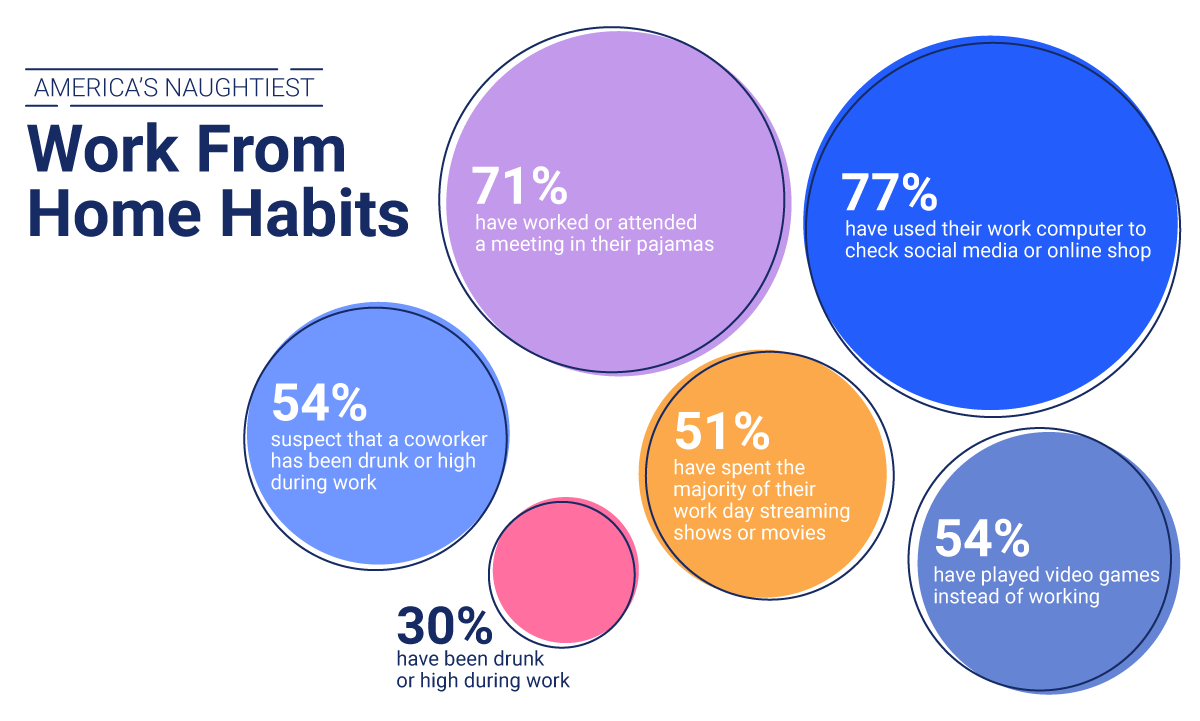 77% have used their work computer to check their social media or online shop
54% have played video games instead of working
51% have spent the majority of their workday streaming shows or movies
71% have worked or attended a meeting in their pajamas
50% have worked while using the toilet
54% suspect that a coworker has been drunk or high during work
30% have been drunk or high during work
Not being seen or heard has its perks: most people (71%) have worked or attended a meeting while still in their pajamas. And 50% of remote workers have done their work while sitting on the toilet.
When does relaxation become too lax? Over half of remote workers have suspected that a coworker was drunk or high during work—and at least 30% admitted to being drunk or high during work, which may help explain some of our following responses.
Americans explain what distracts them from work
Like cartoon characters floating toward pies on window sills, almost one-third of remote workers get distracted by food. Beyond that, 23% said entertainment distracted them from work, and 19% said household tasks diverted their attention.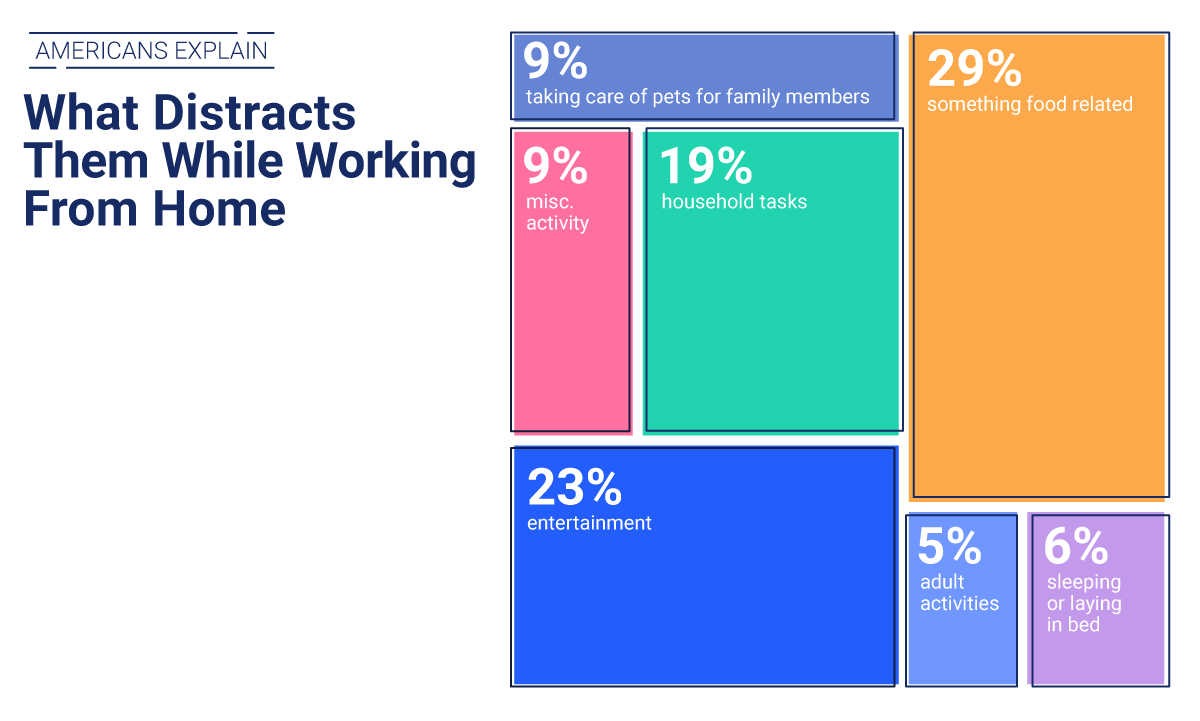 29% said something food related
23% said entertainment
19% said household tasks
9% said taking care of pets or family members
9% said a miscellaneous activity
6% said sleeping or laying in bed
5% said adult activities
Working solo from home is one thing, but 9% said taking care of pets or family members pulled them away from work. (Hard to knock people for taking care of their loved ones.)
And when it comes to the comfort of a bed, 6% of workers admitted to sleeping. And another 5% said they engage in adult activities instead of working—we'll leave the specifics up to your imagination.
What else distracts Americans from work?
We asked remote workers if they'd like to share any other work-from-home habits they've developed. Individual responses included cryptocurrency, Call of Duty, and comradery:
"I mine for crypto several times a day to give myself a break."
"I eat and drink my fruit punch and play Call of Duty."
"Eating popcorn."
"Wish to abolish capitalism."
"I pretend I'm not home and don't answer the call."
Bad internet connections are worse than bad habits
Internet issues might be the way some folks fake their way out of meetings, but most people struggle with staying productive with their current internet connections. It makes sense: if the tool you need to do your work doesn't work, how can you work?
With that in mind, most remote workers think their employers should help cover the cost to upgrade their internet.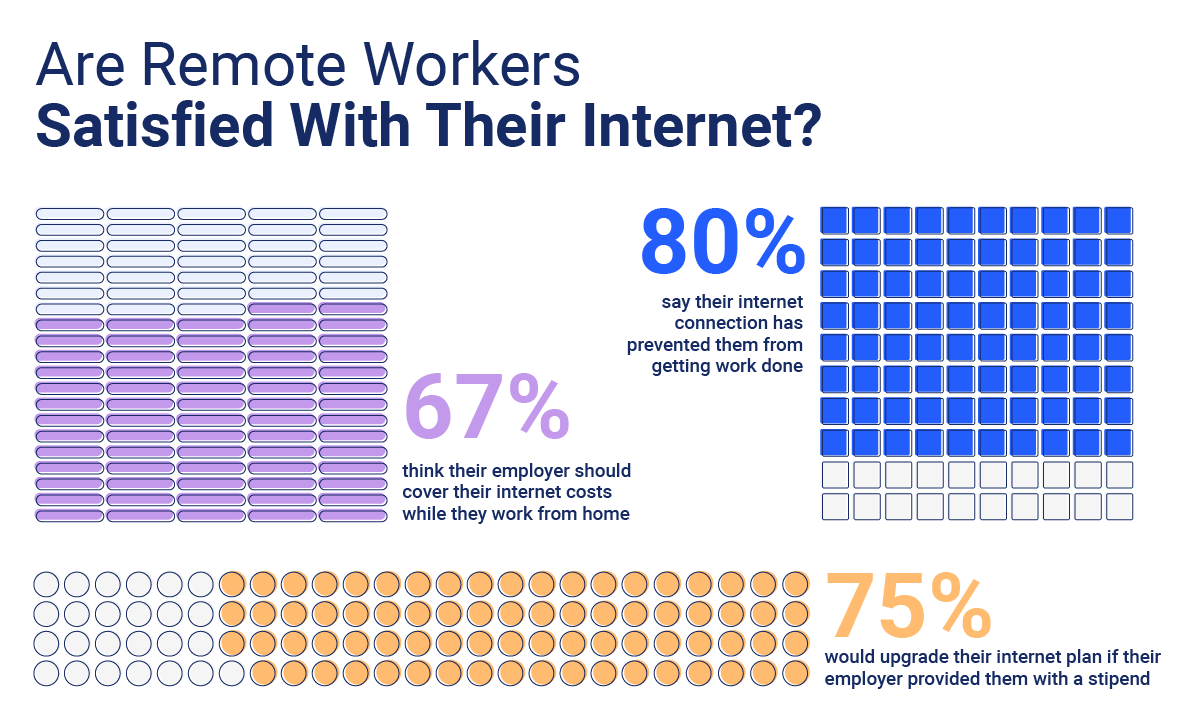 80% say that their internet connection has prevented them from getting work done
75% would upgrade their internet plan if their employer provided them with a stipend
67% think their employer should cover their internet costs while they work from home
In the next few years, we'll have to see if employers cough up extra cash for internet to help keep their workers productive, or if workers will have to find new ways to improve their internet and stay focused—or distracted.
We can't exactly help you change your bad remote-work habits, but if your internet's slowing down your work, we've got you covered:
As always, you can use our internet speed test to see if you have the download speed you need.
We used Pollfish to survey 1,000 Americans aged 18 and older who currently work or have worked from home. The results have a 4% margin of error.
Author - Trevor Wheelwright
Trevor's written professionally for five years for editorial publications and retail/e-commerce sites. He lives in Salt Lake City and enjoys photography and making music in his spare time, or you can catch him on your local dance floor bustin' a move.