13 Working From Home Stats You Should Know
Jun 27, 2022 | Share

Industry Exclusive/Entertainment
Remote work has been gaining in popularity since the start of the pandemic. What started as a way for employees to get their work done safely soon turned into the preferred lifestyle for many workers. We're pretty deep into the remote work phenomenon, and plenty of folks work from home permanently now.
We surveyed remote workers across the US to learn about their daily work life, and we found out most have struggled to stay productive (sometimes thanks to slow internet). They also struggle to avoid distractions and find the right work-life balance.
Here are 13 interesting facts about working from home.
Shopping around for new internet?
Enter your zip code below to see which providers are available in your area.
Unproductive Remote Work Habits
1. 77% of remote workers have felt unproductive while working from home
Whether or not working in the office is more productive than working at home is up for debate, and everyone seems to have an opinion about it. Our survey found that 77% of people have felt unproductive while working remotely, but that could be due to the fact that it's a big adjustment when you're used to being in the office.
2. Video games, streaming, social media, and shopping hinder remote work productivity
There are plenty of temptations at home that don't exist in the office. More than three quarters (77%) of respondents said they've used a work computer to check social media or shop online. In addition, 54% have played video games instead of working, and 51% have spent the workday streaming movies or TV shows.
3. Remote workers use excuses to get out of certain tasks
It can be more difficult to get a disconnect while working from home, but some employees have developed strategies for avoiding work or taking a break. Half of remote workers have faked a bad internet connection to avoid joining a video call, and 53% have added a fake meeting to their calendar to give themselves a break.
Work Life Balance Working from Home
4. 3 in 4 remote workers struggle with work-life balance
When you work where you live, you can't just leave the office at the end of the day and drive home. Work hours and free time feel less separate, and you can be contacted by coworkers at any time of day. According to our survey, 75% of remote workers say they have struggled with maintaining a work-life balance.
5. 71% have worked or attended a meeting in their pajamas
This statistic isn't too surprising. Without having to interact with coworkers face-to-face every day, many remote workers are skipping out some basic hygiene steps. Though it's safe to assume some people have practiced more egregious self-care shortcuts, 71% have worked or attended a meeting in their pajamas.
 Top Distractions While Working from Home
6. Food is the most common distraction for remote workers
One key perk of working remotely? You're close to the kitchen. When asked about the biggest distraction while working from home, 30% of respondents said something food related. Answers ranged from snacking more to prepping meals during meetings. It's clear that having quick access to food is a major upside to working from home, even if it may be distracting.
7. Remote workers use their time to get other tasks done
Some remote workers are distracted from their work tasks because they spend time getting things done around the house. 19% of remote workers put away laundry, do the dishes, mow the lawn, and do other household chores during the work day. Another 9% run errands, shower, and do their beauty routines. While these habits aren't great for workplace productivity, remote workers getting chores done throughout the workday is helpful for avoiding burnout and creating free time.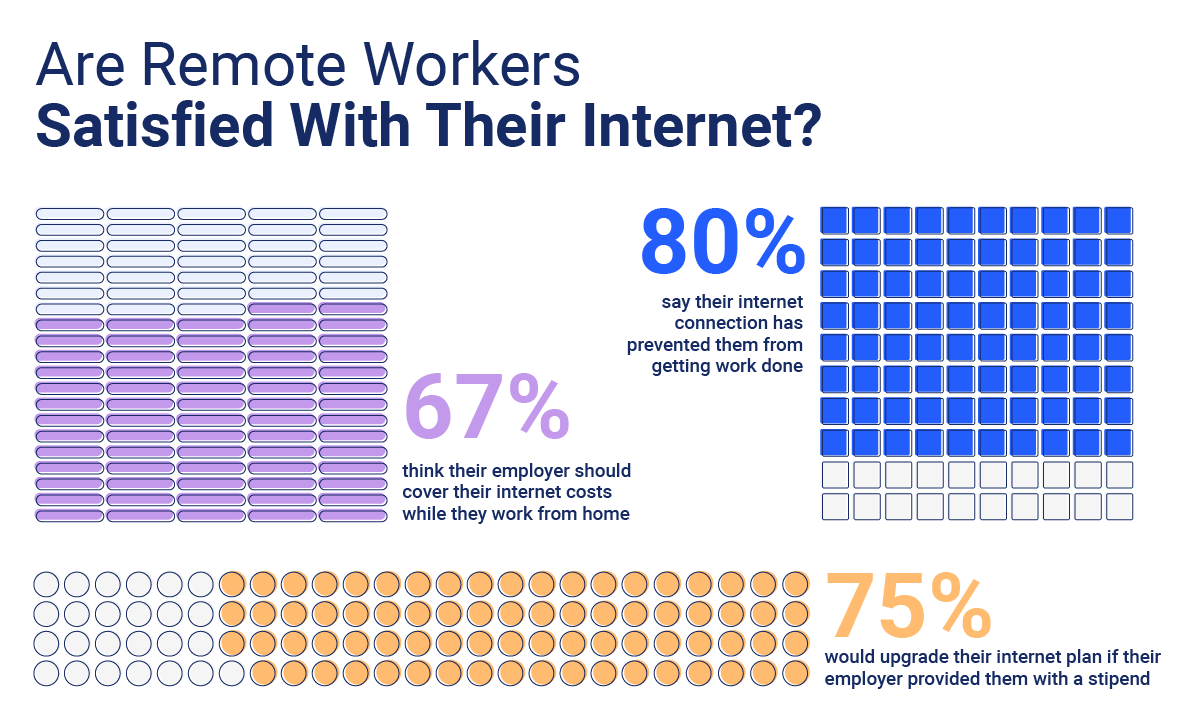 8. Slow internet disrupts remote workers
Bad internet connections have prevented 80% of remote workers from getting work done. Internet is a key component of working from home, so it's a bit concerning that so many remote workers have been interrupted by internet trouble. One way to avoid having speed issues is to use a bandwidth tool to determine if your internet plan offers enough speed for your needs. If your internet plan ends up being too slow, you should look into upgrading to a faster provider.
9. Remote workers want their internet upgraded
While lagging internet can be annoying, cost can be a barrier to getting a speedier internet plan. 75% of remote workers say they would upgrade their internet plan if their employer provided them with a stipend, which would waive the financial pressure a bit.
10. Most remote workers think their employer should pay for their internet
While working from home is a cool job perk, 67% of remote workers think that their employer should cover their internet costs while they work from home. As remote work continues to gain popularity it's likely that more companies will offer stipends as a way to attract employees and stay competitive in the job market.
For more information about ways to get better internet for working from home, check out this comprehensive guide.
Surprising Remote Work Confessions
While most remote work bad habits are what you'd expect, a few responses took us by surprise.
Here are the three responses we were most surprised by:
11. 61% have spent the majority of a video call staring at themselves
According to our survey, 61% of remote workers have spent the majority of a video call just staring at themselves. Maybe this is why some people just prefer having cameras off?
12. 30% have been drunk or high during work
Though inadvisable, 30% of remote workers admitted they have been drunk or high during work. Interestingly, the survey also found that 54% suspect that a coworker has been drunk or high during work.
13. 50% of remote workers have worked while using the toilet
Half of remote workers have worked while using the toilet. This is an impressive level of dedication but concerning from a work-life balance perspective.
We used Pollfish to survey 1,000 Americans aged 18 and older who currently work or have worked from home. The results have a 4% margin of error.
Author - Laura Leininger
Laura studied media arts at Boise State University and worked in social media management. As a Digital PR Specialist, she helps HighSpeedInternet.com reach new communities who are interested in better, faster, and more secure internet connections. You can contact her for media requests, quotes, and interviews at laural@highspeedinternet.com.
Editor - Rebecca Lee Armstrong
Rebecca Lee Armstrong has more than six years of experience writing about tech and the internet, with a specialty in hands-on testing. She started writing tech product and service reviews while finishing her BFA in creative writing at the University of Evansville and has found her niche writing about home networking, routers, and internet access at HighSpeedInternet.com. Her work has also been featured on Top Ten Reviews, MacSources, Windows Central, Android Central, Best Company, TechnoFAQ, and iMore.