Slow and Overpriced: Americans Need Faster Internet, but Only 16% Upgraded since COVID-19
Oct 15, 2020 | Share

Industry Exclusive/Entertainment
The internet has been working extra hard this year, acting as the go-between for work, school, medical care, entertainment, and socially distant happy hours. 
But according to our new survey results, nearly 75% of Americans don't know how much internet speed their household needs to keep up with current demands. That could explain why nearly half say their internet connection is too slow but less than a fifth have upgraded their internet plans this year. 
We asked 1,000 Americans to tell us about their internet services, speeds, and preferences. And we found a few reasons why Americans may be settling for subpar internet. Let's dive into the results.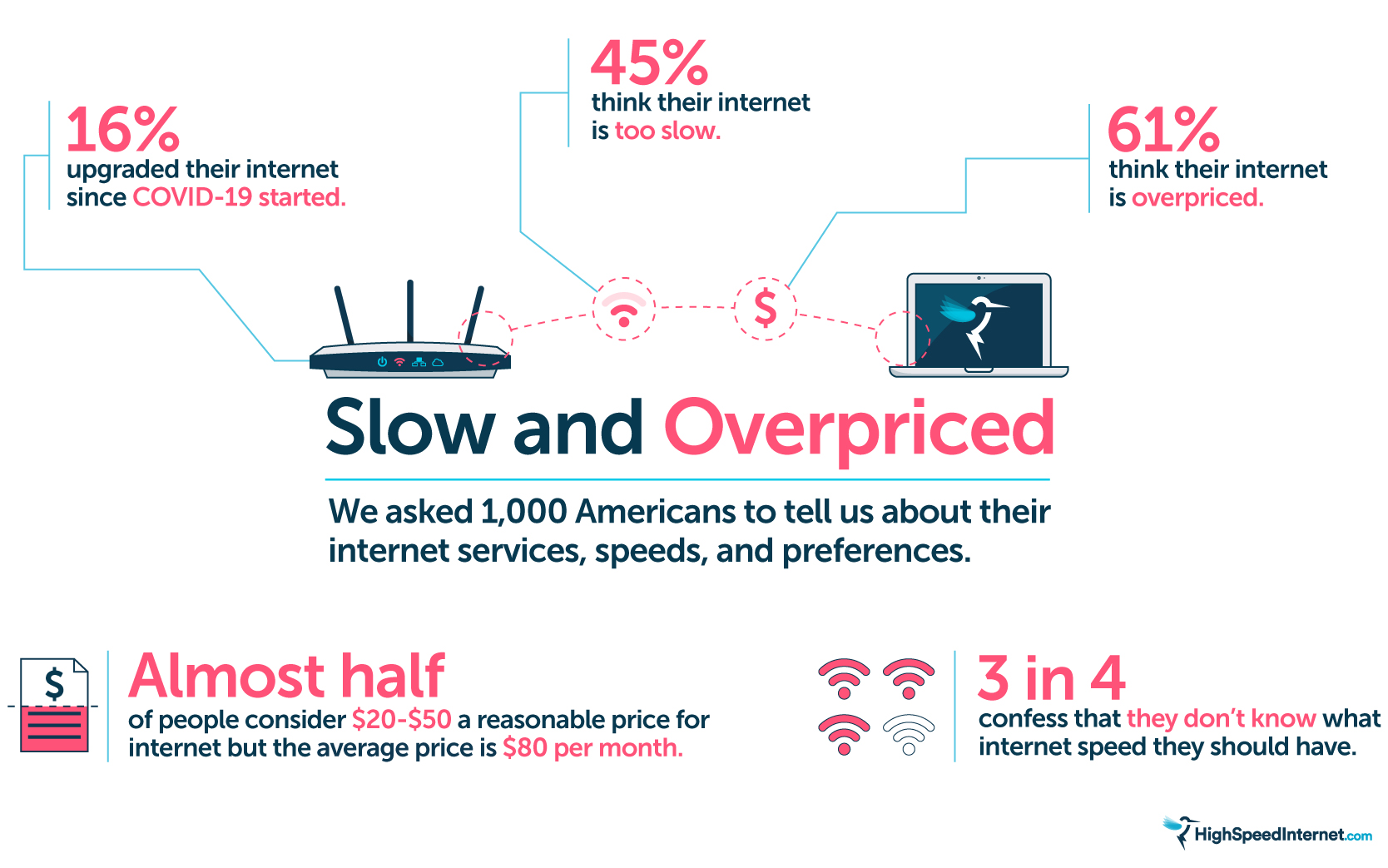 Key findings:
45% say their internet is too slow.

61% think their internet is overpriced.

Only 16% have upgraded their internet since COVID-19 started.

Nearly half consider $20-$50 per month a reasonable price for internet service, but the average reported price for internet service was $80 per month.

Almost 75% confessed they don't know what internet speed is recommended for their household based on online activity and the number of internet users.
Why are Americans settling?
Let's start with internet speeds. Despite about half of survey respondents reporting too-slow internet, few have recently upgraded. We get it. There's a lot of other stuff going on in the world. But during the pandemic, most people have dramatically increased their internet use. Using the internet more frequently—and for bandwidth-hogging activities like working from home—may mean your old plan doesn't cut it anymore. 
People know that their internet isn't fast enough, but most don't know what their internet speed needs to be in order to keep up. That could be a barrier to upgrading. 
Another reason why someone might not want to upgrade is the price. Faster internet speeds usually mean a higher monthly bill, which doesn't sound very appealing when you already think your internet service is overpriced by $30 or more.
Get a better internet connection
So, what can you do if you feel like your internet is slow and overpriced? Get informed. Know how much internet speed your household needs, compare speeds and prices of different internet providers in your area, and find your best balance between price and speed.
You may not have many options—there are wide swaths of the country that have access to only one or two internet providers. But you still may be able to renegotiate with your current provider or find a better deal elsewhere. The extra work may seem like a hassle in the short term, but it's definitely worth it—a faster internet connection can improve your quality of life, and a cheaper internet plan can pay dividends for a long time.
Methodology
HighSpeedInternet.com conducted an anonymous survey of 1,000 Americans, asking their opinions about their internet service and prices. We analyzed the survey responses to highlight the most common sentiments in this report.
Author - Rebecca Lee Armstrong
Rebecca Lee Armstrong has more than six years of experience writing about tech and the internet, with a specialty in hands-on testing. She started writing tech product and service reviews while finishing her BFA in creative writing at the University of Evansville and has found her niche writing about home networking, routers, and internet access at HighSpeedInternet.com. Her work has also been featured on Top Ten Reviews, MacSources, Windows Central, Android Central, Best Company, TechnoFAQ, and iMore.
Editor - Cara Haynes
Cara Haynes has been editing and writing in the digital space for seven years, and she's edited all things internet for HighSpeedInternet.com for five years. She graduated with a BA in English and a minor in editing from Brigham Young University. When she's not editing, she makes tech accessible through her freelance writing for brands like Pluralsight. She believes no one should feel lost in internet land and that a good internet connection significantly extends your life span.