The 10 Fastest and Slowest States for Internet
Oct 13, 2020 | Share

Industry Exclusive/Entertainment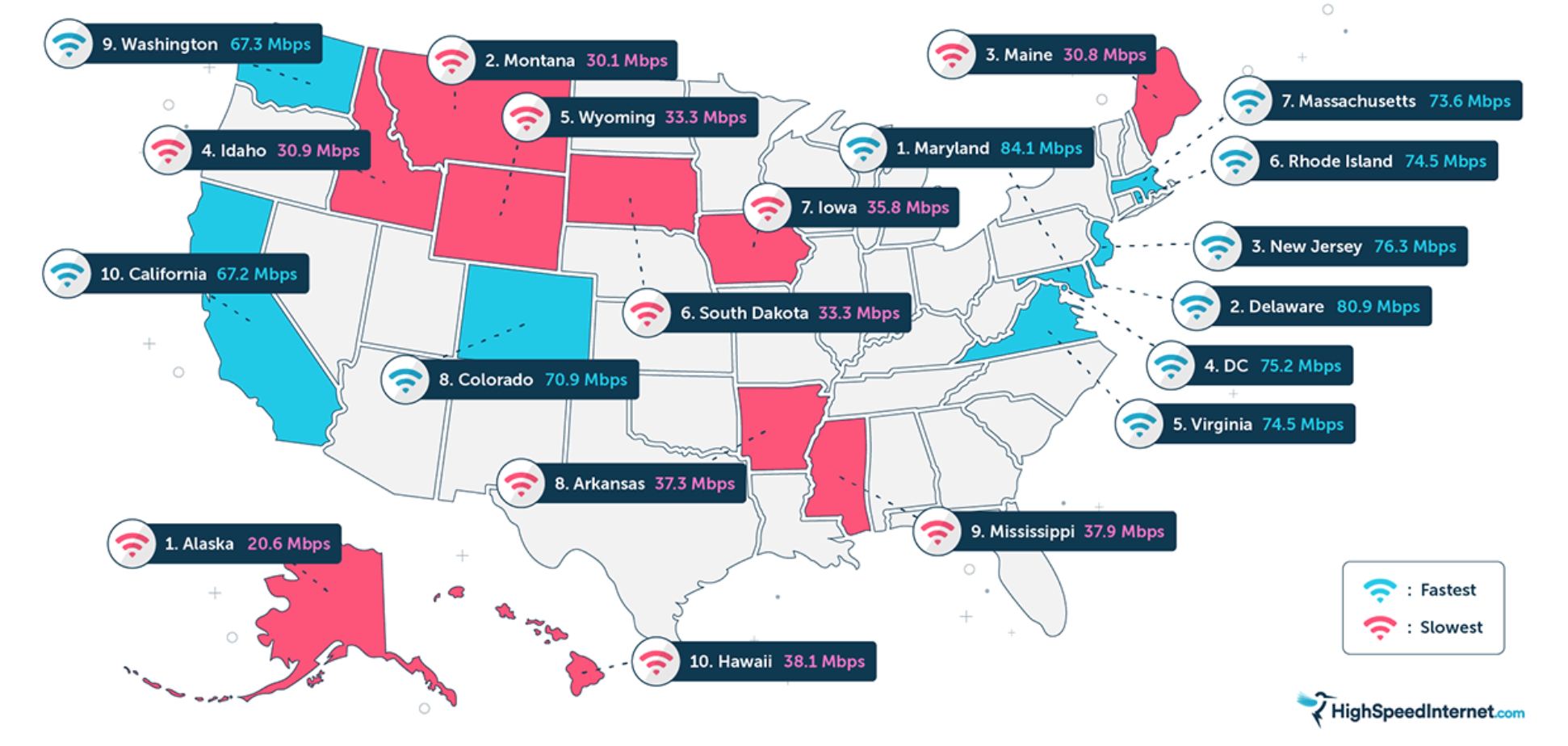 Wondering where internet speeds are the fastest? Or maybe you want to avoid the states where loading websites is like watching paint dry? We can help.
We analyzed over three million speed tests taken on HighSpeedInternet.com to find out which states have the fastest—and slowest—average internet speeds. Here's what we found.
States with the fastest average internet speeds:
Maryland – 84.1 Mbps
Delaware – 80.9 Mbps
New Jersey – 76.3 Mbps
D.C. – 75.2 Mbps
Virginia – 74.5 Mbps
Rhode Island – 74.5 Mbps
Massachusetts – 73.6 Mbps
Colorado – 70.9 Mbps
Washington – 67.3 Mbps
California – 67.2 Mbps
States with the slowest average internet speeds:
Alaska – 20.6 Mbps
Montana – 30.1 Mbps
Maine – 30.8 Mbps
Idaho – 30.9 Mbps
Wyoming – 33.3 Mbps
South Dakota – 33.3 Mbps
Iowa – 35.8 Mbps
Arkansas – 37.3 Mbps
Mississippi – 37.9 Mbps
Hawaii – 38.1 Mbps
Our data analysts at HighSpeedInternet.com analyzed two million speed test results. They took the average of every city in the US and ranked them from fastest to slowest.
What is a good internet speed?
A good internet speed for you depends on a lot of things, including your internet plan, how many people use your connection, and what type of internet you have. Our very general recommendation is 10 Mbps of download speed for every person who uses your internet connection. Some people need less and others want more, but that's our basic guideline.
For more specifics on good internet speeds and a personalized speed recommendation, check out our How Much Speed Do You Need? tool.
Speeds to expect from different types of internet
Typical speed range
Max speeds up to
More information
DSL
10-25 Mbps
100 Mbps
Learn more
Cable
50-100 Mbps
1,000 Mbps
Learn more
Fiber
100+ Mbps
1,000 Mbps+
Learn more
Fixed-wireless
15-25 Mbps
(3-5 Mbps after data cap)
100 Mbps
Learn more
Fixed-wireless
20-30 Mbps
1,000 Mbps
Learn more
With any type of internet connection, the thing that should affect your speeds the most is the plan you're signed up for. But different types of internet each have their own speed capabilities.
Currently, fiber is the fastest and most reliable connection type, but cable internet can also provide fast internet speeds. Both are better than DSL and satellite internet at consistently delivering promised speeds, according to the Federal Communications Commission's Eighth Measuring Broadband America Report.
While satellite internet, DSL, and fixed-wireless internet can reach speeds up to 100 Mbps or more, speeds that fast are more of an exception than the typical experience with these connection types.

Author - Kristin Cooke
After graduating with a degree in English from the University of Utah, Kristin learned to geek speak while working as a technical recruiter, interviewing software developers and tech companies in the Pacific Northwest. Over the past 20 years, she has created award-winning content for technology, health, and finance companies, eventually bringing her talent to HighSpeedInternet.com where she writes unbiased reviews of internet providers and tech products. Her work has been featured in the New York Post, PC Magazine, Forbes, Business Insider, Space.com, and Fox News.
Editor - Cara Haynes
Cara Haynes has edited for HighSpeedInternet.com for three years, working with smart writers to revise everything from internet reviews to reports on your state's favorite Netflix show. She believes no one should feel lost in internet land and that a good internet connection significantly extends your life span (buffering kills). With a degree in English and editing and five years working with online content, it's safe to say she likes words on the internet. She is most likely to be seen wearing Birkenstocks and hanging out with a bouncy goldendoodle named Dobby, who is a literal fur angel sent to Earth.