Your Guide to Spectrum Internet Installation
Jul 27, 2020 | Share

Brand Guides, Equipment Guides
Whether you're in the market for a new Internet Service Provider (ISP) and considering Spectrum Internet or you've already shopped around and made your choice, the next step is clear: ordering your service and installing it.
We'll walk you through the process of both self-installation and professional installation of Spectrum service. You'll get a clear picture of what to expect when it's time to get down to business.
We'll also talk about equipment and whether you're better off renting from Spectrum or buying your own.
If you already know what info you need, use the quick links below to skip right to it.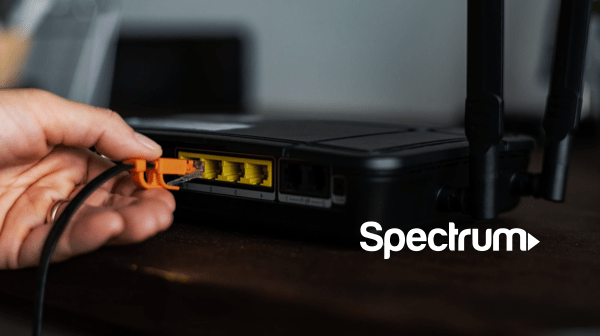 Self-install Spectrum Internet
Hooking your Internet service up yourself is simple, and Spectrum includes easy-to-follow instructions in the kit. Here's a quick rundown of what to expect.
How to order your Spectrum self-installation kit
If you decide to tackle the installation yourself, you'll want to order a self-install kit. The kit comes at no charge. Just request a self-install kit when you place your order for Spectrum Internet over the phone or online.
If you've already placed your order for Spectrum Internet but didn't request a self-installation kit, you still can. Contact Spectrum customer service to have one mailed to you.
Once your kit arrives, the first thing you should do is make sure nothing is missing. If you notice you are missing an item, give Spectrum's customer service a call.
What's in your Spectrum installation kit?
The Spectrum Self-Install Kit comes with everything you need to get your new Internet service up and running quickly:
Welcome guide and instructions
Modem
WiFi router
Ethernet cable
Coaxial cable
Power cables (2)
Before jumping into the installation and setup, make sure everything is accounted for. It's better to realize there's a missing piece before you start than when you're right in the middle of things.
Self-installing your Spectrum Internet service
Once you've verified the contents of the self-install kit, it's time to get the party started! Follow these simple steps to hook up your Spectrum modem and router:
Connect one end of the included coax cable to the modem and the other end to a cable outlet.
Connect one of the power cables to the modem and wait while it connects. This can take up to five minutes. You'll know it's done when the online indicator turns solid.
Connect the included Ethernet cable to the modem and wireless router.
Connect the other power cable to the router and let it power up. It can take up to 10 minutes for it to get going the first time. When the WiFi status light is solid green, you're ready to connect your devices.
Connect your computer to your new Spectrum WiFi network. You can find the network name and password printed on the back of the router or on the stickers included with your installation kit.
That's it! Now you're ready to get online and activate your service.
Not happy with Spectrum's provided equipment?
If you're interested in purchasing your own equipment, check out these resources to see what our experts recommend—just be sure to verify that the equipment you buy is compatible with Spectrum before you have it shipped:
Activating your Spectrum Internet service
Activating your Spectrum service shouldn't take long. Once you have the router hooked up, just connect to your new WiFi network and open a web browser. It will automatically direct you to the Spectrum activation page.
If activation doesn't begin automatically, don't worry! Just visit spectrum.net/selfinstall to continue.
Pro installation vs. self-installation
No technical experience necessary
Technician on-site to troubleshoot issues
Extra fee (unless you get the Triple Play)
At-home time commitment required for appointment window
Personalized installation timeline
No extra fees
No in-person support for troubleshooting issues
Some basic tech knowledge required
Is self-installation right for you?
Ask yourself this: are the convenience and cost savings worth the possibility of troubleshooting equipment on my own? Or would you rather just pay the money to get it done? If you're comfortable with troubleshooting, self-install is a great option. If not, a professional installation can save you some headaches. Plus, Spectrum's installation fee is quite a bit lower than its competitors.
Pro install Spectrum Internet
Pro installation breakdown
| Cost | Appointment window |
| --- | --- |
| $49.95 | Up to 3 hrs. |
Why it's good
A pro doing all the work has a couple advantages. For one, you don't need any technical experience to get things up and running. The service tech will handle everything for you. And probably the biggest advantage is that if something goes wrong, someone is already on-site to fix it.
What to expect
You can choose either self-installation or pro installation when you order your service. If you choose the professional option, you can schedule an appointment and choose how to receive reminders (email, text, or phone). You'll receive a notification the day before your appointment, confirming the time.
How to prepare
There are a few things you can do to get ready for your installation:
Clear the area where the technician will be working.
Have an idea in mind about where you want any new outlets installed.
Make sure any computers or TVs (for 

Spectrum TV

service) you want hooked up are in the home at the time of the appointment.
Heads up!
If you order one of the Triple Play bundle options from Spectrum, the installation fee is waived.
Equipment: renting vs. buying
Guaranteed compatibility
No additional cost
Standard equipment may lack some advanced features
Greater customization
Equipment is yours to keep
Higher price, depending on what features you need
Less Spectrum tech support
Renting
Since Spectrum includes a modem and router at no additional charge, it makes a lot of sense to use the provided equipment. Not only is it included in your service, but it's also guaranteed to work. Plus, tech support and troubleshooting will be much easier.
Buying
If you want to use your own equipment, Spectrum provides a list of recommended modems. This makes your job much easier since you won't have to guess whether a piece of gear will work with your service. Homes that are large or have a lot of active devices might benefit from a more advanced third-party router.
Our verdict
Unless you know you need something specific from your equipment, we recommend sticking with your ISP's modem and router. The exception to this rule is larger homes that may benefit from a mesh network, which you'd need to buy separately.
Enjoy your Spectrum service.
Whether you opt for a pro installation or take the DIY route, getting set up with Spectrum is only the beginning. Now kick back, fire up your computer, and let the fun begin!
Author - Dave Schafer
Dave has written professionally for tech companies and consumer technology sites for nearly five years, with a special focus on TV and internet. He uses his industry expertise to help readers at HighSpeedInternet.com get the most out of their services. No matter the project, he prefers his coffee black (the stronger, the better).
Editor - Cara Haynes
Cara Haynes has been editing and writing in the digital space for seven years, and she's edited all things internet for HighSpeedInternet.com for five years. She graduated with a BA in English and a minor in editing from Brigham Young University. When she's not editing, she makes tech accessible through her freelance writing for brands like Pluralsight. She believes no one should feel lost in internet land and that a good internet connection significantly extends your life span.