When Will Starlink Be Available in My Area?
Stay up to date on SpaceX's satellite internet service rollout.
Jul 7, 2023 | Share

Brand Guides
After years of hype and a long closed beta period, Starlink is finally open to the public. Although its satellite constellation has grown to blanket the entire globe, many people are surprised that they can't just pick up the phone on Monday and be online by Wednesday, as you might expect with another provider. Even more surprising is that how long it takes to get set up with Starlink depends a lot on your location.
If you're thinking about signing up for Starlink, we're going to go over what you need to know about Starlink's current availability and logistics, as well as the reasons behind the delays.
Is Starlink available in my area?
To find out if Starlink is available in your area, the most direct way is to simply go to the Starlink website and enter your address. When you click on the Order Now button, you should get one of the following messages:
Starlink is currently available in your area!
Order now to reserve your Starlink.
If Starlink is available at your address, you can then sign up for the service and order your equipment. You must purchase all your equipment up front, which is a big investment, but your wait should be on the shorter side (we'll put a pin in that for now).
If you're asked to reserve your Starlink, then the provider isn't able to take on new customers in your area at the moment. You can pay a $99 deposit to get put on the waitlist to ensure that you're one of the first in line when Starlink expands service in your area. For areas in the U.S., Starlink generally expects this expansion sometime in 2023, though this date could change.
If you don't want to wait, you could also sign up for Starlink Roam, though there are some significant differences between Roam plans and standard residential plans.
Waiting on the Starlink expansion? Check out the internet options available in your area now!
Starlink availability map
If you want more context about the rollout of Starlink coverage, the provider also has an interactive map.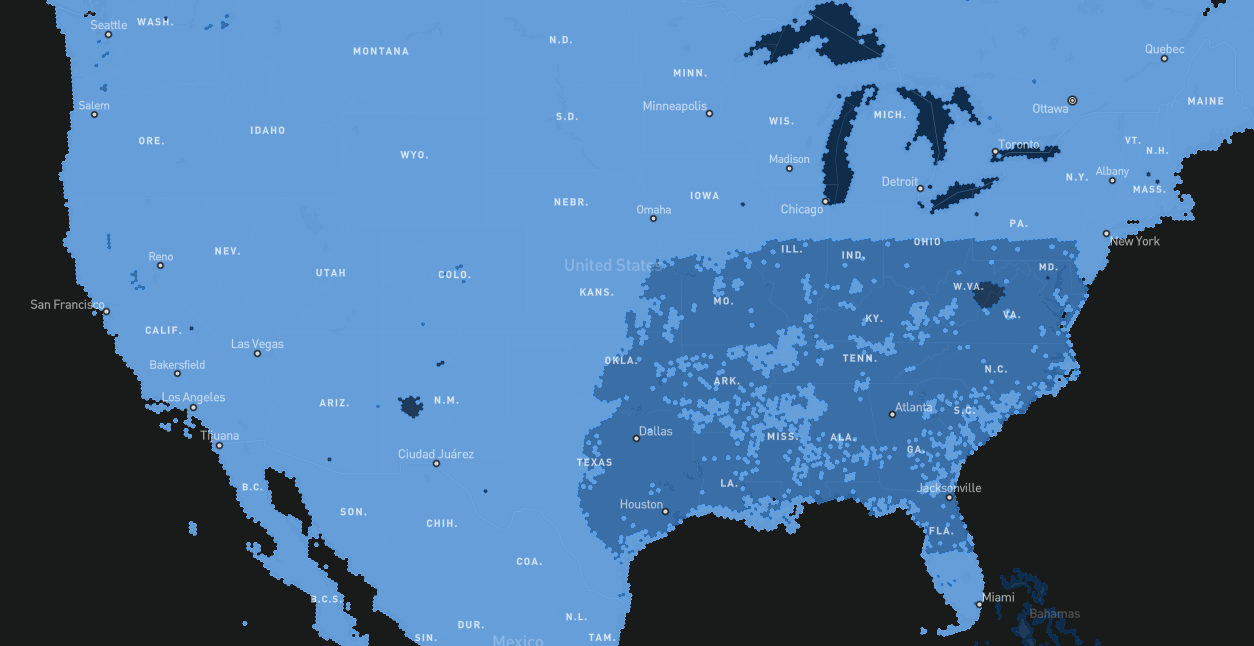 As of June, 2023, Starlink's availability has expanded through most of New England, but the South and a lot of the Midwest still has a waitlist. There are also two ominous dark spots in rural West Virginia and New Mexico that appear to have no announced expansion date, though addresses in these areas are directed to reserve a spot for later in 2023.
Starlink plans and pricing
Data as of 6/21/2023. Offers and availability may vary by location and are subject to change.
*Plus hardware, shipping & handling fees, and tax. Fully refundable. Depending on location, some orders may take 6 months or more to fulfill.
All these pre-orders and waitlists apply specifically to Starlink's residential plan, which is what  most home internet customers want. Starlink Roam, the portable internet service, uses Starlink's Mobile or Priority Mobile data plan, which doesn't have the same regional restrictions. The trade-off is that it comes with higher prices and lower speeds, which may not be worth the sacrifice to skip the line.
How does satellite availability work?
If you've been following the development of Starlink and other low-Earth orbit (LEO) satellite constellations, Starlink's coverage gaps might seem a bit perplexing. How can Starlink have global satellite coverage but somehow miss half of Texas?
Starlink's coverage gap issues arise from either regulatory constraints or network capacity. Starlink already has regulatory approval in the U.S., but countries with zero coverage have not given Starlink permission to operate within their borders.
Network capacity has been an ongoing issue since Starlink came out of its closed beta. The satellite network quickly became overloaded as more and more people used the service, which prompted Starlink to lower its advertised top speeds and impose a temporary data cap in an attempt to manage network traffic.
People in areas that already have a large number of Starlink customers get put on a waitlist until there are enough new satellites to handle the additional traffic each new subscriber brings to the network. Geostationary (GSO) satellite internet providers like Viasat and HughesNet have to deal with similar issues, though launching new satellites is a much more complicated task for them.
Another problem unique to LEO satellites is the limited range of satellite teleport, or the ground-based side of satellite networks that connect a satellite to the rest of the internet. A GSO satellite can easily see a quarter of the Earth's surface, so ISPs can build huge ground stations right on internet backbones and always maintain line of sight between the satellite and the ground station.
LEO satellites are close to Earth's surface, so they can maintain line of sight only with stations within about 400 miles. That means providers need many more stations to keep internet service, and they have more limitations on where they can build them.
Starlink equipment delays
If you're fortunate enough to live in an area with Starlink availability, you may still get held up getting your equipment. Manufacturing and shipping delays have caused some customers to wait up to 11 months for their internet service in 2022, as reported by Business Insider.
Starlink claims orders "may take six months or more to fulfill," but it has not been uncommon for Starlink to extend its estimated waitlist times. Many unfortunate souls on the waitlist fall firmly in the "or more" category.
Other rural internet options
Even if you're a die-hard Starlink fan, most of us can't go without internet for six (or more) months. If there's a waitlist in your area, it's a good idea to have a backup plan for the meantime, even if you do ultimately switch to Starlink once it's available.
Top rural internet providers
Data as of 6/21/2023. Offers and availability may vary by location and are subject to change.
*Plus hardware, shipping & handling fees, and tax. Fully refundable. Depending on location, some orders may take 6 months or more to fulfill.
†w/ Auto Pay. Regulatory fees included in monthly price for qualified accounts. See full terms
‡Prices and availability vary by location. Installation fees, monthly equipment lease fees, and taxes may apply. After 100 GB of High-Speed Data usage, you still have unlimited access to Standard Data, which may result in slower speed.
§Pricing for the first 6 months. Service plans require a 24-month commitment. Pricing not available in all areas.
If you plan on using a temporary internet solution, make sure to look over the length of your contract. Satellite and fixed wireless providers often require two-year contracts and charge hefty termination fees if you want to get out early. T-Mobile is a notable exception, making it a good stopgap (or long-term alternative) if it's available in your area.
The bottom line: Be prepared to wait
If you're an aspiring Starlink customer, make yourself comfortable because you're going to do a bit of waiting. In most of the U.S., the initial process should just take a matter of weeks. But if you're in the South, you could be on a waitlist for months.
Not a fan of waiting? Find internet providers serving your area right now!
Author - Peter Christiansen
Peter Christiansen writes about satellite internet, rural connectivity, livestreaming, and parental controls for HighSpeedInternet.com. Peter holds a PhD in communication from the University of Utah and has been working in tech for over 15 years as a computer programmer, game developer, filmmaker, and writer. His writing has been praised by outlets like Wired, Digital Humanities Now, and the New Statesman.