Dirty Little Secrets— 1 in 4 Americans Surveyed Used Dating Apps to Cheat
Jul 22, 2019 | Share

Featured, Technology
It's been 10 years since Grindr and Skout first introduced us to the dystopian hellscape wonderful world of smartphone dating apps.
Though online dating has had a bad rap in the past, that has virtually disappeared since Tinder made the whole thing into a game. (It even surpassed Candy Crush Saga in the App Store for a while.)
Since online dating apps are officially all the rage, we decided to ask Americans how they use them. The results gave us some heartwarming and heartbreaking glimpses into the state of dating in 2019.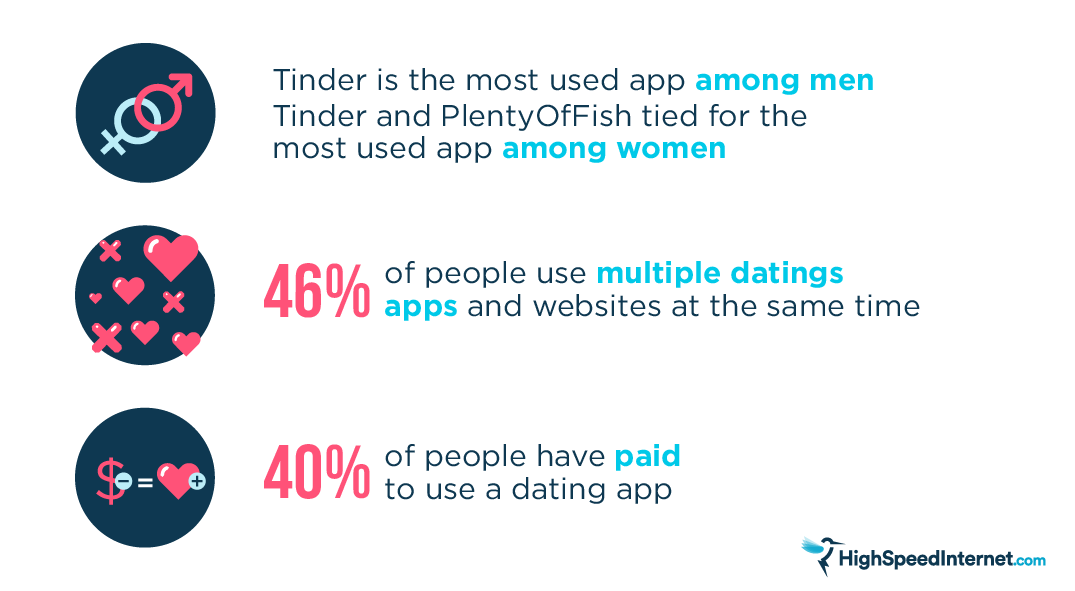 Surprise, surprise—everyone's on Tinder. Our survey results place Tinder as the most popular dating app for both men and women, though women also like PlentyOfFish.
The app's popularity spans different age groups as well. In particular, millennials and Gen Xers are casually swiping on Tinder to find love, lust, validation, and even restaurant recommendations. Gen Zers prefer PlentyOfFish with its expanded bios and advanced match filters.
Though Tinder and PlentyOfFish came out on top, many surveyed online daters cast a wide net by using more than one service at a time. So if you accidentally swipe left on your soulmate on Tinder, you could get a second chance on PlentyOfFish or Bumble.
Or you can cough up the $9.99 (or $19.99 if you're over 30) for a Tinder Plus subscription to rewind your last swipe. Don't be embarrassed—40% of our survey participants have paid to use a dating app. It's just the cost of love.
Dating apps make it super convenient to take love into your own hands. But there's no point using one where the pickings are slim. According to our survey, these are the most-used dating apps, where you'll have the best chance of finding a connection.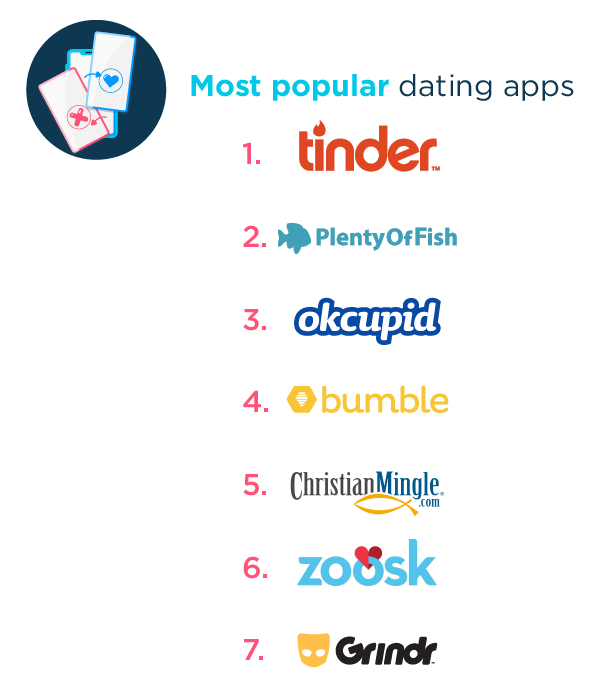 Most people on dating apps are just there to hook up, right? Maybe not. Over half of surveyed US dating app users have started a serious relationship with someone they met through an app.
And according to Stanford University's "How Couples Meet and Stay Together 2017" survey,  more couples are meeting online now than any other way—including meeting through mutual friends or at work.
But when is serious, serious? Or at least serious enough to stop looking? We found that most people stop using their dating apps regularly after one great date, but 6% of those surveyed never delete their apps (more on that scandal below).

All's fair in love and war
So here's the tea: a lot of people with dating profiles are already in serious relationships. And these serious relationships aren't necessarily open relationships—usually they're just being sneaky.
A whopping 27% of those surveyed admitted to using a dating app while in a committed relationship, and men were almost twice as likely to report keeping their online options open than women.
On the flip side, one in three people don't think simply using a dating app is enough to call it cheating. And one in 10 don't think it's necessary to disclose whether you're in a long-term relationship while using a dating app.
If that's not enough to make you uneasy, get this: you're not even safe from dating app infidelity during an actual date. One in 10 surveyed Americans have been active on a dating app while out with another person. Rude. We hope they at least picked up the check.
While we're on the topic of rude behavior, let's talk about ghosting. Not, like, spooky ghosts, but like when you decide to break it off with someone by just . . . disappearing. It's surprisingly common, with 47% of people admitting to ghosting someone and 45% saying they've been ghosted.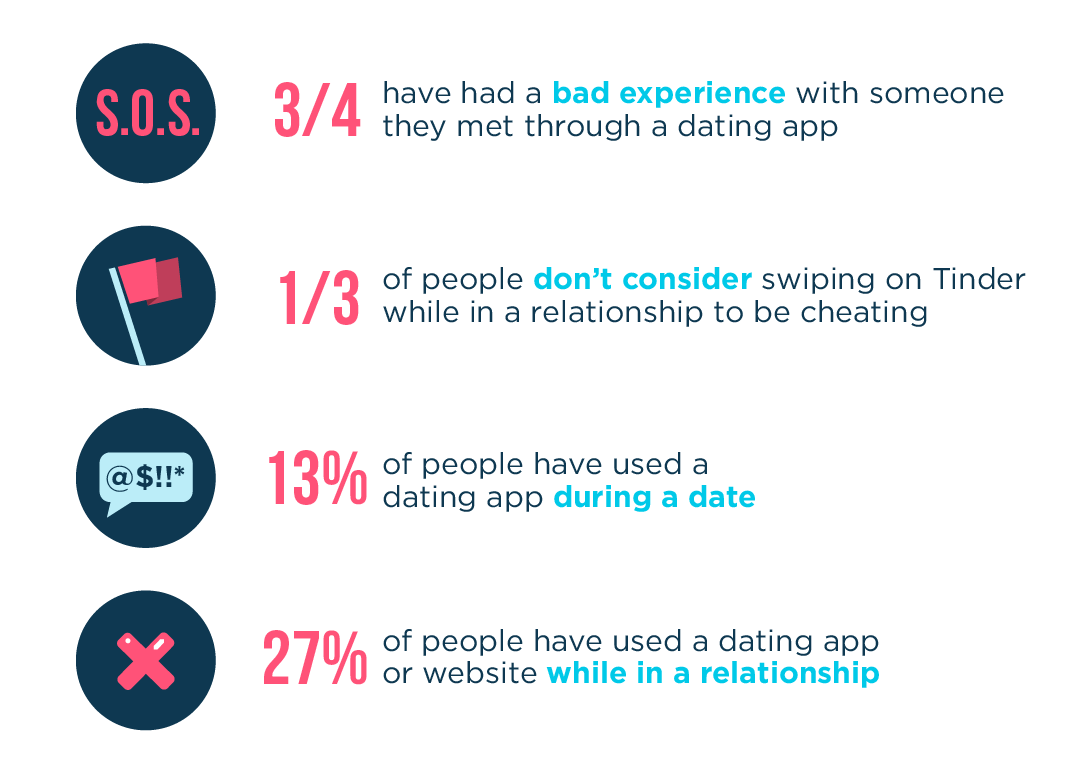 Joking aside, there is undoubtedly a darker side to dating apps, from unsolicited nudes and harassment to Tinder-related murders. Our survey found that three out of four participants have had a bad experience with someone they met online.
While rude messages, ghosting, or catfishing might be difficult to avoid, you should take precautions when meeting up with someone for the first time. Meet in public, and make sure to let someone else know where you'll be. And don't be afraid to block and report someone if they're behaving badly.
Though the number of people using them to cheat is a little scandalous, most of what we found affirms that online and app-based dating services can still be a great way to meet new people and even find "the one." So go forth, be bold, fill out your darn bio, and swipe right on love (or whatever).
We plunged into the world of online dating apps, went on a few dates, and got married to a Tinder match. Ok, well, one of us did.
That's how we got our experience, but we got our juicy stats by asking 400 people across America to spill about their dating app habits, successes, and epic fails.
Author - Rebecca Lee Armstrong
Rebecca Lee Armstrong has more than six years of experience writing about tech and the internet, with a specialty in hands-on testing. She started writing tech product and service reviews while finishing her BFA in creative writing at the University of Evansville and has found her niche writing about home networking, routers, and internet access at HighSpeedInternet.com. Her work has also been featured on Top Ten Reviews, MacSources, Windows Central, Android Central, Best Company, TechnoFAQ, and iMore.