2017's Best Streaming Devices
Feb 7, 2017 | Share

Equipment Guides, Streaming Guides
The Best Equipment To Power Your Next Netflix Marathon
Cable may still be king, but the future is streaming. One in five American households have cut the cord and set their TV boxes free, pivoting to embrace streaming providers like Netflix, Hulu, and Amazon Prime. Streaming devices have evolved to meet increasing demand, with smaller, faster models equipped with dazzling new features that put most standard DVRs to shame. We'll take a look at the newest crop of streaming boxes and make some recommendations about which models will work best for your next Netflix and chill moment.
Our Top 5 Picks for Streaming Devices
 
Rating
Price
4K
Compatible Apps

Best Overall

4.2/5
$86.17
YES
Netflix, Amazon Video, Hulu, VUDU, Sling TV, and PBS KIDS

Best Value

4.6/5

(Best Buy)

$35.00

(Best Buy)

NO
Netflix

3. X-Box 1

Best for Gamers

4/5
$265.00
YES
Netflix, Amazon Prime

Best Storage

4.5/5
$89.99
YES
Netflix, Hulu, and Amazon Video, Sling TV

Best Stick

4.6/5

$69.99

(Best Buy)

YES
Netflix, HBONOW, Google Play, You Tube, Plex, Spotify
*Data effective as of 2/7/2016
We'll get to the details on these snazzy streaming devices soon, but first let's chat about considerations. What features are important when choosing a streaming box? Our answers will help you identify the device you've been looking for.
What Should I Consider When Choosing a Streaming Device?
Box vs. Stick
Streaming devices fall into two basic categories: small and smaller. Your choices are either a larger streaming box that'll probably fit in the palm of your hand or a streaming stick, which is the same size as a USB memory stick. While sticks lack some of the processing power and port options of a streaming box, these tiny memory-stick devices are cheap and portable. If, however, you're interested in streaming 4KHD or you have a full theater set-up that utilizes Dolby Audio, you'll want to stick (pun intended) with a streaming box instead.
Compatibility
While you can download most streaming apps onto any device, there are some clear advantages to using a box that integrates your favorite streaming content provider. For example, if your favorite shows are available on Amazon Prime, you may want to consider the Fire TV rather than the Google Chromecast, because the latter is geared towards Netflix and Google Play. The ease of use and the ability to quickly find content will outweigh any potential cost differences.
4K Ultra HD
Got a fancy new 4K Ultra HD TV? Stick with a compatible box that will allow you to stream 4K programming. Our favorite device, the Roku Premier, also supports HDR and Dolby Audio so you can make the most out of the magnificence of your sixty-inch TV screen.
Internet Speed
If you're investing in the streaming technology you need to cut the cord with your cable provider, internet speed should be part of your calculations. How much speed do you need to stream effectively? It depends on the number of your devices, what type of content you are streaming, and how much of it. To get a better idea of the internet speeds we'd suggest for your connected household, use the How Much Speed Do You Need Tool.

Making Connections
For a speedy, seamless streaming experience, you want to pay attention to things like how many bands your device supports and the Wi-Fi protocol it's using. Optimally, you want the latest protocol, 802.11 ac and a dual-band device that utilizes MIMO to optimize your signal performance. Not sure what all that tech speak actually means? Learn more about internet protocols in our router equipment guides.
Additionally, if you have a home theater, make sure the device you select has all the ports you'll need. Many of the less expensive streaming boxes do not support sophisticated audio outputs.
Internal Storage
If you're living your life in the cloud, storage capacity may not be an issue for you. A few streaming devices offer some storage capacity, so you can have content at your fingertips without worrying about connectivity. While even the largest storage capacity on a streaming device is still vastly smaller than the average DVR, if you want more, opt for a device that has a USB port, so you can connect external storage.
---
Top 5 Streaming Devices
Best Overall
Amazon Rating:  (4.2/5)
Type: Box
Compatible Apps: Netflix, Amazon Video, Hulu, VUDU, Sling TV, and PBS KIDS
4K HD: Yes, HDR
Band: Dual
Connections: HDMI port (4K video via HDCP 2.2 HDMI), 802.11 ac MIMO, Ethernet and micro SD port,
Storage: No
Streaming with Roku's Premier Plus is so smooth, it should be criminal. A faster processor, support for 4K Ultra HD and HDR (high dynamic range), and a remote that integrates Netflix, Hulu, and more make this streaming box our device of choice for cord cutters.
Best Value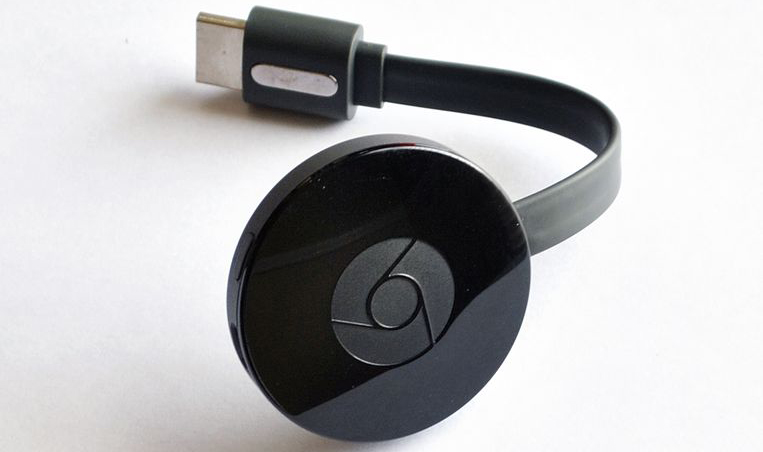 Photo by Y2kcrazyjoker4
Google Rating:  (4.6/5)
Type: Stick
Compatible Apps: Netflix
4K HD: No
Band: Dual
Connection: Wi-Fi only, HDMI port
Storage: No
You can hold a whole world of content in the palm of your hand with the Google Chromecast. This zippy little device is designed to plug right into the HDMI port on your TV and integrates Netflix and the Google Play store. Unfortunately, it doesn't support 4K and can't be connected directly to the internet. At that price tag, you'll probably be able to look past a few flaws and see the bigger picture.
Best for Gamers
Amazon Rating:  (4.2/5)
Type: Gaming system, box
Compatible Apps: Netflix, Amazon Prime
4K HD: Yes, HDR
Band: Dual (2.4 GHz only)
Connection: Ethernet, HDMI
Storage: 500 GB or 1 TB (depends on model)
Stream, game, store, and more with a gaming system like the Xbox One that also doubles as a streaming device. A clear advantage for hard-core gamers, this system also offers storage space comparable to some of the best DVRS on the market and supports 4K and HDR. The only problem? That price tag. Ouch!
Best for Storage
Amazon Rating:  (4.3/5)
Type: Box
Compatible Apps: Netflix, Hulu, and Amazon Video, Sling TV
4K HD: Yes, No HDR
Band: Dual
Connection: Supports 802.11a/b/g/n/ac Wi-Fi, MIMO, DC Jack, HDMI output, 10/100 Ethernet, microSD slot, USB 2.0
Storage: 8GB
Amazon Prime power users will appreciate Fire TV, which does a fantastic job of integrating content and giving users access to Amazon's vast video library. This model also incorporates Alexa, everyone's favorite new cloud-based voice assistant that is always at your service. We rate it highly for being one of the few devices with internal storage and plenty of options for adding more storage externally.
Best stick
Google Rating:  (5/5)
Type: Stick (we said that already)
Compatible Apps: Netflix, HBONOW, Google Play, You Tube, Plex, Spotify
4K HD: Yes, HDR
Band: Dual
Connection: 802.11ac (2.4 GHz/5 GHz) WiFi, Ethernet, HDMI, Micro SD
Storage: No
The Chromecast Ultra is proof that great things can come in small packages. While it may be small, the Ultra packs plenty under the hood with the ability to stream in 4K and support for HDR. While it's a little pricier than the base model, if you're a cord cutter looking for HD content, the Chromecast Ultra is the best way to keep you supplied with a steady stream of 4K at a budget price.
---
If you need more internet speed to stream your favorite shows, enter your zip code to discover what's available in your neighborhood.
Author - Kaz Weida
Kaz is a writer, blogger and social media junkie. She uses her tenacity to investigate the best of the Internets.