Survey Finds 75% Would Switch to Fiber Internet If Available
Sep 24, 2021 | Share

Industry Exclusive/Entertainment
Fiber-optic cables have made up the backbone of the internet for almost half a century, but it's been only in the last decade that fiber has become the gold standard for residential internet connections.1 This comes at a time when the demands of work, education, and entertainment are making fast and reliable internet connections necessary for many Americans.
As nationwide providers move away from DSL and invest more heavily in fiber, we asked 1,000 people about their opinions on fiber internet.
Americans are choosing connections that offer higher speeds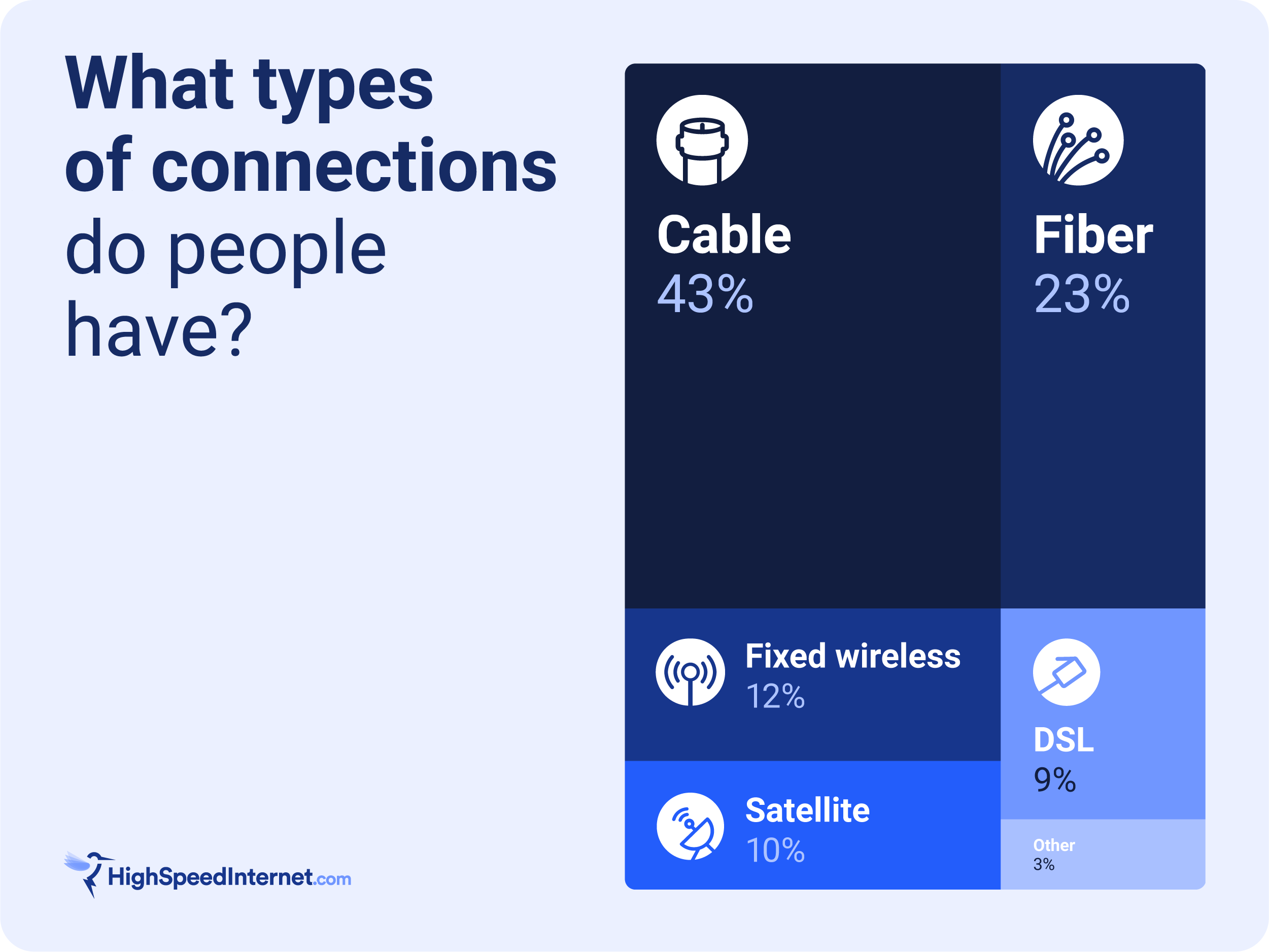 Internet providers are constantly upgrading their networks, and it seems that the demand is there. Most of our respondents had connection types capable of gigabit speeds, with 43% currently using cable while 23% had fiber connections. In contrast, only 9% of our respondents reported using DSL, despite the fact that only half as many people in the US even have access to fiber compared to DSL.2 
It's no surprise, then, that many DSL providers are phasing out their older DSL networks and focusing their efforts on fiber.3 Both cable and fiber offer much faster speeds than DSL, but fiber also has many advantages over cable.
Not everyone knows about fiber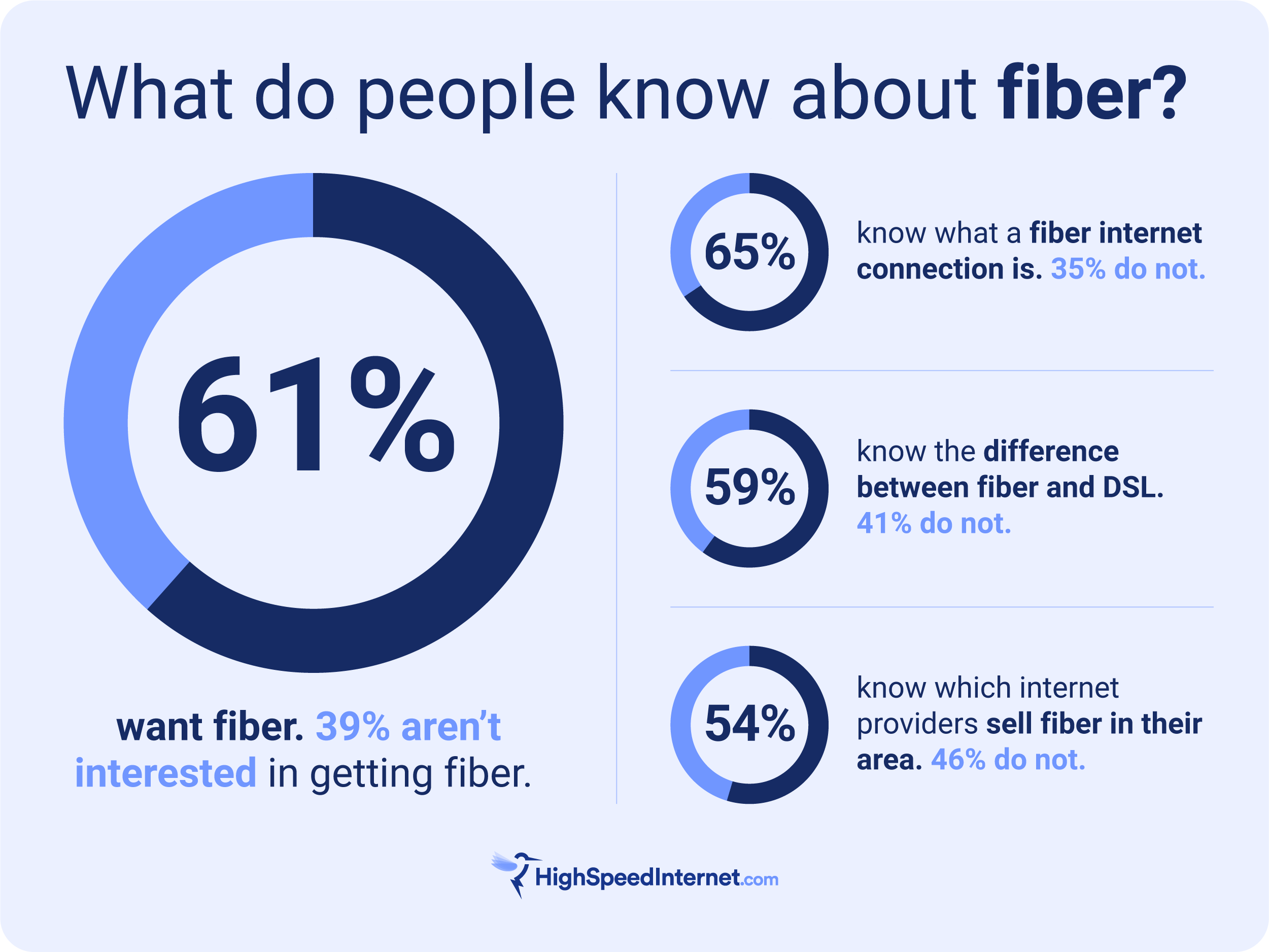 Although fiber-to-the-home connections have exploded over the last few years, there's still a sizable lack of public awareness. Among respondents without a fiber connection, over a third didn't know what fiber internet is, and 41% didn't know the difference between fiber, cable, and DSL.
As customer demand fuels the expansion of fiber networks across the US, it's helpful to know the basics of fiber internet, even if you don't have a fiber connection. Fiber plans often offer faster speeds than similarly priced cable and DSL plans, so a bit of knowledge might help you avoid overpaying for your internet connection.
Over 75% of respondents would be willing to pay more for fiber internet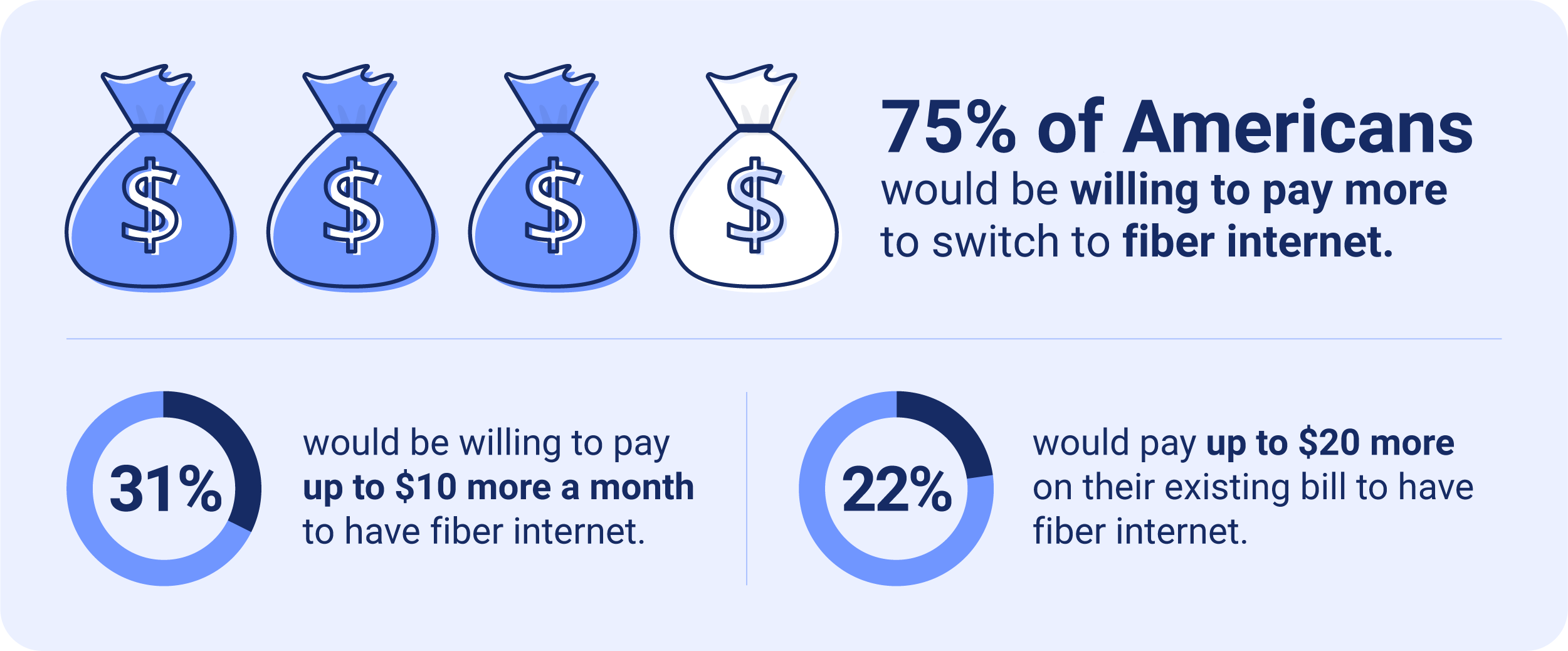 Among respondents that wanted fiber, over 75% were willing to pay more to get a fiber internet connection. The majority would be willing to pay at least $10 more than their current provider's monthly bill in order to switch to fiber, and 22% would be willing to pay up to $20 more if they could switch. 
Fortunately, there are more providers offering fiber than ever before. This also means there's a broader range of fiber plans for different budgets. As providers invest more into their fiber networks, we can expect these options to expand even further.
Why do people want fiber?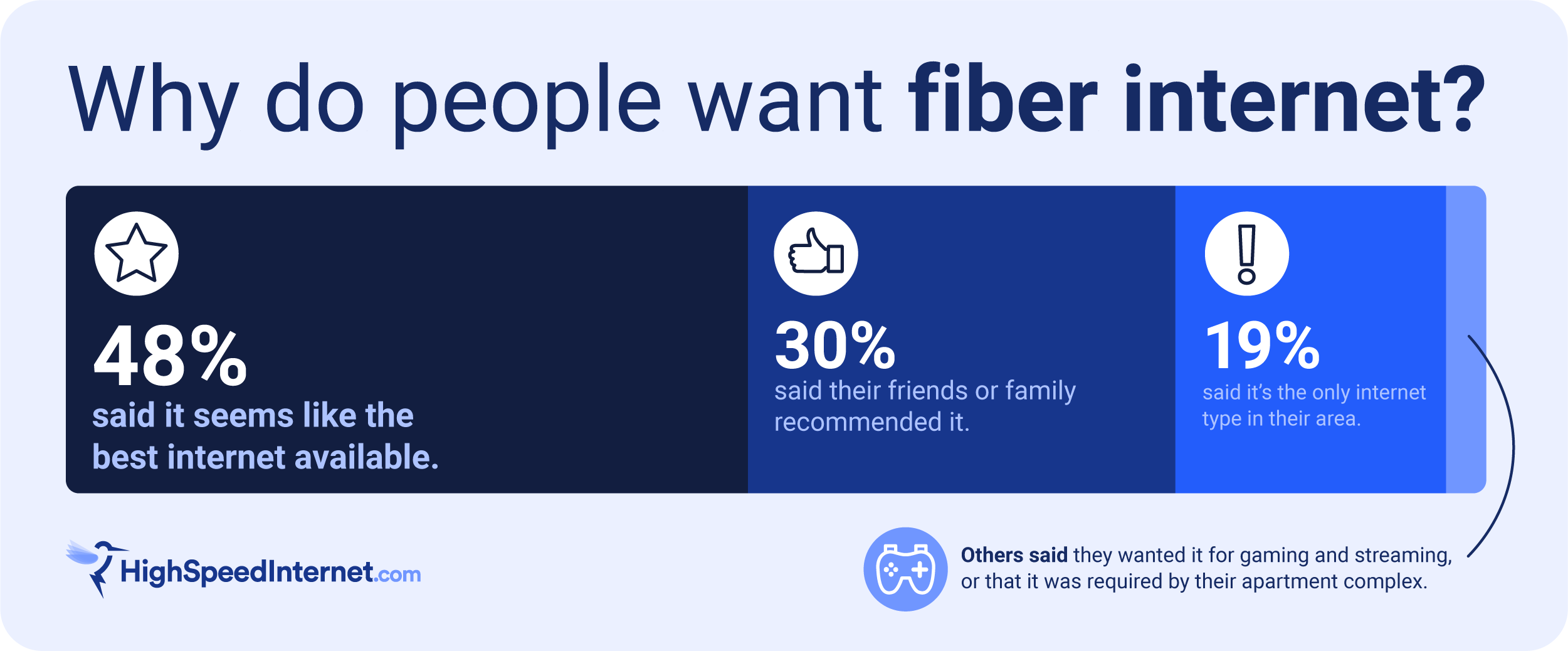 People want fiber internet because it's the best. According to our survey, nearly half of the respondents who wanted fiber wanted it because they considered it the best type of internet connection available, and they're not wrong. Fiber is fast. It's now the standard against which all internet connections will be compared.
Most respondents focused on the faster speeds and greater reliability of fiber as its top benefits, but 22% specifically mentioned fiber's resilience to slowdowns associated with cable connections. Fiber also beats cable in other areas, such as faster upload speeds, which can make a big difference for content creators and those who work or study from home.
People want fiber for both work and play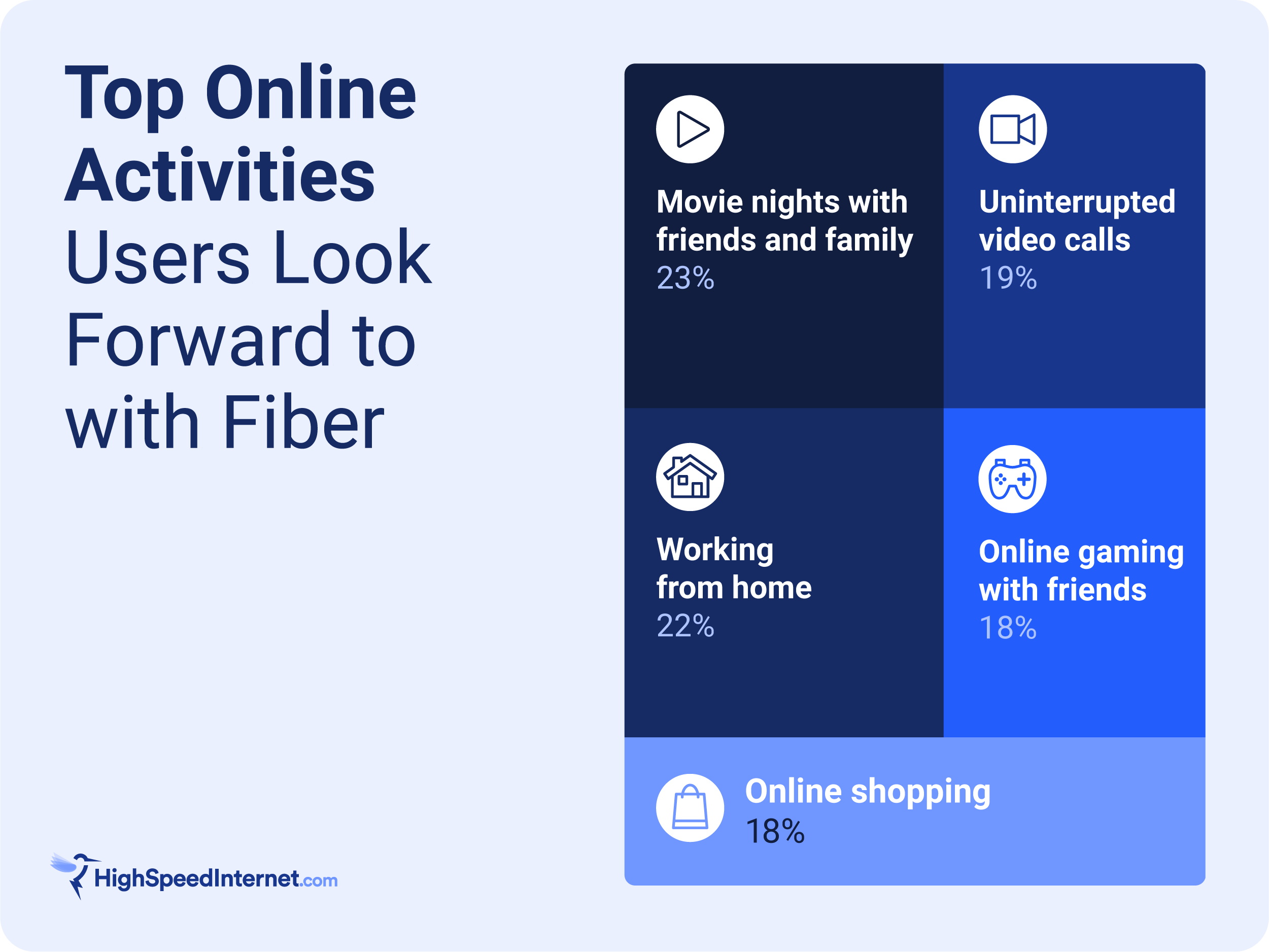 If they had access to fast, reliable fiber internet, most survey respondents said they would have more movie nights with friends and family. Fiber internet is great for streaming video, as it provides enough bandwidth to stream movies in 4K—in fact, most fiber plans give you enough speed to stream video in every room of your house and still have bandwidth to spare.
Another perk people looked forward to was the ability to work from home. Fiber gives you all the speed you need to work from home, as well as several additional benefits for remote work or schooling. Fiber's high upload speed and low latency are excellent for remote meetings, large file transfers, and online collaboration tools.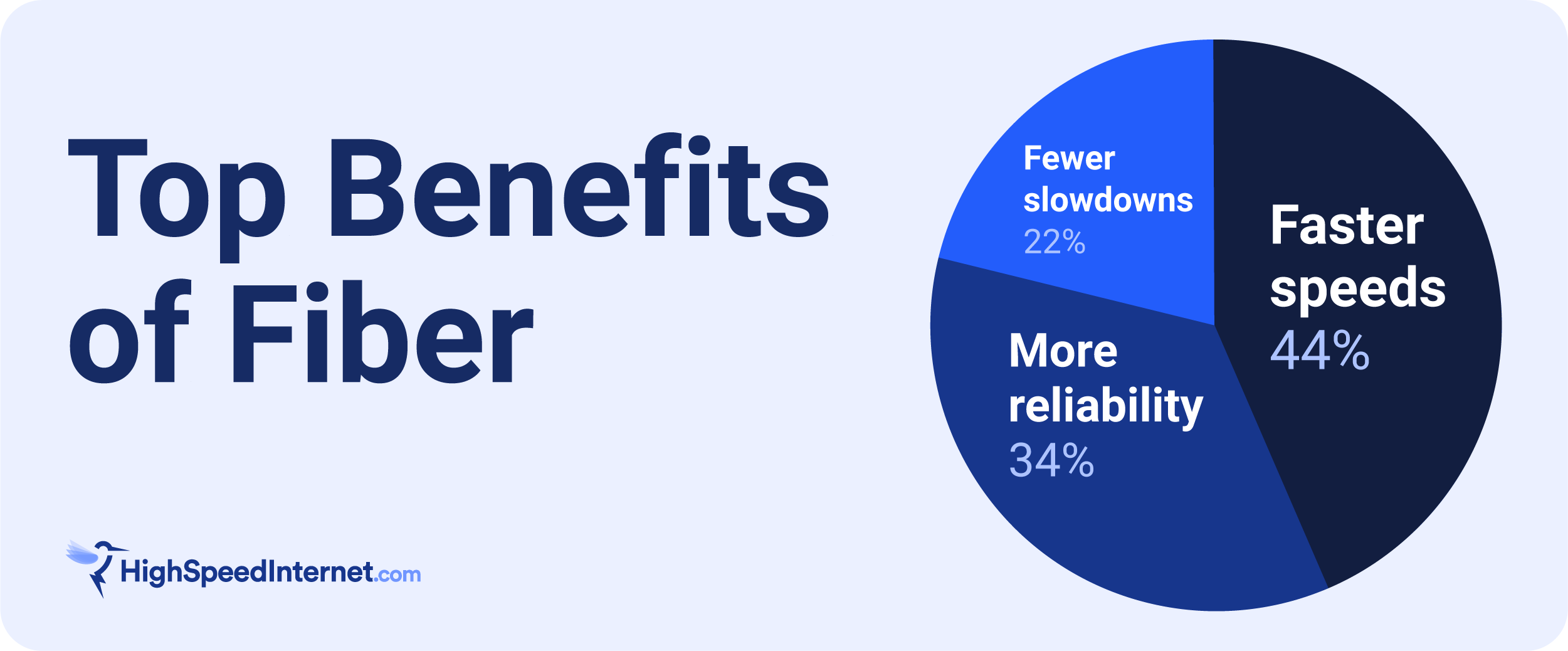 As the demands of digital life increase for many Americans, having a fast, stable internet connection is a more important concern than ever. This is especially true in areas with limited competition between ISPs.4 Fortunately, the more service providers and local municipalities invest in fiber, the more we'll see affordable fiber plans across the country. 
The analysts at HighSpeedInternet.com surveyed 1,000 Americans to see how much they know about fiber internet. We analyzed the results and compiled this report. Participants were located in all 50 states with ages ranging from 16–54+. The survey was distributed online via Pollfish.
Author - Peter Christiansen
Peter Christiansen writes about satellite internet, rural connectivity, livestreaming, and parental controls for HighSpeedInternet.com. Peter holds a PhD in communication from the University of Utah and has been working in tech for over 15 years as a computer programmer, game developer, filmmaker, and writer. His writing has been praised by outlets like Wired, Digital Humanities Now, and the New Statesman.
Editor - Rebecca Lee Armstrong
Rebecca Lee Armstrong has more than six years of experience writing about tech and the internet, with a specialty in hands-on testing. She started writing tech product and service reviews while finishing her BFA in creative writing at the University of Evansville and has found her niche writing about home networking, routers, and internet access at HighSpeedInternet.com. Her work has also been featured on Top Ten Reviews, MacSources, Windows Central, Android Central, Best Company, TechnoFAQ, and iMore.