The Best RV Internet Options for 2023
Tips for staying connected when you're traveling around the country.
Nov 8, 2023 | Share

Technology
Best for RV Parks

Bearifi BearExtender Wi-Fi Extender Antenna

Price: $59.99†
USB power
Windows-only compatibility
An RV gives you a lot of freedom and flexibility. It's a low-cost way to travel, so you can visit friends and family and take all your stuff with you. While you can get basic utilities at a full hookup, it's not always easy finding reliable Wi-Fi out on the road. Here's a look at some of the best internet solutions for RV owners.
Best internet options for RVs
Product
Price
Features
Order online
Best for weekend trips
T-Mobile Inseego 5G MiFi M2000
$299.99†

Unlimited data


5G connection

View on Amazon
Best for RV Parks
Bearifi BearExtender Wi-Fi Extender Antenna
$59.99†

USB power


Windows-only compatibility

View on Amazon
Best for internet enthusiasts
Starlink Roam
$150.00.mo.*

Nationwide coverage


In-motion use option

View Plans
Data effective 11/8/2023. Offers and availability may vary by location and are subject to change.
*Plus hardware, shipping & handling fees, and tax. Fully refundable. Depending on location, some orders may take 6 months or more to fulfill.
How to pick the right internet solution for your RV
There's not just one thing you can do with an RV, which means there's not just one best option for RV internet. Depending on the frequency of your trips, how long you stay in one spot, your destination, and the way you use the internet, there are several solutions that can help you stay connected to the rest of the world.
Mobile hotspots—If you're often on the road and want a reliable internet connection you can take with you, a dedicated mobile hotspot is a flexible and affordable choice. Much like cell phones, hotspots require their own SIM card and data plan, so there is a long-term cost to plan for.
Wi-Fi extender—If your usual destination is an RV park or other sites with public Wi-Fi, you may not need to invest in a device with its own data plan. Wi-Fi extenders are designed to help you pick up weak or distant Wi-Fi signals, allowing you to get better reception when connecting to these public networks.
Portable 4G internet service—For those who think of their RV as a second home (or even their first), you probably want a reliable internet connection that gives you all the comforts of home. Portable 4G LTE plans can deliver reliable broadband speeds while not requiring a fixed address like home 4G plans.
Mobile satellite internet—Starlink recently released Starlink Roam, its new portable satellite system that replaces previous programs like Starlink Portable and Starlink RV. With a satellite connection, Starlink Roam offers a reliable connection, even in the most remote parts of the U.S. and offers higher speeds than 4G connections. It also allows in-motion use of the system, though this feature requires very expensive equipment.
Other helpful resources for RV internet
Pro tip:
Download speeds on 4G networks depend both on which network you use and where you're trying to use it. Because of this variation mobile internet providers often advertise "4G speeds" without giving actual numbers. 4G connections have average speeds of 28–35 Mbps, though this can be lower in more remote areas.1
Best for weekend trips—T-Mobile Inseego 5G MiFi M2000
Best mobile hotspot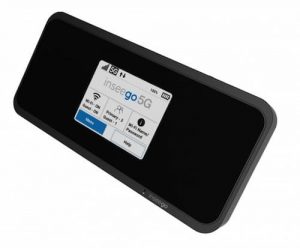 Price: $299.99*
5G connection (4G LTE backup)
Wi-Fi 6
USB-C Port
Support for up to 30 Wi-Fi enabled devices
If you like to get out of town on the weekends to see new places, you're going to need a simple and flexible internet solution. Mobile hotspots work much like a phone, connecting wirelessly to a provider's cellular network. The hotspot then broadcasts a local Wi-Fi network you can use on your computers, tablets, and other devices just as you would at home.
The Inseego 5G MiFi M2000 has a lot of features that can make your weekend trips easier to manage. Most importantly, it comes with a very generous data plan—100 GB for $50 per month—so you can watch Netflix or video chat with family without worrying too much about overage charges. The M2000 also uses Wi-Fi 6, the latest Wi-Fi standard. This allows you to connect loads of devices without your network slowing.
The M2000 exclusively uses the T-Mobile network, which can be limiting in areas where other providers have better coverage. Fortunately, you can also find hotspots that use other networks—or even allow you to choose your preferred network for your data plan.
Pros:
5G Compatibility
Multiple device support
Cons:
Only T-Mobile network
Limited 5G availability
Data as of 5/26/2022. Offers and availability may vary by location and are subject to change.
Data as of 5/26/2022. Offers and availability may vary by location and are subject to change.
Best for RV parks—Bearifi BearExtender Wi-Fi Extender Antenna
Best Wi-Fi extender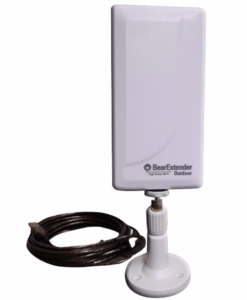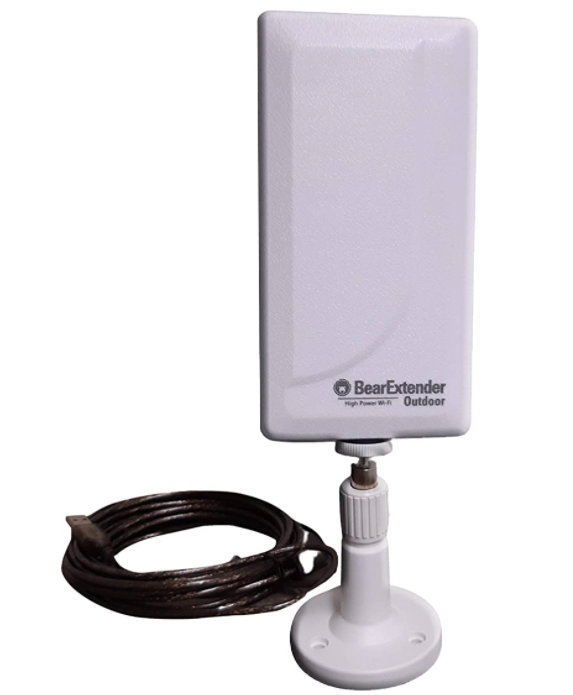 Price: $39.99*
Multiple mounting options
Wi-Fi 5
Single-computer use
USB powered
Although not all sites with full hookups offer public Wi-Fi as they do with other utilities like water, sewer, and electricity, it's becoming pretty easy to find at big campgrounds like KOA. Plus, fast food chains, libraries, and many other locations offer free Wi-Fi you can access.
The hard part about relying on public Wi-Fi is getting a strong signal. Wi-Fi extenders allow you to boost your wireless range to connect to Wi-Fi even if you didn't get a prime spot next to the transmitter.
The Bearifi BearExtender Wi-Fi Extender Antenna is one of the most affordable models out there, so you don't need to break your bank just to stay connected. It connects to only a single device, but other, more expensive options allow you to rebroadcast the public Wi-Fi into a Wi-Fi network in your RV.
The downside of using public Wi-Fi is, unlike other utilities that can be stored in a battery or a tank, your internet has to stay connected to be functional. Some extenders also work with a SIM card to use cellular data so you can stay connected all the time, even when Wi-Fi isn't available.
Pros:
Cons:
Windows only
One device only
Data effective 5/26/2022. Offers and availability may vary by location and are subject to change.
| Product | Price | Wi-Fi version | Rebroadcasts | 4G capable | Order online |
| --- | --- | --- | --- | --- | --- |
| Bearifi BearExtender Wi-Fi Extender Antenna | $39.99 | Wi-Fi 5 (ac) | No | No | View on Amazon |
| Winegard – 80800 ConnecT 2.0 | $389.00 | Wi-Fi 4 (n) | Yes | Yes | View on Amazon |
| ALFA Network WiFi CampPro 2v2 | $164.99 | Wi-Fi 4 (n) | Yes | No | View on Amazon |
Data effective 5/26/2022. Offers and availability may vary by location and are subject to change.
Best for internet enthusiasts—Starlink roam
Best satellite internet
Price: $150.00/mo.*
Speeds up to 100Mbps
Nationwide Coverage
In-motion use option
1 TB data cap
Starlink Roam allows Starlink customers to take their dish with them and connect to the internet wherever they go. Starlink Roam comes in either a regional plan that costs $150 per month or a global plan that costs $200 per month. You can also get in-motion service with Starlink Roam, although this requires not only using Starlink's new Flat High Performance equipment, which will set you back $2,500, but upgrading to a Priority Mobile data plan, which starts at $250 per month for 50 GB of priority data. While this is a pretty significant investment, in-motion use means not only having reliable internet when you get to your destination, but also while driving.
Although the monthly cost is expensive for an internet plan, it's actually on par with many mobile 4G plans while offering much higher speeds. The biggest barrier for new customers is the upfront equipment cost. Standard Starlink equipment has a one-time cost of $599, while the Flat High Performance equipment needed for in-motion use costs $2,500.
Starlink Roam isn't the best choice for everyone, but for a very specific use case, it can be a game-changer. If you need fast, reliable internet while you're driving across the country, no other provider can match the experience that Starlink Roam offers. If, however, a fast connection on the highway isn't worth investing several thousand dollars, there are much cheaper options that can get you by with less.
Pros:
Widest possible coverage
High data cap
In-motion use option
Cons:
High upfront equipment costs
Delays in equipment delivery
Data as of 3/29/2023. Offers and availability may vary by location and are subject to change.
*Plus hardware, shipping & handling fees, and tax. Fully refundable. Depending on location, some orders may take 6 months or more to fulfill.
Best portable 4G LTE / satellite internet
Data as of 11/8/2023. Offers and availability may vary by location and are subject to change.
*Plus hardware, shipping & handling fees, and tax. Fully refundable. Depending on location, some orders may take 6 months or more to fulfill.
Internet considerations for RV owners
Getting reliable wireless internet in an RV depends on two things: data caps and coverage areas. You can also avoid paying for a data plan altogether if you're willing to limit yourself to using just public Wi-Fi.
Which option is worth the cost depends on how much use you get out of your internet plan. You don't want to pay a monthly bill for a data plan you never use, but you also don't want to limit where you can go just to stick close to an internet connection.
Connections with a 4G data plan
Using a device with a 4G data plan is extremely flexible, allowing you to connect to the internet anywhere with cell service. Many 4G devices also give you the option to choose the wireless carrier for your data plan. AT&T, Verizon, and T-Mobile all have nationwide networks, though their coverage can be more spotty in remote areas.
If you spend a lot of time visiting national parks or rural areas, you might want to consult major providers' websites to see which one best covers the areas you visit. In more urban areas, all three providers have near 100% coverage, so it's usually safe to choose the most affordable option.2
The biggest difference in cost between wireless data plans comes down to data. Although you can save money by choosing a plan with less data, it's surprisingly easy to burn through an entire month's worth of data in just a few days if you streama lot of video. We suggest going with an unlimited data plan if you have the option. While more expensive, they're much cheaper than dealing with overage fees.
If you head out in your RV only on weekends, it's possible to get by on a cheaper plan with less data. If you choose a plan with limited data, you should know how much data you typically use. You definitely don't save any money paying for overage charges.
Many campgrounds, including big chains like KOA, offer public Wi-Fi. Connecting to campground Wi-Fi instead of using your own connection can help you save mobile or hotspot data. It can also give you faster speeds and a more stable connection, especially if you're using a Wi-Fi extender.
If you don't have an extender, make the most of your Wi-Fi connection by picking a spot near the transmitter that doesn't have any major obstructions like trees that block line of sight.
Campgrounds aren't the only places you can get public Wi-Fi. These offer connections too:
Coffee shops
Diners
Fast-food restaurants
National Park Visitor Centers
Truck stops
In many of these places, the Wi-Fi is designed to cover only the people inside the building, so you either need to park really close or have a good Wi-Fi extender to pick up the signal. For more ideas on connecting to public Wi-Fi, check out our guide on how to find Wi-Fi hotspots.
For RV internet, we suggest going with the cheapest option that meets your needs. For most people, a hotspot like the Inseego 5G MiFi M2000 is probably the best option, as hotspots are relatively affordable and work in a lot of locations. If you spend most of your time in locations that offer Wi-Fi, you might be able to get by with just a good Wi-Fi extender, while full-time RVers might need a more reliable option like a portable 4G internet plan or Starlink's Roam.
Can you get internet in an RV?
There are lots of ways to get internet in your RV. Basically any service that is both wireless and portable will work in an RV, though some work better than others.
What is the best RV internet?
The best internet for RVs is portable 4G internet, like Ubifi. It gives you the fastest and most reliable connection, with many options for unlimited data. There are also less expensive options for those who don't use their RVs as often.
What do full-time RVers do for internet?
If you live in your RV full time, you want a reliable internet connection like portable 4G internet. It's more expensive than 4G home internet plans, but it gives you similar speeds and reliability while allowing you to take your Wi-Fi with you wherever you go.
Starlink Roam also offers portable internet connections that will even work in remote areas with no cellular signal. Starlink Roam offers higher speeds than you can get with 4G, but comes with a much higher upfront equipment cost.
Product prices and availability are accurate as of the date/time indicated and are subject to change. Any price and availability information displayed on Amazon.com at the time of purchase will apply to the purchase of this product. HighSpeedInternet.com utilizes paid Amazon links.
CERTAIN CONTENT THAT APPEARS ON THIS SITE COMES FROM AMAZON. THIS CONTENT IS PROVIDED 'AS IS' AND IS SUBJECT TO CHANGE OR REMOVAL AT ANY TIME.
Author - Peter Christiansen
Peter Christiansen writes about satellite internet, rural connectivity, livestreaming, and parental controls for HighSpeedInternet.com. Peter holds a PhD in communication from the University of Utah and has been working in tech for over 15 years as a computer programmer, game developer, filmmaker, and writer. His writing has been praised by outlets like Wired, Digital Humanities Now, and the New Statesman.
Editor - Rebecca Lee Armstrong
Rebecca Lee Armstrong has more than six years of experience writing about tech and the internet, with a specialty in hands-on testing. She started writing tech product and service reviews while finishing her BFA in creative writing at the University of Evansville and has found her niche writing about home networking, routers, and internet access at HighSpeedInternet.com. Her work has also been featured on Top Ten Reviews, MacSources, Windows Central, Android Central, Best Company, TechnoFAQ, and iMore.