How to Turn On Your Phone's Wi-Fi Hotspot
Follow these easy instructions to set up mobile Wi-Fi access on your phone
Sep 6, 2023 | Share

Brand Guides
If you're out running errands and you suddenly need internet, you can use your phone to set up a Wi-Fi hotspot. With a few taps, you'll have an internet connection for laptops, tablets, and other connected devices.
See below for more detailed, step-by-step instructions to help you switch on the hotspots for various Android and Apple iOS phones. We also have a list of the best phone plans for hotspots.
Pro tip:
Consider getting a mobile hotspot device if you hotspot a lot—it connects more devices and saves your phone's batteries. See the best mobile hotspots for details on pricing, data, and extra features.
How to turn on your hotspot (for most phones)
To set up a hotspot, in the majority of cases you can follow these simple instructions:
Step 1: Open the settings menu.
Step 2: Go to the section marked Wi-Fi Hotspot (also sometimes listed as Personal Hotspot or Mobile Hotspot and Tethering).
Step 3: Switch on the hotspot.
Sometimes these instructions are different, though, depending on the type of phone you have, but that's more or less how it works. We go into more specific operating systems below.
How do I find my phone hotspot password?
To find your phone's hotspot password, go to the hotspot menu under your phone's settings. You'll see a button that allows you to enable and disable the hotspot along with a section for configuring passwords and changing the name of your hotspot.
See our directions above on hotspot setup for iPhones and hotspot setup for Android phones for more details.
Do you need a dedicated hotspot device other than your phone?
If you need internet regularly while traveling or working outside the office, it may be worth investing in a mobile hotspot separate from your phone's hotspot.
While phone hotspots are easy and relatively cheap, standalone hotspots connect more devices, hit faster speeds, and often have a wider range. More advanced 5G hotspots have Wi-Fi 6 capability, helping them maintain an efficient connection while supporting a large number of devices. Also, having a separate hotspot means you won't drain your phone's battery.
See our top recommendations for the best mobile hotspots, best 5G hotspots, and mobile hotspot data plans.
How to turn on a phone hotspot on an iPhone or iPad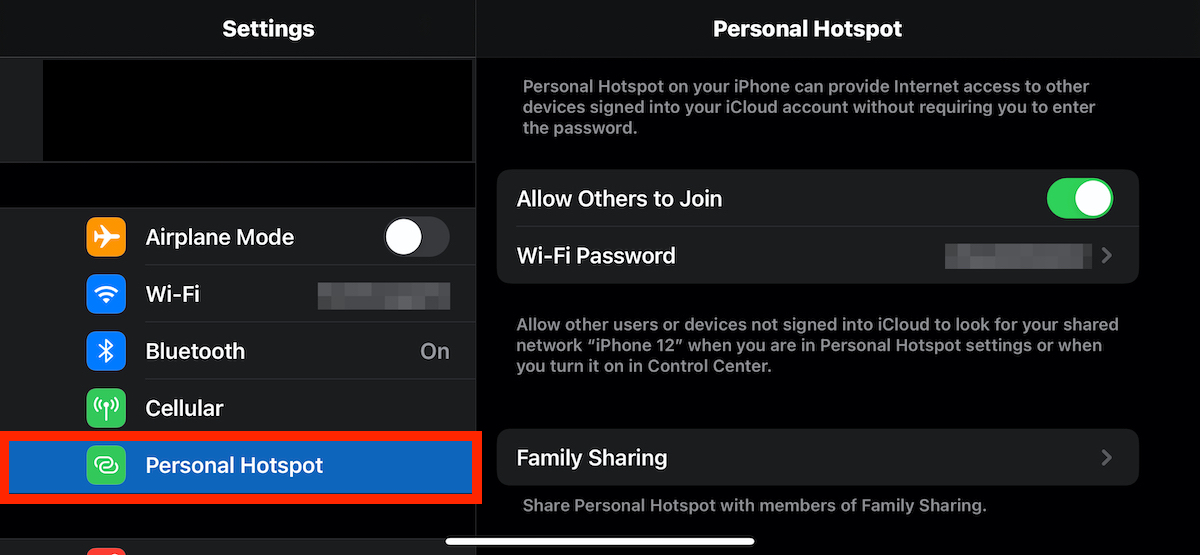 Switching on your phone's hotspot is quick and easy with an Apple iOS device.
Note: If you don't already have a cellular plan that allows for hotspots, you'll need to contact your provider to set it up.
Step 1: Go to Settings > Personal Hotspot. Or (depending on the type of iPhone you have) go to Settings > Cellular > Personal Hotspot.
Step 2: Hit the toggle button to turn on the Personal Hotspot. If you don't have a cellular plan with hotspot data, you may have to tap a button that says Set Up Personal Hotspot, which will prompt you to call your provider.
Step 3: Toggle on the function that says Allow Others to Join.
Step 4: Write down the password. You can change the password by tapping on the text, tapping X to erase it, and typing in a new password of your choice.
Once you've turned on your iPhone's hotspot, you can connect another Wi-Fi enabled device to it by looking up the name of your hotspot on your device's Wi-Fi menu and typing in the password.
Looking for an easy way to test and track your internet speed?
Take our internet speed test or download our free speed test app to test your speed from anywhere.
Download our free, easy-to-use speed test app for quick and reliable results.



How to turn on a phone hotspot on Android phones
Setting up a hotspot on an Android phone depends slightly on what kind of phone you have. But the instructions are more or less the same regardless of the phone.
Usually you can find the hotspot by searching in your phone for "hotspot" or "tethering." After you've turned on the hotspot, connect to it on another device that needs internet by selecting the name of your hotspot in the device's Wi-Fi menu and putting in the password.
Pro tip:
As you set up the hotspot, make sure you've switched on your cellular data, which the hotspot uses to provide a Wi-Fi connection.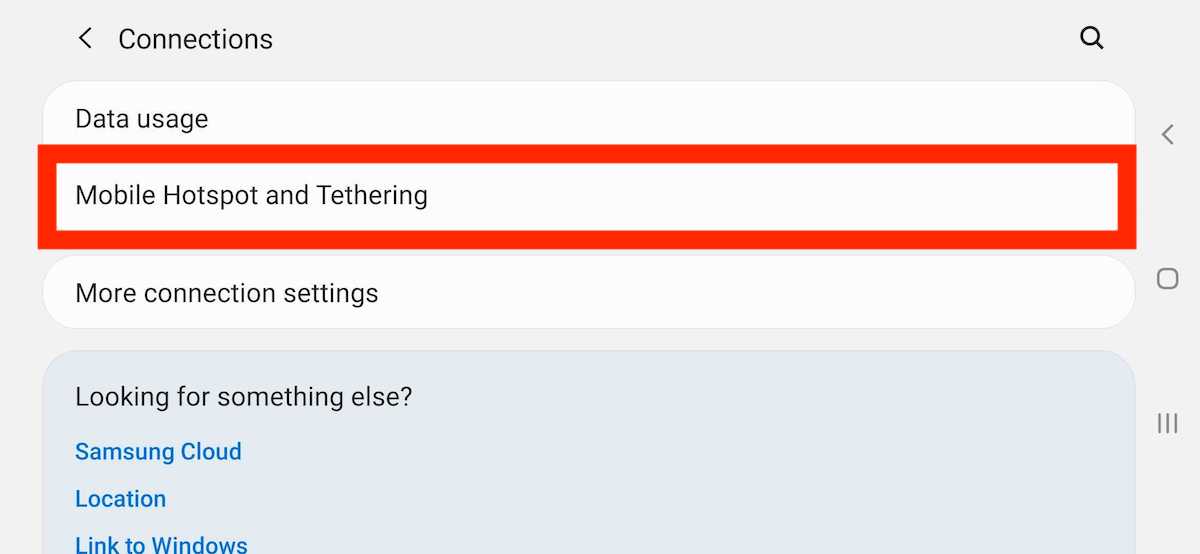 Step 1: Go to Settings > Connections > Mobile Hotspot and Tethering > Mobile Hotspot. Tap to switch it on. You can turn it off the same way.
Step 2: Make sure the Wi-Fi sharing option is switched on—otherwise you can't connect other devices.
Step 3: To change the hotspot name, password, and other settings, tap on the Mobile Hotspot menu.
Motorola phones
Step 1: Go to Settings > Network & Internet > Hotspot & Tethering.
Step 2: Tap Wi-Fi Hotspot to turn it on.
Step 3: Tap Wi-Fi Hotspot to edit the name of your hotspot.
To change your password, go to Advanced > Hotspot Password. If you want, tap Hide My Device to keep others from seeing your hotspot listed publicly. In the Advanced menu, you can also switch the AP Band to 5 GHz to improve your network connection.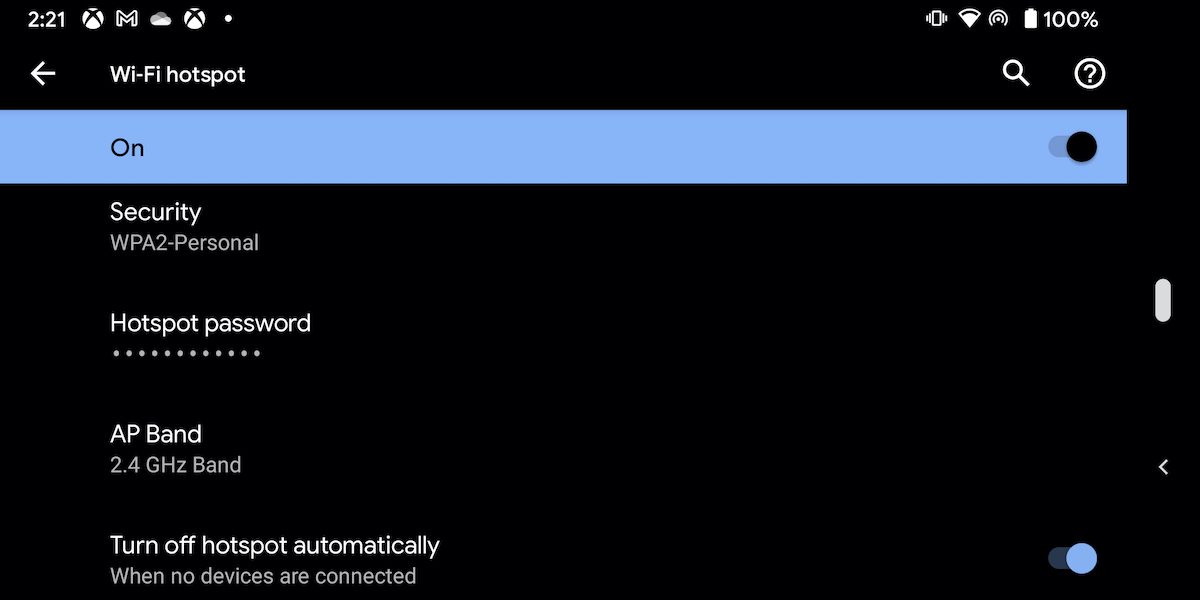 Step 1: Make your way to Settings > Network & internet > Hotspot & tethering.
Step 2: Toggle next to Off (to enable) or On (to disable).
Pro tip: Tethering through Bluetooth or USB
iPhones and Android devices let you tether other devices using USB or Bluetooth connections. You can tether only one device this way—as opposed to 10 or potentially even more on a hotspot. But it will do a better job of preserving your phone's battery power.
To set it up, go to Settings > Mobile Hotspot & Tethering. Instead of selecting the mobile (or Wi-Fi) hotspot, hit the button that allows for USB or Bluetooth tethering. For USB tethering, plug a USB cable into your phone and plug the other end into your device to get the internet connection.
LG phones
Step 1: On your Home screen, go to Settings > Network & internet > Tethering. Or it could be listed under Settings > Networks > Tethering.
Step 2: You'll see a switch to turn on the hotspot, which will be labeled either Wi-Fi Hotspot or Mobile HotSpot (depending on the model of LG phone). Tap the button to turn it on.
Step 3: Go to Configure Mobile HotSpot to adjust settings like the name of the hotspot and the password. Then hit Save.
Pro tip:
Take a look at our guide to the best budget 5G phones for a device that gets you lots of power at a cheap price.
Huawei phones
Step 1: The menu options for Huawei phones are all worded slightly differently, but the directions are pretty much the same. Access the hotspot and switch it on by going to Settings > Wireless & Networks.
Step 2: In Wireless & Networks, you will find a section called either Personal Hotspot or Tethering & Portable Hotspot. Just look for the word "hotspot," and it will lead you to the button to switch it on. You'll also find options for setting up the name, password, and more.
Pro tip: Use a tethering app to avoid fees and throttled speeds.
If you have an Android device, you can download apps like PdaNet+ and EasyTether to set up a Wi-Fi hotspot on your phone without requiring the hotspot function.
It doesn't work as reliably as your phone's hotspot, but it won't put a dent on your monthly hotspot data cap or require you to upgrade your phone plan if you aren't automatically allowed to set up hotspots. Just make sure to look over your cell provider's terms of service to make sure it doesn't conflict with your phone contract.
Best phone plans for hotspots
| Plan | Price | Hotspot data | Order online |
| --- | --- | --- | --- |
| T-Mobile Go5G Plus | $90.00/mo.* | 50GB/mo. of 4G LTE/5G, then speeds reduced | |
| Verizon Unlimited Plus | $65.00/mo. | 30GB/mo. of 4G LTE/5G, then speeds reduced | |
| AT&T Unlimited Extra | $75.00/mo. | 15GB/mo. of 4G LTE/5G, then speeds reduced | |
| Visible+ | $45.00/mo. | Unlimited (limited to one device, 5Mbps max, speeds may be slowed after 50GB) | |
Data effective as of 9/6/23. Pricing and speeds are subject to change. Not all offers available in all areas.
*AutoPay Discount included: -$5/mo. per line
To use your phone's hotspot, you'll need a cellular plan that gives you hotspot data. Thankfully, plenty of phone plans give you just that. Major cellular companies often give you more hotspot data for your dollar, but MVNOs (mobile virtual network operators) like Mint Mobile and Visible also have decent hotspot deals.
Expect to pay anywhere from $40 to $85 per month for a phone plan with hotspot data. Also, keep an eye out for your hotspot's data cap—you usually can use only a finite amount of mobile data per month before your speeds are slowed to a crawl or your hotspot connection is cut off entirely.
Pro tip:
Looking for a sweet phone to use as a hotpot? Take a look at our recommendations for the best 5G phones.
Phone hotspot requirements
Of course, to set up a hotspot on your phone, you'll need the following:
A smartphone with hotspot capabilities
A phone plan that allows you to set up personal hotspots
Android phones generally let you connect up to 10 devices simultaneously. For Apple, the maximum number of devices you can connect depends on the iPhone you have and what your wireless carrier allows.
What is a phone Wi-Fi hotspot?
A phone Wi-Fi hotspot is an internet access point built into your smartphone, providing a Wi-Fi connection for other devices within its range. It works similarly to a wired internet connection like the one you have at home, only it uses mobile data from your cellular provider to get you internet access anywhere with cell service.
Make your phone a hotspot when you are . . .
Traveling
Staying in a vacation home
Working at a restaurant or coffee shop
Looking for Wi-Fi while your home internet is down
Just keep in mind that your phone's Wi-Fi hotspot isn't an adequate replacement for home internet. Hotspot data usually costs a lot more and the speeds aren't as fast, so you're still better off with a wired internet plan if you need a setup for day-in, day-out use. Or you can get a dedicated mobile hotspot.
Pro tip:
Phones have all sorts of helpful features that make your life easier. Take a look at our step-by-step guide on how to share your Wi-Fi password from your phone.
Instead of relying on a hotspot, you can also check to see if you can get a better, cheaper, or faster home internet connection. Use our zip code tool to find out what's available in your area.
Author - Peter Holslin
Peter Holslin has more than a decade of experience working as a writer and freelance journalist. He graduated with a BA in liberal arts and journalism from New York City's The New School University in 2008 and went on to contribute to publications like Rolling Stone, VICE, BuzzFeed, and countless others. At HighSpeedInternet.com, he focuses on covering 5G, nerding out about frequency bands and virtual RAN, and producing reviews on emerging services like 5G home internet. He also writes about internet providers and packages, hotspots, VPNs, and Wi-Fi troubleshooting.
Editor - Cara Haynes
Cara Haynes has been editing and writing in the digital space for seven years, and she's edited all things internet for HighSpeedInternet.com for five years. She graduated with a BA in English and a minor in editing from Brigham Young University. When she's not editing, she makes tech accessible through her freelance writing for brands like Pluralsight. She believes no one should feel lost in internet land and that a good internet connection significantly extends your life span.