Streaming 2021: Top Shows on Netflix Worldwide
Apr 1, 2021 | Share

Industry Exclusive/Entertainment
We learned in our streaming survey that 80% of Americans use Netflix. In 2021, Netflix reaches over 190 countries worldwide—so what is the world searching for on the top streaming service?
After gathering a list of the top Netflix shows, we analyzed a year's worth of global search volume to find the top shows in every country (where data was available). Have you seen your country's favorite show? Or is your favorite show capturing the attention of other countries?
Top Netflix shows by country count
Some shows were beloved regardless of borders, and Peaky Blinders blew past the majority of the competition, along with Netflix's Stranger Things and Riverdale.
| Netflix show | Number of countries with top searches for each show |
| --- | --- |
| Peaky Blinders | 24 |
| Stranger Things | 15 |
| Riverdale | 8 |
| Sex Education | 4 |
| Enola Holmes | 2 |
| Outlander | 2 |
| Schitt's Creek | 2 |
| Ultraman | 2 |
| Cobra Kai | 1 |
| Death Note | 1 |
| El Chapo | 1 |
| Glow | 1 |
| Imposters | 1 |
| Kingdom | 1 |
| Legacies | 1 |
Peaky Blinders on Netflix caps the competition, taking top viewership in 24 countries, including New Zealand, Iceland, Lithuania, France, and Belgium. The sixth season resumed filming in January 2021, so fans may be watching in anticipation of its near-future release.
Netflix's Stranger Things, releasing its fourth season this fall, is still a huge fan favorite for 15 countries.
Rounding out the top three, Riverdale released its fifth season in January 2021. The not-so-innocent teen drama was a favorite in seven countries including Austria, Costa Rica, Moldova, and Panama.
In Canada and the United States, the top show was Schitt's Creek, which released its award-winning final season in 2020.
Eleven countries in the world revved up with the "romance-heavy" teen shows Riverdale and Sex Education.
Australia keeps on kickin' it with Cobra Kai, which is now in its third season.
What are the most-searched shows worldwide?
Tommy Shelby and the gangsters of Peaky Blinders built their brutal business in Birmingham, but they took over the globe with the most searches overall.
| Netflix title | Searches* |
| --- | --- |
| Peaky Blinders | 2,280,600 |
| Cobra Kai | 1,500,000 |
| Stranger Things | 1,131,180 |
| Enola Holmes | 1,000,000 |
| El Chapo | 823,000 |
| Riverdale | 779,200 |
| Sex Education | 444,600 |
*Top show average monthly searches for the past 12 months (Feb 2020–Feb 2021).
Four shows captured over a million average searches every month: Peaky Blinders, Cobra Kai, Stranger Things, Enola Holmes. While the first three shows took home the most searches in various countries, Enola Holmes won one giant audience with its fans in India, helping it rise to the top search ranks globally.
Here's the complete list of the most popular Netflix shows globally (listed in alphabetical order by country):
Each country's favorite Netflix show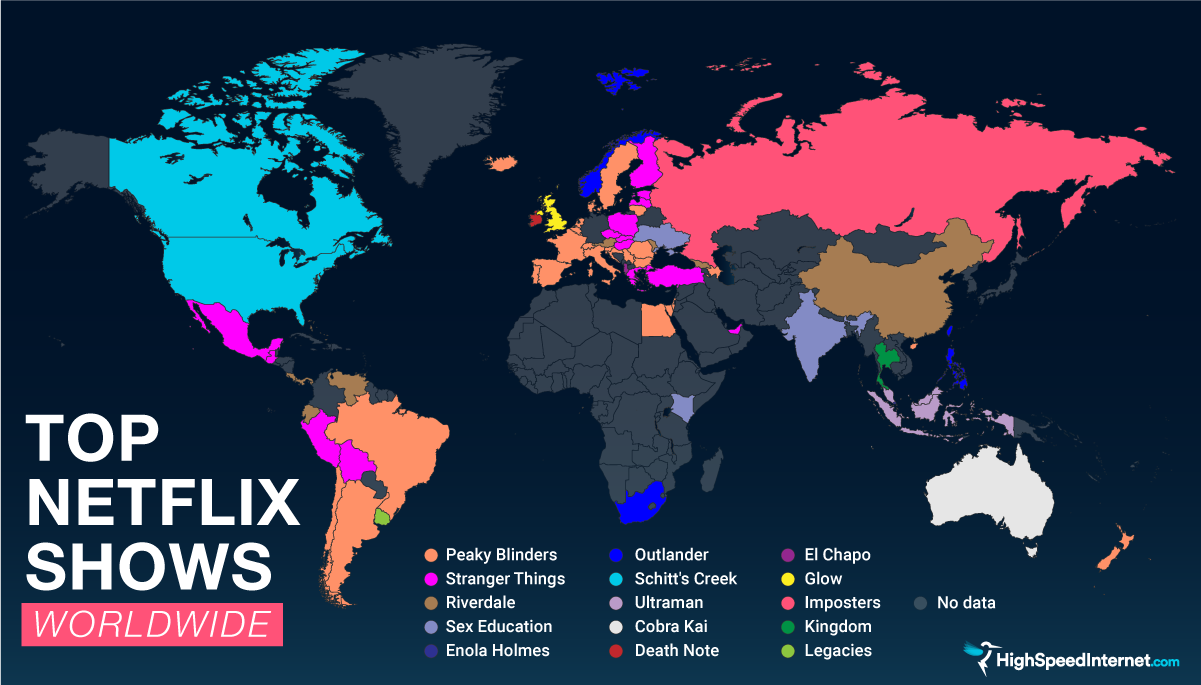 *Top show average monthly searches for the past 12 months (February 2020 through February 2021).
We gathered our list of Netflix shows from Flix Patrol (a third-party Netflix search engine), filtering out any shows released before 2011. Using Google's keyword planner, we analyzed the average monthly search volume over the past 12 months (February 2019 to February 2020) across the globe.
The data excludes 70 countries where data was unavailable or unsubstantial. These territories are primarily in Africa, Asia, and Central America.
Author - Trevor Wheelwright
Trevor's written professionally for five years for editorial publications and retail/e-commerce sites. He lives in Salt Lake City and enjoys photography and making music in his spare time, or you can catch him on your local dance floor bustin' a move.
Editor - Cara Haynes
Cara Haynes has been editing and writing in the digital space for seven years, and she's edited all things internet for HighSpeedInternet.com for five years. She graduated with a BA in English and a minor in editing from Brigham Young University. When she's not editing, she makes tech accessible through her freelance writing for brands like Pluralsight. She believes no one should feel lost in internet land and that a good internet connection significantly extends your life span.