Internet Empowers Education Scholarship: Congratulations, Deborah!
Oct 1, 2019 | Share

Featured, Industry Exclusive/Entertainment
We received more than 300 scholarship applications from students who use the internet every day to further their education.
After reading through hundreds of moving essays, we're happy to congratulate our scholarship recipient, Deborah.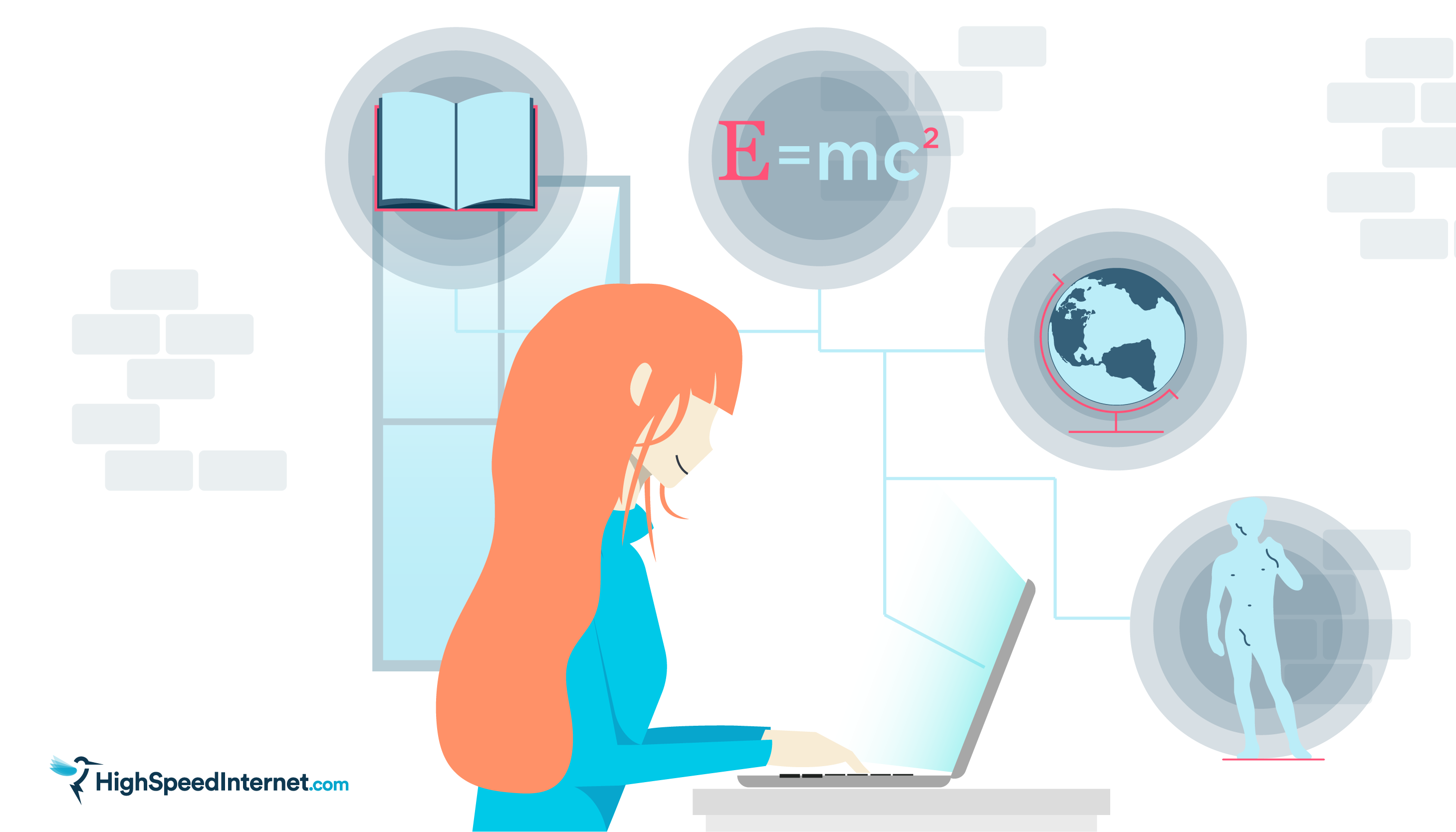 How has the internet empowered her education?
Deborah is majoring in studio art and uses the internet to take online classes, communicate with her professors, and look up tutorials to hone her craft.
Her essay gave thoughtful insight into the many areas of her field that rely almost entirely on internet resources like the Adobe Creative Cloud. She also touched on the idea that the internet has not only changed how people learn but also what people study.
We've awarded Deborah with a $500 scholarship to help out with any of her school-related expenses. We know she'll use the money to keep on crushing it in school.
Essay requirements
Prompt: How has the internet empowered your education?
Word count: 300–500 words
Criteria: Essays will be judged on composition, originality, and how well they address the prompt. Entries with poor grammar and spelling may not be considered.
Deadline: September 13, 2019, at 11:59:59 p.m. (PST)
TERMS AND CONDITIONS
Applicant Eligibility
Applicant must be a U.S. Citizen or Permanent Legal Resident of the United States.
Employees of HighSpeedInternet.com, its parents, affiliates and subsidiaries, participating advertising and promotion agencies, and prize suppliers (and members of their immediate family and/or those living in the same household of each such employee) are not eligible.
Current freshmen, sophomores, juniors, seniors, and graduate students: Applicant must have a cumulative college grade point average of at least 3.0 on a 4-point scale, and be currently enrolled full-time at an accredited college or university.
Description of Funds
The recipient will receive a one-time $500 scholarship to be applied to qualified education expenses, including tuition and fees required to enroll at or attend an eligible educational institution, and course-related expenses such as fees, books, supplies, and equipment that are required for courses at the eligible educational institution for the 2019-20 academic year. Funds are provided by HighSpeedInternet.com. Payment is issued by HighSpeedInternet.com, made payable to the student and mailed after September 20, 2019. If the funds are not used for qualified education expenses recipients shall be responsible for all applicable taxes on the funds.
Recipient Selection and Announcements
The recipient is selected after a team of judges reviews all entries, after the deadline of September 13, 2019. Applicants are judged on composition, originality, and how well they address the prompt. The recipient  will be announced on September 20th, 2019.
Eligible Educational Institutions
The institution must be accredited and listed on the official website of the U.S. Department of Education. Applicants attending military academies are ineligible for this scholarship. All school transfers are subject to accreditation approval.
Permissions
HighSpeedInternet.com reserves the right to alter or discontinue this program at any time without notice. All essay submissions and photographs become the property of HighSpeedInternet.com and may be reposted or displayed online, in whole or part, without notification. HighSpeedInternet.com shall be entitled to use, alter, or delete submissions for any purpose whatsoever without compensation to applicants.
Sponsor Information and Scholarship Conditions
The sponsor of this scholarship is HighSpeedInternet.com whose principal office is located at 5202 W. Douglas Corrigan Way, Salt Lake City, UT 84116.
There is NO APPLICATION FEE TO APPLY. Any additional consideration otherwise given by entrants will not improve one's chances of receiving the scholarship. 
Route to entry for the scholarship and details of how to enter are available via https://www.highspeedinternet.com/resources/scholarship-internet-empowers-education. Individuals may apply by clicking on the participation link on Highspeedinternet.com's website. Upon clicking the participation link, applicants will be asked to provide their name and contact information so that HighSpeedInternet.com can notify the recipient of the results.
Closing date for applications will be September 13th, 2019 at 11:59:59pm PST. After this date no further applications will be permitted.
Only one recipient will be selected from the entire pool of eligible applicants.
Recipient will be chosen by an independent adjudicator or panel of judges appointed by HighSpeedInternet.com.
The recipient will be notified by email and/or letter on September 20, 2019. If the recipient cannot be contacted or does not claim the scholarship within 14 days of notification, we reserve the right to withdraw the scholarship from the recipient and pick a replacement recipient
HighSpeedInternet.com will notify the recipient how the scholarship can be collected.
The recipient will receive a one-time $500 scholarship to be applied to qualified education expenses.
The scholarship is not transferable.
The recipient agrees to the use of his/her name and image in any publicity material. Any personal data relating to the recipient or any other applicants will be used solely in accordance with current federal and state data protection legislation and will not be disclosed to a third party without the applicant's prior consent.
The recipient's name will be available 35 days after closing date by sending a stamped addressed envelope to the following address:
HighSpeedInternet.com
Scholarship Coordinator
5202 W. Douglas Corrigan Way, Suite 300
Salt Lake City, UT 8411
HighSpeedInternet.com's decision in respect of all matters to do with the scholarship will be final and no correspondence will be entered into.
HighSpeedInternet.com accepts no responsibility for applications not received for whatever reason. HighSpeedInternet.com reserves the right to cancel or amend the scholarship and these terms and conditions without notice in the event of a catastrophe, war, civil or military disturbance, act of God or any actual or anticipated breach of any applicable law or regulation or any other event outside of HighSpeedInternet.com's control. HighSpeedInternet.com will notify applicants of material changes  to the scholarship  as soon as practicable
HighSpeedInternet.com is not responsible for inaccurate scholarship details supplied to any applicant by any third party connected with this competition.
This scholarship and these terms and conditions will be governed by Utah law and any disputes will be subject to the exclusive jurisdiction of the courts of Utah.
This scholarship is in no way sponsored, endorsed or administered by, or associated with, Facebook, Twitter or any other social network. You are providing your information to HighSpeedInternet.com and not to any other party. The information provided will be used in conjunction with the Privacy Policy found at HighSpeedInternet.com.
By applying for this scholarship you agree to these Terms and Conditions.
Contact us at press@highspeedinternet.com if you have questions about HighSpeedInternet.com Scholarship Programs.
Address: 5202 W. Douglas Corrigan Way, Salt Lake City, UT 84116
Author - Rebecca Lee Armstrong
Rebecca Lee Armstrong has more than six years of experience writing about tech and the internet, with a specialty in hands-on testing. She started writing tech product and service reviews while finishing her BFA in creative writing at the University of Evansville and has found her niche writing about home networking, routers, and internet access at HighSpeedInternet.com. Her work has also been featured on Top Ten Reviews, MacSources, Windows Central, Android Central, Best Company, TechnoFAQ, and iMore.
Editor - Cara Haynes
Cara Haynes has been editing and writing in the digital space for seven years, and she's edited all things internet for HighSpeedInternet.com for five years. She graduated with a BA in English and a minor in editing from Brigham Young University. When she's not editing, she makes tech accessible through her freelance writing for brands like Pluralsight. She believes no one should feel lost in internet land and that a good internet connection significantly extends your life span.