80% of Americans Can't Live without Wi-Fi on Vacation
Aug 8, 2022 | Share

Industry Exclusive/Entertainment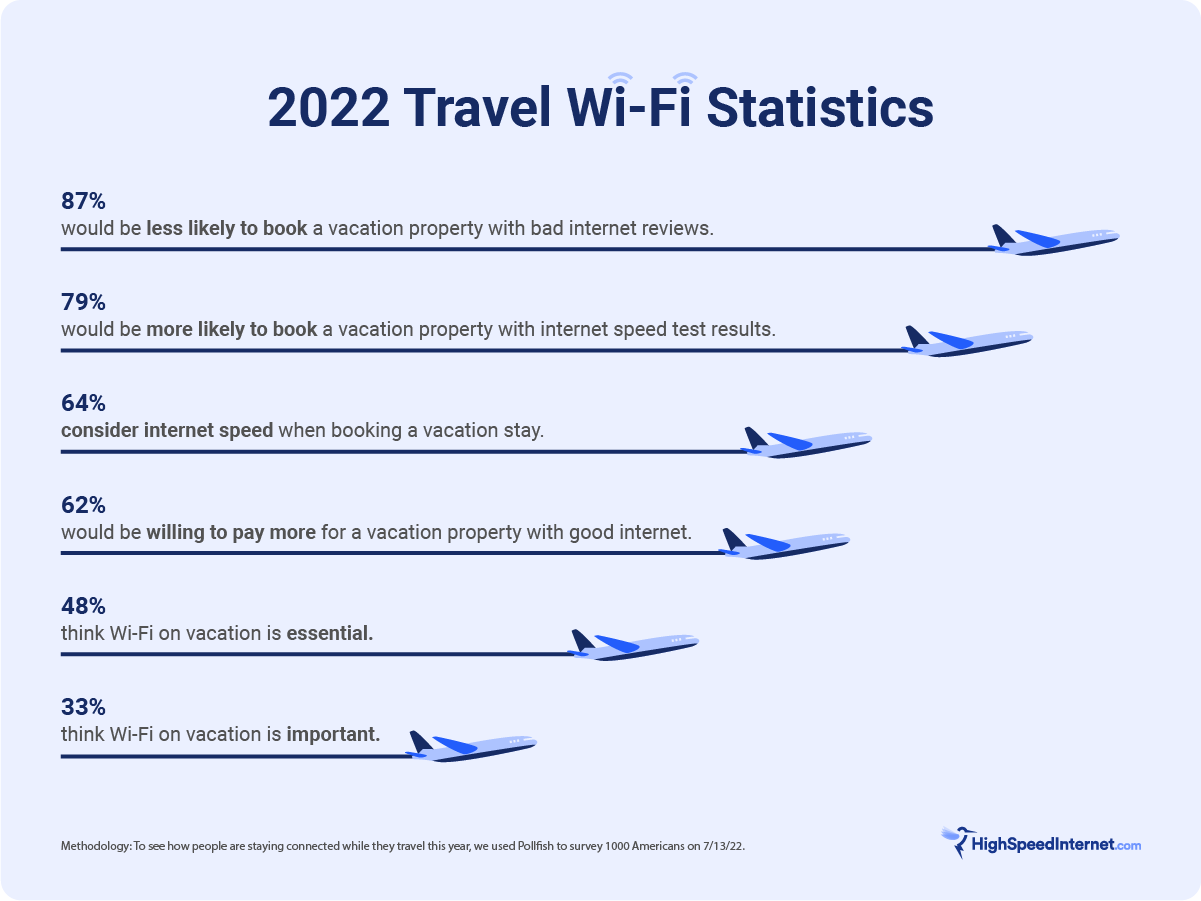 Even with prices for gas and plane tickets going up, people are hitting the road in droves this summer. A new survey from HighSpeedInternet.com finds that 74% of Americans have already traveled or plan to travel during these sunny months.
It's common to stay with family or hunker down in a short-term rental like an Airbnb when plying the highways and byways. But our survey shows that most travelers (nearly 60%) prefer to rest their heads in hotels.
Our researchers wanted to know if Americans need Wi-Fi when traveling. Turns out, most do. Here's a breakdown of what survey respondents said about their preferences for Wi-Fi in hotels and on trips.
Wi-fi on vacation is a must-have
The results are clear—most hotels need Wi-Fi to keep tourists happy.
A whopping 81% of our survey's respondents reported that Wi-Fi on vacation is essential (48%) or very important (33%).
Over six out of 10 respondents (64%) said they consider internet speed when booking a short-term rental or hotel. And nearly 90% would be less likely to book a vacation rental at a place with reviews mentioning bad Wi-Fi.
Using the internet while traveling
While holidays are a time to relax and unplug, our survey shows they're also a good time to zone out on TikTok, binge-watch Netflix or check the occasional work email (sigh).
Asked about the most common internet activities while traveling, here's what survey respondents said:
67% use social media
66% stay connected with loved ones
65% stream media movies, shows, and music
53% plan their trips and use navigation systems
40% play online games
Only 35% said they do work tasks on vacation. Good to hear—it's all about that work-life balance.
Which devices give you Wi-Fi when traveling?
Unsurprisingly, nine out of 10 respondents reported bringing a smartphone on trips. Over half (55%) also took their laptop with them. Either of those get you a reliable Wi-Fi connection when you're on the road.
Meanwhile, 18% say they go so far as to stuff their beloved gaming consoles into their travel bags. There's an old adage that says, "Traveling is a return to the essentials." Count your Switch among them.
How to stay safe on public Wi-Fi while traveling
When planning your next bucket-list excursion, you should ask yourself—can you get hacked using hotel Wi-Fi?
Unfortunately, it's possible.
Working on hotel Wi-Fi certainly comes with added security risks. Many hotels have open Wi-Fi networks, making it easier for a third party to access your data or pry into your browsing history.
But there are a few simple ways to keep holiday hackers at bay. Hit the links below for more resources on how to keep hotel Wi-Fi safe.
Happy trails, fellow travelers.
Methodology
To learn how people are staying connected while they travel this year, we used Pollfish to survey 1,000 Americans on July 13, 2022.
Have travel Wi-Fi preferences changed since 2021?
In 2022, 35% of Americans said they use Wi-Fi on vacation to complete work tasks. While that's a decent amount of people, it means less than half of folks are working remotely during trips.
Last year, 65% of respondents reported that they'd worked remotely while staying at a hotel or short-term rental… yikes!
To compare more of our survey findings from last year's report, keep reading.
2021 travel Wi-Fi survey findings
Now that COVID-19 vaccines are widely available, millions of Americans are making long-awaited travel plans. But even when they're far away from home, Wi-Fi will still be a necessity.
That's what HighSpeedInternet.com found in a new survey about Americans' post-vaccine travel plans. Our researchers surveyed 1,000 people, and 83% said that they expect to go on trips this summer. Additionally, 84% said they'd be less likely to book a hotel room or Airbnb if online reviews showed the place had poor internet or no internet at all.
Hotel Wi-Fi is a must-have
Free Wi-Fi access is common at many hotels and Airbnbs, and it seems that most Americans depend on this amenity while they're traveling. Asked how they feel about having internet access where they're staying, 43% percent of respondents said it's "very important." Another 30% reported it as "essential."
It turns out that a good internet connection may also be a strong selling point for Airbnb hosts. If you post a screenshot of internet speed test results in a listing for a short-term rental, 84% of the respondents said they would be more likely to book a stay there. Cha-ching!
All remote work—but some play—on travel Wi-Fi
A full 65% of the respondents in our survey reported that they've worked remotely while staying at a hotel or short-term rental (like Airbnb or Vrbo).
It's hardly surprising that the majority of Americans place a high premium on Wi-Fi while traveling. Recent statistics suggest that most US workers embraced a remote-work lifestyle when the pandemic sent everybody indoors last year.1 
For most people, that means setting up a home office. But amid the global lockdown, countries like Barbados and the United Arab Emirates also became popular destinations for Americans looking for a change of atmosphere as they go about their work week.2
It's not all work and no play though. While 31% of our survey respondents picked smartphones and 20% chose laptops as their top tech items for travel, 10% said they always bring a streaming device like a Roku or Amazon Fire Stick as they sail the seven seas.
VPNs keep your hotel Wi-Fi secure
Of course, there are risks involved with using a public Wi-Fi network at a hotel or Airbnb—including hackers, malware, and other guests who could gain access to your streaming accounts if you forget to log out when you check out.3 
To keep internet activity secure during a hotel stay, 69% of our survey's respondents said they would use a VPN (virtual private network) while online. A VPN routes your traffic through an encrypted server in a different state or foreign country, keeping your web presence private as you enjoy the internet in your home away from home.
To see how Americans are traveling this year, we surveyed 1,000 people on their travel plans and how they stay connected while on the go at hotels and short-term rental stays.
Ashira Prossack, Forbes, "5 Statistics Employers Need to Know about the Remote Workforce," February 10, 2021. Accessed May 11, 2021.
Natalie B. Compton and Shannon McMahon, The Washington Post, "These 8 Countries Are Accepting American Travelers for Remote-Work Trips," October 23, 2020. Accessed May 11, 2021.
Jamie Carter and Jonas P. DeMuro, TechRadar, "Why You Should Avoid Hotel WI-FI Like the Plague," March 7, 2018.
Author - Peter Holslin
Peter Holslin has more than a decade of experience working as a writer and freelance journalist. He graduated with a BA in liberal arts and journalism from New York City's The New School University in 2008 and went on to contribute to publications like Rolling Stone, VICE, BuzzFeed, and countless others. At HighSpeedInternet.com, he focuses on covering 5G, nerding out about frequency bands and virtual RAN, and producing reviews on emerging services like 5G home internet. He also writes about internet providers and packages, hotspots, VPNs, and Wi-Fi troubleshooting.
Editor - Rebecca Lee Armstrong
Rebecca Lee Armstrong has more than six years of experience writing about tech and the internet, with a specialty in hands-on testing. She started writing tech product and service reviews while finishing her BFA in creative writing at the University of Evansville and has found her niche writing about home networking, routers, and internet access at HighSpeedInternet.com. Her work has also been featured on Top Ten Reviews, MacSources, Windows Central, Android Central, Best Company, TechnoFAQ, and iMore.