Xfinity Flex Review
Mar 2, 2023 | Share

Brand Guides, Equipment Guides, Streaming Guides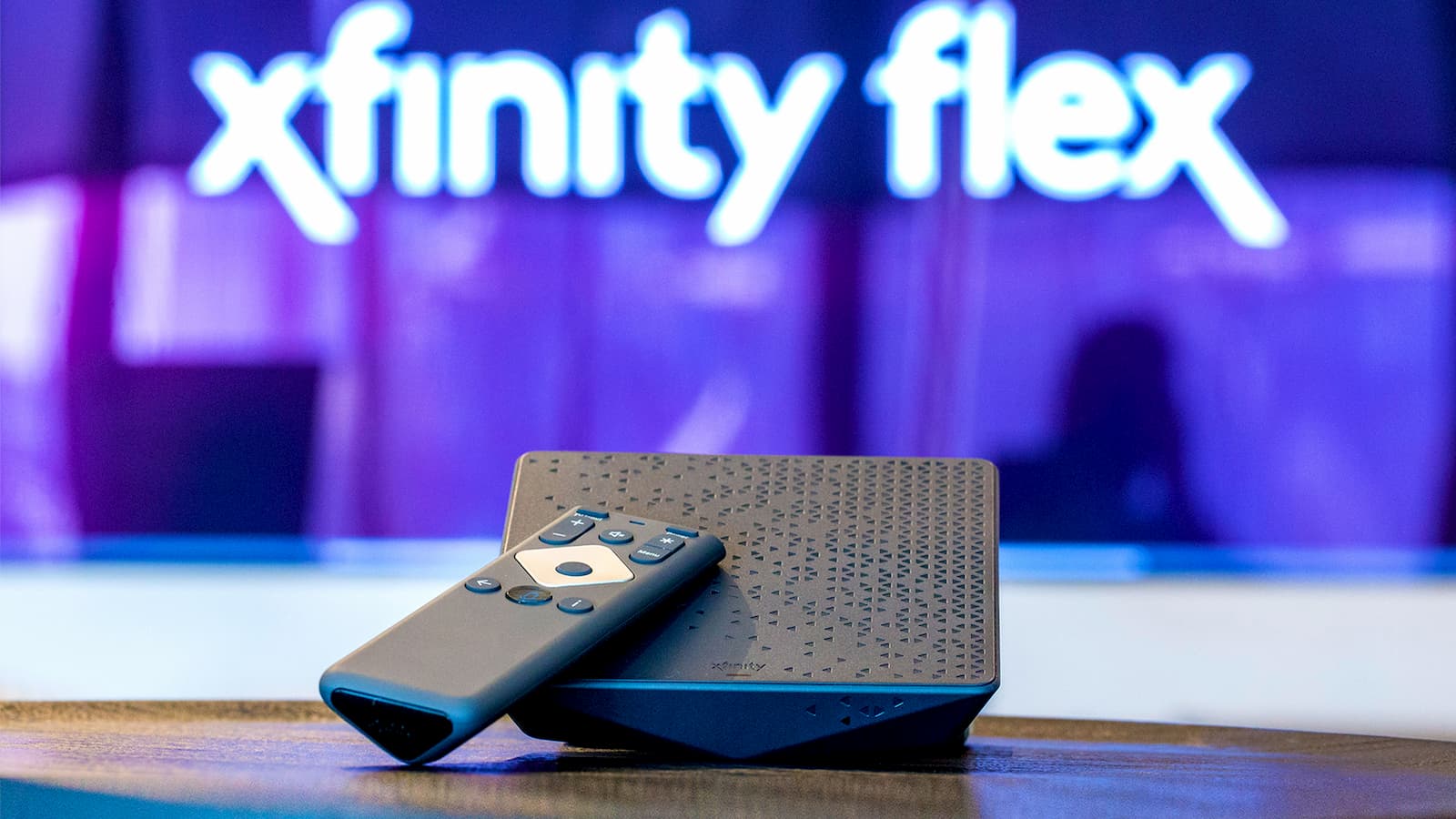 Bottom line: Xfinity Flex is a fun, straightforward streaming box
The Xfinity Flex is a streaming device that provides an easy and free way to access movies, TV shows, YouTube videos, and music. It's similar to the Amazon Fire TV Stick or the Roku Streaming Stick. It has premium video and sound quality and lets you tap into Netflix, Amazon Prime Video, HBO®, and more with a handy, voice-activated remote control.
If you're not an Xfinity customer, you can explore all Xfinity internet plans here.

Pros: 
Easy setup

Excellent video and audio quality

 Cons:
Limited app choices

Incompatible with cloud DVR

Tricky subscription options
The Xfinity Flex is a streaming box that competes with Roku, Amazon Firestick, and Apply TV. It allows internet-only Xfinity customers to watch TV without purchasing a separate cable TV subscription. It has a grippy bottom and a cool, geometric design resembling a star-strewn galaxy. It's small and works well whether you want to hide it or show it off as part of your entertainment system.
As far as performance, it's basically a Little Engine That Could–style take on budget streamers. Even though it's small, it can support 4K, UHD video quality, and Dolby Atmos surround sound. The voice-activated remote is so responsive and easy to use that it actually won an Emmy in 2017, an honor we didn't even realize could go to remotes.
The Flex connects to Netflix, Amazon Prime Video, HBO, SHOWTIME®, and some other cable channels. There's also a lot of movies and live TV options built into the system that you can watch at no extra cost.
If you're hankering for cloud DVR storage, cable TV packages, or other sophisticated features, you'll have to level up to Xfinity's X1 TV service or seek out another streaming box option.
Size:

5.25″ x 5.25″ x 1″ 

Video:

1080p, 4K HDR 

Audio:

Dolby Atmos; 5.1 surround sound; 2.0 stereo

Storage: N/A
Based on Comcast's X1 platform, the Flex supports 4K, UHD streaming so long as you have a compatible television set and a 4K Netflix subscription. It's also compatible with multiple audio formats, including super-immersive Dolby Atmos when you run it through an A/V receiver. 
You can use the Flex remote to operate your TV. And if you're using an xFi Gateway as your modem, then you can manage your home internet through the Flex. 
But when it comes down to it, it's mostly a basic device. Even though you can purchase movies, TV shows, and channel subscriptions through the Flex, there are no options for downloading more apps or catching up on shows you missed with a cloud DVR.
Xfinity Flex vs. the competition
Like the Roku Streaming Stick, the Amazon Fire TV Stick, and other affordable streaming devices, the Flex comes ready to stream movies and TV in some of the finer video and audio formats. The voice controls also represent a major improvement from the way people surfed apps and channels in the olden days of just a few years ago, toggling through options and punching in searches on a numeric keypad. 
Product
Price*
Remote
Video quality
Storage
Xfinity Flex
N/A
Voice-
controlled remote
4K HDR, 1080p
N/A

View on Xfinity.com

Roku Express
$24.00
Standard IR remote
1080p
512 MB
View on Amazon
Roku Streaming Stick+
$42.87
Voice remote
4K HDR, HDR 10, 1080p
1 GB
View on Amazon
Amazon Fire TV Stick 4K
$49.99
Alexa voice remote
4K HDR, HLG, Dolby Vision, 1080p
8 GB
View on Amazon
Apple TV 4K
$179.00
Siri voice controls
Dolby Vision, 4K HDR, HDR 10, 1080p
32 GB
View on Amazon
Product
Xfinity Flex
Price*
N/A
Remote
Voice-
controlled remote
Video quality
4K HDR, 1080p
Storage
N/A

View on Xfinity.com
Product
Roku Express
Price*
$24.00
Remote
Standard IR remote
Video quality
1080p
Storage
512 MB
View on Amazon
Product
Roku Streaming Stick+
Price*
$42.87
Remote
Voice remote
Video quality
4K HDR, HDR 10, 1080p
Storage
1 GB
View on Amazon
Product
Amazon Fire TV Stick 4K
Price*
$49.99
Remote
Alexa voice remote
Video quality
4K HDR, HLG, Dolby Vision, 1080p
Storage
8 GB
View on Amazon
Product
Apple TV 4K
Price*
$179.00
Remote
Siri voice controls
Video quality
Dolby Vision, 4K HDR, HDR 10, 1080p
Storage
32 GB
View on Amazon
Data effective as of January 14, 2020.
*Amazon.com prices as of 1/14/20 10:40 AM MST. Product prices and availability are accurate as of the date/time indicated and are subject to change. Any price and availability information displayed on Amazon.com at the time of purchase will apply to the purchase of this product. HighSpeedInternet.com utilizes paid Amazon links.
In our experience, setup was simple and straightforward. We plugged it into a projector using the HDMI cable that came in the box. We then punched in the phone number connected to our internet account, and the Flex did the rest by automatically setting itself up on the Wi-Fi account.
Included equipment
Xfinity Flex streaming box

Voice remote

Quick Start Guide

HDMI cable

USB-C power adaptor 

2 AA batteries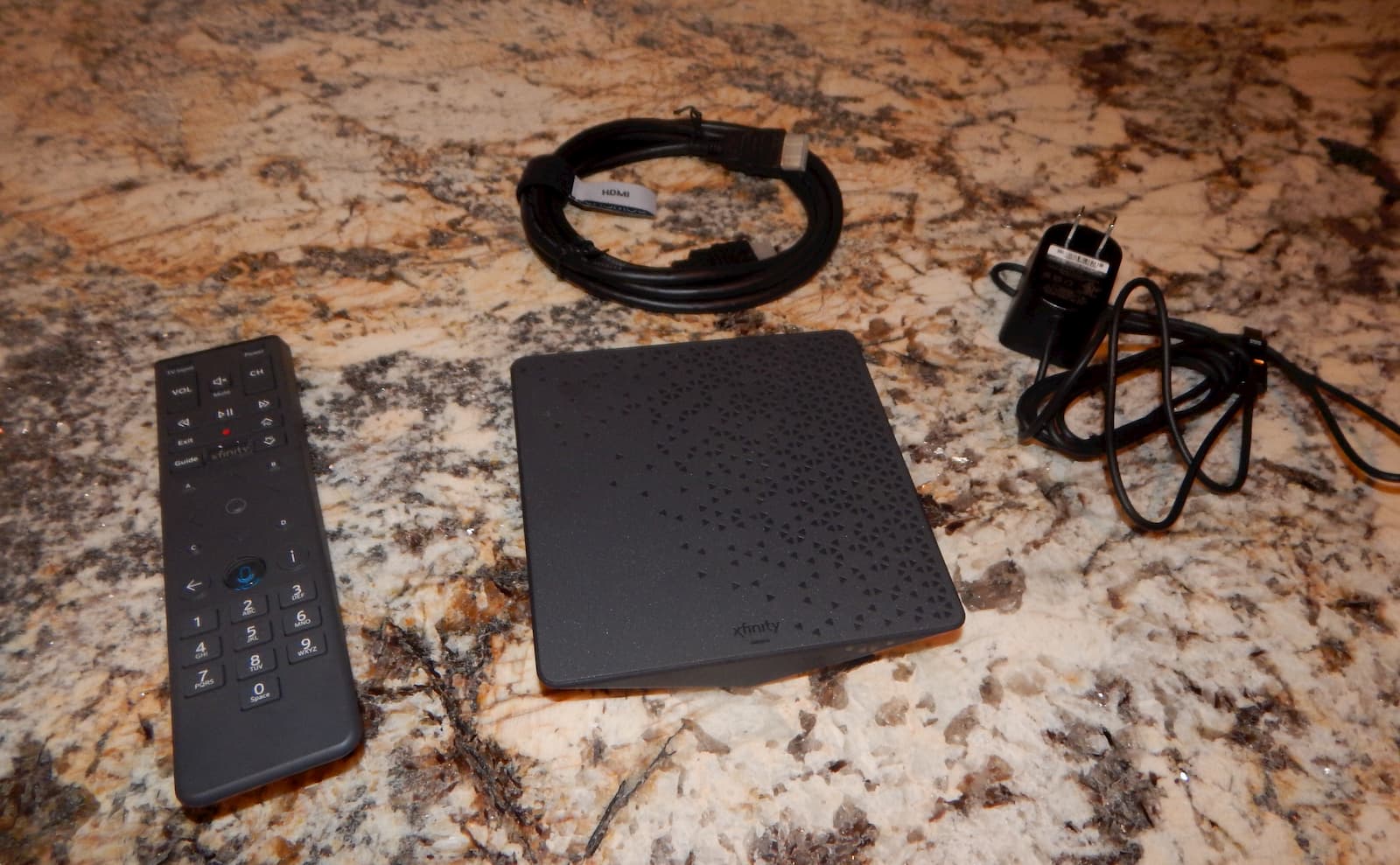 The Flex comes with the streaming box, the voice remote, an HDMI cable, and a power adaptor. (Quick Start Guide and AA batteries not pictured.)
Equipment you'll need
Xfinity internet subscription
TV with HDMI port
Flex supports Netflix, Amazon Prime Video, YouTube, iHeartRadio, and Pandora, offering a fairly wide breadth of TV, movie, and music streaming app options. You can also buy subscriptions through the Flex for HBO, SHOWTIME, CINEMAX®, and MGM+™. And Hulu, STARZ®, MLB, NBA, and several others have also committed to being available on the Flex in the near future. Hulu will be available on the Flex starting on March 19. Peacock, NBCUniversal's new streaming service, will arrive on the Flex on April 15 and will be available as an exclusive preview until the service's launch on July 15. 
But the Flex is internet only, meaning it doesn't support cable TV packages or other on-demand goodies that the X1 would give you. And some of the built-in apps seem to be mostly novelties: Fancy a bit of British news? Then click to Sky News, a Comcast-owned property. Or perhaps you'd prefer the FailArmy app for videos of countless "epic fails." 
Live TV streaming channels and services
The Xfinity Flex has limited offerings when it comes to live TV. But you can get subscriptions to a premium channel lineup from HBO and SHOWTIME: hit the Guide button on the remote, and it'll take you to a menu of TV listings. 
However, you can't connect the Flex with any premium TV subscriptions you already have—instead, you'll need to cancel your HBO and reorder it through Xfinity, for example. Sounds pretty annoying. 
That said, the Flex still has some nice television options. Here's a list of television channels and providers you can access through the Flex:
Subscription required
HBO

SHOWTIME

CINEMAX

MGM+™
Included with the Flex
Sky News

ESPN3

Tubi

Xumo

Pluto TV (This is where you can watch 24/7 reruns of '90s throwbacks like

Baywatch

and

American Gladiator

.) 
On-demand streaming apps
Movies and online videos are where the Flex really "flex"-es its muscles (har har). Using the voice controls, the remote lets you weave in and out of Netflix, Amazon Prime Video, YouTube, and Tubi, running quick searches to jump to and fro in an instant.
That means you won't have to manually click in and out of different apps or painstakingly type in searches using the remote's keypad. You can also rent and purchase movies from the different apps and access your purchases through the Flex.
We tested out the Flex through a 75 Mbps internet plan with an Xfinity Gateway modem, and the video quality was supersmooth when we ran it in 1080p. You'll need faster-than-usual download speeds, 25 Mbps or higher, to run 4K.
But, overall, the Flex streams quickly and easily with no latency issues that we noticed. Indeed, we could see the mole on Robert De Niro's right cheek perfectly when we pulled up The Irishman on Netflix.
One drawback to the Flex is that it doesn't feature Hulu—at least not yet. According to Xfinity, several apps and streaming services will be available on the Flex soon, including Hulu, Peacock, STARZ, MLB, and NBA.
Here's a list of streaming apps you can get on the Flex:
Netflix
Amazon Prime Video
YouTube
HBO
Tubi
FailArmy
Cheddar News
Xumo
Pet Collective
Other apps
The Flex has a couple options for streaming music — namely Pandora and iHeartRadio, the internet radio station formerly known as Clear Channel. There's no Spotify or SiriusXM, two of the more popular streaming services, even though they are available on Roku, Amazon Fire TV and Apple TV devices. 
But there is a channel called Ambient Moods, which draws from the iHeartRadio library to stream curated playlists based on themes like "Wake Up and Shine," "Studying Beats," and "Relax by the Beach." This comes in handy for dinner parties, homework sessions, and other occasions when you'd like some tunes but don't have the patience to curate your own listening sesh. 
The Flex also features a bunch of puzzle and trivia games, including backgammon, Tetris, and a quirky one called Knife Smash, where you toss animated knives at rotating objects. 
App and channel guide user experience
The Flex makes it easy to navigate between different streaming services and the Flex's channel lineup. The homepage has tabs dedicated to recently watched videos, purchased movies and TV shows, new releases, and content that's available to watch for free. You can also jump directly to either of these categories by declaring "Purchased!" or "Free to Me!" into the voice remote. 
It's easy to get lost in the weeds while exploring the different apps and channels. The Ambient Moods stations are confusing to click out of, and the live TV options are listed on the device's homepage and other areas in a dizzyingly diverse number of ways. There's even a whole channel-listings interface on the Pluto TV app, which is a throwback to the days of '90s cable. 
If navigating the Flex ever gets too confusing, the Xfinity button on the remote acts as a kind of reset button. Hit it and you'll be taken right back to the home screen, no questions asked. 
Choose your streaming destiny.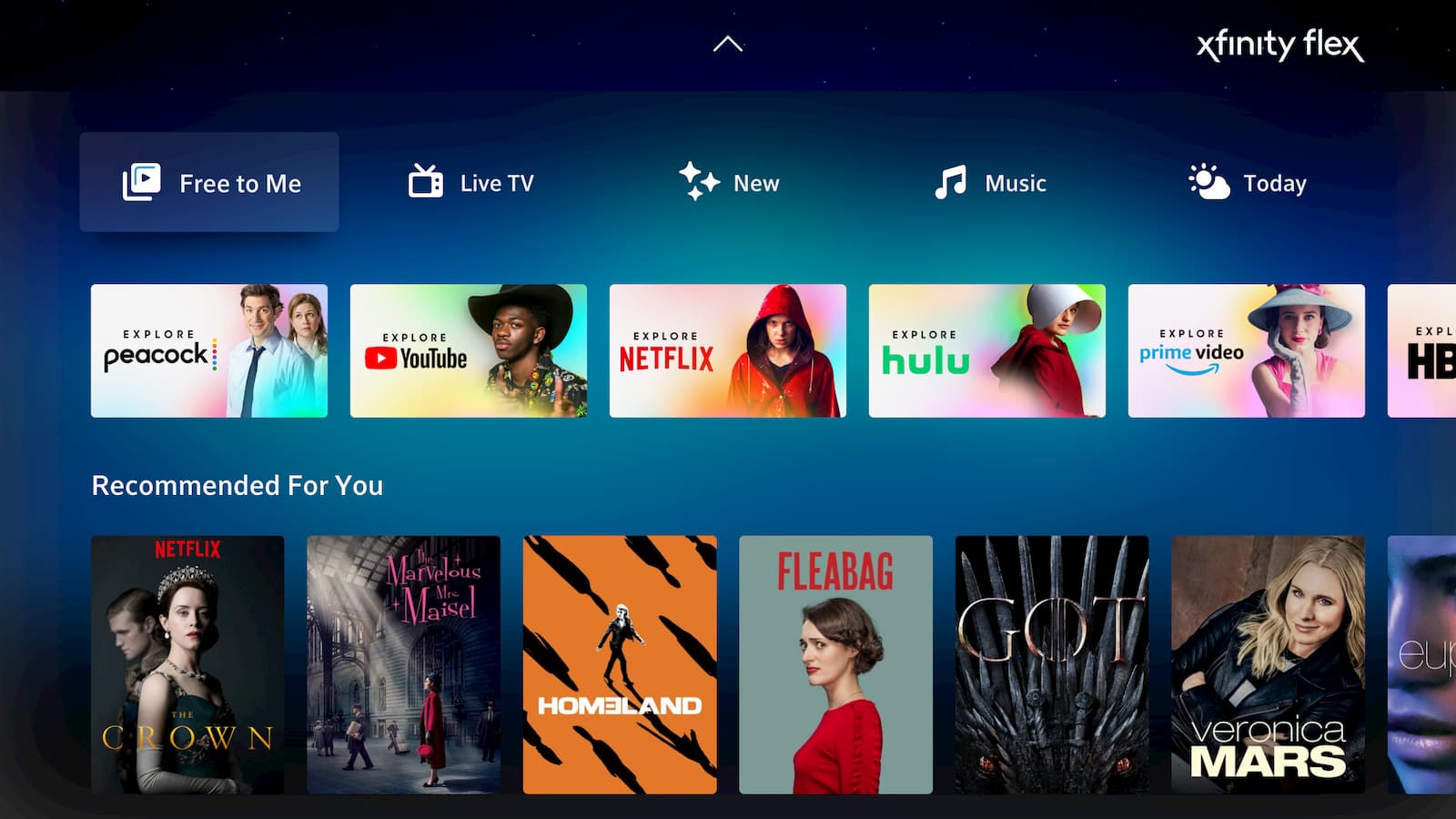 Image: Comcast. The Flex's homepage menu covers free content, purchased movies, live TV, and more. (Hulu and Peacock are currently unavailable on the Flex.)
Many streamers these days tout the wonders of their voice-activated remotes, and the Flex certainly delivers in the clicker department. 
First of all, the remote looks nice—a slate gray color with rubbery plastic on top that makes it easy to hold. It also has a simplified layout, with fewer mystery buttons and more self-explanatory ones directly related to the Flex experience. 
Remote-control user experience
The centerpiece of the remote is a blue, light-up button with a microphone illustrated on it. "Old Bluey," as we like to call it, lets you leap galaxies of streamable content in the blink of an eye. Just push the button, say out loud what you want, and Old Bluey will take you there—whether it's Terminator II on Amazon Prime Video, Shameless on Netflix, or the viral video of the drummer guy with the flailing arms on YouTube.
The remote also makes it easy to explore the device with just opposable thumbs. The Guide button goes to the TV listings—featuring an array of HBO, SHOWTIME, and CINEMAX subscription channels. The Xfinity button returns to the home screen, which comes in handy if you find yourself lost in the mix of apps and channels. 
Ooh la la, now that's a remote!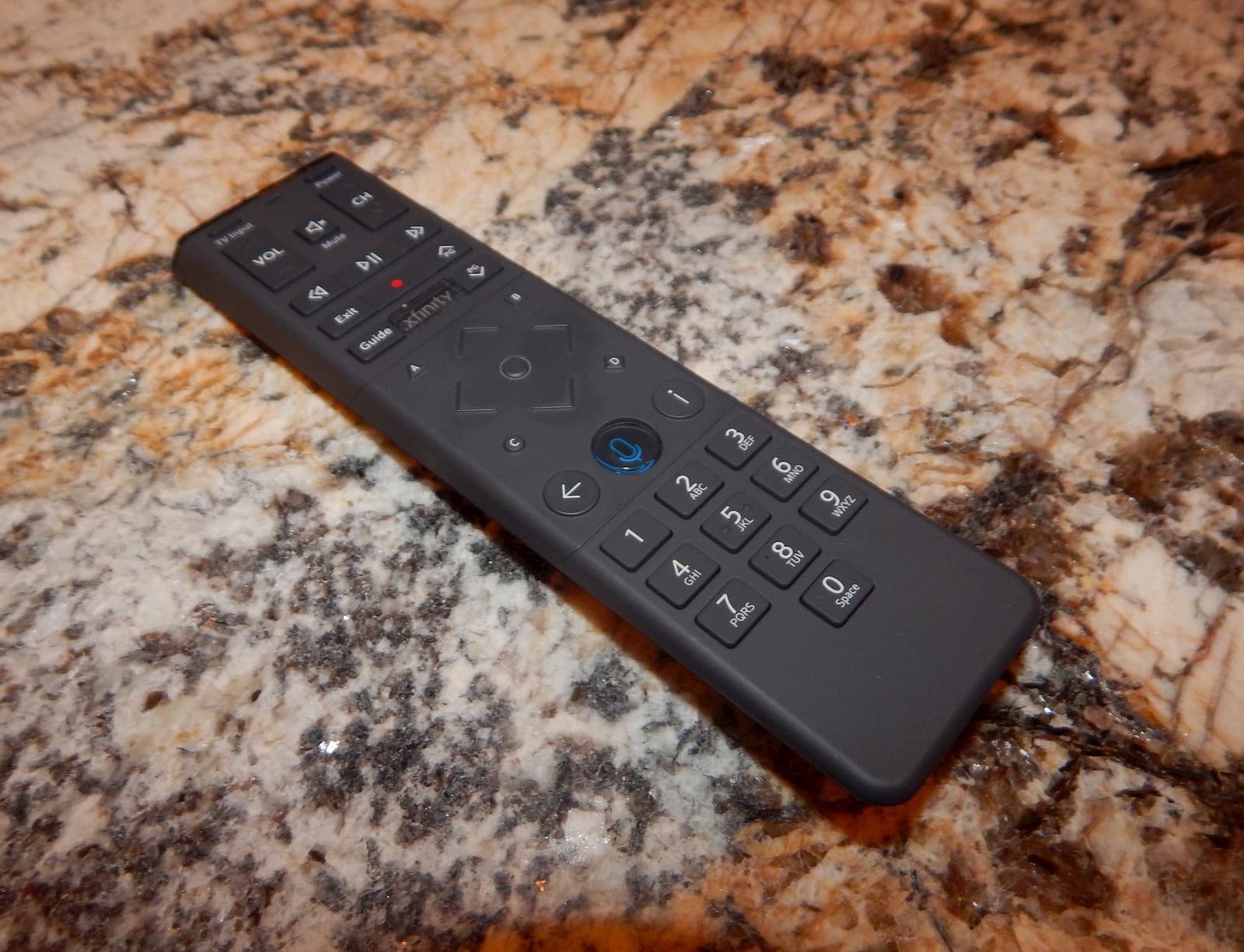 A remote of Emmy-winning proportions.
Compatible devices with Xfinity Flex
Here are a few useful ways to connect the Flex with other devices: 
Control your Wi-Fi network. With the Flex and an xFi Gateway modem, you can control the settings of your home Wi-Fi network. There are options to register devices, monitor who's on the network, and schedule when different clients can sign on or off—it's a great way to make sure Junior's doing his homework. 
Keep your household secure. The Flex works with Comcast's Xfinity Home package, allowing you to stream video from home security cameras and operate other smart home devices. 
Manage your electronics. The voice remote can be programmed as a universal remote for your television and A/V receiver. After agreeing to a prompt during setup, the remote will recognize the TV and connect the power and volume controls. 
What is Xfinity Flex?
Xfinity Flex is a streaming box that lets you watch movies, YouTube videos, and live TV (on certain apps and network subscriptions) with an Xfinity Internet plan. The Flex also has music, games, and ways to manage your home Wi-Fi network through the xFi Gateway router and control smart home devices with the Xfinity Home plan. 
How do I use Xfinity Flex?
You can use Xfinity Flex by plugging the Flex into your TV using the HDMI cable that comes with it and use the voice-activated remote to surf streaming apps and subscribe to channels like HBO and SHOWTIME.
Does Xfinity Flex have Hulu?
No, Xfinity Flex does not have Hulu. But Hulu will be available on the Flex in the near future, along with streaming apps for Peacock, Sling TV, CBS All Access, STARZ, MLB, and NBA.
What streaming devices work with Xfinity?
Fret not, Xfinity TV customers—your TV subscription is compatible with more than a dozen streaming devices, like Roku, Apple TV, Google Chromecast, Amazon Fire TV, and Xbox One. 
Which apps are available on Xfinity Flex?
Xfinity Flex includes apps for Netflix, Amazon Prime Video, YouTube, NPR One, ESPN3, Sky News, Cheddar News, FailArmy, and more.
Does Xfinity Flex have Peacock streaming TV?
Peacock, the new streaming TV service from NBCUniversal, will preview on Xfinity Flex (and Xfinity's X1 platform) from April 15 until its official launch on July 15. Grab it today so you can start binge-watching Friends again as soon as possible.
CERTAIN CONTENT THAT APPEARS ON THIS SITE COMES FROM AMAZON. THIS CONTENT IS PROVIDED 'AS IS' AND IS SUBJECT TO CHANGE OR REMOVAL AT ANY TIME.
Author - Peter Holslin
Peter Holslin has more than a decade of experience working as a writer and freelance journalist. He graduated with a BA in liberal arts and journalism from New York City's The New School University in 2008 and went on to contribute to publications like Rolling Stone, VICE, BuzzFeed, and countless others. At HighSpeedInternet.com, he focuses on covering 5G, nerding out about frequency bands and virtual RAN, and producing reviews on emerging services like 5G home internet. He also writes about internet providers and packages, hotspots, VPNs, and Wi-Fi troubleshooting.
Editor - Cara Haynes
Cara Haynes has been editing and writing in the digital space for seven years, and she's edited all things internet for HighSpeedInternet.com for five years. She graduated with a BA in English and a minor in editing from Brigham Young University. When she's not editing, she makes tech accessible through her freelance writing for brands like Pluralsight. She believes no one should feel lost in internet land and that a good internet connection significantly extends your life span.