Xfinity Internet Review
What can you do with the fastest internet in the country?

Price
$29.99–$299.95/mo.
Speeds
15 Mbps–2,000 Mbps
Millions of nationwide hotspots
Contract-free options
Data effective 9/03/19. Offers and availability may vary by location and are subject to change. Contract-free packages are priced higher.
Best Xfinity internet plans
Xfinity (a division of Comcast) offers cable and fiber internet plans that deliver promised speeds. Xfinity offers a wide selection of internet packages to choose from. Speeds start at 15 Mbps, although in the eastern part of the US the slowest available speed is 60 Mbps.
If you're looking for a family plan, we recommend the Blast! Pro, which delivers speeds up to 250 Mbps. This is fast enough for eight or more devices to stream video simultaneously, which is pretty dang fast (remember, video streaming takes the most bandwidth of almost any activity).
So, with a connection speed of 250 Mbps, you'll have enough speed for seven people, plus the family dog, to be streaming their favorite show at the same time. If you have an avid online gamer in the bunch, go for Extreme Pro, which delivers speeds up to 400 Mbps.
The fastest Xfinity internet plans of 1,000 Mbps and 2,000 Mbps (1–2 gigabits) run on a fiber-optic network. Speeds like this are a big perk for gamers and video bloggers but not usually necessary for the rest of the world.
If you get the fastest internet speed, be aware that in 26 states, there's a data cap of 1 TB per month on every internet plan. Xfinity gives you two free monthly passes for data usage overage, so you'll know in advance if you are considered a heavy data user and likely to incur an additional charge.
Extra data costs $10 for each chunk of 50 GB of data, which can be an unpleasant surprise if your kid has been downloading video games all summer. If you go over your data cap in a month, Xfinity will automatically sell you extra data in 50 GB chunks as needed, although they guarantee that your bill will never exceed $200.
Most people won't ever reach the 1 TB data cap. You can stream videos for 600 to 700 hours per month and still not reach it. But if you think you'll go over the cap consistently, it's a good idea to add unlimited data to your internet plan for an extra $50 per month.
Check out our top picks.
Best value:
Xfinity Performance Pro
Speeds up to
175
Mbps download
From
$4999/mo
For the first 12 months with a 1-year agreement.
This budget-friendly plan lets you stream or browse on 1–3 devices.
Xfinity Blast! Pro
Speeds up to
275
Mbps download
From
$6499/mo
For the first 12 months with a 1-year agreement
Got roommates? Kids? A few Netflix addicts? Connect up to 8 devices with this powerful plan.
Xfinity X1 Starter Pro Double Play
Xfinity Internet
Xfinity Digital Starter
140+ channels
Speeds up to
150
Mbps download
From
$7999/mo
For the first 12 months.
Watch your favorite shows, play games online, socialize, and work at home with this tidy bundle (cable TV + internet).
Data effective 01/15/20. Offers and availability may vary by location and are subject to change. Contract-free packages are priced higher.
How good is Xfinity internet service?
Xfinity internet is extremely fast, which is what we're all looking for, right? It offers some of the fastest residential internet speeds in the country, so if you can get past the stereotype about lackluster customer service, you'll be happy with Xfinity by Comcast.
Xfinity offers easy-to-use parental controls that you can set up to keep the little kids away from adult content. You can also program your router to stop broadcasting during nighttime hours to encourage everyone in the house to get enough sleep.
Do you have a kid who can't stop gaming? You can set up time limits, too, so screen time is limited, making more time for friends, homework, and getting outside. For more information on how to set up parental controls, go to the Xfinity website.
One frustrating thing we've encountered with Xfinity is that the pricing structure gets a little confusing when you start hunting down the rates you'll get after the promo period (one year). It's basically a mystery. Most people don't know what their new price will be until they get that bill for the thirteenth month. Not super cool, but it's fairly typical of the industry.
We agree that Xfinity's customer service can be annoying at times. If you go to the main website and contact their chat line, you'll have to get through a bot before you get to an actual live agent. It's tough to get any general information from a bot whose sole purpose appears to be to push you to the customer sign-on page. If you're using the chat feature, we recommend you ask to "speak with a representative" to bypass the bot.
Despite a few shortcomings, we can't help but recommend Xfinity to people looking for fast internet plans and dependable service. Xfinity internet has really turned things around over the past few years, and those racing speeds and free hotspots are hard to beat.
Pros
Fastest speeds in the US
Millions of free hotspots nationwide*
Lower prices than Cox and Frontier
Cons
Higher prices than RCN, Spectrum, and Windstream
Price hike after 12-mo. introductory period
Contract required
*Wi-Fi hotspots included with Performance internet packages and above.
Xfinity internet plans
Compare Xfinity internet prices and speeds.
Plan
Prices from*
Download speeds up to
Connection Type
Xfinity Performance Starter
$29.99/mo
15 Mbps
Cable
Xfinity Performance
$34.99/mo
75 Mbps
Cable
Xfinity Performance Pro
$49.99/mo
175 Mbps
Cable
Xfinity Blast! Pro
$64.99/mo
275 Mbps
Cable
Xfinity Extreme Pro
$74.99/mo
500 Mbps
Cable
Xfinity Gigabit
$84.99/mo
1000 Mbps
Fiber
Xfinity Gigabit Pro
$299.95/mo
2000 Mbps
Fiber

View Xfinity Internet Plans
*Prices are higher for no-contract option. Price does not include modem rental, taxes, and other fees.
Data effective 01/15/20. Offers and availability vary by location and are subject to change.
Where can you get Xfinity internet?
Xfinity is one of the largest Internet Service Providers in the US, offering service in 39 states plus the District of Columbia. In fact, Xfinity by Comcast (Comcast is the parent company) provides more than just internet, including cable TV, home phone, mobile phone, and home security services via cable and fiber-optic networks.
The company rolled out 1,000 to 2,000 Mbps service to significant sections of the eastern, western, southern, and central US. Prices are similar across the country, although speeds are slightly lower in the West. Availability depends on where you live, so you'll need to enter your ZIP code below to get the clearest answer.
How fast is Xfinity internet?
Xfinity offers attractive internet speeds, but how do they stack up against the competition? Do they really deliver on their promises?
Apparently, yes. Xfinity is the fastest internet provider, according to our 2019 speed test data. Xfinity also performed well on the FCC's Eighth Measuring Broadband America Fixed Broadband Report, which looks at advertised speeds versus actual speeds. Xfinity consistently offered faster-than-average speeds, which puts it in front of the pack.
Download
Xfinity Performance Pro
(175 Mbps)
Xfinity Extreme Pro
(500 Mbps)
Xfinity Gigabit
(1,000 Mbps)
PDF (20kb)
Less than 1 second
Less than 1 second
Less than 1 second
eBook (3 MB)
Less than 1 second
Less than 1 second
Less than 1 second
4-minute song (5 MB)
Less than 1 second
Less than 1 second
Less than 1 second
2-hour movie (2 GB)
1 minutes, 31 second
34 seconds
17 seconds
Video game (30 GB)
22 minutes, 51 seconds
8 minutes, 34 second
4 minutes, 17 seconds
All of Wikipedia (10 TB)
5 days, 6 hours, 59 minutes, 03 seconds
1 day, 23 hours, 43 minutes, 18 seconds
23 hours, 51 minutes, 39 seconds
How much speed do I need?
Xfinity has seven speeds to choose from. But how do you know which one you need? Your ideal speed depends on what kind of activities you do on the internet and how many people you share your home internet with.
Streaming video is one of the most common activities that requires a lot of bandwidth, so faster speeds will give you a better streaming experience. We recommend you increase your speed by 10–15 Mbps for each streaming device you have in your home.
Video gaming and uploading large files also take a lot of bandwidth, so take that into consideration when you decide on a speed package. In particular, these activities require fast uploading speeds.
In general, faster download speeds equate to faster upload speeds, but upload speeds are almost always slower than download speeds on most connections. For instance, Xfinity's 1,000 Mbps plan gives you plenty of download speed, but the upload speed is only about 36 Mbps. This is standard across internet providers, with many plans delivering upload speeds of 10 Mbps or less. For more information, see The Consumer's Guide to Internet Speed.
See our recommended speeds for different online activities.

Browsing
1-3 People:
5 Mbps
4 - 6 People:
10 Mbps

Streaming Music
1-3 People:
5 Mbps
4 - 6 People:
25 Mbps

Online Gaming
1-3 People:
25 Mbps
4 - 6 People:
100 Mbps

Video Streaming
1-3 People:
SD Video: 10 Mbps
HD Video: 50 Mbps
4 - 6 People:
SD Video: 50 Mbps
HD Video: 100+ Mbps
Xfinity internet specs and tech
Cable internet upload speeds are disproportionately slow due to the limitations of legacy cable network architecture. For instance, Xfinity's Performance Pro offers download speeds up to 175 Mbps, but the upload crawls along at 5 Mbps. What does that mean for you? Basically, uploading a big file will take a long time.
Modems and routers
The Xfinity router/modem combo is called the Xfinity Wireless Gateway, and most people rent it for $10 per month. It isn't available for purchase, which is a bummer because the rental price is enough to buy it several times over in a few years. But renting does mean that you can always be sure you're getting the fastest equipment available at no additional cost. If Xfinity updates its equipment, you can ask for a new one.
You can also use your own modem for Xfinity internet. To learn more about what types of equipment are compatible with Xfinity, read what third party equipment Xfinity accepts.
Internet types
Xfinity is part of Comcast, a cable TV company founded in the 1960s. Comcast delivers its Xfinity internet service through coaxial cables (the same used for cable TV) and a fiber-optic network. Most of Xfinity's internet service is delivered through cable wires, while the fastest speeds of 1,000 Mbps and 2,000 Mbps are delivered with fiber.
Hotspots
Currently, Xfinity has over 12 million hotspots nationwide. You'll get access to Xfinity's Wi-Fi hotspot network with Performance or above internet packages. If you live in an area where Xfinity is offered, chances are there are lots of hotspots in your area.
Wi-Fi hotspots let you connect a laptop or tablet online without a separate data package when you're away from your home connection. Hotspots are helpful for business travelers, families on vacation, college students, remote workers, and just about everyone who lives in the modern world.
You can work remotely while on your morning train, or watch movies at the park with Xfinity's powerful Wi-Fi hotspot network. For detailed steps on using Xfinity hotspots, see the Xfinity hotspot FAQ.
Xfinity internet installation
Xfinity is determined to improve its customer service reputation, which has been middling at best, and its recent efforts are showing in the installation process.
If you choose to have professional installation (which costs $89.99), you'll get a two-hour appointment window. And if your tech can't make it within that time, Xfinity will give you a $20 discount on the installation fee ($25 in Illinois).
So, does it really stick to this promise? We talked to eight recent Xfinity customers, and they all agreed that their Xfinity installation technician either arrived on time or offered a discount if they were late.
One person got free installation due to a no-show (which he was pretty pleased with). Another customer said that the in-person service is much better than phone support. The most unexpected thing that happened was one family had the technician show up 45 minutes early. Other than that, it was smooth sailing.
If you're up for a little challenge, you can save $89.99 by ordering a self-install kit from Xfinity. We have a guide with everything you need to know to self-install Xfinity and get your internet up and running. Heads up: if you don't have cable wired into your home already, you'll need professional installation.
Xfinity internet vs. the competition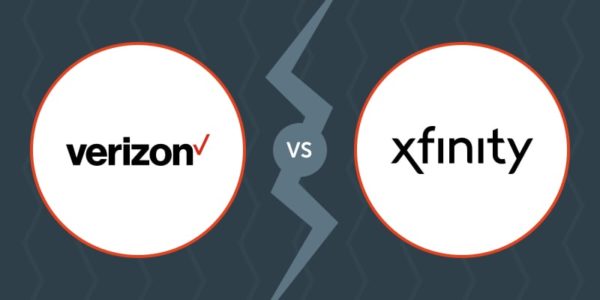 Verizon vs. Xfinity
Xfinity and Verizon deliver comparable speeds with different technology. Xfinity is great for streaming and browsing, while Verizon Fios's equal upload and download speeds are preferred for gaming and video uploading.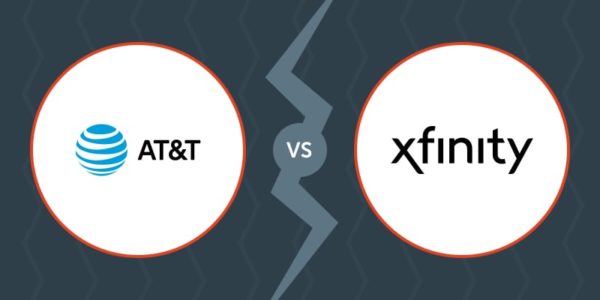 AT&T vs. Xfinity
If you're trying to decide between AT&T and Xfinity, get the scoop on how they compare. Xfinity offers faster speeds, but AT&T is more affordable.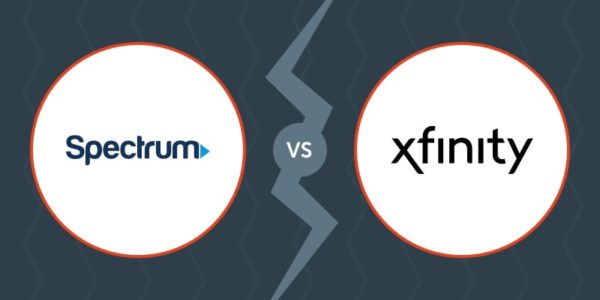 Spectrum vs. Xfinity
Find out how Spectrum and Xfinity compare side-by-side. Spectrum beats Xfinity when it comes to customer service ratings. Xfinity offers a wider variety of internet speeds and prices.
Our verdict
Xfinity offers a medley of home services to over 58 million households in the US. And it offers the fastest residential internet speeds in the US.
We think Xfinity's introductory prices are fair and reasonable, but what we don't like are the price hikes. It's difficult to find out what you'll be paying once the promotional period ends. Make sure you find out how long your contract is when you sign up, and what the price will be when year two begins. It might also be worth negotiating for a lower rate if you're not afraid to haggle.
Overall, we think Xfinity is a good choice and recommend it to a lot of our friends and family. Xfinity offers a wide variety of speed packages, easy-to-use parental controls, and millions of Wi-Fi hotspots if you opt for Performance Pro or above.
Find your Xfinity package.
Why is my Xfinity Wi-Fi not working?
If your Xfinity Wi-Fi is not working, check your modem. First, check to make sure all cords are plugged in tightly. Push each plug in all the way. There should be a coaxial cable plugged into the back of the modem, a power cord, and a cable connecting your router and modem if they are separate.
If everything is plugged in, try power cycling your modem. Unplug the power cord and leave it unplugged for two minutes. Then plug it back in. This often clears up problems. If you have additional issues, check out Xfinity's troubleshooting guide or contact Xfinity technical support.
How much is Comcast worth?
Comcast is a massive telecommunications and broadcasting company valued at over $70 billion. Headquartered in Philadelphia, Pennsylvania, Comcast operates Universal Pictures and broadcast networks such as NBC, USA Network, E!, Syfy, MSNBC, Telemundo, and others. Comcast also owns and manages the Xfinity brand of services, which includes internet, cable TV, home phone, mobile phone, and home security.
How much does only Xfinity internet cost?
If you want to know the cost of Xfinity for internet only (without TV, phone, or other services), you can get average speeds of 75 Mbps to 500 Mbps for $34.99 to $74.99 per month, which is enough speed for four to eight devices streaming video simultaneously. There are internet packages that go up to $299.95 per month for the 2,000 Mbps plan, but most people don't need that much speed.