Find 5G mobile providers
Enter your zip code to see internet providers in your area.
About 5G wireless and home internet
5G is a promising new type of wireless networking. It's faster and more efficient than 4G, giving cell phone users internet speeds ranging from around 40 Mbps to well past 1,000 Mbps in some places. 5G also provides the backbone for a new kind of home internet, which is cheaper than cable internet and just as fast.
We at HighSpeedInternet.com have been paying close attention to developments around the 5G rollout, especially the emergence of 5G home internet services. So we put together this guide to help you understand the latest in 5G deployment—how 5G works, how much it costs, and where it's available.
Popular 5G wireless providers
| Provider | Average 5G speeds* | Price | Availability (% of phone time spent on 5G)* | Order online |
| --- | --- | --- | --- | --- |
| Verizon | 56.2 Mbps | $70–$90/mo. | 9.50% | |
| T-Mobile | 150.0 Mbps | $60–$85/mo. | 35.40% | View Plans |
| AT&T | 49.1 Mbps | $65–$85/mo. | 16.50% | |
5G isn't widely available yet, so the 5G wireless plans currently on the market provide you 4G LTE connections with 5G included when it's available. (Naturally, you'll also need a 5G phone or hotspot to access the 5G network.) Your phone will hop on the 5G network any time it's near a 5G transmitter, but most of the time it will remain on the cellular carrier's 4G LTE network.
As networks build up, eventually cellular plans will be more 5G than they will be 4G. But for now, 5G phone service is more of a delicious side dish than the main course.
Pro tip:
Still unclear about what makes 5G different from 4G? Take a look at our 4G vs. 5G guide to see how they compare for pricing, availability, and speed.
To sum it up succinctly—5G is a form of wireless networking, just like 4G, only faster and with much higher data capacity.
Best 5G internet providers
| Provider | Download speed | Price | Order online |
| --- | --- | --- | --- |
| Verizon 5G Home Internet | 300 Mbps–1Gbps | $25-$35/mo. w/ qualifying Verizon phone subscription; $50-$70/mo. for nonsubscribers** | |
| T-Mobile Home Internet | 72-245Mbps* | $50/mo. with autopay† | View Plan |
| Starry Internet | Up to 100-1,000Mbps | $30-$75/mo# | View Plan |
Data as of 11/28/2022. Offers and availability may vary by location and are subject to change.
Although 5G mostly centers around mobile phones, some providers also use 5G networks to provide home internet service.
5G home internet is more affordable and faster than the internet you'd get on a 5G cell phone or hotspot. You also get a more competitive deal compared to many broadband internet providers. 5G home internet plans come with the following:
Speeds in the range of 33–1,000 Mbps
Prices of $50 per month or less
No extra charges for equipment or installation
No annual contracts
The two main 5G home internet providers are Verizon and T-Mobile, but smaller provider Starry Internet also has a fixed-wireless setup that uses the same wireless technology to get customers internet access primarily in apartment buildings. It's not advertised as 5G, but it's essentially the same service.
It's still pretty early in development, but 5G home internet looks like a really promising service. Availability is very limited, but it's a cheaper, simpler, and equally fast alternative to fixed home connections like fiber and cable.
Pro tip:
Want to know more about how 5G works as a whole? Take a look at our full 5G guide.
Find Fiber providers in your area:

Pros:
Extremely fast speeds
Lower chance of network congestion
Affordable prices on home internet

Cons:
Limited availability
Expensive 5G phones
Pros of 5G
Extremely fast speeds—The big advantage of 5G is that it's fast. Current 5G speeds range from about 40 Mbps to well over 1,000 Mbps, speeding past 4G's average of 30 Mbps. 5G's gigabit speeds are limited to densely populated urban areas. But the rise of mid-band 5G types like "C-band" have the potential to give millions of customers access to speeds in the range of 100–500 Mbps, which is superb for cellular service.1
Lower chance of network congestion—5G networks use radio bands that previously weren't widely available for commercial use, so there are a ton more airwaves available to carry your data than before. This will make 5G especially useful in crowded areas like sports stadiums and music festivals, where (in a post-pandemic life) people won't have to worry as much about network congestion and long loading times as they send texts and post on social media.
Affordable prices on home internet—The increased speed and capacity of 5G makes it possible for cellular companies to provide full-service home Wi-Fi. Whereas before wireless internet had strict data caps and high prices, now you can get services like Verizon 5G Home Internet, which gives customers unlimited data and excellent speeds at a reasonable price.
Cons of 5G
Very limited availability—Since 5G is still so new, finding a 5G connection may feel like searching for Bigfoot or the Loch Ness Monster—you can catch sight of it on one block of a busy city street, and then it will disappear on the next block. Nationwide 5G deployment will take some time, so don't expect it to be ubiquitous for another year or so.
Expensive 5G phones—Since 5G is just being rolled out, there's relatively slim pickings when it comes to 5G phones. And you'll need to pay quite a bit (think: $800 or more) for a phone that gives you access to the full range of 5G speeds. But this situation probably won't last for long as more phone companies unveil new 5G devices and a wider array of budget options come out on the market.
Little to no access in rural areas—The magic of 5G depends on the existence of tightly woven webs of fast and responsive cellular networking infrastructure. That makes building up 5G networks a challenge in remote, rural areas because transmitters will have to work over a much longer range. Low-band versions of 5G will still be available, but they'll be only slightly faster than 4G, while the fastest types of 5G will likely be limited for specific uses in hospitals and factories.
| Plans | Price | Data cap | Hotspot data | Order online |
| --- | --- | --- | --- | --- |
| T-Mobile Magenta MAX | $85/mo. (1 line)* | Unlimited (speeds never slowed during network congestion) | 40 GB/mo. (speed reduced to unlimited 3G after) | View Plan |
| Verizon Get More Unlimited | $90/mo. (1 line)† | Unlimited (speeds never slowed during network congestion) | 50 GB/mo. (speed reduced to unlimited 3G after) | |
| AT&T Unlimited Elite | $85/mo. (1 line) | Unlimited (speeds never slowed during network congestion) | 40 GB/mo. | |
Data as of 1/26/2022. Offers and availability may vary by location and are subject to change.
T-Mobile's Magenta MAX plan is the clear standout when it comes to 5G wireless phone plans. Magenta MAX gives you truly unlimited high-speed data, meaning your speeds won't slow down after you reach a certain data cap. So you can download, stream, Zoom, and game on your phone as much as you like.
T-Mobile's plan also gives you 40 GB of high-speed hotspot data, which connects to the 5G network as well.
Verizon and AT&T's plans are pretty good too, though. AT&T also gives you totally unlimited data on its Unlimited Elite plan. And Verizon offers a bunch of extra perks to go with the Get More Unlimited plan, including subscriptions to Disney+, Hulu, and ESPN+ at no extra cost and 50% off qualifying plans for hotspots and other connected devices.
Verizon, T-Mobile, and AT&T all offer 5G access on their unlimited-data phone plans. You'll automatically connect to 5G whenever it's available—and when it's not, you'll connect to 4G LTE.
When will 5G wireless be available to me?
5G wireless is likely available to you right now if you live in a major city. If you live in a rural area, 5G won't be accessible, but it might be available in more populous parts within the next year.
5G deployment is advancing steadily across the country. Right now, T-Mobile, AT&T, Verizon, and other providers are focusing on rolling out 5G access in major cities and towns. Unfortunately, rural areas will have less access to 5G, although you may find it in downtown centers and public spaces in smaller towns.
T-Mobile
According to its own measurements, T-Mobile provides 5G access in more than 8,300 cities and towns across large swathes of all 50 states.2 Most of its network consists of low- and mid-band 5G, delivering average speeds of 150 Mbps, according to mobile analytics group Opensignal.3
Opensignal found in January 2022 that customers with access to T-Mobile's 5G network spend 35.4% of their phone time connected to 5G. That's a lot more 5G phone time than what customers get on AT&T and Verizon's 5G networks, and T-Mobile's 5G access will expand even more over 2022.
You can see if T-Mobile's 5G coverage is available in your area by searching your address at the provider's 5G coverage and availability map.
AT&T
AT&T's 5G network has grown to cover parts of more than 16,000 American cities and towns. The carrier is set to launch C-band 5G across the country beginning in January 2022. C-band has a very wide range and also delivers excellent speeds, promising a massive boost in 5G accessibility and performance if you're on AT&T's wireless network.
AT&T's C-band 5G is currently available in eight cities.8 Here's the full list:
Dallas/Fort Worth
Houston
Austin
Chicago
Detroit
Jacksonville
Orlando
Miami
On top of that, AT&T is also building up a millimeter-wave version of 5G called 5G+, which delivers gigabit-plus speeds in parts of more than 40 American cities.
Want to know if you can get on AT&T's 5G network? Use AT&T's 5G availability map to see if it's available in your area.
Verizon
Verizon's fastest version of 5G, called 5G Ultra Wideband, is available to 100 million people in 1,700 cities.9 That represents a big leap in Verizon's 5G footprint of late, and it's all thanks to the rollout of Verizon's C-band spectrum.
Verizon initially focused on building up millimeter-wave 5G technology, which can deliver stupendous speeds of around 693 Mbps.5 But C-band is the type of 5G that experts expect will give Verizon's network a proper nationwide footprint.
Availability still seems fairly limited for Verizon's 5G phone customers: in 5G-covered areas, users spent just 9.5% of their phone time with access to 5G.3 But hopefully that will change now that Verizon's 5G capabilities are reaching a new level.
You can find out if Verizon is 5G is available in your area by searching Verizon's 5G coverage map.
Other providers: US Cellular, DISH
Although Verizon, T-Mobile, and AT&T are the main 5G players, other companies have also thrown their hats into the ring.
US Cellular is the fourth largest cellular network in the country. It has a small 5G footprint, available in parts of Wisconsin, Illinois, Missouri, and Oklahoma. It also has 5G in smaller, scattered areas of Oregon, Washington, Virginia, West Virginia, North Carolina, and Tennessee.
Satellite TV network DISH also has been edging into the 5G market. It's bought the rights to a vast quantity of wireless spectrum (the radio bands used to operate 4G and 5G networks). In 2020, DISH also paid $1.4 billion to acquire the prepaid service Boost Mobile, which will help the company launch a wireless cellular service.
When will 5G home internet be available to me?
5G home internet is currently available to you if you live in a major city. But many cities don't have 5G home internet access and it will take some months before it's available.
The expansion of 5G home internet is limited by the range of 5G transmitters, which often require "line of sight" distance between a transmitter and customer. There's also a relative lack of readily available equipment like modems and routers that would help 5G home internet proliferate.
T-Mobile 5G and 4G LTE home internet availability
T-Mobile has a 5G and 4G LTE home internet service that serves over 30 million homes and is available to 600 cities and towns nationwide. While it serves fewer cities than Verizon 5G Home Internet it actually can reach 10 million more customers.
Want to know if you can get 4G LTE internet from T-Mobile? Run a search with your address on T-Mobile's website.
Verizon 5G Home Internet availability
Verizon 5G Home Internet is available in 900 cities—a massive leap compared to 2021, when it was available in just over a dozen. You can find it in 20 million households across the United States.9
You can see if it's available where you live by typing your address into Verizon's 5G Home Internet search tool
Starry Internet availability
Starry Internet, another upstart 5G home internet provider, offers service in apartment buildings and other residential complexes in five cities. Find out if you can get Starry Internet by searching on Starry's website.
Cities where you can get Starry Internet: 
Boston
New York City
Los Angeles
Denver, Colorado
Washington, DC.
Starry Internet's service uses 5G signals and fixed-wireless connections to deliver internet in urban areas. 5G transmitters are positioned within the line of sight of a residential building. An antenna on the roof of the building then picks up the signal and dispatches an internet connection to customers living inside.
How does 5G home internet compare to other types of internet?
5G internet is competitive with fiber and cable internet when it comes to speed and price. It gets you download speeds in the range of 33–1,000 Mbps for around $50 per month. And that's a flat fee, so you won't have to worry about extra costs for equipment or installation (as is common with fiber and cable plans).
The drawback with 5G home internet is that your speeds might not be quite as consistent as they would with a wired internet type like fiber or cable. 5G internet runs over a fixed-wireless connection, so your service depends a lot on the connection between your 5G router and the nearest 5G transmitter outside. If you're far away from a nearby 5G tower or live in an area with lots of obstructions like hills or trees, then you may have less consistent speeds.
How 5G wireless and 5G internet works
5G is a form of wireless network technology. Like 4G, it relies on radio frequencies and cell towers to deliver internet data to peoples' mobile devices. But 5G incorporates new networking techniques and a much wider spectrum of radio bands to boost speeds and increase capacity.
Novel tools like massive MIMO and beamforming allow 5G to deliver faster, targeted cellular signals to customers. Small-cell transmitters—basically smaller versions of cell towers—propagate millimeter-wave radio signals, which can deliver data to your phone at gigabit-plus speeds in densely populated areas. Cellular carriers have also started using software-based networking architecture to make their 5G networks more flexible. The ultimate goal is to use 5G for many more functions, including robots, automated factories, and self-driving cars.
Rather than being a hard-and-fast service, 5G is more of a general concept and suite of wireless technologies. 5G networks come in different types and deliver different speeds, and it can also be used in different ways, like with 5G for mobile and 5G home internet.
How does 5G home internet work?
5G home internet uses a fixed-wireless connection to give your home Wi-Fi access. A 5G transmitter on the street sends a wireless radio signal to a 5G router installed in your home, which then gives you an internet connection.
What types of 5G are there?
There are currently three types of 5G—low band, mid band, and millimeter wave.
Low-band 5G has speeds similar to 4G and works over a long range, perfect for rural areas.
C-band 5G has a shorter range than low-band 5G, but it will drastically boost your speeds and lower your ping rate. It can hit speeds of 100 Mbps or faster over ranges of half a mile to about six miles.
Millimeter-wave 5G works only in contained areas (like buildings or stadiums) but it's extremely fast, capable of surpassing 1 Gbps speeds.
What is a 5G base station?
A 5G base station is a radio transmitter that provides a 5G signal to wireless devices like your phone. Some 5G base stations are similar to radio towers for 4G LTE waves, but cellular companies are also building up "small cell" base stations for millimeter-wave 5G, which tend to be much smaller and more widely distributed compared to normal cell towers.
What's the difference between 4G and 5G?
5G is wireless communications technology, just like 4G. But it's faster and more advanced, using higher-frequency radio spectrum and novel networking techniques.
Both 4G and 5G rely on transmission towers and radio frequencies to deliver cellular data to your phone. But 5G can deliver exponentially faster speeds, topping out at over 1,000 Mbps compared to the average 4G speeds of around 30 Mbps.
In addition, new tech like massive MIMO and beamforming play a big part in 5G networks, helping reduce network congestion and providing more efficient communications between the network and various devices.
Does 5G have better latency than 4G?
| 4G LTE avg. latency | 5G avg. latency |
| --- | --- |
| 30–70 ms | 5–20 ms |
Data according to Peter Linder of networking manufacturer Ericsson.4
5G has 25–50 ms less latency than 4G LTE.
Latency (or ping rate) is the brief delay that happens when you send a signal from a device to the network or vice-versa. Although it's measured in just milliseconds, latency can have a huge impact on some online activities, disrupting gameplay in high-speed online games and creating chunky, unresponsive video in Zoom meetings.
But that may not be as much of an issue anymore on 5G networks. Some estimates find that latency drops precipitously on 5G networks, going as low as 5 milliseconds.4
As latency drops, the signal gets more responsive, creating more of an instantaneous connection. That will make your gaming and videoconferencing go a lot smoother, but it has bigger implications as well—potentially enabling more complex networking processes with automated cars and manufacturing.
Related resources about 5G wireless and 5G internet
FAQ about 5G wireless and home internet
What is 5G?
5G is the fifth generation of wireless technology, soon to replace 4G as the predominant way we get internet on our phones and other devices. 5G uses new infrastructure and wireless innovations to boost cell phone speeds and reduce the signal delays known as latency. 5G also paves the way for using wireless networking to power things like robots, automated factories, and self-driving cars.
Is 5G better than 4G?
Yes, 5G is better than 4G technology. 5G is designed to offer faster speeds than 4G and delivers signals with much lower latency, so you can download files, watch videos and play online games on your phone with significantly less buffering and interruptions.
However, it's worth noting that 5G is also much less widely available compared to 4G. All in all, 4G is still basically the industry standard, whereas you'll be able to ride the 5G wave only in a limited number of cities, towns, and urban areas. That will change with time, though, as wireless companies build up their 5G networks and nudge customers towards wider 5G availability.
How much faster is 5G over 4G?
Speeds for 5G are potentially more than 10 times faster than 4G, although the actual speeds vary quite widely depending on the type of 5G network you're on. The lowest 5G speeds aren't much faster than 4G, clocking in around 40 Mbps. The fastest 5G—available in a select number of densely contained urban areas—tops out at just over 1,000 Mbps.
Which brands offer 5G internet service?
Verizon and Starry Internet both offer 5G home internet in select metro areas. T-Mobile (which recently merged with Sprint) is in the process of building a 5G home internet service and also offers 4G LTE home internet to a small number of markets. AT&T has not announced any plans to launch a 5G home internet service.
Why is 5G faster than 4G?
The fastest type of 5G operates on radio frequencies that previously weren't used by 4G, so it has a much greater capacity for carrying and transmitting data. 5G also uses technology like MU-MIMO and beamforming to reduce network congestion and direct radio signals directly to your device.
The current 4G technology relies on lower-frequency bands of up to 6 GHz (6,000 MHz), while millimeter-wave 5G ventures into much higher frequencies in the range of 25–39 GHz. Lots of different devices compete for bandwidth on 4G networks. But that's not the case with 5G, so there's a lot more room to deliver fast speeds and low latency—even when dozens of other devices are on the same 5G network.
Low- and mid-band versions of 5G use some of these same frequencies, but they still get faster speeds than 4G due to better technology and newer 5G infrastructure.
What 5G phones are available now?
There are many 5G phones available—and there likely will be many, many more in the months to come. Most 5G phones are flagship models that cost upwards of $1,000, but there are also more budget options coming out that cost $500 or less.
Here are our five favorite 5G phones.
Best 5G phones:
Is 5G worth the upgrade? Survey reveals 3 out of 5 think so
5G has been getting a ton of attention over the past year. Major cellular companies have been busy setting up new, wireless 5G networks across the country, giving cell phone users (and even some home internet customers) more access to much faster data speeds.
The fifth generation of wireless technology is still fairly new, with limited coverage and a relatively limited number of 5G phones available on the market. But the results of a new survey we conducted suggest that Americans are excited about a 5G future.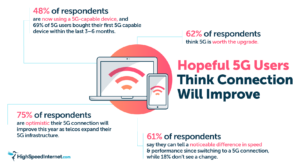 Americans have big expectations for 5G networks
We sent a survey with questions about 5G to 1,000 people between the ages of 16 to 54. The results came back mostly in favor of the new 5G technology. 5G will majorly boost speeds on cell phones, but it's also creating new options for home internet and can help with inventions like robots and automated cars.
Here are our biggest takeaways from the survey:
62% of the respondents reported that upgrading to 5G is worth it.
61% of the respondents noticed a difference in speed and performance since they upgraded to 5G. But not everybody noticed faster speeds—18% said they didn't notice any difference in speeds, while another 19% weren't sure if they saw any changes in speed.
70% said they had purchased a 5G-capable device some time in the last three to six months.
Most 4G networks (the predominant way to get cellular service nowadays) can give your phone an average of just under 30 Mbps speeds.2 By comparison, 5G gets much better performance, ranging from 47 Mbps to a stellar 500 Mbps in some places.3, 4
That might not be 10,000 Mbps—the top speed that 5G will theoretically be able to reach at some point. But 500 Mbps is still an incredibly fast internet speed, especially for a cell phone.
Pro tip:
Want to know if you're getting the fastest 5G speeds? Use our speed test tool to find out.
3 out of 4 surveyed expect better 5G in the future
Our survey suggests that many internet users have high hopes for 5G networks as they continue to expand nationwide. Nearly half of the survey's participants (48%) said they now use a 5G device, while 75% reported that they expect to see 5G connectivity improve within their area this year.
The data analysts at HighSpeedInternet.com surveyed 1,000 people on questions related to 5G and their internet connections. Participants were located in all 50 states with ages ranging from 16–54+. The survey was distributed online via Pollfish.
Best 5G internet providers
*Sales taxes & regulatory fees included in monthly price for qualified accounts. Not available in all areas.
**w/ Auto Pay and select 5G mobile plans. Available in select areas.
†*w/ Auto Pay. Internet provider not available in all areas; customers ineligible for 5G Home Internet may be eligible for 4G LTE or other fixed wireless options. Regulatory fees included in monthly price for qualified accounts. See full terms.
#Available in select areas only. Price per month with Auto Pay & without select 5G mobile plans. Fios plan prices include taxes & fees.
Best 5G wireless plans
*Sales taxes & regulatory fees included in monthly price for qualified accounts. Not available in all areas.
†With Auto Pay and paper-free billing.
Product prices and availability are accurate as of the date/time indicated and are subject to change. Any price and availability information displayed on Amazon.com at the time of purchase will apply to the purchase of this product. HighSpeedInternet.com utilizes paid Amazon links.
CERTAIN CONTENT THAT APPEARS ON THIS SITE COMES FROM AMAZON. THIS CONTENT IS PROVIDED 'AS IS' AND IS SUBJECT TO CHANGE OR REMOVAL AT ANY TIME.