Nonstop Horror: Get Paid $1,000 to Watch 24 Hours of Horror Movies This Halloween
Oct 29, 2020 | Share

Industry Exclusive/Entertainment
Congratulations (and good luck) to Tom Croom!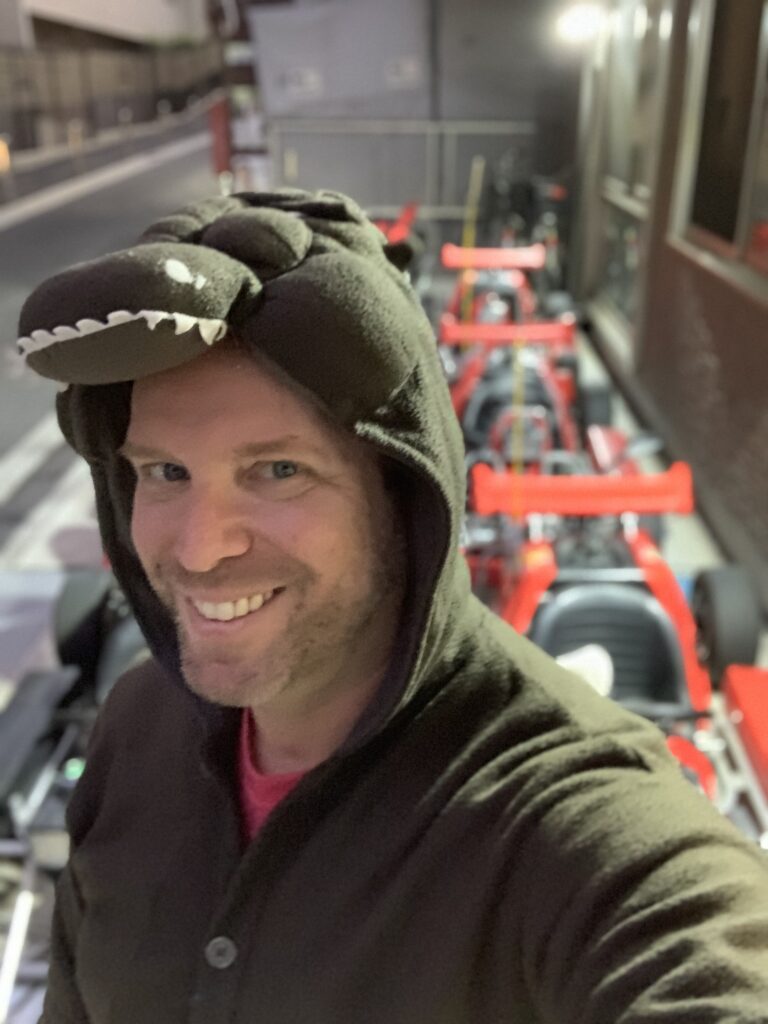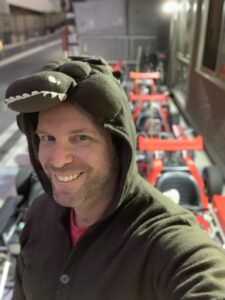 We're paying Tom $1,000 this Halloween to watch a 24-hour horror movie marathon. Though he's a huge horror fan, Tom admits he hasn't seen many horror movies since the late nineties because his wife is a scaredy cat. Let's hope he can keep his wits about him while he catches up on the past two decades of slasher films and found-footage flicks. 
Keep up with Tom's 24-hour horror movie marathon on Twitter @TomCroom and check out his bio below.
Tom Croom is a self-proclaimed "Gen-X geek" whose passion for pop culture thrust him into a career of professionally running anime/comic/video game events for a living. When he's not on stage or running around a convention center, Tom enjoys watching films no one has heard of, playing a variety of video games, visiting food locations featured on popular TV shows, and writing endlessly about all of it on his blog: TomCroom.com.
Original post:
Halloween is fast approaching, and while some folks are figuring out how to save trick-or-treating with socially distant candy slides, many are opting out of the usual festivities in favor of staying in. So, why not get paid for it?
The dream teams at CableTV.com and HighSpeedInternet.com are partnering up to pay one lucky horror flick aficionado $1,000 to watch a nonstop, 24-hour movie marathon on a streaming service of their choice.
If a night of #nosleep, coffee, and gallons of fake blood sounds like more of a dream than a nightmare, this job is right up your (dark, abandoned) alley.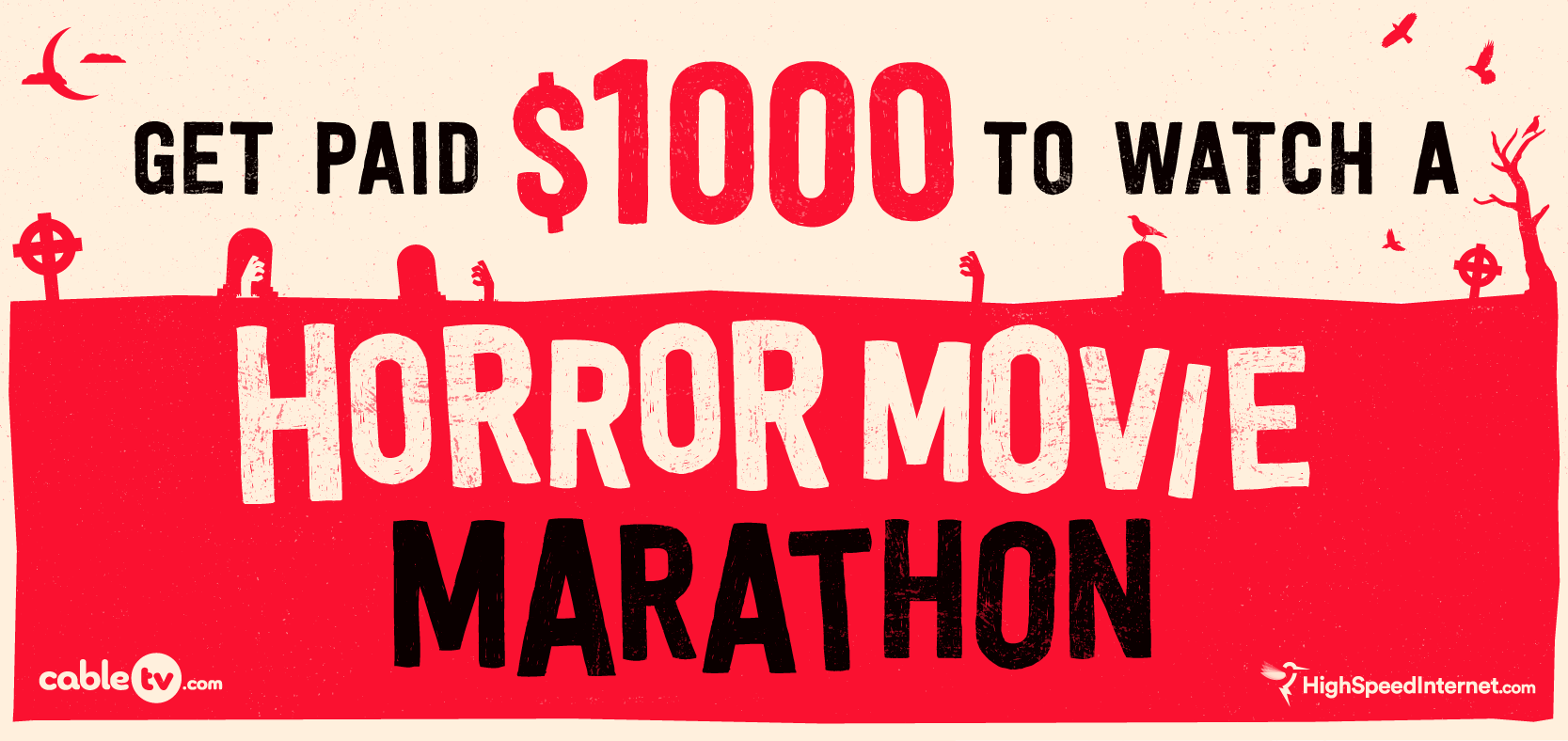 You'll watch 24 hours of nonstop horror movies this Halloween on a streaming service of your choice. No restrictions on choice—you can rewatch classics like

Night of the Living Dead

or ridiculous horror comedies like

Tammy and the T-Rex

.

You'll tweet updates about your experiences hunkering down with horror films for 24 hours and tell us which movie is the scariest.

We'll supply you with a $50 Starbucks gift card to keep you awake on the job, and $1,000.
You're at least 18 years old, a US citizen, and eligible to work in the United States.

You're horror obsessed—and you can convince us of your devotion to everything dark and scary in a short bio.
Applications for this job have closed.
The promoter of the

We'll Pay You to Watch Nonstop Horror Movies on Halloween Dream Job

("Dream Job") is Clear Link Technologies, LLC, DBA CableTV.com and HighSpeedInternet.com ("Promoter") whose principal office is located at 5202 W. Douglas Corrigan Way, Salt Lake City, Utah 84116.

Employees of Promoter, or their family members, or anyone else connected in any way with the Dream Job or helping to set up the Dream Job shall not be permitted to enter.

Applicants must be at least 18 years old, or otherwise have reached the age of majority under the laws of the state where you reside, in order to apply for the Dream Job.

Applicants must be legally authorized to work in the United States.

DREAM JOB VOID WHERE PROHIBITED.

There is NO ENTRY FEE AND NO PURCHASE NECESSARY TO APPLY FOR THIS DREAM JOB. Any purchase or consideration otherwise given by applicants will not improve one's chances of being selected for the Dream Job.

LIMITATION OF LIABILITY: By entering this Dream Job, applicants waive all right to, and hold the Promoter harmless from, any claim, liability, loss, injury, damage (including punitive, incidental, and consequential damages), or expense (including attorneys' fees) arising out of or in connection with participation in this Dream Job or the acceptance, use, or misuse of any prize. SOME JURISDICTIONS DO NOT ALLOW THE LIMITATIONS OR EXCLUSION OF LIABILITY FOR INCIDENTAL OR CONSEQUENTIAL DAMAGES, SO THE ABOVE MAY NOT APPLY TO YOU. Promoter will not be responsible for: late, incomplete, or incorrect applications; an applicant's failure to receive prize notices due to applicant's spam, junk e-mail, or other security settings or for applicants' provision of incorrect or otherwise non-functioning contact information; technical, hardware, or software malfunctions, lost or unavailable network connections, or failed, incorrect, inaccurate, incomplete, garbled, or delayed electronic communications whether caused by the sender or by any of the equipment or programming associated with or used in this Dream Job; by any human error which may occur in the processing of the applications in this Dream Job; or any typographical, technological, or other error in the publishing of the offer, administration of the Dream Job, or announcement of the Recipient of the Dream Job ("Recipient"). 

Route to entry for the Dream Job and details on how to enter are available at

www.CableTV.com

or HighSpeedInternet.com. Individuals may apply by filling out the application form on CableTV.com's website or HighSpeedInternet.com's website.

Closing date for entry will be October 19th at 11:59 PM. After this date, no further applications to the Dream Job will be permitted.

Promoter shall select one (1) Recipient from the entire pool of eligible applicants. Recipient will be selected based on the quality of the application as judged by Promoter's employees.

The Recipient will be notified by email within 7 days of the closing date. If the Recipient cannot be contacted, is not eligible, or does not claim the opportunity to participate in the Dream Job within 7 days of notification, Promoter reserves the right to withdraw the offer from the Recipient and pick a replacement Recipient.

INDEPENDENT CONTRACTOR ACKNOWLEDGMENT: Recipient acknowledges that participation in the Dream Job will be as an independent contractor. No agency, partnership, joint venture, or employee-employer relationship is intended or created by acceptance of the  Dream Job. Recipient has no authority to bind Promoter to contracts, make any agreement or representations on Promoter's behalf without Promoter's written consent. Recipient shall not be eligible to participate in any vacation, group medical or life insurance, disability, profit sharing, or retirement benefits, or any other fringe benefits or benefit plans offered by Promoter to its employees. Promoter is not responsible for withholding or paying any income, payroll, Social Security, or other federal, state, or local taxes, making any insurance contributions, including unemployment or disability, or obtaining worker's compensation insurance on Recipient's behalf. Recipient acknowledges that stipend is subject to all applicable taxes. Recipient is solely responsible for all such taxes or contributions, including penalties and interest.

Dream Job consists of watching 24 hours of horror movies of the Recipient's choice. Promoter will notify the Recipient(s) how to complete the Dream Job requirements.

Promoter is committed to providing equal opportunities to participate in the Dream Job to qualified individuals with disabilities. Consistent with this commitment, if Recipient believes she/he/they need an accommodation to complete the requirements of the Dream Job because of a disability, Promoter will provide a reasonable accommodation that would allow the Recipient to complete the requirements of the Dream Job, unless doing so would create an undue hardship. 

Prior to the start of the Dream Job, the Recipient will receive a welcome package ("Welcome Package")  either mailed or hand-delivered to the Recipient. Welcome package includes: one (1) $50 Starbucks gift card, and bags of candy. The value of the movie-watching kit is approximately $80.00 USD.

This Dream Job is conducted by Promoter and is in no way sponsored, endorsed, administered by, or associated with Starbucks Corporation, or any  of the properties listed above or their affiliates.

Upon completion of the Dream Job, Recipient will receive a stipend  of $1000.00 USD. Promoter shall distribute stipend to Recipient distributed no earlier than 30 days following the completion of the Dream Job requirements.

No cash alternative to the Dream Job or Welcome Package will be offered. Opportunity to participate in the Dream Job is not transferable. Promoter reserves the right to substitute the Welcome Package items withr items of equivalent value without giving notice.

The Recipient agrees to the use of his/her/their name and image in any publicity material. Any personal data relating to the Recipient or any other applicants will be used solely in accordance with current federal and state data protection legislation. For more information see the Privacy Policy at

CableTV.com

or

HighSpeedInternet.com

.

Where legally required, the Recipient's name will be available upon request 28 days after the closing date. To request the Recipient's name, please send the request in a stamped addressed envelope to the following address:
CableTV.com
5202 W. Douglas Corrigan Way
Salt Lake City, Utah 84116
21. Promoter reserves the right to cancel or amend this Dream Job and these Terms and Conditions without notice.
22. Promoter's decision in respect of all matters to do with the Dream Job will be final and no correspondence will be entered into.
23. The Dream Job and these Terms and Conditions will be governed by Utah law and any disputes will be subject to the exclusive jurisdiction of the courts of Utah.
24. By submitting an application for this Dream Job, applicants agree to be bound by these Terms and Conditions.
Author - Rebecca Lee Armstrong
Rebecca is a natural techie and the friend you turn to when your Wi-Fi randomly stops working. Since graduating from the University of Evansville with a degree in creative writing, Rebecca has leveraged her tech savvy to write hundreds of data-driven tech product and service reviews. In addition to HighSpeedInternet.com, her work has been featured on Top Ten Reviews, MacSources, Windows Central, Android Central, Best Company, TechnoFAQ and iMore.
Editor - Cara Haynes
Cara Haynes has edited for HighSpeedInternet.com for three years, working with smart writers to revise everything from internet reviews to reports on your state's favorite Netflix show. She believes no one should feel lost in internet land and that a good internet connection significantly extends your life span (buffering kills). With a degree in English and editing and five years working with online content, it's safe to say she likes words on the internet. She is most likely to be seen wearing Birkenstocks and hanging out with a bouncy goldendoodle named Dobby, who is a literal fur angel sent to Earth.