7 Signs You Need to Upgrade Your Internet
May 5, 2023 | Share

Internet Speed Guides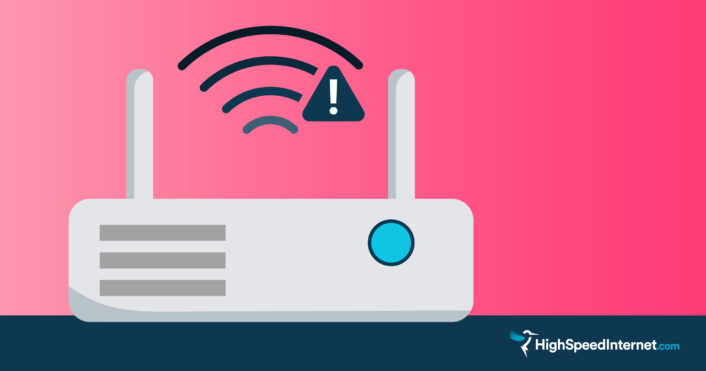 The best internet connection is one you never have to worry about. Not everyone enjoys such a luxury—but even if your internet is slow or cuts out intermittently, sometimes the solution is as simple as moving your router to a more central location in your house. In other cases, you may be better off upgrading to a better internet service or switching providers.
We've come up with a tool to help you find your way around any Wi-Fi woes. Simply type in your zip code below to see all the internet options available where you live. From there you can pick out what's best for you.
We have other suggestions too, so read on below for a guide to the most common Wi-Fi problems and most affordable upgrades.
1. Your speed slows when more people use your Wi-Fi
Everyone's spending a lot more time at home these days thanks to COVID-19, and that can put a lot more strain on a home Wi-Fi network. Even under normal circumstances, streaming and online gaming take up the lion's share of an internet user's bandwidth. And nowadays it's likely you're doing a lot more of that.
There's also Zoom meetings, online classes, and bandwidth you have to share with others in your household. All of this can lead to an overtaxed home Wi-Fi network, leading to longer loading times, more buffering in video streams, and lagging response time with online games.
How do you fix it?
Upgrade to a faster Wi-Fi speed. Use our How Much Internet Speed Do I Need? tool to get an idea of how much bandwidth will work best depending on your internet habits and how many people you live with. Run a search with our zip code tool above to see what types of internet speeds you can find where you live.
2. Your connection drops out in some parts of the house
A Wi-Fi signal can carry only so far, and depending on the size and layout of your home, there can sometimes be places where it drops out entirely. It could be a random corner alcove, your back porch, or that one area in your home office where your desk happens to be.
How do you fix it?
Get a long-range router or mesh wireless system. Both of these types of routers will provide you with a flexible and far-reaching Wi-Fi signal. We think the Google Nest Wi-Fi works best because it lets you set up as many as five Wi-Fi access points in your home, ensuring you'll be able to cover every nook and cranny.
For a more low-budget fix, you can try moving your router to a more centralized position in your house, away from walls, furniture, and other obstructions.
Best long-range and mesh routers
| Router | | Price | Max range | Wi-Fi standard | Get it |
| --- | --- | --- | --- | --- | --- |
| ASUS RT-AC88U | | $179.97 | 5,000 sq. ft. | Wi-Fi 5 (AC3100) | View on Amazon |
| Google Nest Wi-Fi | | $69.99 | 2,200 sq. ft. | Wi-Fi 5 (AC2200) | View on Amazon |
| NETGEAR Orbi RBK50 | | $137.63 | 5,000 sq. ft. (more with additional Wi-Fi points) | Wi-Fi 5 (AC3000) | View on Amazon |
| TP-Link Archer AX10 | | $59.99 | Unknown | Wi-Fi 6 (AX1500) | View on Amazon |
3. You get a bad connection on video chat
Apps like Zoom, Skype, and FaceTime rely heavily on your internet's upload speed to ensure a solid connection, but most internet plans give you much slower upload speeds compared to download speeds.
On cable and DSL plans, your upload speed could be a tenth of your download speed—leading to potential delays and buffering when you're on a video call. If your speed is particularly slow, you may have to close out other applications just for you to make the call work.
Pro tip:
Take a speed test to see how fast your internet is going. You can see how much bandwidth you're getting and how it's impacted by certain apps or more Wi-Fi users.
How do you fix it?
Get fiber internet. Fiber internet runs over ultra high-speed light signals from fiber-optic cabling, making it possible to deliver much faster upload speeds compared to other connection types. Most fiber providers will give you "symmetrical" speeds, meaning your uploads will be just as fast as your downloads.
Check if fiber is available in your area with our zip check tool. If it's not, you can still call your internet provider to order a faster internet plan, which should give your upload speeds a boost.
4. You get frequent charges for using too much data
There's a good chance that your monthly internet plan comes with a data cap, which puts a limit on how much internet you can consume.
These caps are fairly typical, but some internet providers are more generous than others. For all the providers that offer unlimited data or generous 1 TB or 1.25 TB blocks every month, there are also satellite internet and low-cost cable internet plans with strict data limits.
How do you fix it?
Get an unlimited data plan. If you're racking up fees by using too much data, consider springing for a plan that won't cut you off just because you spent the weekend binge-watching The Office again.
Many fiber internet plans don't put caps on data usage, and cable providers often offer unlimited data for an added fee on top of your regular bill. Take a look at our data caps guide to see which internet providers have unlimited data.
5. You just got fiber internet on your block
Fiber internet is the fastest, most reliable internet connection you can get. The catch? Fiber is also the least common internet type you'll come across—available to just 41% of the US population, according to the Federal Communications Commission. But if it's available, fiber is the way to go for intensive internet use and large households.
How do you fix it?
Treat yo' self to a fiber plan. Not having fiber isn't exactly an existential dilemma, since you can still get excellent performance out of cable or even some DSL connections. But keep an eye out if a construction crew shows up on your block to lay down fiber-optic cabling.
You can see if fiber is currently available in your area by running a search with our zip code tool above.
6. You constantly get slow speeds on satellite internet
Satellite internet connects from a satellite orbiting the Earth, so it's available practically anywhere. But if you don't live in a remote area, then you really won't want satellite internet. It's usually much slower than other internet types and gives you a lot less data to work with every month.
How do you fix it?
Switch to a new provider. Fiber, cable, and DSL internet all give you much faster and more dependable service. And you'll probably pay a lot less for your monthly plan too. Use our zip check tool below to see if there's a non-satellite provider in your area.
7. You're paying more than $100 a month for less-than-gigabit speeds
It's no secret that internet bills often come packed with extra fees and price hikes. But it's easy to find cheap internet plans and abundant deals on Wi-Fi if you do a bit of digging. So unless you're getting the fastest speeds possible (which in most cases is 1,000 Mbps), it's simply outrageous to pay anything more than $100 per month.
How do you fix it?
Find a better deal on Wi-Fi. Use our zip check tool to see which providers have service in your area and what their prices are. And pay attention to the fine-print—a plan that gives you unlimited data or a no-contract option (or both) can save you big bucks in the long run.
Having sub-par internet can be extremely frustrating, but it often doesn't take much to find some improvements. If you're curious about what other Wi-Fi options you may have, use our zip check tool below to see what internet providers offer service where you live and what kinds of speeds and prices you can get.
Disclaimer
Product prices and availability are accurate as of the date/time indicated and are subject to change. Any price and availability information displayed on Amazon.com at the time of purchase will apply to the purchase of this product. HighSpeedInternet.com utilizes paid Amazon links.
CERTAIN CONTENT THAT APPEARS ON THIS SITE COMES FROM AMAZON. THIS CONTENT IS PROVIDED 'AS IS' AND IS SUBJECT TO CHANGE OR REMOVAL AT ANY TIME.
Author - Peter Holslin
Peter Holslin has more than a decade of experience working as a writer and freelance journalist. He graduated with a BA in liberal arts and journalism from New York City's The New School University in 2008 and went on to contribute to publications like Rolling Stone, VICE, BuzzFeed, and countless others. At HighSpeedInternet.com, he focuses on covering 5G, nerding out about frequency bands and virtual RAN, and producing reviews on emerging services like 5G home internet. He also writes about internet providers and packages, hotspots, VPNs, and Wi-Fi troubleshooting.