Why This New Internet Service Totally Beats Cable
Cord cutters will love it
May 30, 2023 | Share

Brand Guides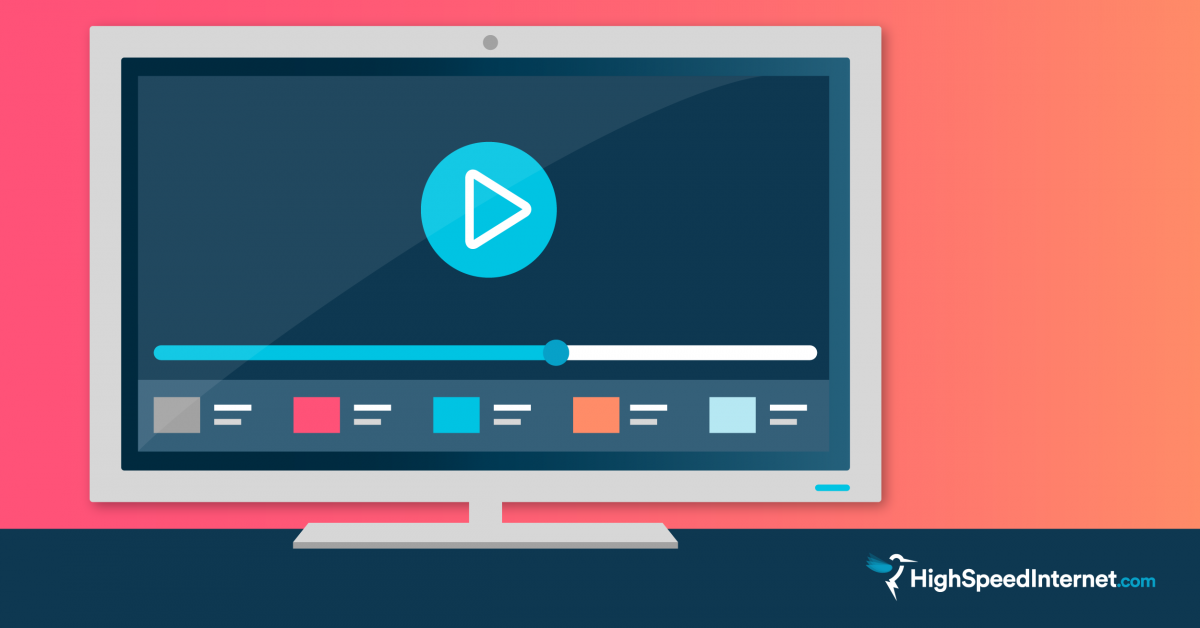 You've heard of 5G for your cell phone, but did you know Verizon and T-Mobile are also building up home internet services using 5G? 5G home internet works by giving you a Wi-Fi signal over a router that picks up fixed-wireless radio frequencies from the nearest 5G transmitter on the street. It's fast and easy to set up, giving you a more robust, high-capacity version of the kind of internet you would get on a cell phone.
This new 5G home internet service is a big deal for internet customers, especially folks living in areas where you could previously get high-speed Wi-Fi only from cable providers. Although 5G internet is available in only a handful of cities right now, it could soon be just as ubiquitous and viable an option as cable—and it could be even faster and more affordable too.
At HighSpeedInternet.com, we've been following developments around 5G closely—especially the rise of 5G home internet. Here are three big reasons why it could give cable internet a run for its money.
Reason one: It's cheaper than cable
Verizon 5G Home Internet costs a flat fee of $50 per month if you have a qualifying Verizon Wireless phone plan and $70 a month for nonsubscribers. In exchange, you get typical download speeds of 300 Mbps and max speeds of up to 1 Gbps. The cost of the router is included in the bill, there are no data caps, and you can quit any time without having to pay early termination fees (ETFs).
Most 5G internet providers have adopted this simple pricing model, in which you pay a relatively low, flat fee for everything that's included in your service every month. It's partly a way to attract customers. But it's also a way to compete with cable providers, who are well-known for stuffing bills with seasonal price hikes, data overage charges, equipment rental costs, and yearlong contractual requirements.
5G internet will be cheaper for many customers in the long run—and a lot simpler to deal with too.
Pro tip:
You can also get 5G internet over a 5G phone or mobile hotspot if you can't find residential 5G internet in your area. However, it will cost more money than 5G home internet, since cellular data plans are more expensive and give you limited speed and data options.
Reason two: It's just as fast (if not faster) than cable
5G internet goes toe-to-toe with cable internet when it comes to speed. In fact, you may even get faster speeds from 5G for the same price you'd pay for the slowest cable plans.
Starry Internet, an expanding 5G internet network, gives customers speeds up to 1,000 Mbps for $80 per month. Verizon's 5G service hits speed ranges of 300 Mbps to 1,000 Mbps.
Compare those speeds to what you get from cable internet plans, which usually charge between $25 and $50 a month for 25 Mbps. And don't forget to add in extra costs, like a rental for a router and taxes. To hit gigabit speeds (1,000 Mbps) on cable, you often have to pay upwards of $100 per month.
Pro tip:
Is 5G the same thing as 4G? They're both a form of wireless networking, but 5G is generally much faster. Read our 4G vs. 5G guide to see the difference.
Reason three: It could be everywhere soon
With cable internet, you know what you're going to get. It's a tried-and-true service that's been around for years. That's just not the case with 5G home internet because it's still so new.
But 5G is expanding rapidly: government regulators have given cellular companies the green light to start using higher-frequency radio airwaves for more commercial purposes, and cellular companies are literally racing each other to build up 5G networks in towns and cities across America.
So, while 5G home internet is not widely available yet, you'll be hearing about it a lot more over the next year or two. And once millions of Americans can get it, older cable internet providers will have to compete. In the end, it will be you—the customer—who wins because there will be higher competition and better options all around.
Find your best internet option
If you're in need of internet or want to change providers, type your zip code into our tool below to get all the internet options available in your area.
Author - Peter Holslin
Peter Holslin has more than a decade of experience working as a writer and freelance journalist. He graduated with a BA in liberal arts and journalism from New York City's The New School University in 2008 and went on to contribute to publications like Rolling Stone, VICE, BuzzFeed, and countless others. At HighSpeedInternet.com, he focuses on covering 5G, nerding out about frequency bands and virtual RAN, and producing reviews on emerging services like 5G home internet. He also writes about internet providers and packages, hotspots, VPNs, and Wi-Fi troubleshooting.
Editor - Cara Haynes
Cara Haynes has been editing and writing in the digital space for seven years, and she's edited all things internet for HighSpeedInternet.com for five years. She graduated with a BA in English and a minor in editing from Brigham Young University. When she's not editing, she makes tech accessible through her freelance writing for brands like Pluralsight. She believes no one should feel lost in internet land and that a good internet connection significantly extends your life span.