AT&T vs. Spectrum
Aug 30, 2018 | Share

Provider Comparisons (Versus)
The Bottom Line
AT&T is perfect for speed demons who don't want to pay too much. Packages like Internet 1000 give you all the bandwidth you could want at an affordable price. Unfortunately, the fastest fiber plans are still limited to select metropolitan markets.
Spectrum offers a faster average speed over its coverage area, thanks to extensive cable infrastructure. It also has wider availability, so it makes a great choice for customers in more rural areas that fall outside AT&T's fiber coverage zones.
Both providers offer solid customer experiences and reasonable pricing, so it's hard to go wrong with these two.
Comparing AT&T & Spectrum
Data current as of 7/31/18. Pricing and speeds are subject to change. Not all offers available in all areas.
Let's jump right into the meat and potatoes: what packages do these providers offer, and how much is service going to cost you?
| | Package | Intro. Price | Speed | Internet Type |
| --- | --- | --- | --- | --- |
| | Internet Basic 5 | $40.00/mo.* | 5 Mbps | DSL |
| | Internet 10/25/50/75/100 | $50.00/mo.* | 10—100 Mbps (varies by location) | DSL |
| | Internet 100 | $50.00/mo.* | 100 Mbps | Fiber |
| | Internet 300 | $70.00/mo.* | 300 Mbps | Fiber |
| | Internet 1000 | $90.00/mo.* | 1000 Mbps | Fiber |
Package
Internet Basic 5
Intro. Price
$40.00/mo.*
Speed
5 Mbps
Internet Type
DSL
Package
Internet 10/25/50/75/100
Intro. Price
$50.00/mo.*
Speed
10—100 Mbps (varies by location)
Internet Type
DSL
Package
Internet 100
Intro. Price
$50.00/mo.*
Speed
100 Mbps
Internet Type
Fiber
Package
Internet 300
Intro. Price
$70.00/mo.*
Speed
300 Mbps
Internet Type
Fiber
Package
Internet 1000
Intro. Price
$90.00/mo.*
Speed
1000 Mbps
Internet Type
Fiber
*Prices valid for the first 12 months with a 1-year agreement.
AT&T offers packages for any need, from the bare-bones Internet Basic 5 to the blazing-fast Internet 1000. The only confusing thing is the Internet 10–100 range. Although these plans all share the same price, which speed you'll have access to depends on where you live.
Obviously, if you live in an area where Internet 75 is available, you'll get more for your money than someone who can get only Internet 10. Overall, though, the prices are reasonable here. We do think it's worth jumping up from the Internet Basic 5 and Internet 10 packages to at least Internet 25 to maximize your value.
There are also bundles available with TV and phone service. AT&T bundles with DIRECTV satellite TV. DIRECTV is excellent, especially for sports fans. We like the DIRECTV ULTIMATE + Internet & Phone Unlimited bundle, which gets you 250+ channels along with internet and phone service. It's a lot of bang for your buck at $119.99 per month.
| | Introductory Price | Download Speed | Type of Service |
| --- | --- | --- | --- |
| | $49.99/mo.* | Up to 100 Mbps (varies by location) | Cable |
Introductory Price
$49.99/mo.*
Download Speed
Up to 100 Mbps (varies by location)
Type of Service
Cable
*Prices valid for the first 12 months.
Spectrum keeps it simple with its internet packages. There is only one internet-only plan, with available speeds depending on where you're located. Spectrum advertises only a single stand-alone internet package with speeds starting at 100 Mbps, although faster speeds may be available in some areas.
This is both good and bad. It makes choosing a plan easy. (Just look at all the AT&T plans above!) But if you don't need the fastest speed, you could be paying for service you're not using.
As for Spectrum bundles, we like the Silver Triple Play. It offers 175+ channels with internet and phone service for $109.97 per month.
Speed
When it comes to speed, AT&T seems to have a clear advantage. And, in select areas, it does. Those fast 300 Mbps and 1 Gig plans aren't widely available, though. So, depending on the area, you may end up with faster speeds by going with Spectrum.
Internet Type
AT&T Internet comes in two flavors, depending on the plan you choose: DSL or fiber. Fiber tends to be both faster and more reliable than other types of connections, including DSL. But the catch is that it's not always available.
Spectrum is a cable provider. Cable falls somewhere in between DSL and fiber in terms of speed and reliability. Again, though, which of these providers is faster depends more on where you're located than anything else, since infrastructure varies so much from place to place.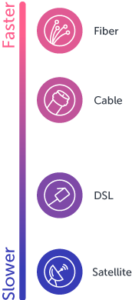 ISPs (Internet Service Providers) provide modems and routers to customers, so you can use your service right away without having to go out and buy anything else. However, if you already have equipment or have a specific need that the included gear doesn't meet, you can grab your own. Which option is right for you?
Advantages to Using AT&T and Spectrum Equipment
Equipment Price
Both AT&T and Spectrum include your internet equipment in the package price. This is the way to do it, in our opinion. It keeps your bill a little cleaner, and really just makes more sense since you can't use the service without it.
Better Tech Support
Modems and routers are pretty reliable devices, but if you do encounter an issue and need to reach out to tech support, you'll probably have an easier time with the ISP-provided gear. Technicians are more familiar with it and have better documentation on it as well.
5 Reasons to Use Third-Party Equipment
On the other hand, some users find the ISP-provided gear doesn't quite meet their needs. Some reasons include the following:
You live in an unusually large house and need extended range.
You live in an average-sized house but still can't get a decent signal strength.
You have a lot of devices on the network at once.
You have devices that aren't compatible with the provided equipment.
You need a feature offered only by a third party, like a gaming mode.
Upgrading Your Equipment
If you do want to upgrade, you've got a ton of options. Here are a couple that we like:
If you want something more powerful—say, for heavy-duty gaming—we recommend going all in with the NETGEAR Nighthawk X10. The NETGEAR is a little pricey for a router, but if you need speed, it doesn't get much better than this. This router will work with either AT&T or Spectrum.
If you prefer a modem/router combo, Spectrum users can grab the Motorola MG7540. This combo offers up to 1.6 Gbps speeds and receives excellent reviews from users. But if that's not the one for you, Spectrum provides a list of approved devices you can use with its network.
These days, the customer service and support a company provides is just as important as the product. Customers want to be treated like they matter—otherwise, they'll take their business elsewhere. How do AT&T and Spectrum measure up?
AT&T and Spectrum both charge an installation fee, but AT&T's whopping $99.00 fee can be harder to stomach than the $49.95 charged by Spectrum. There's not much you can do about this, short of asking for the fee to be waived, and we'd definitely recommend you do that. You can also get the fee waived with either brand if you opt for the Triple Play bundle.
As for the installation itself, the process should be fairly simple regardless of which provider you go with. We haven't heard any major complaints about either AT&T or Spectrum.
AT&T ranked second in our annual customer satisfaction survey, with a strong reputation for customer service. The provider scores well in every category, and subscribers are generally very happy with all its services. The support website is clean and easy to use, and we had no trouble finding answers to common questions.
Spectrum scores a bit lower, around the middle of the pack, but it still provides a good overall experience. Since Spectrum is the result of a merger of three older services, it still has to provide support for those existing customers. The support site reflects that, with different options and navigation for Charter, Time Warner Cable, and Bright House customers. We get the reasoning, but it does feel a little difficult to navigate at times.
Both AT&T and Spectrum offer some extra goodies in addition to internet service. Let's take a look at what you can expect from each.
Apps
These days, we'd be surprised if a service didn't offer an app. Both AT&T and Spectrum have apps to manage your service and accounts.
Advantages and Disadvantages of AT&T and Spectrum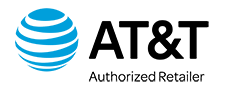 Fast speeds
Good customer service reputation
Wide coverage area
Great DIRECTV bundle options
Affordable fiber plans
Required contract
Limited fiber availability
Speeds that vary by location
Don't forget to bundle with TV service!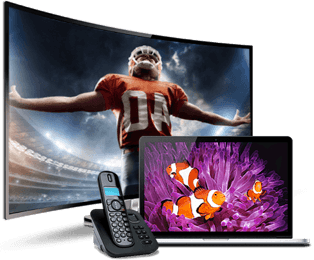 Both AT&T and Spectrum offer TV and phone service, and there are plenty of bundle options available. This is a great way to save money and streamline billing. Check out your bundling options below:
Frequently Asked Questions
What's better—cable or fiber?
In theory, fiber is "better." The technology can carry more information at faster speeds over longer distances than cable. However, things aren't always that cut and dried. In practice, the fastest networks tend to be fiber, but some providers do offer cable networks that can match fiber's speed.
Why is fiber availability so limited?
The short answer is cost. While some fiber infrastructure exists in most areas, extending it to each individual home gets expensive fast. For many ISPs, it just isn't worth the expense—at least not yet. Providers are adding service areas all the time, but the pace is slow. If you're anxiously waiting for fiber to come to your area, hang in there!
What is gigabit internet?
Gigabit internet, sometimes called "1 Gig" by providers, is internet with speeds of 1 Gbps, or 1,000 Mbps (like AT&T's Internet 1000). These plans are fast. They are most often fiber plans, thanks to fiber's greater capacity, though some cable providers like Xfinity have cranked up the speed and now offer their own gigabit plans. If you have 1 Gig service in your area, it's definitely worth a look—these speeds have to be experienced to be believed.
The Verdict
In the end, it's hard to go wrong with either of these providers. If you live in an area with access to AT&T's faster options, like Internet 300 and Internet 1000, we'd probably go that route—speeds like that can really change how you use the internet.
Otherwise, Spectrum makes a great, reliable choice with affordable packages and wide availability.
Author - Dave Schafer
Dave has written professionally for tech companies and consumer technology sites for nearly five years, with a special focus on TV and internet. He uses his industry expertise to help readers at HighSpeedInternet.com get the most out of their services. No matter the project, he prefers his coffee black (the stronger, the better).