AT&T Internet
AT&T offers gigabit internet, which means it has download speeds reaching 1,000 Mbps. That speed is fantastic, but it's available only in select fiber areas. In non-fiber areas, AT&T internet packages come with download speeds varying from 5 Mbps to 100 Mbps.
Don't worry if your speed test results are slower than the top advertised speed. Internet speeds vary a lot by location, even if you're paying for top speeds. Just because you don't have the top advertised speed offered in your area doesn't mean there's something wrong with your connection.
Top advertised download speed:
Up to
1000 Mbps
---
AT&T Avg. Internet Speed Test Results:
Average download speed: 72.4 Mbps
Average latency: 52.45 ms
Total speed tests: 744,028
Fastest Cities for AT&T Internet Service
| City | Top advertised download speed | Average download speed* |
| --- | --- | --- |
| 1. Alliance, OH | 1000 Mbps | 394 Mbps |
| 2. Celina, TX | 1000 Mbps | 189 Mbps |
| 3. Temple, TX | 1000 Mbps | 173 Mbps |
| 4. Arden, NC | 1000 Mbps | 172 Mbps |
| 5. Richardson, TX | 1000 Mbps | 159 Mbps |
AT&T Wireless (Mobile Broadband)
Just like its home internet service, the AT&T mobile broadband network is among the fastest available. At 12 Mbps, AT&T mobile customers get a lot of speed out of their 4G network. And with the AT&T 5G rollout, it will only get faster.
Interference from the weather, tall buildings, or even other wireless signals can cause your mobile broadband speed to fluctuate. If you're trying to compare your average speed to the speed you're expecting, test your speed multiple times to get a consistent result.
Top advertised download speed:
Up to
12 Mbps
---
AT&T Avg. Wireless Speed Test Results:
Average download speed: 28.05 Mbps
Average latency: 16.93 ms
Total speed tests: 256,381
Enter your zip to get speeds and providers available for your area.
Internet Speed Recommendations
The speed you need depends on what you like to do online and how many people use your connection. The more folks in your household, the more bandwidth you'll need.
These recommendations give you a quick reference on what to shoot for. For a more personalized speed recommendation, use our How Much Speed Do I Need? tool.
Recommended Minimum Download Speed
Browsing
1-3 People:
5 Mbps
4 - 6 People:
10 Mbps
Streaming Music
1-3 People:
5 Mbps
4 - 6 People:
25 Mbps
Online Gaming
1-3 People:
25 Mbps
4 - 6 People:
100 Mbps
Video Streaming
1-3 People:
SD Video: 10 Mbps
HD Video: 50 Mbps
4 - 6 People:
SD Video: 50 Mbps
HD Video: 100+ Mbps
About our AT&T Internet Speed Test
This AT&T speed test uses nearby servers to deliver the most accurate results possible. Some internet speed tests use servers that are farther away, which can make your latency seem higher than it actually is.
This speed test also includes all the insights you need as an AT&T customer to make meaningful comparisons with your speed test results.
How does the AT&T internet speed test work?
When you start the speed test, it will prompt your computer to download a dummy file. The speed test measures how long your computer takes to download the file through your AT&T internet connection. The size of the file divided by the download time gives you your megabits per second (Mbps). To test upload speed, it does the same thing but in reverse.
The dummy files used during speed tests are small and harmless. Occasionally, security software will flag a dummy file if it's an unrecognized file type. This will interfere with your test results. If your security software is interfering with your speed test, turn it off for the duration of the test. It'll be fine. Just remember to turn it back on after the test.
Your connection's latency is tested by sending a signal, called a ping, to the network server and back. The time required for the ping to make a round-trip is called latency. High latency, sometimes called lag, can interfere with online activities that require real-time reaction, like gaming.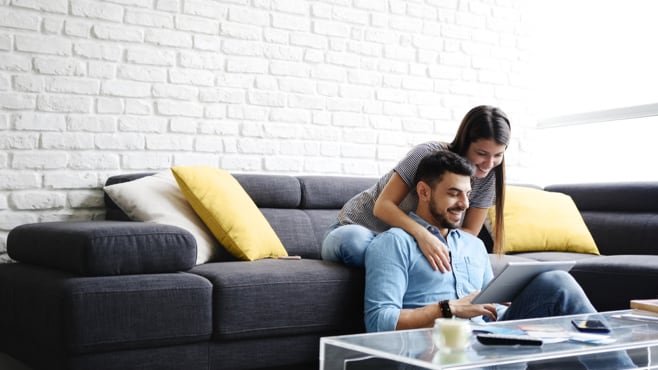 AT&T Internet Speed FAQ
AT&T Fiber vs. AT&T DSL: What's the difference?
AT&T delivers reliable internet service on both its fiber and DSL packages. While these two internet technologies work very differently, the biggest impact for the end user is speed. Fiber is much faster than DSL, and we recommend getting it if it's offered in your area. DSL still delivers enough speed for most internet users, but fiber is the superior technology.
What is a good internet download speed?
Generally, you want about 5–10 Mbps per internet user. Bigger households with more people need more bandwidth. However, the things you do on the internet also play a role. For instance, streaming HD video takes a lot more bandwidth than just browsing social media.
The average internet package offered in the US is about 50 Mbps. Most individual internet users won't need more than that, but whether that's a good speed for you or not depends on your personal and financial needs.
Use our How Much Speed Do I Need? tool to see what internet speed is right for you.
How many Mbps is 4G LTE?
The average download speed for the 4G LTE networks used by the major wireless providers vary from about 13 Mbps to about 18 Mbps according to our speed test data. That's plenty of speed for most mobile users, but if you try to use it as your home internet via a hotspot, it'll probably be too slow for your household.
Expect your mobile internet speeds to fluctuate a lot as you move around. The average download speeds for AT&T, Sprint, T-Mobile, and Verizon are pretty similar, but the actual speed test results will vary across providers. Signal strength depends a lot on where you're located, which is always changing with a cellphone connection.
How fast is AT&T LTE?
According to our AT&T wireless speed test data, the average AT&T 4G LTE download speed is about 13 Mbps. That's slightly above the 12 Mbps it advertises.
While this looks good, keep in mind that internet speeds fluctuate, especially mobile internet. The 13 Mbps average comes from nearly 13,000 speed tests that ranged from 0 Mbps to 241 Mbps. In short, your AT&T mobile broadband speed will vary widely as you go from place to place but should average out to about 13 Mbps.