Connect your device directly to your modem with an Ethernet cable and shut down all other programs aside from the test. Turn off your Wi-Fi. Run the speed test three or four times to get an accurate average.
How does this internet speed test work?
When you start the speed test, it automatically selects the best server to execute the test based on your location. Your test will use a nearby server to keep the results as accurate as possible.
The testing tool will download a file, then measure how long the download takes to complete. They measure upload speed the same way, except in reverse. Most speed tests also test ping rate because they're contacting the server anyway.
The 5 Fastest and Slowest States for Internet
Wondering where internet speeds are the fastest? Or maybe you want to avoid the states where loading websites is like watching paint dry? We can help.
We analyzed one million speed tests taken on HighSpeedInternet.com to find out which states have the fastest—and slowest—average internet speeds. Here's what we found.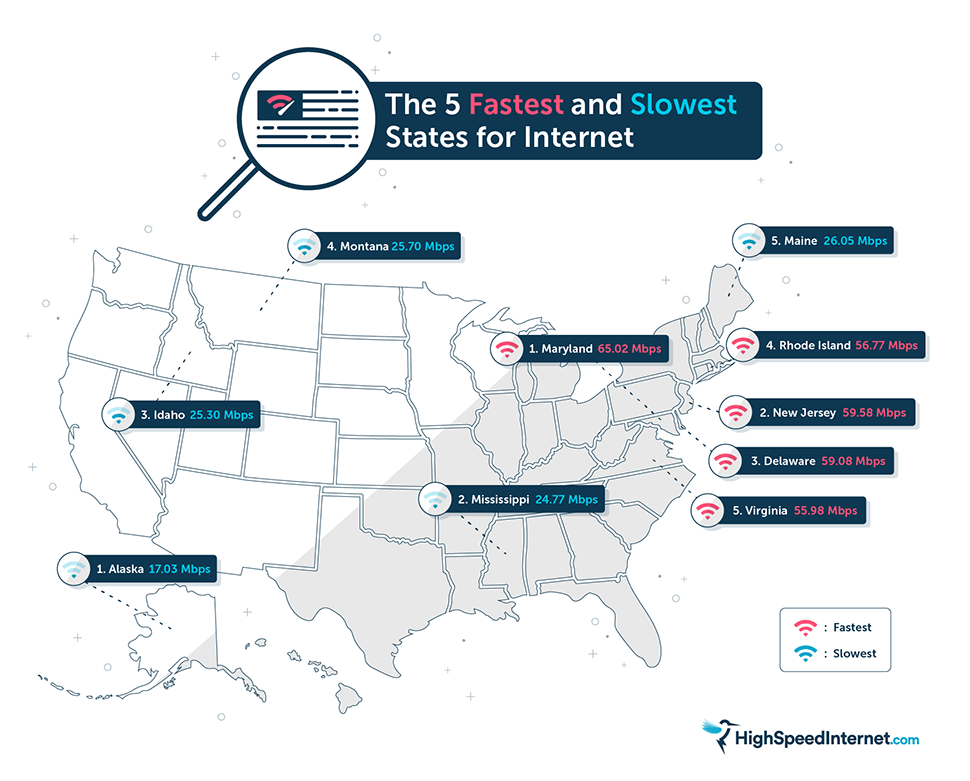 States with the fastest average internet speeds:
Maryland — 65.02 Mbps
New Jersey — 59.58 Mbps
Delaware — 59.08 Mbps
Rhode Island — 56.77 Mbps
Virginia — 55.98 Mbps
States with the slowest average internet speeds:
Alaska — 17.03 Mbps
Mississippi — 24.77 Mbps
Idaho — 25.30 Mbps
Montana — 25.70 Mbps
Maine — 26.05 Mbps
The 5 Fastest and Slowest Cities for Internet
Some US households have access to gigabit internet, which is fast enough to stream movies on 20 devices at the same time. Other households barely have enough bandwidth to stream a single YouTube video. So, which cities have the edge on speed? And which ones are lagging behind?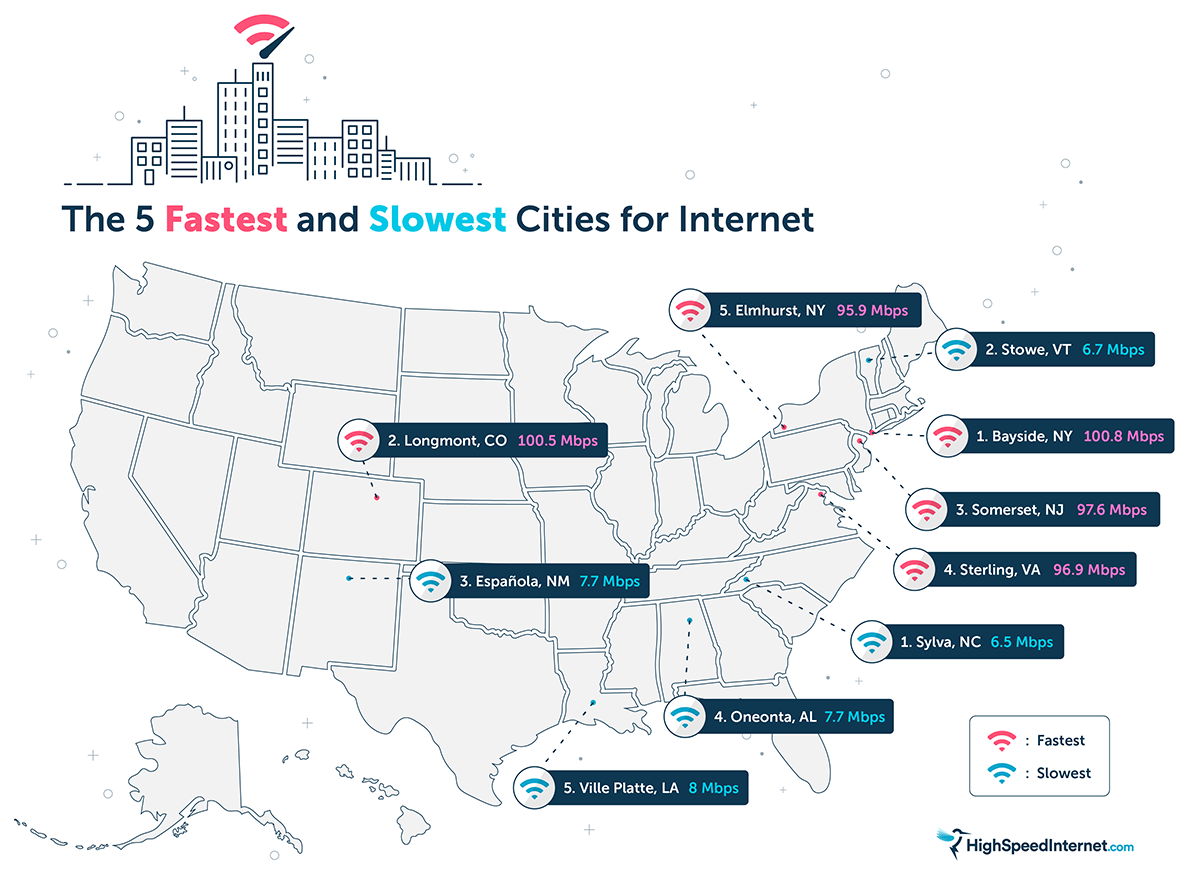 Cities with the fastest average internet speeds:
Bayside, New York (100.8 Mbps)
Longmont, Colorado (100.5 Mbps)
Somerset, New Jersey (97.6 Mbps)
Sterling, Virginia (96.9 Mbps)
Elmhurst, New York (95.9 Mbps)
Cities with the slowest average internet speeds:
Sylva, North Carolina (6.5 Mbps)
Stowe, Vermont (6.7 Mbps)
Española, New Mexico (7.7 Mbps)
Oneonta, Alabama (7.7 Mbps)
Ville Platte, Louisiana (8 Mbps)
Methodology
Our data analysts at HighSpeedInternet.com analyzed two million speed test results. They took the average of every city in the US and ranked them from fastest to slowest.
Looking for provider speed test results?
*Average of HighSpeedInternet.com speed test results for all provider's users.