Cyber Security & You: Surveying the Risks
Apr 26, 2016 | Share

Industry Exclusive/Entertainment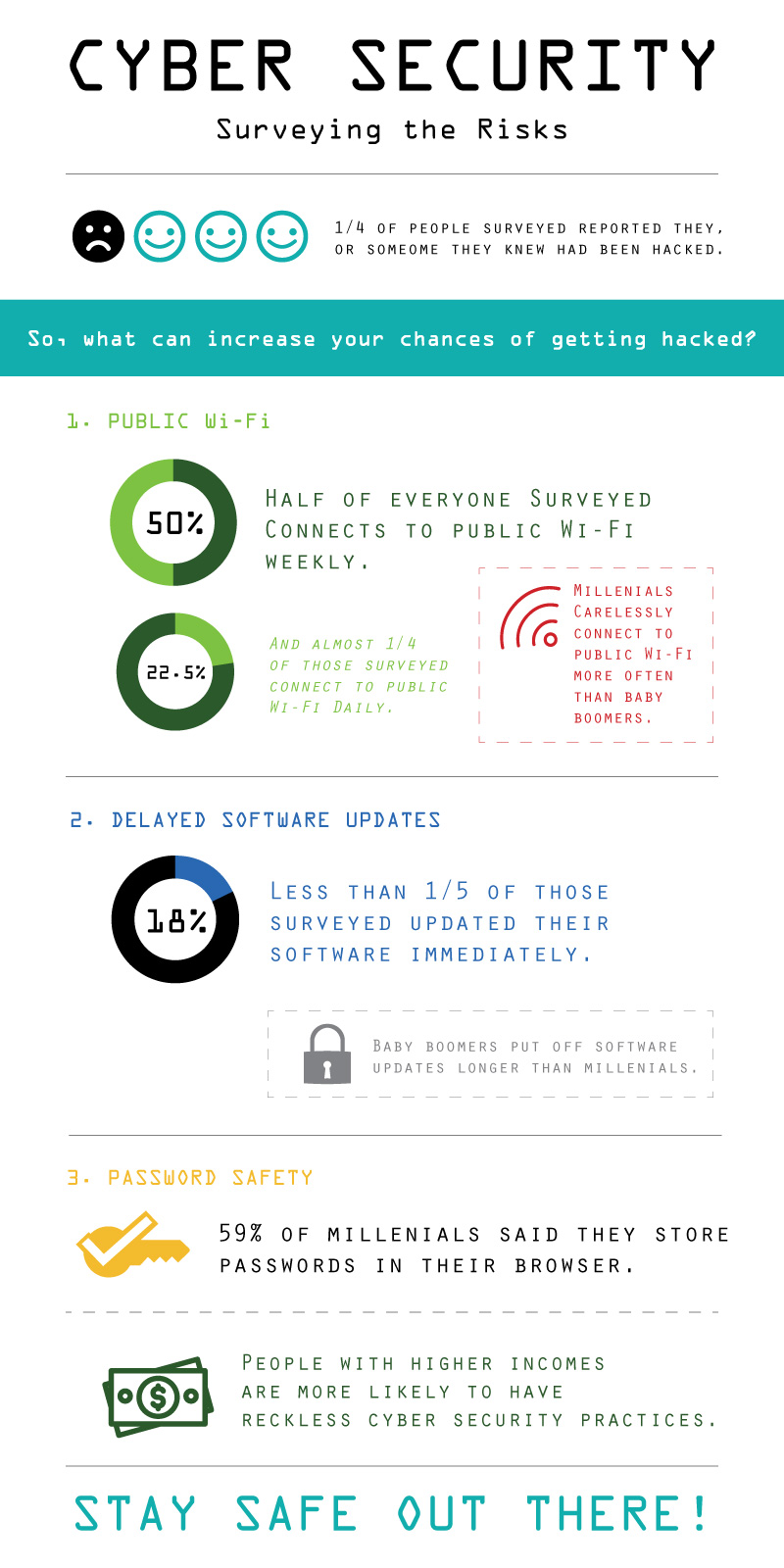 Your breath catches in your throat and a cold sweat breaks out across your brow. Your hands are trembling as you anticipate one of the most harrowing experiences of your life. No, it's not taking the podium to deliver a speech. According to those in a recent survey we conducted, it's the terrifying thought of identity theft. More than 64% percent of people we surveyed confessed they were more afraid of cyber crime than public speaking.
Statistics indicate that fear is not misplaced. One in four of the people we surveyed reported that they, or someone they knew, had been hacked. Experts agree that's a conservative estimate. Research by the
Ponemon Institute
revealed that in 2014, nearly
47% of American adults had their information exposed by hackers.
When asked about their biggest perceived vulnerabilities when it comes to cyber crime, survey respondents said they feared identity theft by a wide margin. Baby boomers were especially concerned about the perils of their personal data being stolen. But should they be?
The
FBI reports
that on average there are 1.5 million cyber attacks annually in the United States. Most of those are directed at larger businesses and government websites, where the vast majority occur as a result of malware and viruses. Certain behaviors, however, have been shown to carry a much greater danger of personal data breach. Let's look at the patterns of risk that came up in our survey results and discuss simple steps you can take to protect yourself from the rising levels of cyber crime.
Public Wi-Fi
It's easy to pull up a table and a latte at your local coffeehouse, spending hours surfing in a bubble of semi-social contentment. But public Wi-Fi is a risk because many networks are unsecured, leaving you and your information vulnerable to hackers. Even if the Wi-Fi requires a password, those passwords are usually shared and changed infrequently.
In our survey, a whopping 49.9% of respondents indicate they connect to public Wi-Fi frequently, with nearly 22.5% reporting daily use of public networks. Millennials were much more likely to utilize these shared hotspots, but Baby Boomers are at greater risk overall of becoming victims of cybercrime.
Next time you jump onto your favorite network in the neighborhood, take a moment to consider the risk you're taking and the information you might be exposing. Public Wi-Fi is a great perk, but it can come with a cost.
"
When you're on a public Wi-Fi network don't access your bank account and sensitive details. Even Facebook and email, sometimes you send sensitive information over emails, if you don't want to expose information, don't use these things on public Wi-Fi. Use it for
Web
browsing or using Netflix maybe, but nothing else."
David Maimon, Assistant Professor in the department of Criminology and Criminal Justice at the University of Maryland
Software Updates
You've seen the notice pop up. Time to update your security software. But you're in the middle of a status update. It can wait, can't it? You click the option to"remind later" and move on to the next exciting post in your feed. And you're not alone.
82.5% of people in our survey said they initially ignored prompts to update their software. A majority of them even confessed to delaying updates multiple times. What's the big deal? As cyber security experts have explained, these patches are vital for your online security.
"Patching software is like maintaining your car: It will still run without maintenance, but driving becomes more and more dangerous the longer you go on without a check-up."
Brian Donohue, Technology Journalist
Storing Passwords
Keeping all those passwords straight can be a real hassle. After all, you can barely find your car keys some days. But it's an essential component of operating safely in an online environment. Many browsers offer the option to automatically save your passwords and fortunately, the majority of the people in our survey didn't utilize this function. For now.
59% of millennials confessed to password storing in their browsers on a regular basis. And this behavior does pose some security risks, especially if you have a shared computer. There so many
secure, attractive  options
to keep a myriad of passwords safe, that there's no excuse for continuing to utilize browser password storing.
"
At some point you will get hacked. It's just a matter of time. If that's unacceptable to you, don't put it online
."
Jeremiah Grossman, Chief Technology Officer at White Hat Security
Taking some simple steps to insulate yourself from risk is the best way to avoid becoming a victim of cybercrime. Download our infographic and share helpful tips for avoiding cybercrime with your friends and family. And remember to stay safe out there on the digital information highway.
Author - HSI Staff
Kaz is a writer, blogger and social media junkie. She uses her tenacity to investigate the best of the Internets.