The Fastest and Slowest Cities and States for Internet in 2020
Jul 16, 2020 | Share

Industry Exclusive/Entertainment
The 10 Fastest and Slowest States for Internet
Wondering where internet speeds are the fastest? Or maybe you want to avoid the states where loading websites is like watching paint dry? We can help.
We analyzed over three million speed tests taken on HighSpeedInternet.com to find out which states have the fastest—and slowest—average internet speeds. Here's what we found.
Check out our latest reports
We analyzed our speed test data to find out which metro cities and states have the fastest and slowest average internet speed in the updated reports below: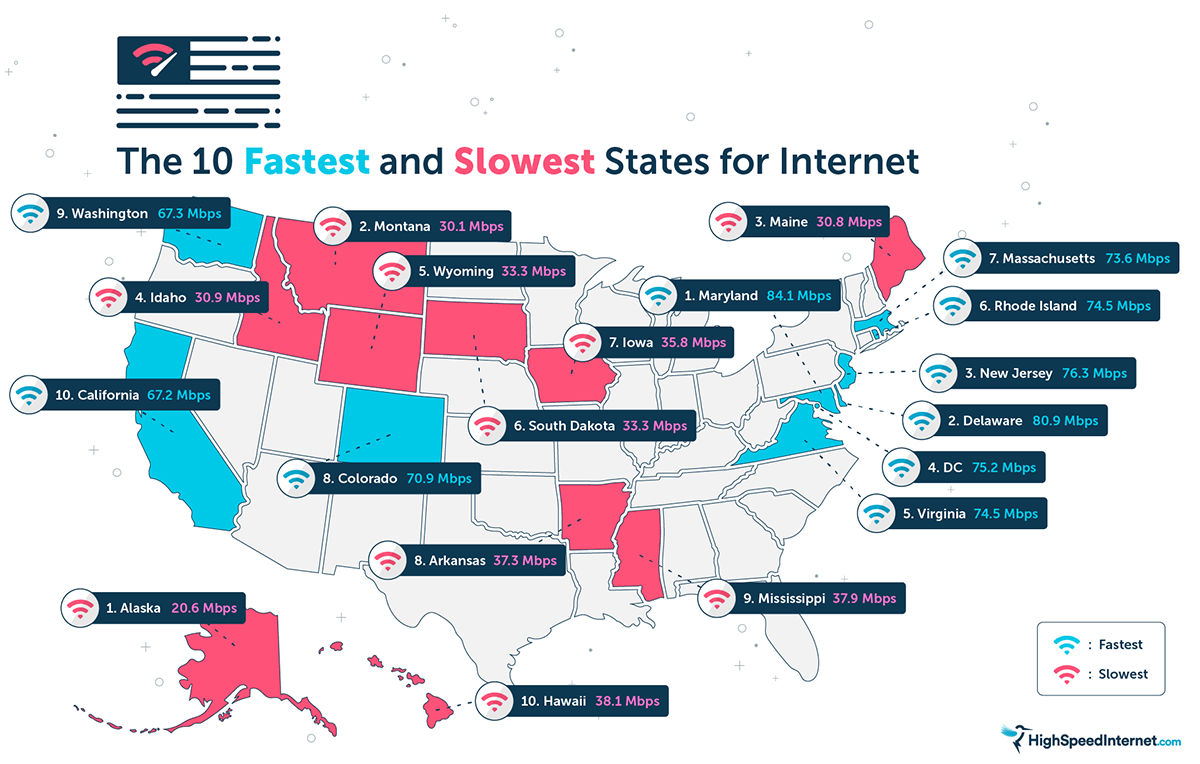 States with the fastest average internet speeds:
Maryland – 84.1 Mbps
Delaware – 80.9 Mbps
New Jersey – 76.3 Mbps
D.C. – 75.2 Mbps
Virginia – 74.5 Mbps
Rhode Island – 74.5 Mbps
Massachusetts – 73.6 Mbps
Colorado – 70.9 Mbps
Washington – 67.3 Mbps
California – 67.2 Mbps
States with the slowest average internet speeds:
Alaska – 20.6 Mbps
Montana – 30.1 Mbps
Maine – 30.8 Mbps
Idaho – 30.9 Mbps
Wyoming – 33.3 Mbps
South Dakota – 33.3 Mbps
Iowa – 35.8 Mbps
Arkansas – 37.3 Mbps
Mississippi – 37.9 Mbps
Hawaii – 38.1 Mbps
The 10 Fastest and Slowest Cities for Internet
Some US households have access to gigabit internet, which is fast enough to stream movies on 20 devices at the same time. Other households barely have enough bandwidth to stream a single YouTube video. So, which cities have the edge on speed? And which ones are lagging behind?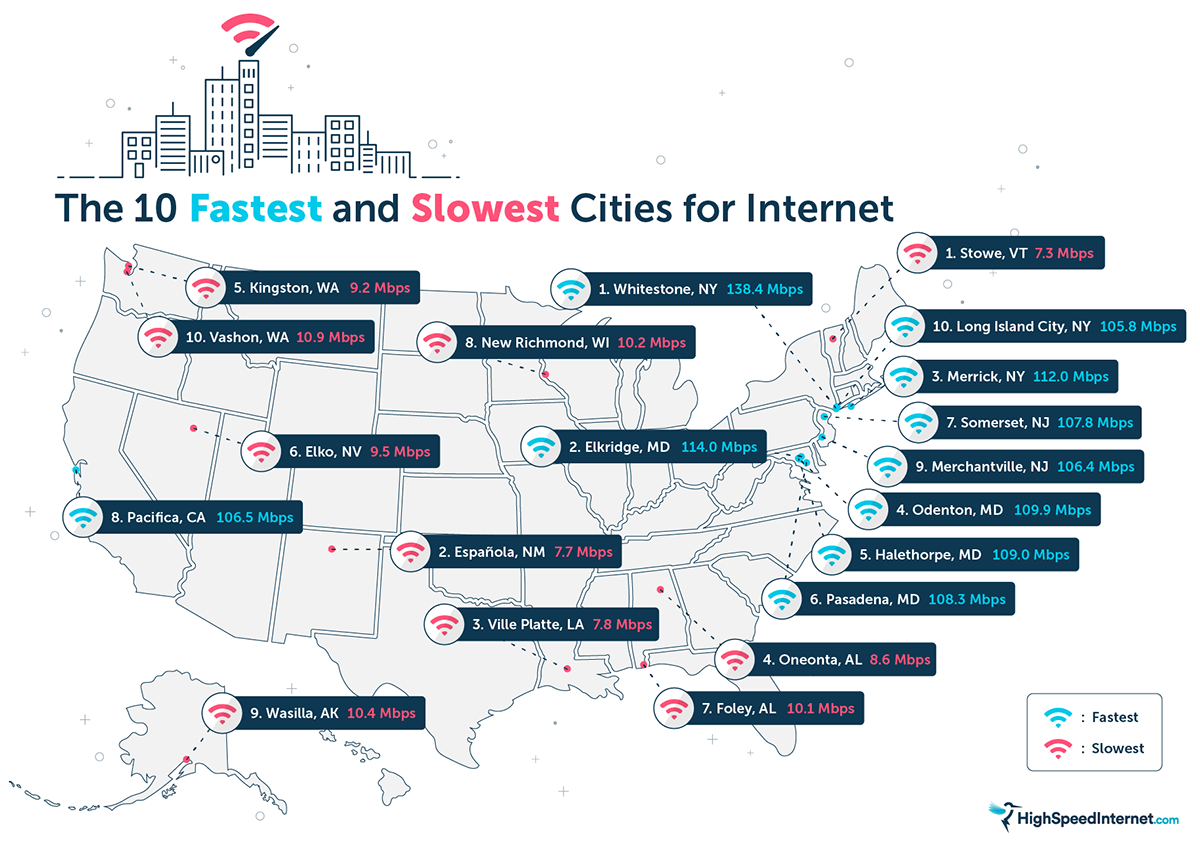 Cities with the fastest average internet speeds:
Whitestone, NY – 138.4 Mbps
Elkridge, MD – 114.0 Mbps
Merrick, NY – 112.0 Mbps
Odenton, MD – 109.9 Mbps
Halethorpe, MD – 109.0 Mbps
Pasadena, MD – 108.3 Mbps
Somerset, NJ – 107.8 Mbps
Pacifica, CA – 106.5 Mbps
Merchantville, NJ – 106.4 Mbps
Long Island City, NY – 105.8 Mbps
Cities with the slowest average internet speeds:
Stowe, VT – 7.3 Mbps
Española, NM – 7.7 Mbps
Ville Platte, LA – 7.8 Mbps
Oneonta, AL – 8.6 Mbps
Kingston, WA – 9.2 Mbps
Elko, NV – 9.5 Mbps
Foley, AL – 10.1 Mbps
New Richmond, WI – 10.2 Mbps
Wasilla, AK – 10.4 Mbps
Vashon, WA – 10.9 Mbps
Our data analysts at HighSpeedInternet.com analyzed two million speed test results. They took the average of every city in the US and ranked them from fastest to slowest.
Author - Kristin Cooke
After graduating with a degree in English from the University of Utah, Kristin learned to geek speak while working as a technical recruiter, interviewing software developers and tech companies. For over 20 years, she has created award-winning content for technology, health, and finance companies. Kristin is an advocate for affordable internet for all and writes about rural internet solutions, satellite internet news, and tech products at SatelliteInternet.com. Her work has been featured in New York Post, PCMag, Forbes, Business Insider, Telecompetitor, Space.com, and The Benton Institute for Broadband & Society.
Editor - Cara Haynes
Cara Haynes has been editing and writing in the digital space for seven years, and she's edited all things internet for HighSpeedInternet.com for five years. She graduated with a BA in English and a minor in editing from Brigham Young University. When she's not editing, she makes tech accessible through her freelance writing for brands like Pluralsight. She believes no one should feel lost in internet land and that a good internet connection significantly extends your life span.