NETGEAR Nighthawk RAX80 Review
The Nighthawk RAX80 is ideal if you have 1,200Mbps internet or slower
Jul 21, 2023 | Share

Equipment Guides, Product Reviews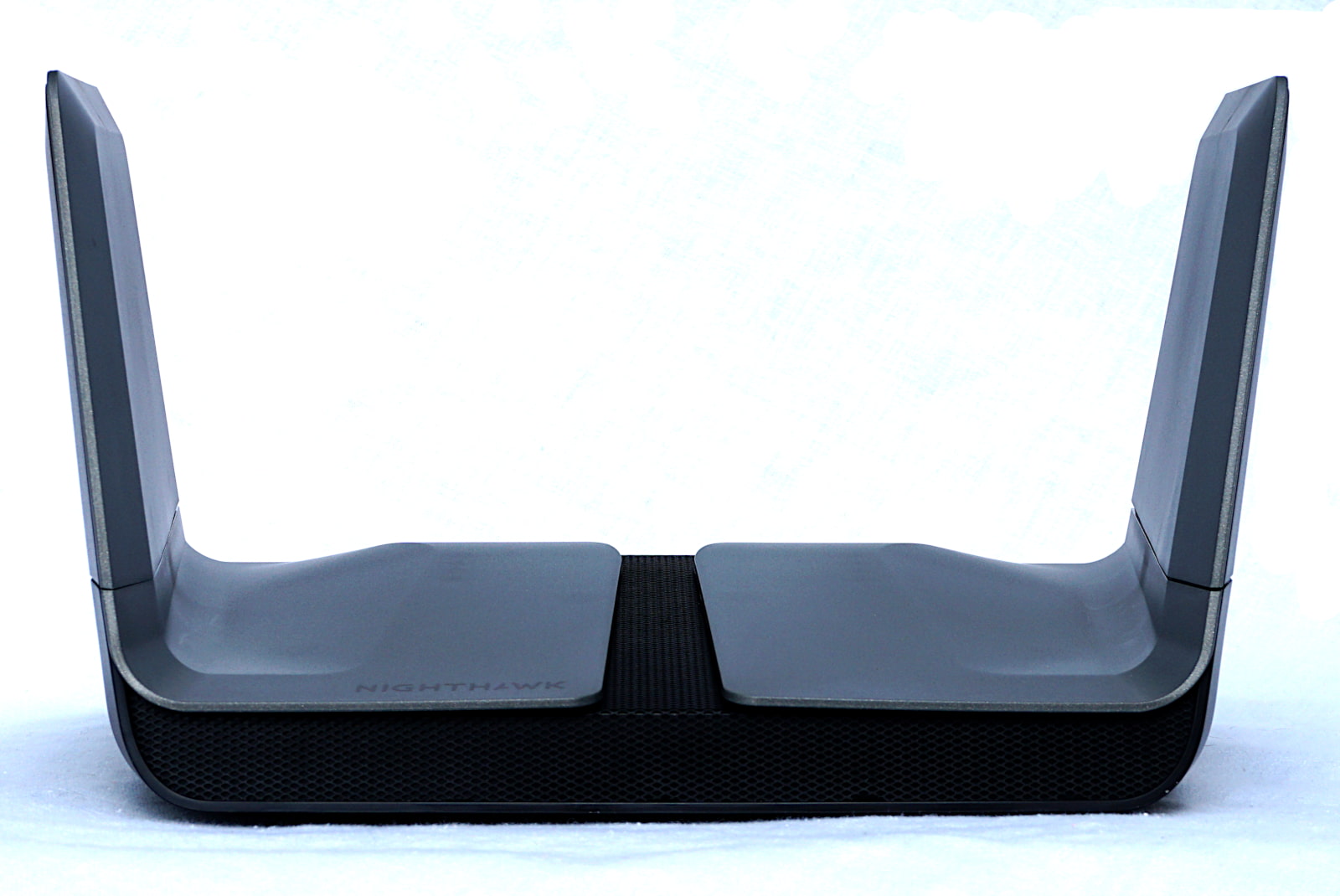 The Nighthawk RAX80 has a good range and speeds based on our tests. Kevin Parrish | HighSpeedInternet.com
Is the Nighthawk RAX80 right for you?
The Nighthawk RAX80 is an affordable pick if your internet plan is 1,200Mbps or slower. It's the smaller, cheaper sibling of the RAX200 model, packing one less band, one less internet connection option, and fewer streams. It's a tad bit slower than the RAX200, too, but that's okay because the RAX80 offers a better megabit-per-dollar value. And it's a far more attractive setup than the RAX50 model we previously tested.
Pros:
Built-in OpenVPN server
160 MHz channels
2Gbps internet support
Cons:
Subscription-locked features
No multi-gig internet port
No free security
Nighthawk RAX80 standout features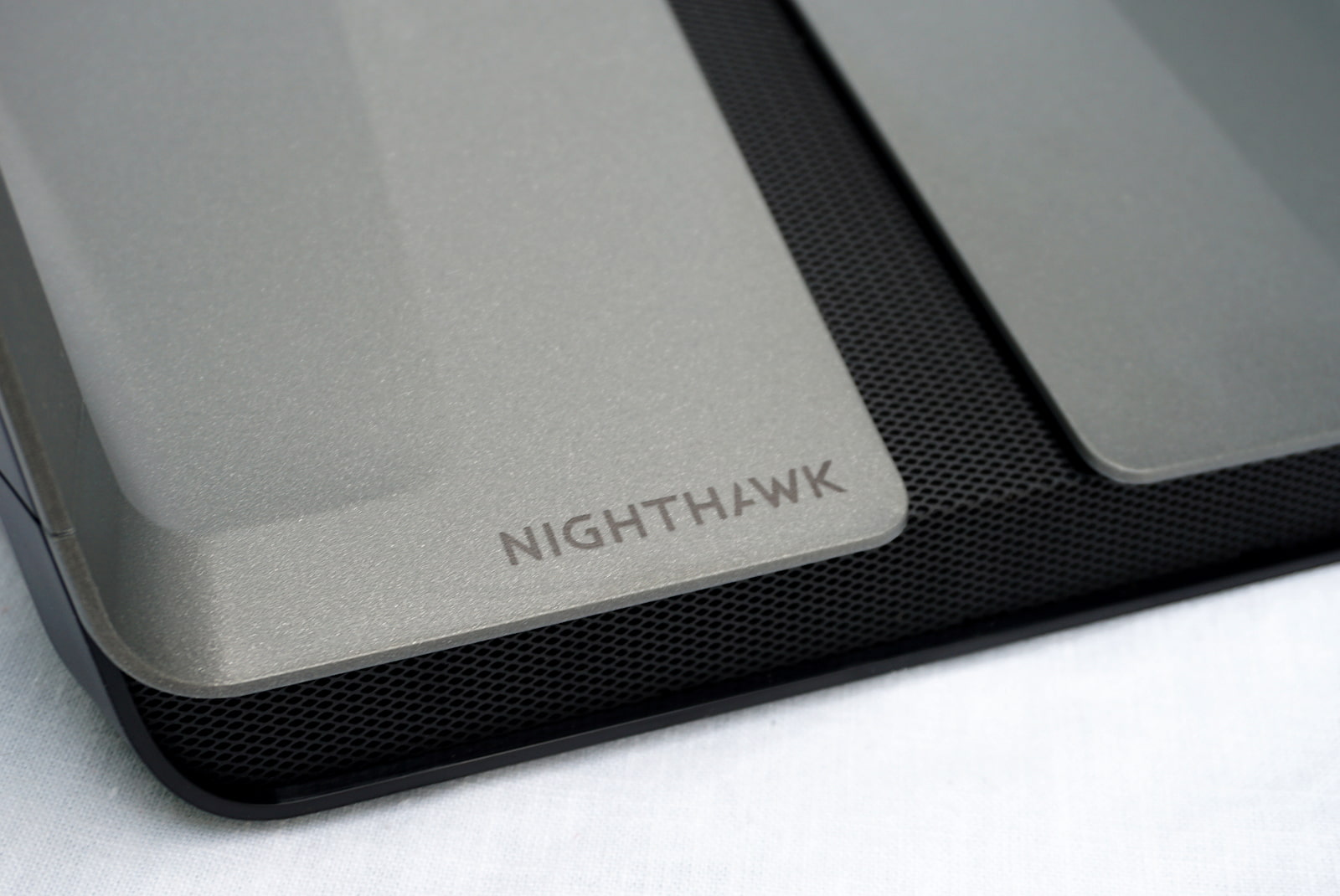 The Nighthawk RAX80 supports 160 MHz channels for a total 5 GHz bandwidth of 4,800Mbps. Kevin Parrish | HighSpeedInternet.com
The RAX80 has a few callouts, like the OpenVPN server and media streaming. It has some basic parental controls through Circle, but features like bedtimes and malware protection require two separate subscriptions.
Our Nighthawk RAX80 scoring breakdown
| | | |
| --- | --- | --- |
| Category | Score* | Summary |
| Performance | 4 | Matches the speeds of other AX6000 routers we've tested. |
| Features | 3 | Requires three accounts to use fully. |
| Design | 4 | Packs link aggregation to support plans under 800Mbps. |
| Setup | 4 | Gets you up and running in 12 steps. |
| Ease of use | 4 | Presents a humdrum but clean two-tab web interface. |
* out of 5 points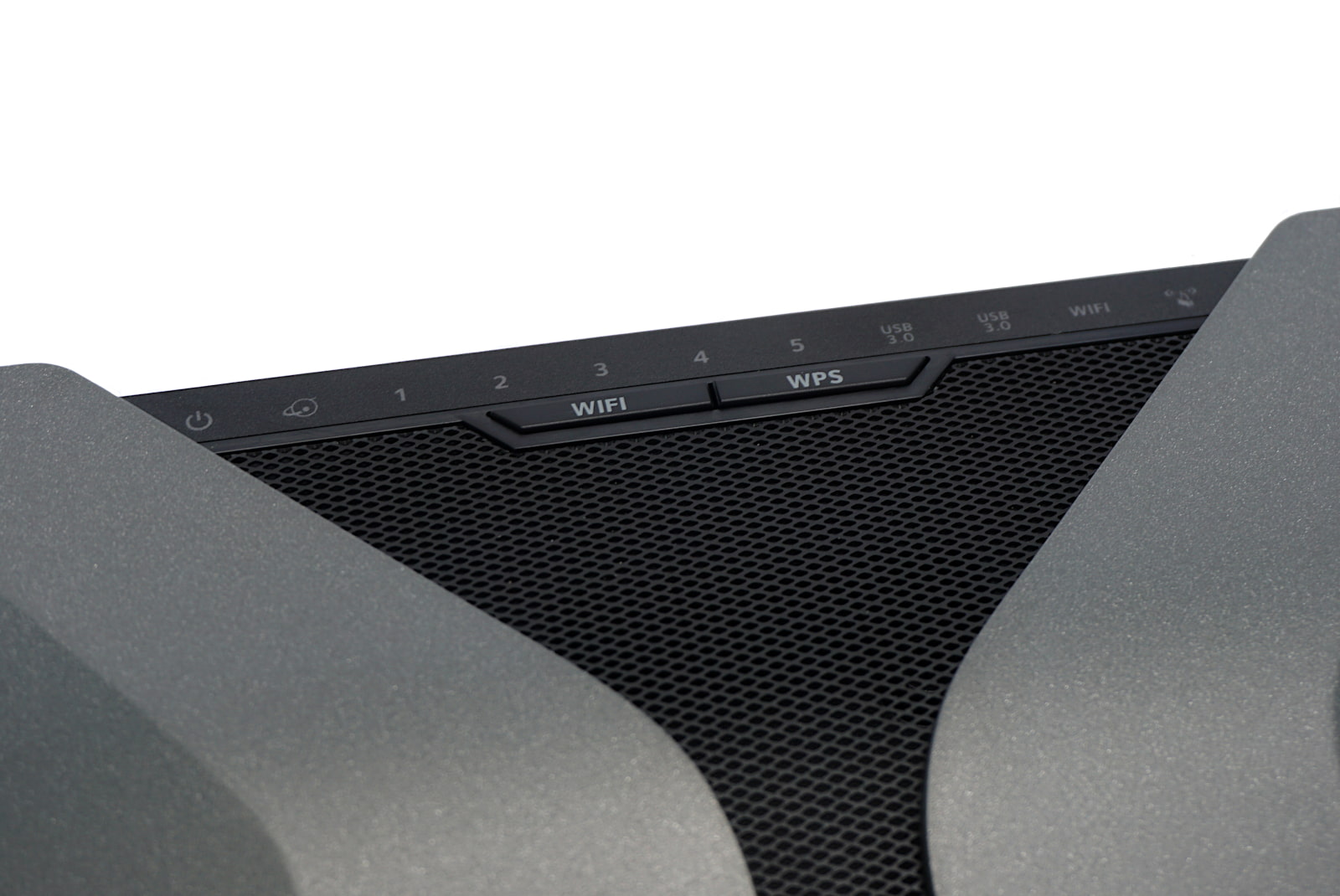 You can disable Wi-Fi quickly with the touch of a button on the Nighthawk RAX80. Kevin Parrish | HighSpeedInternet.com
The RAX80 performed as expected in our Wi-Fi 6 tests, matching the speeds of similarly-classed routers like TP-Link's Archer AX6000 and Archer AX5400 Pro models. Stating that one is faster than the other at close range seems irrelevant since we're talking about a few megabits per second. The Archer AX6000 had a 30Mbps lead over the others by the time we tested from across the street at 120 feet.
The Wi-Fi 5 device testing was a bit more curious. The TP-Link Archer AX5400 Pro started out the strongest at close range but had the lowest average of the four at 120 feet. Overall, Wi-Fi 5 devices with an 866Mbps cap usually range from a 650Mbps average at two feet to 150Mbps at 120 feet, but our old Google Pixel 3 managed a 159Mbps average at 120 feet when we tested it with the RAX80. Not bad.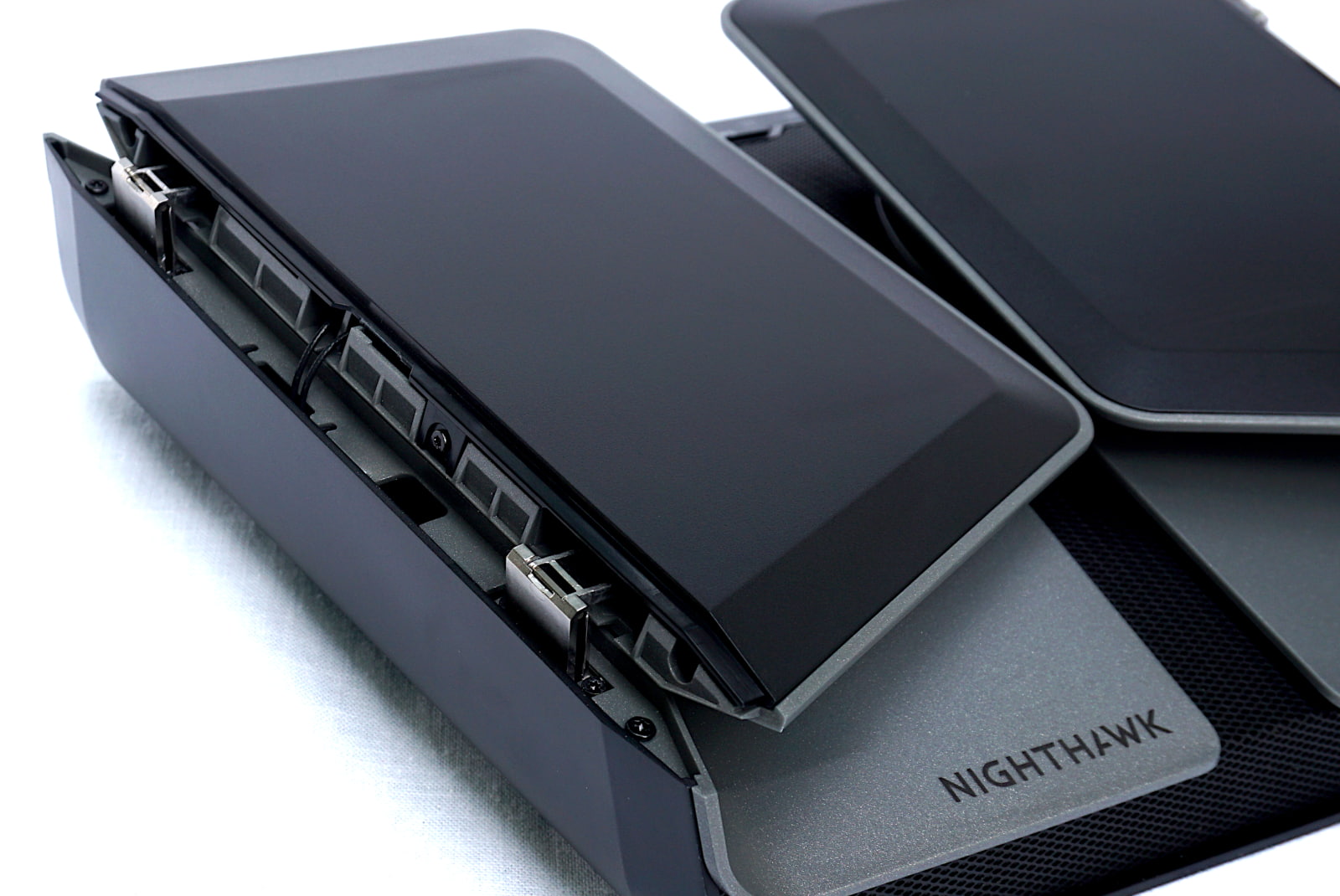 Both wings fold up and lock down into place on the Nighthawk RAX80. Kevin Parrish | HighSpeedInternet.com
NETGEAR discontinued ReadyCLOUD on April 4, 2023, so you can scratch that off the RAX80's feature list. The parental controls are handled through Circle, a standalone service owned by Aura. That leaves little other features under the RAX80 hood.
With the USB port, you can share files and create a local media server. The OpenVPN server allows you to use the router as your personal VPN service when you're off the network—simply install the OpenVPN client on your device and pair it with the router. Bitdefender's premium VPN client is part of the Armor subscription.
What we wish the Nighthawk RAX80 did better
Free security
More free parental controls
The AX80 needs more free security features. ASUS and TP-Link include free malware protection—why can't NETGEAR offer the same basic security features?
The parental controls are managed through a non-NETGEAR service, which is weird already. The free version, Circle Basic, lets you:
Create a profile
Add an age-specific filter (Pre-K, Kid, Teen, or Adult)
Add devices to the profile
Pause the internet (by profile or device).
Bedtimes, daily time limits, and Off Times require a Circle Premium subscription.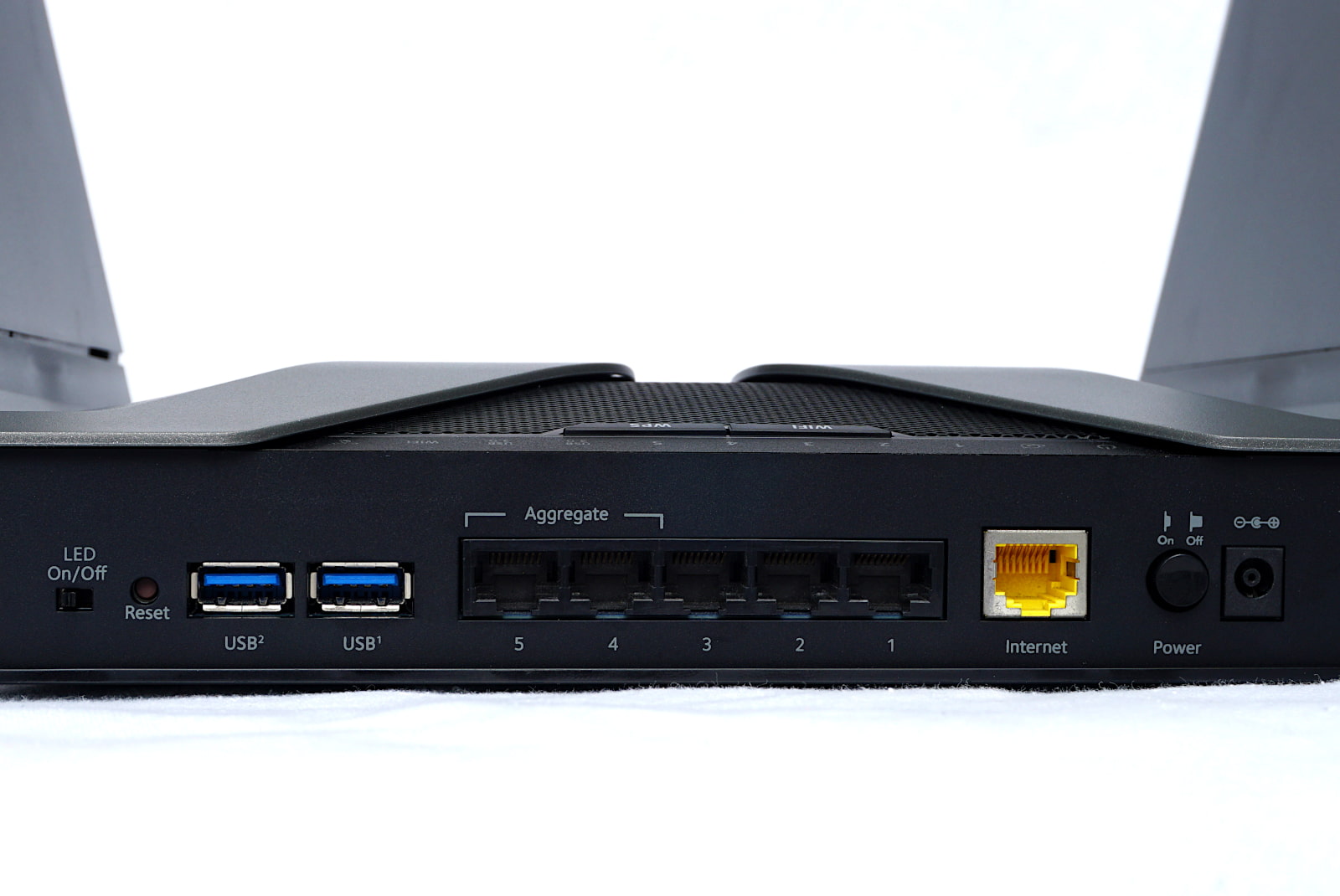 You can pair the LAN 1 port with the WAN port on the Nighthawk RAX80 to support 2Gbps internet. Kevin Parrish | HighSpeedInternet.com
The RAX80 has a better design than the RAX50 we previously tested. Sure, we love the gray and black stingray design (more so than the all-sparkly-black RAX200 and RAXE500, in fact), but what it has to offer on a hardware level is a bit more savory than the RAX50's configuration.
Namely, the RAX80 supports 2Gbps connections through two link aggregation configurations. That's far less desirable than having a 2.5Gbps port, as pairing two Gigabit Ethernet ports gives you roughly 1,880Mbps in real-world speed, which is slower than a 2,000Mbps internet plan. The RAX80 is best suited for 1,200Mbps plans and modems supporting link aggregation.
Other good callouts here include support for 160 MHz channels, increased device capacity on the 2.4 GHz band, and a fifth Gigabit Ethernet port—which is a little unusual given most configurations have four or eight. We like unusual—it keeps things interesting.
The web-based setup process is no different than the one we experienced with the RAX50 model prior to this review. It's a relatively painless 12 steps that get you up and running in no time flat. It can feel a little longer than the competition as you wait for the speed test and firmware updates. The security questions add to your setup time too.
In the end, you'd expect to end up facing the router's home screen, but no. Instead, NETGEAR prompts you to create a cloud account and register the product. You must open a new tab to access the router's web interface (sigh).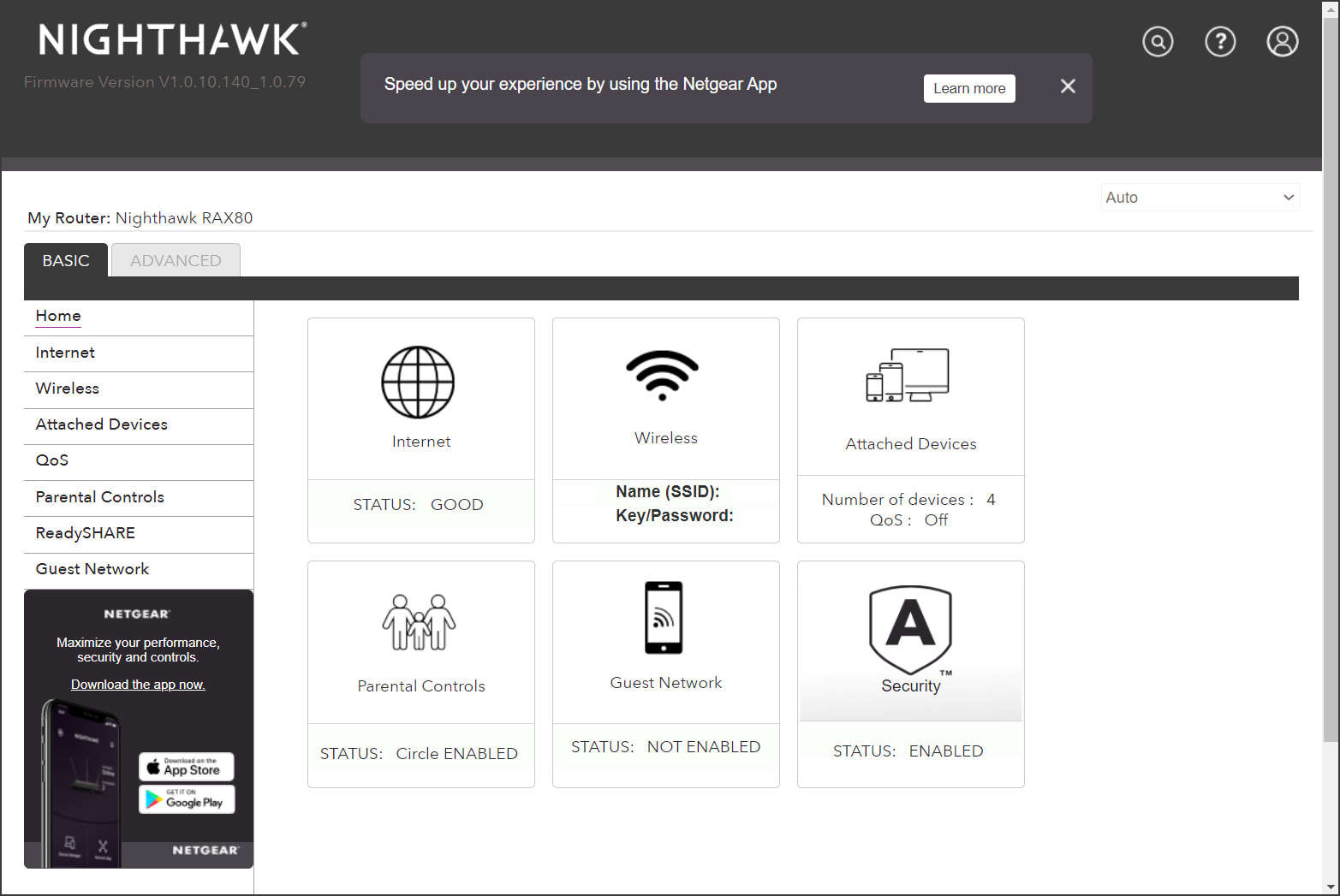 NETGEAR uses the same interface across all its non-gaming routers, including the Nighthawk RAX80. Kevin Parrish | HighSpeedInternet.com
Unlike TP-Link, NETGEAR uses the same two-tab web interface layout across its non-gaming standalone router family. It's not the prettiest design on the planet—we're still wondering why we can't get a dark mode—but it gets the job done.
The big difference over the previous RAX50 we tested is the addition of parental controls, which in the web interface only allows you to enable and disable the feature. You need the Circle app (App Store, Google Play) to create profiles and set internet limits.
The Nighthawk mobile app borrows the tile design and offers a minimal set of controls. You can do simple things like share the Wi-Fi network credentials, allow and block devices, and view any support tickets. Things like changing the Wi-Fi channel and bandwidth mode require the web interface (which you can easily access from a mobile browser).
Are there any additional costs?
A Circle subscription unlocks extra parental control features for $4.99 per month or $49.99 per year. The Armor subscription costs $99.99 per year and includes multi-device antivirus protection, Bitdefender VPN, DDoS prevention, and more. You can extend the router's warranty, too, for up to $119.99.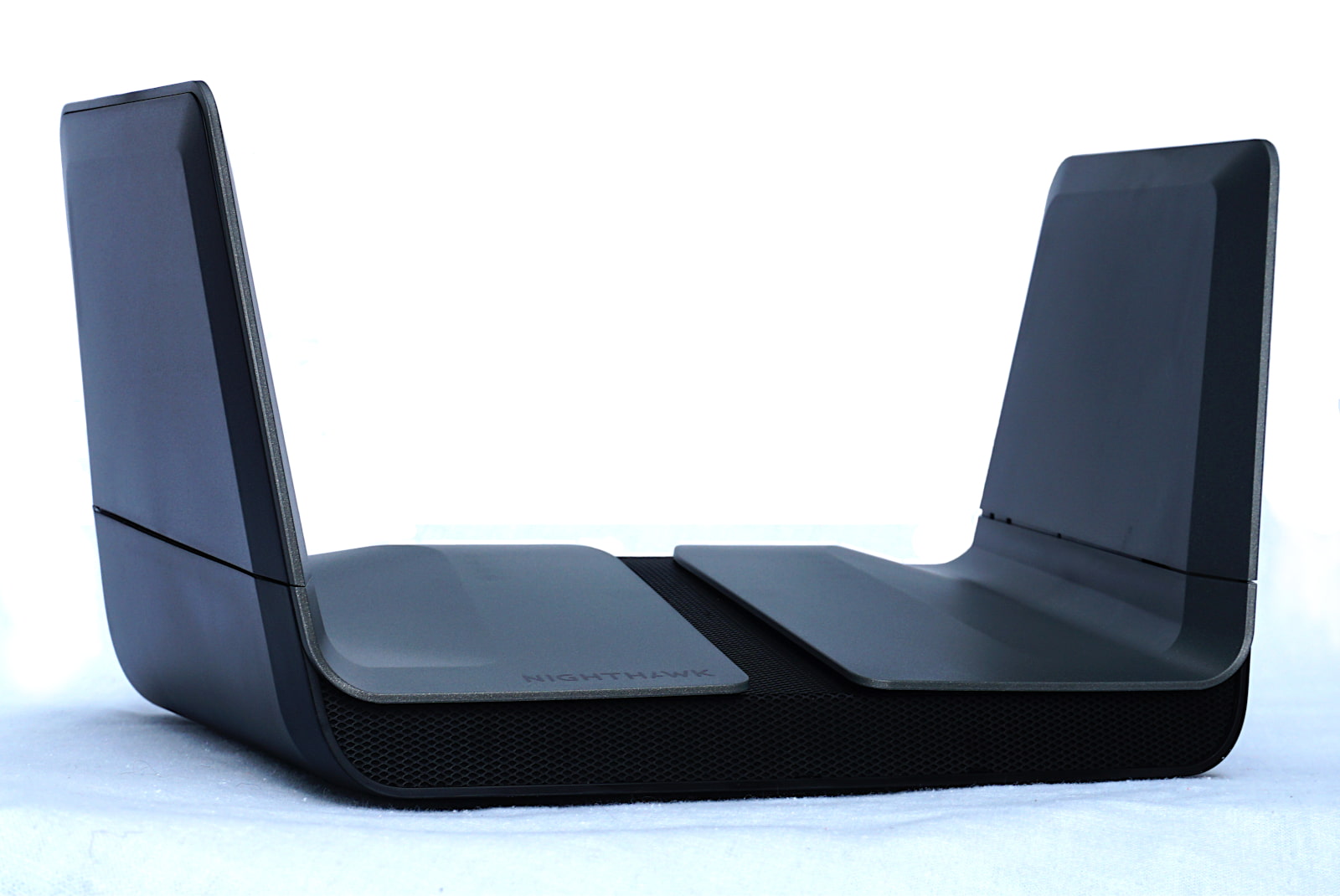 The RAX80 is one of our favorite Nighthawk routers but you need subscriptions to use it fully. Kevin Parrish | HighSpeedInternet.com
Our Nighthawk RAX80 review: The verdict
The RAX80 is a slimmed-down, more affordable version of the RAX200. It has one less band, four fewer streams, slightly slower Wi-Fi speeds based on our tests, and no dedicated multi-gig port. It also doesn't have the same reach as the RAX200 (or RAXE500), but the price is so much easier to digest.
In fact, at the time of this review, the RAX80 was a far better deal than the RAX50 model we previously reviewed, costing $3 more. The RAX50 doesn't support wired speeds over a gigabit, plus it doesn't sport the cool stingray design like the RAX80. You simply get more bang for your buck out of the RAX80.
But there's a catch. All NETGEAR routers lock notable security features behind the Armor subscription. Full parental controls also require a subscription—Circle in this case—although you do get some helpful profile-based device management for free.
The bottom line is that the RAX80 is our new favorite NETGEAR router. We'll never be a big fan of subscriptions, especially when you can get similar features for free on other routers. But the RAX80 is the most reasonable out of all the non-gaming Nighthawk routers we've tested to date.
FAQ about the Nighthawk RAX80
Is the Nighthawk RAX80 a gaming router?
No, the RAX80 is not a gaming router, but you can use it for gaming like any other router.
What's included in the NETGEAR Armor subscription?
For $99.99 per year, you get the following added features:
Antivirus protection (Windows, Mac, Android, and iOS)
Anti-malware protection (Windows, Mac, Android, and iOS)
Bitdefender VPN (client only)
Smart Home vulnerability scans
Anti-theft protection
Anomaly detection
Brute-force protection
Exploit prevention
DDoS detection & protection
Sensitive data protection
What's included in the NETGEAR ProSupport for Home subscription?
ProSupport for Home offers two tiers. Here are the features you'll get.
Plan:
Warranty
Warranty + Support
Features:

Repair and replacements


Accidental damage coverage


Free express replacement service

Repair and replacements


Accidental damage coverage


Free express replacement service


Exclusive phone support


24/7 access to expert tech support


Software support via chat, email, and phone

Duration:
Two years
Two years
Price:
$49.99 (one-time fee)
$119.99 (one-time fee)
What's included with Circle?
Circle is a standalone parental control service provided by Aura. The RAX80 includes support for this platform, but it's not managed by NETGEAR. It has basic profile-based features you can use for free, but things like bedtimes and time limits require a subscription.
Basic
Premium

User profiles


Pause internet (profiles or specific devices)


Platform and category filters


Website history




Daily time limits


Bedtimes


Offtimes (dinner, homework, etc)


Rewards (extend times)


Detailed usage

Free
$4.99/mo. or $49.99/yr.
What does AX6000 mean?
The AX6000 class represents the Wi-Fi type in use and the maximum amount of bandwidth the router can deliver across all bands. With the AX80, the router is based on Wi-Fi 6 (802.11ax) and has a maximum bandwidth of 6,000Mbps. The number doesn't represent speed, but rather is indicative of the number of devices it can transmit to in any given second. Here's the breakdown:
| Band and channel width | Total bandwidth | Stream config | Max device bandwidth | Max device count |
| --- | --- | --- | --- | --- |
| 2.4 GHz (40 MHz) | 1,200Mbps | 4 x 300Mbps | 2 at 600Mbps | 4 at 300Mbps |
| 5 GHz (160 MHz) | 4,800Mbps | 4 x 1,200Mbps | 2 at 2,400Mbps | 4 at 1,200Mbps |
| 5 GHz (80 MHz) | 2,400Mbps | 4 x 600Mbps | 2 at 1,200Mbps | 4 at 600Mbps |
* Estimates based on Wi-Fi 6 client devices with 2×2 antenna configurations
RAX80 vs. RAX200: What's the difference?
Besides the smaller size and color scheme, there are a handful of differences between the RAX80 and RAX200 models. Take a look:
RAX80
RAX200
Class
AX6000
AX11000
Max throughput
6,000Mbps
11,000Mbps
Bands
2
3
Streams
8
12
Max internet input
2,000Mbps
2,500Mbps
WAN options
WAN (1Gbps)

WAN + LAN 1 (2Gbps)

WAN (1Gbps)

WAN + LAN 1 (2Gbps)

2.5GbE (2.5Gbps)
LAN Ports
5x 1GbE
4x 1GbE + 1x 2.5GbE
Link aggregation
WAN + LAN 1 (2Gbps)

LAN 4 + LAN 5 (2Gbps)
WAN + LAN 1 (2Gbps)

LAN 3 + LAN 4 (2Gbps)
Price:
$209.67
$489.99
The bottom line is the RAX80 is best used with internet plans of 1,200Mbps or less, while the RAX200 is ideal for internet plans of 2,000Mbps or less. The RAX200 had slightly higher speeds during our tests (~40Mbps), and was the only one of the two that could still push a handful of megabits at 160 feet. The RAX200 price was overinflated at the time of this review, making the RAX80 a better megabit-per-dollar deal.
We test router speed by setting up each router in an office and connecting it to a local test server. Then, we transmit test data between our wireless devices and the server, taking numerous measurements to account for fluctuations in Wi-Fi speeds.
The first tests occur close to the router, without obstructions—so the Wi-Fi is as strong and fast as it's gonna get. We repeat the process straight out at 10, 20, and 30 feet, with only a glass door obstructing our view of the router. The same glass door and an exterior door blocks our path when we test outside at 40 and 50 feet.
We also run tests in a hallway to the left of the TV room and office—where there's a glass door, three walls, and an air handler unit blocking our view of the router. The dining room, another testing point, sits to the right of the kitchen, TV room, and office—two walls and a glass door block the path in this test.
To test video streaming, we connect a fast storage device to the router and stream a 4K video to six wireless devices simultaneously—two phones, three tablets, and a laptop—connected to the same wireless band.
Client devices used in testing
| | iPhone 12 Pro Max | Google Pixel 3 |
| --- | --- | --- |
| Wi-Fi version | Wi-Fi 6 | Wi-Fi 5 |
| Stream configuration | 2 x 2 | 2 x 2 |
| Max channel width | 80 MHz | 80 MHz |
| Max 5 GHz speed (AX) | 1,200 Mbps | – |
| Max 5 GHz speed (AC) | 866 Mbps | 866 Mbps |
| Max 2.4 GHz speed (AX) | 195 Mbps | – |
| Max 2.4 GHz speed (AC) | 195 Mbps | 144 Mbps |
Nighthawk RAX80 benchmarks (5 GHz only)
| | iPhone 12 Pro Max* | Google Pixel 3* |
| --- | --- | --- |
| 2 feet | 858 | 643 |
| 10 feet | 841 | 587 |
| 20 feet | 817 | 520 |
| 30 feet | 785 | 463 |
| 40 feet (porch) | 671 | 394 |
| 120 feet (across street) | 249 | 159 |
| 160 feet (mailboxes) | Not connected | Not connected |
| 20 feet (hallway) | 659 | 272 |
* Speeds in megabits per second (Mbps) using an 80 MHz channel.
Amazon
Amazon.com Prices as of 7/12/23 17:35 MST. Product prices and availability are accurate as of the date/time indicated and are subject to change. Any price and availability information displayed on Amazon.com at the time of purchase will apply to the purchase of this product. Highspeedinternet.com utilizes paid Amazon links.
CERTAIN CONTENT THAT APPEARS ON THIS SITE COMES FROM AMAZON. THIS CONTENT IS PROVIDED 'AS IS' AND IS SUBJECT TO CHANGE OR REMOVAL AT ANY TIME.
Best internet plans for the RAX80
* No contract required. 24 Month Internet Pricing. Equipment priced separately. Includes $5 discount for 12 months w/ ebill & autopay. Observed speeds may vary. Excludes surcharges and fees. New residential customers only.
† Price after $5/mo Autopay & Paperless bill discount (w/in 2 bills). Plus taxes & fees. Monthly State Cost Recovery Charge in TX, OH, NV applies. Ltd. availability/areas.
‡ Speed may not be available in your area. Maximum download/upload speed of up to 940 Mbps via a wired connection. Paperless billing required. Taxes and fees apply. Offer details. Offer includes professional installation at customer's eligible location
§ for 12 months with 1-yr. term agreement
|| w/ Auto Pay & Paperless Bill. Max wired speed 1000/1000 Mbps. Location dependent. Wi-Fi, actual & average speeds vary. One-time charges apply.
# For the first 12 months. Plus, activation, installation and monthly modem rental fees.
** w/Auto Pay & Paperless Bill. Terms apply.
†† For 12 months when bundled. Limited time offer; subject to change; valid to qualified residential customers who have not subscribed to any services within the previous 30 days and who have no outstanding obligation to Charter. Spectrum Internet® Gig promotion price is $89.99/mo; standard rates apply after yr. 1. Taxes, fees and surcharges extra and subject to change during and after the promotional period; installation/network activation, equipment and additional services are extra.
‡‡ Price per month with Auto Pay & without select 5G mobile plans. Fios plan prices include taxes & fees
§§ For 24 months. No term contract. Taxes not included. Includes $10/mo automatic payments and paperless billing discount.
|||| Plus taxes and fees. Upload/download speed and device streaming claims are based on maximum wired speeds. Actual Internet speeds are not guaranteed and may vary based on factors such as hardware and software limitations, latency, packet loss, etc.
## With AutoPay & paperless billing. Equipment, taxes, data allowance, and other fees extra.
Author - Kevin Parrish
Kevin Parrish has more than a decade of experience working as a writer, editor, and product tester. He began writing about computer hardware and soon branched out to other devices and services such as networking equipment, phones and tablets, game consoles, and other internet-connected devices. His work has appeared in Tom's Hardware, Tom's Guide, Maximum PC, Digital Trends, Android Authority, How-To Geek, Lifewire, and others. At HighSpeedInternet.com, he focuses on network equipment testing and review.