Internet Providers in the Salt Lake Valley
Jul 1, 2016 | Share

City Internet Guides
Image of Salt Lake City by Garrett (CC By 2.0) 
Top Internet Providers
Four major internet service providers (ISPs) offer high-speed internet service to homes in the Salt Lake valley: 
CenturyLink
, 
XFINITY
(by Comcast), 
Utopia
, and 
Google Fiber
. CenturyLink areas partner with DIRECTV. Enter your ZIP code below to see which providers offer service to your home. There's not a lot of ISP diversity in Salt Lake City — or in Utah as a whole — but many residents are lucky enough to live in a current or future fiber area. CenturyLink, Utopia, and Google Fiber each cover small but expanding sections of the valley with fiber-to-the-home services. For the purposes of this article, we'll discuss internet providers available in the Salt Lake valley and Salt Lake City proper. Neighborhoods include The Avenues, Rose Park, Capitol Hill, Glendale, Poplar Grove, and Marmalade. Major cities include
West Jordan
, 
Midvale
, 
West Valley
, 
Taylorsville
, 
Millcreek
, 
Murray
, 
Holladay
, 
Sandy
, 
Draper
, 
West Jordan
, 
Bluffdale
, 
Riverton
, 
Cottonwood Heights
, 
South Jordan
, and 
Downtown SLC
. If you're new to the city check out this
guide on where to move in Salt Lake City
. See the map below for Salt Lake City areas covered by this guide.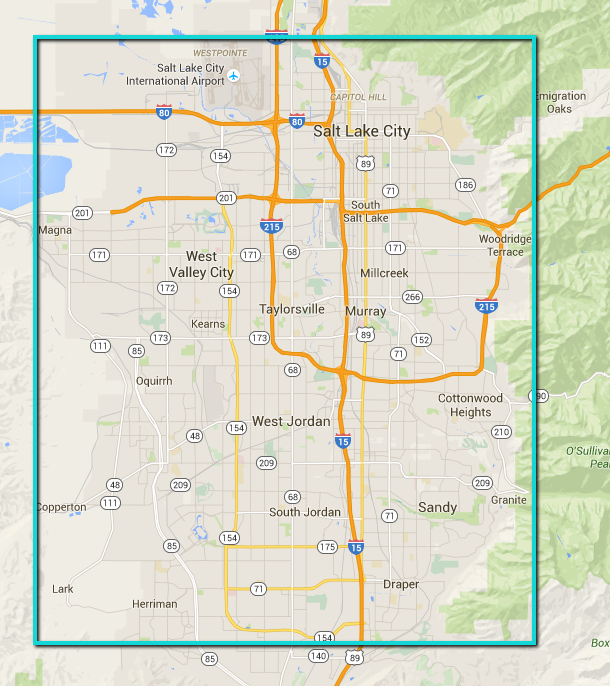 CenturyLink (Fiber & DSL)
87% of all Utahns and nearly every home in the valley can get 
CenturyLink
. Customers in CenturyLink fiber areas rank the service much higher than areas with standard service. CenturyLink consistently beats XFINITY from Comcast in 
TV customer satisfaction
 rankings by a wide margin. CenturyLink fiber internet is one of the highest-ranked internet services, while its DSL product ranks toward the bottom in 
internet service satisfaction
rankings. (Note that both CableTV surveys were done by an unbiased third party.)
See CenturyLink plans
If you want TV, you can set it up on the same call, and DIRECTV's service ranks at the top of the list in TV customer satisfaction.
See CenturyLink plans with DIRECTV service
.
XFINITY (Cable)
Comcast
's XFINITY TV and internet is available to about 79% of the state's population, including almost all residents from 
Ogden
 (97%) to
Provo
 (92%) and in 
downtown SLC
 (99%). The nice thing about XFINITY is that 
you can get TV and internet service through the same provider
 without the hassle of installing a satellite dish. Comcast has a reputation for negative billing and customer service issues. However, XFINITY's internet service does earn higher marks in customer satisfaction than its TV service. See the full ratings from our most recent survey on
TV
 and 
internet
satisfaction to compare providers.  Comcast's price increases and frustrating customer service experience may outweigh the fiscal advantages customers receive with XFINITY's attractively priced introductory bundles.
Call for Comcast availability
Utopia (Fiber)
Utopia
,
 Utah's home-grown fiber provider, offers speeds up to a gigabit in many areas. If you decide to go with Utopia, though, it's important to note that the Utopia network is different from most service providers. Utopia lays the fiber to your home (meaning they'll probably have to tear up your yard a little), then works with partner companies (ISPs) that provide the actual home service. Most customers (those unwilling or unable to pay Utopia a few thousand dollars up-front) will be making payments to
both
Utopia and an ISP. For example, customers generally pay $35 to a company like XMission and $30 to Utopia itself for 250 Mbps fiber service each month. Prices aren't bad, but the split service isn't exactly convenient. Partner ISPs in the Utopia network include 
XMission
, 
Beehive Broadband
, 
InfoWest
, 
Veracity
, and 
SumoFiber
. Some of these companies offer TV service as well for additional fees. Partner ISPs can choose what parts of the network they cover, so your available ISPs may vary even
within
the Utopia network. It's not all paradise with Utopia, though. Working with two companies has left some gaps in service for customers. Unlike with Comcast or CenturyLink, for example, neither Utopia nor your chosen ISP will install a second line in your house. If you want a jack in your office and in your living room, you'll have to go find your own handyperson to run a second line for you. The company is also struggling to make money and find its footing, so there's no guarantee it will still be around in a few years. Rumors of a Google Fiber buyout have been persistent, but no official news has ever emerged. Utopia is still a bit of a rarity. It's not available anywhere downtown, and it covers only pieces of Brigham City, Centerville, Layton, Lindon, Midvale, Orem, Payson, Perry, Tremonton, and West Valley City. Utopia rarely overlaps with other fiber service, so if fast internet is your top concern check, check on Utopia's availability at your address.
Call Utopia for availability
Tip: Rather than spending your time calling each provider, put in your ZIP code. If Utopia isn't listed, it's not available in your ZIP code at all.
Google Fiber
Google's famed fiber service is up and running in Provo, which has helped make the city one of the fastest cities for internet in the entire country.
Google Fiber
has also begun expanding to Salt Lake City, but only a few residents can get the service downtown as of July 2016. Google plans to expand downtown, but it's a slow process. Google Fiber currently has no plans to expand beyond downtown Salt Lake. While there's little argument that getting Google Fiber is your best option, chances are it's not available at your home. Luckily, you can check availability online without the hassle of calling.
Check Google Fiber availability online
Other Providers
For a consistent, reliable high-speed internet connection, the four internet service providers above are your best bet. Because each of these ISPs offers wired connections, land-based service (DSL, fiber, or cable) is considered more stable with the lower rates of latency (or lag) than the mobile or fixed wireless providers discussed below.
Fixed Wireless
If you're unhappy with your wired options, there are fixed wireless internet providers available, though service varies wildly depending on your ZIP code.
Fixed wireless
 is a technology that requires a receiver similar to a satellite dish. The difference between fixed wireless and satellite internet, though, is that fixed wireless usually has higher bandwidth with lower lag. Utah fixed wireless companies include 
UBB
, 
Rise Broadband
, 
Connext
, and 
SenaWave
.
Cell Service
If you live in a rural area or service hole, you might also consider cell providers. To get internet reception through your cell provider, you can either use your phone as a hotspot or buy an actual cell modem/router or USB stick for your computer. If no wired or fixed wireless providers serve your home, this is the next best option. You should probably look for a provider that has unlimited data — or at least doesn't charge for overage.
Sprint offers unlimited data for $75 with a 23 GB cap. Get it here.
T-Mobile's unlimited data plan starts at $95 with a 21 GB cap. Get it here.
If you have DIRECTV as your TV provider, you can get AT&T unlimited data for about $100 with a 22 GB cap. Get it here.
All "data caps" in this case are throttling thresholds,
not
hard caps. This means that customers who haven't reached their cap will be given priority for data usage, but you'll still be able to use the internet without overage fees if you exceed your data cap in a month.
Satellite Internet
If you can't get any of the above options, you can consider satellite internet. Satellite internet comes with a lot of lag that could be frustrating, but it's sometimes the only option available to rural customers.
HughesNet
, for example, is a popular satellite internet provider.
Checking Availability
If you haven't 
put in your ZIP code
 yet, you should probably give it a try. HighSpeedInternet.com has taken millions of lines of data from the FCC and converted it into availability by city and ZIP code so it's easy for you to use. You'll see which providers are available and the percentage of your ZIP code area covered. For example, check out this screenshot of availability in Midvale: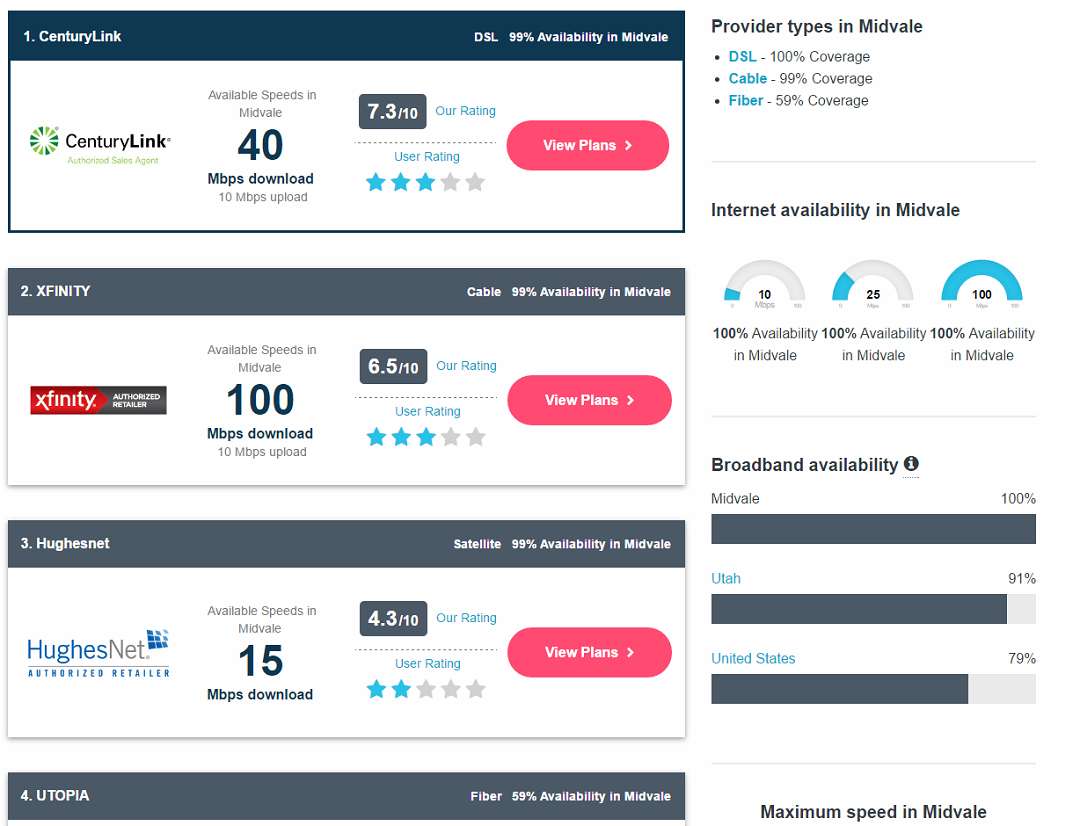 [zipfinder] If you're just curious you can find availability data for the state of Utah as a whole
here
.