7 Ways to Extend Your Wi-Fi Range
Learn the best techniques and products to get more distance out of your home network.
Jun 23, 2023 | Share

Technology
There are a lot of different ways to extend your Wi-Fi range. Some are free and easy enough to complete in seconds, while others require some additional equipment and installation.
Start with the basics, like good router positioning and using the proper Wi-Fi band. If you still need more range, Wi-Fi repeaters and powerline extenders are great options for casual Wi-Fi because they're affordable and easy to install. For serious applications and more substantial range increases, you may need to invest in a long-range router, mesh router, or multiple router setup.
We'll break down each method, starting with the cheap and simple solutions and moving on to the more advanced and costly options. The method best for you depends on how much additional range you need and what you need it for.
Extend Wi-Fi range: At a glance
1. Start with good router placement
Choosing the best place for your router is the first step to good Wi-Fi coverage. Your router broadcasts the Wi-Fi signal throughout your home—it has a limited range, and certain materials and electronics can interfere with the quality and strength of the Wi-Fi signal.
Your router should be in a central location, so your Wi-Fi covers as much area as possible within your home.
Try to elevate the router on a table or desk to help the Wi-Fi broadcast further.
Be mindful of choosing an area away from obstructive materials and electronics.
Water, tile, metal, and stone can be difficult for Wi-Fi signals to penetrate. Avoid placing the router in areas abundant in these materials, like next to a fish tank, right next to a bathroom, or under or behind metal furniture. Also, watch out for microwaves and baby monitors as they can interfere with Wi-Fi signals.
To learn more, see our full article on the best place to put your router.
If your router has antennas, it's best to orient them vertically. Wi-Fi signal travels perpendicular to the antenna—so an antenna pointed towards the ceiling broadcasts Wi-Fi signal horizontally, covering more ground in your home.
2. Switch to the 2.4 GHz Wi-Fi frequency band
Your router likely broadcasts signals on at least two different frequency bands, one at 2.4 GHz and the other at 5 GHz. The 2.4 GHz band has more range than the 5 GHz band, but the 5 GHz band is often preferred because it's faster. Switching from your 5 GHz Wi-Fi to your 2.4 GHz Wi-Fi should afford you some extra distance from your router.
You probably see these frequency bands as two separate Wi-Fi networks on your device, and a common convention is to have your 2.4 GHz Wi-Fi unlabeled and your 5 GHz Wi-Fi labeled with "5G" at the end of the network name. For example, you may see something like "Jenny's Wi-Fi" for the 2.4 GHz Wi-Fi and "Jenny's Wi-Fi (5G)" for your 5 GHz Wi-Fi.
If you can't tell which Wi-Fi is your 2.4 GHz band, you can find out by logging into your router. See our article on logging into your router if you need some help with this.
Ready to switch internet providers?
Enter your zip code below to see the best providers in your area.
3. Wireless Wi-Fi extenders: Easy and affordable
For many situations, a wireless Wi-Fi range extender (technically a Wi-Fi repeater) is the most practical way to extend Wi-Fi signal range. They are relatively cheap, super easy to set up, and completely wireless. Wireless Wi-Fi extenders come with a few caveats, though—slower speeds and increased latency.
Wireless Wi-Fi extenders gather the Wi-Fi signal from your router and simply broadcast it again. The time taken to complete this process causes some loss in bandwidth (speed) and an increase in latency (lag). Some wireless Wi-Fi extenders can get around this, but they tend to be a bit more expensive.
If you think a Wi-Fi repeater might be the solution for you, you definitely should check out our full article on the best Wi-Fi range extenders.
4. Wi-Fi powerline extender: The quality of a wired connection without the hassle
NETGEAR Powerline Adapter + Wireless Access Point Kit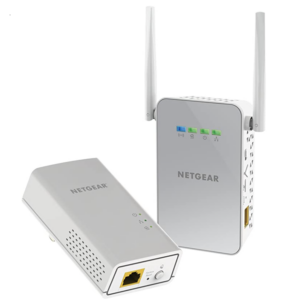 Wi-Fi powerline extenders use the electrical lines in your walls to create a wired connection between your router and another part of your home. These extenders come in pairs—one that you plug into a power outlet and connect to your router and another you plug into a power outlet where you need Wi-Fi.
Because they use a wired connection, powerline extenders do a great job of creating a reliable, fast, and low-latency connection, but they don't work for all situations. They work best in homes with modern electrical wiring. If you live in an older home with outdated wiring or if your wiring is in poor condition, powerline extenders may not work well or at all.
Also, large appliances that use a lot of power constantly, like refrigerators and washing machines, can interfere with the signal; however, that's easily remedied by keeping the extenders away from these appliances.
Be selective when choosing a powerline extender to increase Wi-Fi range because many do not come with Wi-Fi functionality out of the box. The NETGEAR Powerline Adapter + WiFi Access Point Kit is a solid choice. This adapter has a built-in wireless access point with the option to add on additional Wi-Fi access points if you need even more coverage.
Read our full review and comparison of the best powerline extenders for more guidance on these products.
5. Mesh router systems: Complete home coverage
| | Product | Price | Get it |
| --- | --- | --- | --- |
| Best overall | Google Nest Wi-Fi (2-pack) | $115.00 | View on Amazon |
| Best value | Amazon eero Mesh WiFi System (3-pack) | $129.99 | View on Amazon |
| Best for Wi-Fi 6 | NETGEAR Orbi RBK852 Mesh Wi-Fi 6 System | $624.99 | View on Amazon |
| Best for parental controls | Gryphon AC3000 Smart Mesh Wi-Fi System (2-pack) | $299.99 | View on Amazon |
Mesh routers are one of the best ways to improve the quality of your home's Wi-Fi. These routers use one main router in conjunction with several wireless access points placed at the edges of your home to create a single blanket of outstanding Wi-Fi coverage.
Mesh Wi-Fi networks provide a combination of flexibility and simplicity that you won't find with any other setup. It's very easy to move and adjust the access points—you can even add additional access points if you have a particularly tricky home layout.
The Google Nest Wi-Fi mesh router system covers all the bases. It's easy to set up, easy to use, and provides excellent Wi-Fi—all with very competitive pricing. Mesh routers are pricey, but they're all-in-one solutions that come with unrivaled quality and convenience. To learn more, see our full breakdown of the best mesh routers.
6. Upgrade to a long range router
If you have an older router, it may be best to replace it. Simply choosing a new long-range model could solve your Wi-Fi range problem. An additional perk to upgrading is that you'll not only get more range, but you'll also get the chance to update your network to the most recent Wi-Fi standards and wireless protocols. This can have an enormous impact on your overall Wi-Fi speeds.
Check out our article on the best long-range routers to start looking for your next Wi-Fi machine.
7. Install a second router
Adding a second router to your home network can be a good solution for instances that require the utmost speed, reliability, and flexibility. But be aware, this option can quickly evolve into the most expensive on the list.
Unless your house is already wired for Ethernet, you'll need to install a new Ethernet line from your modem to the area where you want the second router—for many people, this means hiring a professional. On top of that is the cost to buy the additional router itself.
Because of the potential money and hassle involved, we recommend this solution only for really demanding situations, like bringing Wi-Fi to advanced home offices or guesthouses that are well out of reach of your primary router.
Best ways to extend Wi-Fi range for specific situations
You don't need a $300 mesh router if you just want to push your Wi-Fi signal a little further into a poorly covered room. At the same time, you shouldn't expect to double your coverage area or run a hefty home office or heavy-duty gaming setup off of a $20 Wi-Fi repeater.
Choose the goal below that best aligns with your situation to see which tools and methods you should use.
Casual Wi-Fi in a single direction: Wireless Wi-Fi extenders
Use a wireless Wi-Fi extender (technically a Wi-Fi repeater) if you just need to extend your range to one area of your home, like a guest room or living area. Wireless Wi-Fi extenders will be fine for activities like streaming, web surfing, and getting Wi-Fi home devices online.
Just remember that because repeaters need to listen to your Wi-Fi before they can rebroadcast it, they cut down your internet speed and increase latency; this makes them a poor choice for sensitive applications like gaming and video calls.
Serious Wi-Fi in a single area: Wi-Fi powerline extender
Powerline extenders use your home's electrical wiring to create a wired connection to your router. When the conditions are right, they are a cost-effective way to get a fast and reliable connection to anywhere your power lines run—no slowing of speeds and no dramatic increases to latency.
But be aware, not all powerline extenders broadcast Wi-Fi, so make sure you get one with Wi-Fi capabilities if you choose this option. Lastly, this type of extender doesn't work for all homes, as it depends on the conditions and design of your house's electrical wiring —generally, newer homes are more compatible.
Complete Wi-Fi home coverage: Mesh router
If you simply want to cover your whole house in Wi-Fi, get a mesh router and say goodbye to spotty Wi-Fi. Mesh routers are the most complete, all-in-one solution to getting good, consistent Wi-Fi coverage throughout your entire home.
They come with several small Wi-Fi access points that communicate with the primary router to create one awesome blanket of Wi-Fi coverage. Think of mesh routers as systems that already come with two or three Wi-Fi extenders built from the ground up to work flawlessly together.
The only downside to mesh routers is that they tend to be on the pricey side, but these effective and user-friendly devices are well worth it.
Every situation is different
To make the best decision for extending your Wi-Fi range, you need to decide what exactly it is you need from your Wi-Fi. Think in terms of the future as well. You don't want to waste time and money fumbling through multiple solutions in an expensive process of trial and error. Take stock of what you need and pick the right tool for the job.
Wi-Fi extenders vs. Wi-Fi repeaters vs. Wi-Fi boosters
The terms "Wi-Fi extender" and "Wi-Fi booster" are used synonymously to refer to various products that broadcast Wi-Fi to areas your router's signal doesn't reach.
Here are the technical differences between these terms:
Wi-Fi extender: uses a direct, wired connection to your router to create a new access point or a new Wi-Fi network.
Wi-Fi repeater: wirelessly gathers Wi-Fi signals and rebroadcasts them on a new Wi-Fi network. Many products marketed as extenders and boosters are, in fact, Wi-Fi repeaters.
Wi-Fi booster: amplifies a router's Wi-Fi signal, and an uncommon solution for residential Wi-Fi.
Amazon.com Prices as of 3/14/2022 and 1:12 p.m. (PST). Product prices and availability are accurate as of the date/time indicated and are subject to change. Any price and availability information displayed on Amazon.com at the time of purchase will apply to the purchase of this product. Highspeedinternet.com utilizes paid Amazon links.
CERTAIN CONTENT THAT APPEARS ON THIS SITE COMES FROM AMAZON. THIS CONTENT IS PROVIDED 'AS IS' AND IS SUBJECT TO CHANGE OR REMOVAL AT ANY TIME.
Author - Austin Aguirre
Austin worked as a broadband technician installing and troubleshooting countless home internet networks for some of the largest ISPs in the U.S. He became a freelance writer in 2020 specializing in software guides. After graduating with a BS in technical communication from Arizona State University, he joined the team at HighSpeedInternet.com where he focuses on home network improvement and troubleshooting.
Editor - Rebecca Lee Armstrong
Rebecca Lee Armstrong has more than six years of experience writing about tech and the internet, with a specialty in hands-on testing. She started writing tech product and service reviews while finishing her BFA in creative writing at the University of Evansville and has found her niche writing about home networking, routers, and internet access at HighSpeedInternet.com. Her work has also been featured on Top Ten Reviews, MacSources, Windows Central, Android Central, Best Company, TechnoFAQ, and iMore.