When Will Project Kuiper Be Available?
Stay up to date with news on this Starlink alternative.
May 15, 2023 | Share

Brand Guides, Technology
Project Kuiper's satellite internet service expects to provide service to its first customers by the end of 2024, though it's unclear how long it's public launch will take after these first users.11 The project is still preparing to launch its first prototype satellites and it will need thousands of working satellites in orbit before it can begin offering nationwide service—a process that will most likely take several years.
Project Kuiper was preparing to launch its first two prototype satellites—Kuipersat-1 and Kuipersat-2—in May of 2023.13 The launch, however, was delayed due to some anomalies during the final test of the new rocket. There is no new official launch date yet, but it is expected some time in the summer.15
The satellites will be launched on United Launch Alliance's (ULA) new Vulcan Centaur rocket. ULA is currently scheduled to provide 47 launches for Project Kuiper as it begins building its satellite constellation.1
In order to catch up to its main rival, Starlink, Amazon has bought up nearly every bit of available space on every rocket around the world to get its satellites into orbit.13 This won't impact Starlink, which uses SpaceX's own rockets, but it might allow Project Kuiper to get its constellation up and running in a shorter time span than its primary rival did.
Project Kuiper is a low-Earth orbit (LEO) satellite constellation designed to provide broadband satellite internet. Like Starlink, the constellation will consist of thousands of small satellites traveling around the Earth in a low orbit.
Unlike traditional satellite internet providers, which use a single large satellite in geostationary orbit to provide internet to an entire continent, LEO constellations try to have enough satellites slipping across the sky so that as soon as the one you're using starts moving out of range, another one is already overhead to keep you connected to the internet.
Project Kuiper is run by Kuiper Systems, a subsidiary of Amazon created in 2019.2 The company plans on eventually operating a constellation of 3,236 satellites, though none have been launched yet.
Amazon has stated that one of its goals is to help bridge the digital divide in the United States, particularly among students. Amazon has committed to investing $10 billion in Project Kuiper, which it argues will be able to deliver reliable and affordable internet to those in the US who lack reliable home internet access.3
Project Kuiper is the third major LEO satellite internet constellation, following Starlink and OneWeb. Of these three, only SpaceX's Starlink is currently operational and available to new customers.
How much will Project Kuiper internet cost?
Project Kuiper hasn't given any clear indication how much its internet service will cost; however, it frequently emphasizes the importance of affordability in its public statements, both when talking about its target market and its equipment.3, 4 The company has also explicitly stated that "Project Kuiper aims to bridge the digital divide by providing fast, affordable broadband to unserved and underserved communities around the world."12
This suggests that Project Kuiper internet plans will be competitively priced relative to other rural internet options. This includes Starlink and other satellite providers like Viasat and HughesNet, though other rural options like fixed wireless, home 4G LTE, and home 5G have expanded their networks in recent years.
How much does rural internet cost?
Data as of 04/18/2023 Offers and availability may vary by location and are subject to change.
*Prices and availability vary by location. Installation fees, monthly equipment lease fees, and taxes may apply. After 100 GB of High-Speed Data usage, you still have unlimited access to Standard Data, which may result in slower speed.
†Pricing for the first 6 months. Service plans require a 24-month commitment. Pricing not available in all areas.
‡Plus hardware, shipping & handling fees, and tax. Fully refundable. Depending on location, some orders may take 6 months or more to fulfill.
Plus taxes w/qualifying AT&T wireless svc. Incl 350GB data/mo., overage chrgs apply. Ltd. avail/areas in U.S.
‖With successful activation. Offer available to new customers only. Limited-time offer. May not be combined with other offers. All prices are with Auto-payment enabled and are $5/month more without Auto-payment. Additional fees will apply. Service not available in all areas. Call for details and availability. Restrictions apply.
#w/ Auto Pay. Regulatory fees included in monthly price for qualified accounts. See full terms.
Since Project Kuiper most likely won't be available for several years, they won't just be competing with the wireless networks we have today, but the wireless networks of tomorrow. So as technologies like 5G become more widespread, they might raise the bar on what Project Kuiper considers affordable internet.
How fast will Project Kuiper internet speeds be?
Prototypes for the Project Kuiper customer terminals have already reached speeds up to 400 Mbps and performance is expected to continue to improve in future iterations of the equipment.4 Of course, there's more to satellite internet speed than the maximum throughput of the terminal.
Satellite speeds will also depend on factors such as Project Kuiper's ability to maintain a sufficient number of satellites in orbit and its ability to manage traffic on its network—a challenge that Starlink has struggled with since its official launch.5
Amazon Project Kuiper prototype antenna. Image courtesy of Amazon
We won't know how well Project Kuiper will be able to deal with these issues until people start signing up for its service, so for now the performance of its antenna is a very encouraging indicator of its future performance. Most types of internet connection in rural areas offer speeds below 100 Mbps, so an affordable 400 Mbps internet option would be a game-changer for households with higher internet needs.
In March, 2023, Project Kuiper announced that it had expanded its initial antenna prototype into three different engineering models that will each serve different groups of users.10 The standard model for residential and small business use will be less than 11 inches square, deliver speeds up to 400 Mbps, and should cost less than $400 each.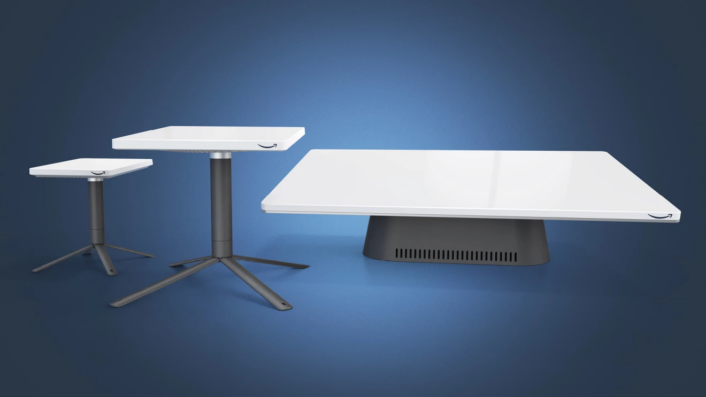 Amazon Project Kuiper antenna designs. Image courtesy of Amazon
Project Kuiper will also offer an ultra compact design, with a 7 inch square dish and a lower cost, providing speeds up to 100 Mbps.10 Additionally, Project Kuiper has announced that it will offer a large high-bandwidth antenna for enterprise, government, and telecommunications applications delivering speeds up to 1 Gbps, which would be a substantial leap over current LEO satellite speeds.
Amazon also notes that it's already scaling its infrastructure in anticipation of building tens of millions of these units.10 This is in stark contrast to its main competitor, Starlink, which has struggled to keep up with the logistics of running a nationwide internet provider, leaving customers waiting months for their equipment to arrive. Project Kuiper is leaning on Amazon's record of mass producing low-cost electronic devices like the Echo Dot and Fire TV Stick to reassure customers that it's up to the task of competing in the LEO satellite space.
Why should we care about Project Kuiper?
Although it may not be breaking new ground in the same way as Starlink, Project Kuiper has the potential to go toe-to-toe with other LEO satellite networks and deal more effectively with the problems that they've encountered along the way.
Starlink's biggest challenges so far have not been with its satellite technology, but with the logistics of scaling its operation up to a national level. Despite having thousands of satellites in orbit, Starlink's network has struggled to maintain download speeds as its user base has increased.5 It has also struggled to keep up with orders for new equipment, leaving some customers waiting months to get access to their new internet service.6
Being owned by Amazon gives Project Kuiper a significant advantage in logistics. If any company has the resources and expertise to deliver goods around the world in a timely manner, it's Amazon. Amazon also has experience dealing with managing internet traffic through another of its subsidiaries, Amazon Web Services (AWS), the leading cloud computing platform in the world.7 Amazon's current plan is to have nearly 8,000 satellites in its constellation, which would give it coverage further north and south than Starlink, which is great news for customers in Alaska.13
Project Kuiper also has ties to Blue Origin, the aerospace company founded by Jeff Bezos, who is also the founder and chairman of Amazon. Amazon has currently secured launches for Project Kuiper satellites with three companies—ULA, Arianespace, and Blue Origin.
Although Blue Origin doesn't currently have the capacity to handle all of Project Kuiper's launches in the same way SpaceX does for Starlink, having this connection is incredibly important to a company that relies on regular rocket launches for its entire business. This was clearly demonstrated in March 2022 when OneWeb had to suspend its relationship with Roscosmos, the Russian State Space Corporation, following Russia's invasion of Ukraine.8
With connections to aerospace companies, computing powerhouses, and logistics superpowers, Project Kuiper is set up for success. With Amazon pledging at least $10 billion to the project, we can be sure that Project Kuiper won't be going away anytime soon.3
When will Project Kuiper be available?
Amazon is currently claiming that it expects to provide service to the first Project Kuiper customers by the end of 2024.11 Of course, this sounds more like the beginning of the project's beta testing than it's big public launch, so eager potential customers will probably have to wait a bit longer.
Our best way to estimate the project's timeline is to compare the rollout of Project Kuiper to that of Starlink. Project Kuiper will launch its first two test satellites in early 2023. Starlink's first two test satellites were launched in early 2018 and the service officially launched at the end of 2021.9 If Project Kuiper follows a similar schedule, we might see Project Kuiper available around the end of 2026.
Of course, there are a lot of differences between Starlink and Project Kuiper, so we might see a lot change as technology improves, as regulatory battles play out, and as the internet landscape changes. We'll keep following the developments of Project Kuiper, so check back to see what's happening with Amazon's ongoing ventures in space.
Author - Peter Christiansen
Peter Christiansen writes about satellite internet, rural connectivity, livestreaming, and parental controls for HighSpeedInternet.com. Peter holds a PhD in communication from the University of Utah and has been working in tech for over 15 years as a computer programmer, game developer, filmmaker, and writer. His writing has been praised by outlets like Wired, Digital Humanities Now, and the New Statesman.