DIRECTV NOW vs. Playstation Vue
Dec 5, 2018 | Share

Brand Guides, Streaming Guides
It's time for a showdown between two of the best live TV streaming services.
The Bottom Line
DIRECTV NOW is the better pick for channel surfers and folks who want to get the most for their money. It offers more channels at more competitive prices than any other streaming service out there. The downside is the DIRECTV NOW DVR is nothing to write home about.
PlayStation Vue is perfect for binge-watchers and digital pack rats alike, thanks to its unlimited DVR. It records as much as you want, whenever you want. You can stock up all week for a whole weekend dedicated to catching up on your favorites.
Price

$40.00–$75.00/mo..

Price

$44.99–$79.99/mo.

Live Channel Count

139 (including add-ons)

Live Channel Count

113 (including add-ons)

On-Demand Content

Yes

On-Demand Content

Yes

Resolution/Quality

720p HD

Resolution/Quality

720p HD

Simultaneous Streaming

Up to 3 devices

Simultaneous Streaming

Up to 5 devices

DVR Storage

20 hours

DVR Storage

Unlimited

Start Your Free Trial
Start Your Free Trial
Price

$40.00–$75.00/mo..

Price

$44.99–$79.99/mo.
Live Channel Count

139 (including add-ons)

Live Channel Count

113 (including add-ons)
On-Demand Content

Yes

On-Demand Content

Yes
Resolution/Quality

720p HD

Resolution/Quality

720p HD
Simultaneous Streaming

Up to 3 devices

Simultaneous Streaming

Up to 5 devices
DVR Storage

20 hours

DVR Storage

Unlimited
Free Trials
Like most streaming services, both PS Vue and DIRECTV NOW offer free trials so you can make sure the service lives up to the hype.
DIRECTV NOW gives you a slightly more generous 7 days to try out the service.
PlayStation Vue offers a 5-day free trial on all packages except Ultra.
In both cases, you can cancel before the trial is up, and you won't be charged a dime. To cancel PlayStation Vue or DIRECTV NOW, just visit your account settings page.
Now onto the good stuff: the packages.
| | | Live a Little | Just Right | Go Big | Gotta Have It | Todo y Más |
| --- | --- | --- | --- | --- | --- | --- |
| | Pricing | $40.00/mo. | $55.00/mo. | $65.00/mo. | $75.00/mo. | $45.00/mo. |
| | Channels | 65+ | 85+ | 105+ | 125+ | 90+ |
Pricing
Live a Little
$40.00/mo.
Just Right
$55.00/mo.
Go Big
$65.00/mo.
Gotta Have It
$75.00/mo.
Todo y Más
$45.00/mo.
Channels
Live a Little
65+
Just Right
85+
Go Big
105+
Gotta Have It
125+
Todo y Más
90+
Data effective 11/28/18. Offers and availability subject to change.
Although the prices are similar, DIRECTV NOW gets you a lot more for your money than PlayStation Vue. In fact, in terms of channel count and cost per channel, DIRECTV NOW is one of the best deals in streaming.
The base package, Live a Little, is 65+ channels for $40 per month, while the top-tier Gotta Have It plan is 125+ channels for $75 per month. That's $0.60 per channel—not too bad. There's even the Todo y Más package, which includes 50+ Spanish-language channels and 40+ English-language channels for $45 per month. (And yes, those package names are a little over the top. It's not just you.)
| | | Access | Core | Elite | Ultra |
| --- | --- | --- | --- | --- | --- |
| | Pricing | $44.99/mo. | $49.99/mo. | $59.99/mo. | $79.99/mo. |
| | Channels | 45+ | 65+ | 85+ | 85+ |
Pricing
Access
$44.99/mo.
Core
$49.99/mo.
Elite
$59.99/mo.
Ultra
$79.99/mo.
Channels
Access
45+
Core
65+
Elite
85+
Ultra
85+
Data effective 11/28/18. Offers and availability subject to change.
PlayStation Vue prices start at $44.99 per month for 45+ channels—that's nearly $1.00 per channel. By that measure, PS Vue is one of the more expensive streaming services. You do get a good selection of channels, with each tier building off the former. Core adds sports channels, Elite adds news and movie channels, and Ultra adds premium channels like HBO® and SHOWTIME® for the folks who want it all.
Original Content
There's really only one horse in the race for best original content. DIRECTV NOW has original programming produced by AT&T, and PlayStation Vue does not—at least not yet. We've heard some rumors that Sony may be planning some originals of its own, but nothing concrete yet.
DIRECTV NOW has a number of original titles across several genres:
Condor, a political thriller
Mr. Mercedes, based on stories by Stephen King
Loudermilk, a critically acclaimed comedy starring Ron Livingston
You Me Her, a rom-com about a polyamorous relationship (the first of its kind, in fact)
These titles air on the AT&T AUDIENCE Network, which is exclusive to DIRECTV, DIRECTV NOW, and AT&T TV.
On-Demand Content
PlayStation Vue and DIRECTV NOW both offer on-demand content in addition to livestreaming. With PS Vue, there is dedicated on-demand content as well as the ability to record shows and watch them whenever you like with the cloud DVR.
DIRECTV NOW lacks the strong DVR, but it claims over 40,000 on-demand titles in its library, which puts it on par with many cable and satellite TV services. You shouldn't have any trouble finding something to watch here, whether it's your favorite Lifetime movie or an episode of South Park.
Live Channels
Depending on your package, you can get a decent amount of live channels with either streaming service. Neither provider offers much in the way of add-ons though. In fact, other than the premium networks and DIRECTV NOW Español, DIRECTV NOW doesn't offer any other add-ons. PlayStation Vue has a handful, including a sports pack for $10.00 per month and a Spanish-language pack for $4.99 per month. PlayStation Vue local channels also tend to be slightly better, though the difference may be minor.
Best Streaming Devices
You might think PS Vue is PS Vue and the device doesn't matter, and we wouldn't blame you. But that's not the case. Each streaming device has its own unique user interface, not only for the menus and navigation but often for the actual apps and services themselves.
For the best experience, we recommend either Apple TV or Amazon Fire TV. Apple TV has the advantage of the Apple ecosystem, including access to the iTunes Store. Amazon Fire TV is an affordable device with its own great ecosystem and powerful voice controls, thanks to Alexa.
DVR and Cloud Storage
PlayStation Vue has an outstanding unlimited cloud DVR that lets you store as much content as you want, and it comes included with the service, so there's no extra charge to worry about.
DIRECTV NOW also offers a cloud DVR system, but it's still in beta status and offers only twenty hours of storage. Subscribers can opt in and use it if they like, but because it hasn't been officially released, there's no guarantee it'll actually work.
| | Resolution |
| --- | --- |
| DIRECTV NOW | 720p HD |
| Playstation Vue | 720p HD |
Both services stream up to 720p HD. That's ok, but not great, and we'd like to see more content at higher resolutions that take advantage of today's awesome TV screens. For now, DIRECTV NOW or PS Vue in 1080p remains but a dream. That said, streaming 720p is easy on the internet connection, so you'll have less buffering and more watching.
Recommended Internet Speed
For a good streaming experience, nothing can replace a fast, reliable internet connection.
| | Simultaneous Streams |
| --- | --- |
| DIRECTV NOW | 3 |
| Playstation Vue | 5 |
If you live with anyone besides your cat, there's a good chance you'll share a subscription to whatever streaming service you decide on with your roommates, family, or friends.
DIRECTV NOW streams on up to 3 devices at once, which is perfect for smaller households or light streamers.
PlayStation Vue streams on up to 5 devices at once with one account, so the whole house (and beyond) can share the same subscription.
Advantages and Disadvantages of PlayStation Vue and DIRECTV NOW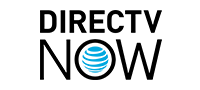 Best prices on premium channels
Excellent channel variety
Strong local selection
Good package prices
Weak DVR
Poor CBS availability

Excellent streaming quality
Unlimited DVR
Solid channel selection
Good local channel selection
Higher cost per channel
Poor selection of ABC and FOX networks
Livestreaming just keeps getting better.
Whether you're all about the great DVR experience of PlayStation Vue or the killer value and channel selection of DIRECTV NOW, livestreaming services have never been so good. Cable TV still holds some distinct advantages, but streaming is catching up fast.
Have you replaced cable with one of these services? Do you have both? Let us know about your experience in the comments below.
FAQ about PlayStation Vue and DIRECTV NOW
Which streaming service is best?
There isn't really a best streaming service—at least not yet. Like most things in life, each service has its own pros and cons. PlayStation Vue has that unlimited DVR and great streaming quality, but it's more expensive. DIRECTV NOW has great prices and channel variety but lacks the DVR. You win some, you lose some.
What channels do you get with PlayStation Vue?
PlayStation Vue offers up to 113 channels if you sign up for all the add-on packs. Some of the standouts include Disney, ESPN, FX, HGTV, and premium channels like HBO and CINEMAX. How many channels you get depends on the package you sign up for.
Check out the full channel lineup for PlayStation Vue.
How many devices work with DIRECTV NOW?
Pretty much everything! DIRECTV NOW is supported on most popular streaming devices, including the following:
Apple TV
Amazon Fire TV
Chromecast
Roku
iPhone and iPad
Android phones and tablets
Does DIRECTV NOW come with my AT&T Internet plan?
No, not currently. But AT&T occasionally runs promotions on DIRECTV NOW. Before you sign up, check with an AT&T sales agent to see if there are any deals available.
Author - Dave Schafer
Dave has written professionally for tech companies and consumer technology sites for nearly five years, with a special focus on TV and internet. He uses his industry expertise to help readers at HighSpeedInternet.com get the most out of their services. No matter the project, he prefers his coffee black (the stronger, the better).