The Digital Nomad: A Brief History of Remote Workers
Nov 15, 2018 | Share

Industry Exclusive/Entertainment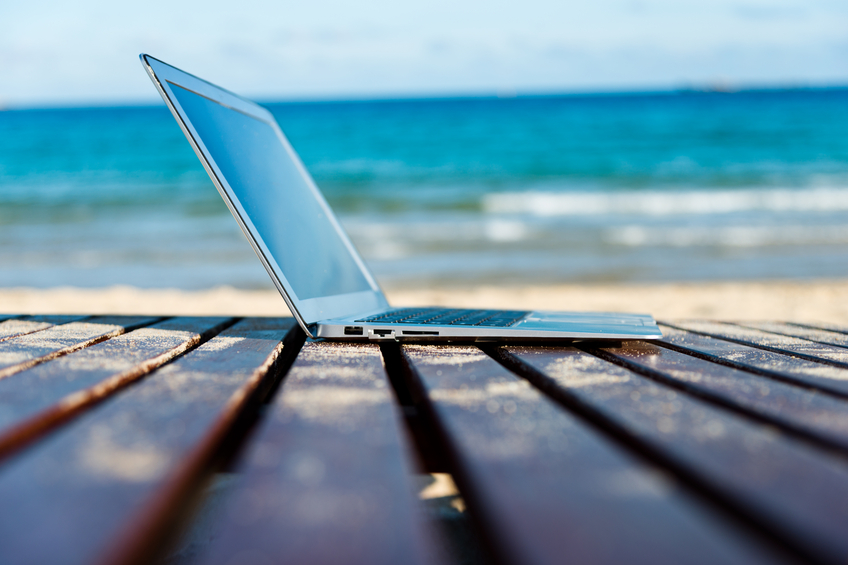 Today's workforce looks different than it did just a decade ago. Cubicle farms and 9-to-5 schedules are no longer the norm for Americans — the market for digital nomads and remote workers has burgeoned.
According to GlobalWorkplaceAnalytics.com, half of the U.S. workforce works from home during part of the week and many Fortune 1000 companies have shed costly office space in favor of remote employees. Remote jobs available on FlexJobs rose by 26% from 2014 to 2015.
Below is a look at other people, efforts, and companies that have impacted the growth of the remote workforce over the last four decades.
The Ultimate Timeline of Remote Working
1973: Jack Nilles coined the term "telecommuting" — using electronics to work remotely. Nilles referred to his work as a NASA engineer as telecommuting, and he estimated the style of work would be the norm in 10 or 20 years.
1982: Telecommuting expert Gil Gordon began his consulting business for companies wishing to start telecommuting programs. Over the next couple of decades, Gordon held multiple telecommuting conferences, published a regular newsletter, co-authored two books, and created management videos — all to promote best telecommuting practices.
1990: The city of Los Angeles established a Telecommuting Pilot Project from 1990 to 1992 that allowed over 400 city employees to work remotely. The goal of the project was to reduce air pollution and traffic as well as to increase productivity and qualified job candidates.
1991: Transportation engineer Patricia Mokhtarian published her first article on remote work, "Defining Telecommuting." An early pioneer of telecommuting, Mokhtarian published many articles on how telecommunications technology impacts travel behavior — research that became critical in paving the road for telecommuting jobs.
1993: The International Telework Association and Council — now called the Telework Coalition — was founded. The group works with policymakers and the public to promote telework as a healthier work-life balance, a way to increase employee production, a new employment opportunity for workers who are disabled or rural, and a critical means to cut traffic and vehicle pollution.
1994: AT&T celebrated its first Employee Telecommuting Day, and American Express began transitioning from satellite to virtual offices for its Travel Related Sales division — the result of a two-year project to improve employee productivity. American Express is now one of the top remote workplaces in the country.
1995: IBM began reducing office space to allow for telecommuters. Over the next 14 years, 40% of IBM's workforce will not have a traditional office space. IBM also sold most of its office space at a gain of $1.9 billion and was able to save at least $100 million a year by allowing remote workers.
1996: The National Telecommuting Initiative was passed. This initiative had a goal of increasing "flexiplace" participation to at least 3% of federal civilian employees.
2005: Automattic, the web development company behind WordPress, was founded as an entirely remote workplace and became one of the first companies to begin with completely digital roots. The company now has around 500 employees who work in 45 countries.
2008: The Great Recession made downsizing imperative. In order to cut costs, companies all over the nation began to get rid of physical office space and allow employees to work from home.
2010: The federal government passed the Telework Enhancement Act, which required federal agencies to establish telework policies. This bill was an example of the support the federal government showed for telecommuting; federal workers have been encouraged to work from home during high-traffic events and bad-weather days.
2013: Two new companies were founded on the principle of hiring only remote professionals. Baremetrics, a web analytics company, and Groove, a software company, proved that even small businesses can thrive as digital nomads.
2014: Support for telecommuting continued to grow. According to GlobalWorkplaceAnalytics.com, the amount of American employees grew by 1.9% from 2013 to 2014, but the telecommuting population increased by 5.6%.
2016: LiveOps topped FlexJobs list of the 100 Top Companies with Remote Jobs in 2016. The Cloud contact and customer service center now employs 20,000 independent call center agents.
GlobalWorkplaceAnalytics.com says the average telecommuter has a college education, is middle-aged, makes an annual salary of $58,000, and works for a company with more than 100 employees. This work-at-home sector — which doesn't include self-employed people — has grown by 103% since 2005 and is expected to increase as people continue to crave a better work-life balance.
Does the digital nomad lifestyle appeal to you? Comment below and tell us why the digital nomad lifestyle appeals to you. Share with your friends who are looking for the best remote work opportunities.