Americans Say the Perfect Internet Plan is Fiber, $50 a Month, and 610 Mbps
Apr 7, 2022 | Share

Industry Exclusive/Entertainment
With inflation on the rise, people may be looking for ways to save money on internet. According to our recent survey of more than 1,000 US internet users who switched internet in the past three years, high cost was why most people left their internet provider. And if there's one thing people could change about their internet service, it's the price.
The COVID-19 outbreak didn't help, either. Nearly half (47%) of our respondents reported struggling to pay their monthly internet bills at some point during the pandemic. Though government programs existed to help keep Americans connected, many folks still needed to find better, budget-friendly internet service.
Shopping for a new internet plan can be overwhelming with so many different combinations of costs, speeds, and connection types—not to mention the quality of a company's customer service.
To help simplify your choices, we crafted the perfect internet plan based on our survey responses, plus a few recommendations for providers that may work for you. The extra insight can help you find the best internet plans in your area.
Why is internet so expensive?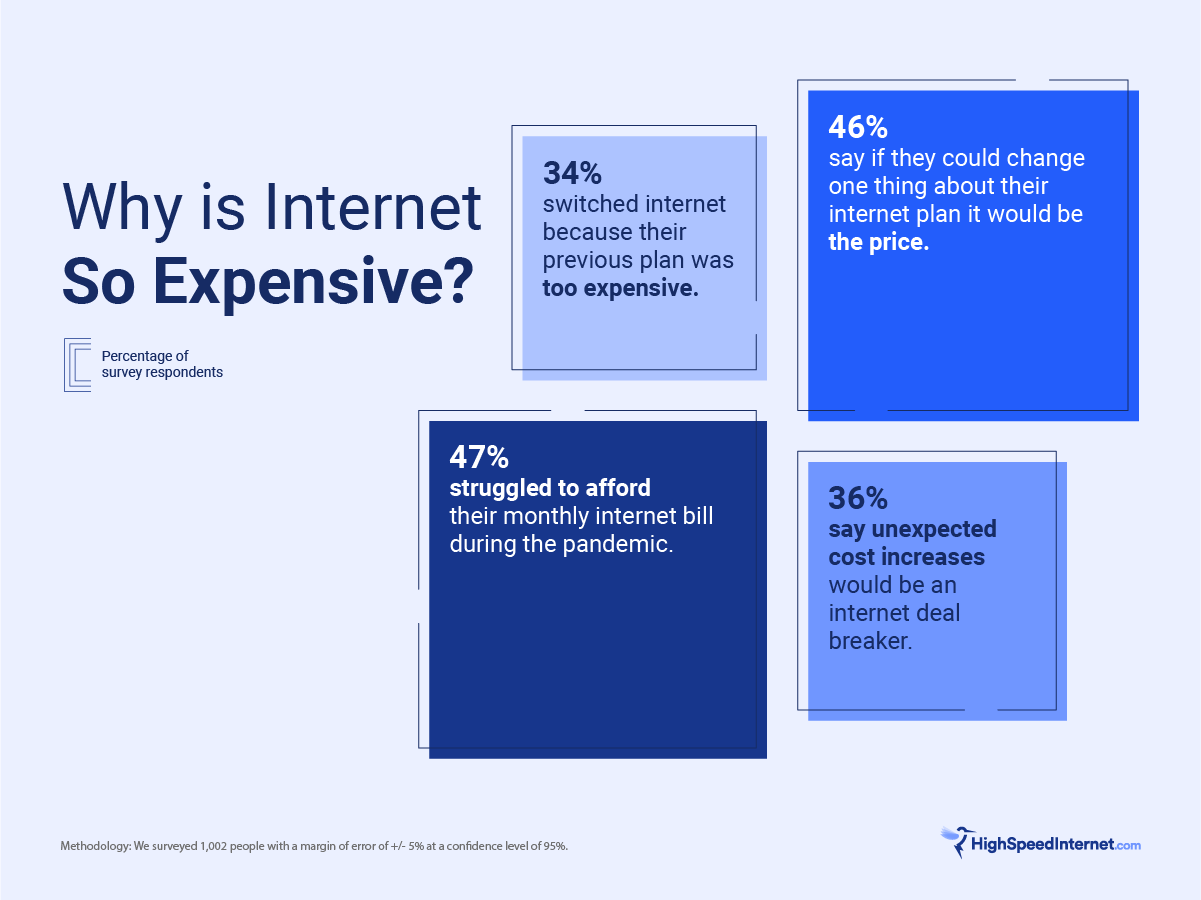 In 2022, internet customers are looking for lower prices, faster speeds, better reliability, and protection from unexpected costs:
46% say if they could change one thing about their internet plan, it would be lowering the cost.
34% report switching internet plans because their previous plan was too expensive.
37% say unreliable internet is a deal-breaker.
36% say unexpected cost increases are a deal-breaker.
47% say they struggled to afford their monthly internet bill during the pandemic.
37% report needing faster internet.
36% need internet that is less expensive than before the pandemic.
The COVID-19 outbreak had a huge impact on the internet in terms of both speeds and cost, where remote work and school demanded a lot more bandwidth. Over a third of our respondents felt the pandemic's pressure and now want faster and cheaper internet.
However, picking a new internet plan isn't always as simple as it seems.
Americans think internet plans are confusing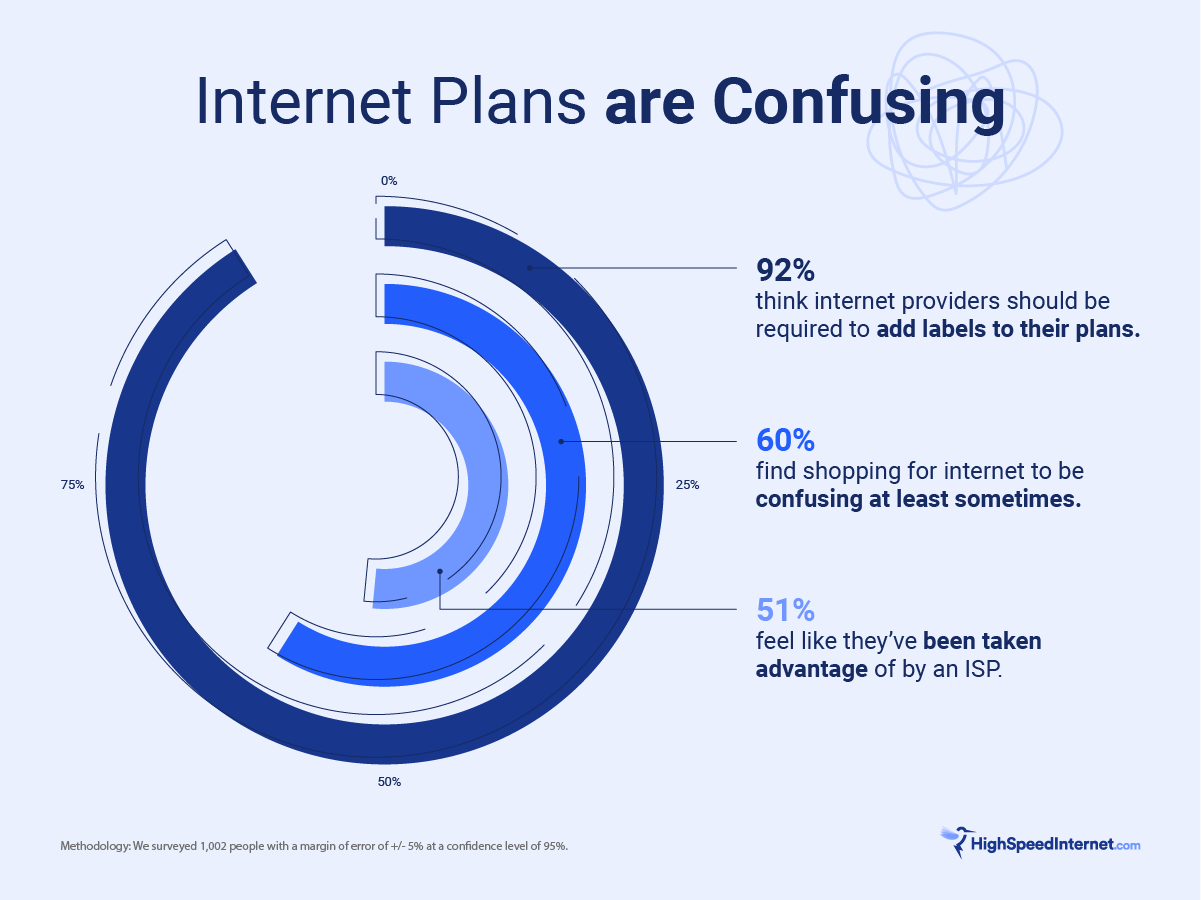 Over half of our respondents feel they've been taken advantage of by internet providers. And many customers may feel that internet plans are purposefully confusing. 
51% feel like they've been taken advantage of by an ISP.

60% find shopping for internet to be confusing, at least sometimes.

92% think internet providers should be required to

add labels to their plans

.
We recommend running internet speed tests and tracking your speeds at different times of the day. 
Usually, you'll see slower speeds when more people are online (during working hours or later in the evening when people stream TV shows, play games, and browse social media). 
However, if you're consistently getting much lower speeds than advertised, it may be worth checking with your provider to see how you can get faster speeds. It may require device troubleshooting, equipment updates, or upgrading your internet plan.
If you keep running into trouble or don't get the reliability or speeds you need, it may be time to switch providers altogether.
What's the best internet plan?
While how much internet you need depends on your activities and interests, knowing what most people want can help guide you. Our survey respondents gave us their ideal internet speeds, price, and connection types.
According to Americans, the perfect internet plan is a 610 Mbps fiber connection for $49 per month.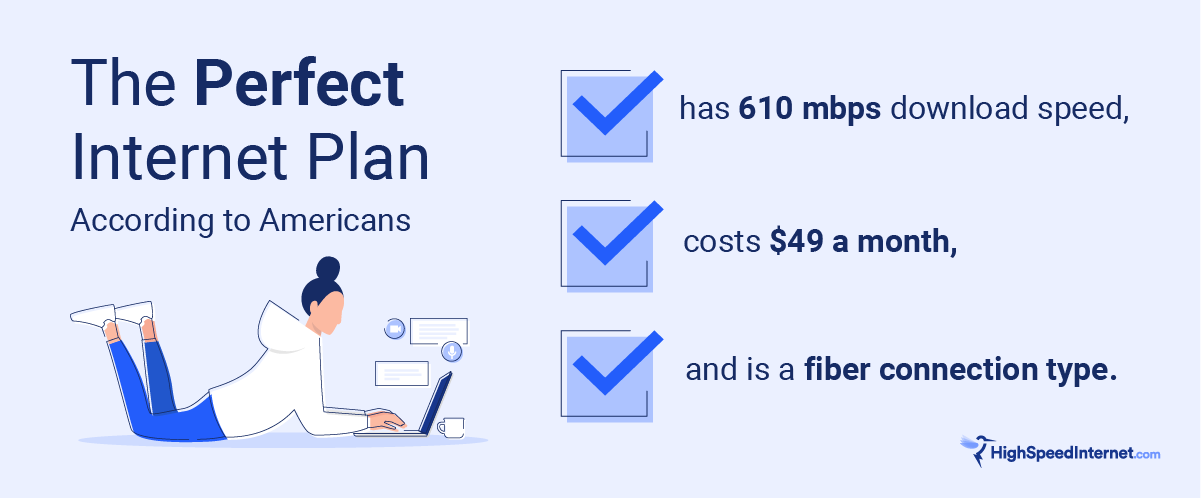 We gave our respondents a choice of paying between $5 per month and $200 per month on a sliding scale for internet. Their answers came to a median price of $49 per month—a typical price for actual internet plans.
Free and low-cost internet may be the best options for price, but you can't always get the speeds you need from them. Still, the fastest internet speeds can cost far more than basic internet service.
We asked our respondents to choose their ideal download speeds from a range of 25 Mbps to over 1,000 Mbps, and the median response was 610 Mbps—which isn't quite gig speed but is faster than most other options. The actual average internet speeds, according to our speed tests, is 42.86 Mbps—most people want, like, a big speed upgrade.
We had 193 (19%) respondents answer they wanted speeds of 1,000 Mbps or more. These higher gigabit or more speeds can mostly be found from fiber internet providers.
Is fiber the best type of internet?
Fiber internet has a reputation for high speeds, outstanding reliability, and relatively low prices. When we asked our respondents what their ideal internet connection was, fiber internet was the most popular internet type, garnering nearly 48% of the vote.
It might be surprising to some, but many respondents still said cable (24%) and DSL (11%) connections would be ideal. Many folks don't have access to fiber internet and may have to choose between cable and DSL.
America's ideal internet connection types:
Fiber: 48%
Cable: 24%
DSL: 11%
Satellite: 17%
With the rising popularity of Starlink and other satellite internet providers, we aren't surprised to see satellite as the favorite for 17% of our respondents.
We surveyed 1,002 adults 18 years and older with a margin of error of +/- 5% at a confidence level of 95%.
Survey respondents had to answer that they had switched plans within the last year or the past three years.
Our screening question disqualified 6,460 respondents.
Author - Trevor Wheelwright
Trevor's written professionally for five years for editorial publications and retail/e-commerce sites. He lives in Salt Lake City and enjoys photography and making music in his spare time, or you can catch him on your local dance floor bustin' a move.
Editor - Rebecca Lee Armstrong
Rebecca Lee Armstrong has more than six years of experience writing about tech and the internet, with a specialty in hands-on testing. She started writing tech product and service reviews while finishing her BFA in creative writing at the University of Evansville and has found her niche writing about home networking, routers, and internet access at HighSpeedInternet.com. Her work has also been featured on Top Ten Reviews, MacSources, Windows Central, Android Central, Best Company, TechnoFAQ, and iMore.