The State of the Internet in 2021: Internet Speeds on the Rise Nationwide
Feb 1, 2023 | Share

Industry Exclusive/Entertainment
In 2021, we saw national average internet speeds rise to 99.3 Mbps following the pandemic, more than doubling the previous 2020 national average of 42.86 Mbps. Beyond faster speeds, people needed more mobile options to stay connected, and more people looked to get fiber internet after feeling frustrated with their cable or DSL connections.
In this report, we'll cover the fastest and slowest internet speeds across the nation's states and biggest metros, how people have stayed connected while on the move or working remotely, and which of the best internet providers have kept their customers happy throughout the pandemic.

States with the fastest and slowest internet speeds in 2021
In 2021, most of the states with the fastest download speeds were in the East, along with the tech hubs of Texas and California.
Rhode Island has the fastest internet speeds: Rhode Island ranked first for fastest average internet speeds (129.0 Mbps) in the US, beating out Maryland's two-time record.
Montana has the slowest internet speeds: Montana ranked last in 2021, with average internet speeds of 54.4 Mbps. But it still showed a vast improvement from its 2020 average of 30.1 Mbps.
Alaska made huge internet speed gains: Alaska was the slowest state in 2020, with average speeds of 20.6 Mbps. However, The Last Frontier's average speeds improved to 61.5 Mbps in 2021.
Average internet download speeds nationwide have surpassed last year's gold standard.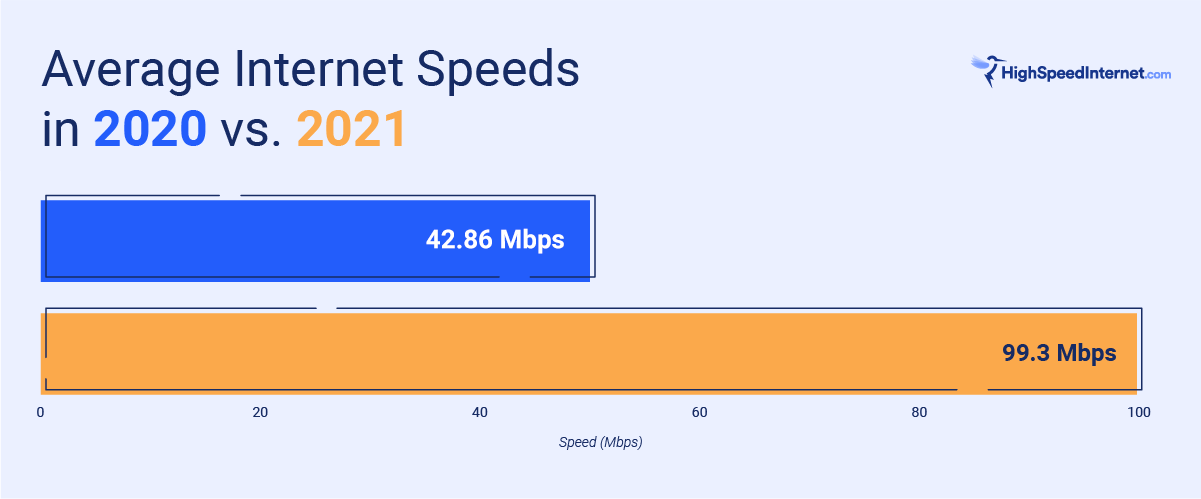 In our 2020 fastest and slowest internet speeds report, the top 10 average speeds ranged from 67.2 Mbps to 84.1 Mbps.
Now in 2021, 34 states beat those top average speeds. And only seven states did not exceed 67.2 Mbps.
The national average internet speeds increased to 99.3 Mbps, which more than doubled 2020's national average of 42.86 Mbps.
Metros with the fastest and slowest internet speeds in 2021
From 2020 to 2021, Hunstville, Alabama, tripled its average download speeds, the most significant improvement for any US metro. And the following cities more than doubled their average internet speeds in 2021: Rochester, New York; Des Moines, Iowa; Madison, Wisconsin; and Raleigh, North Carolina.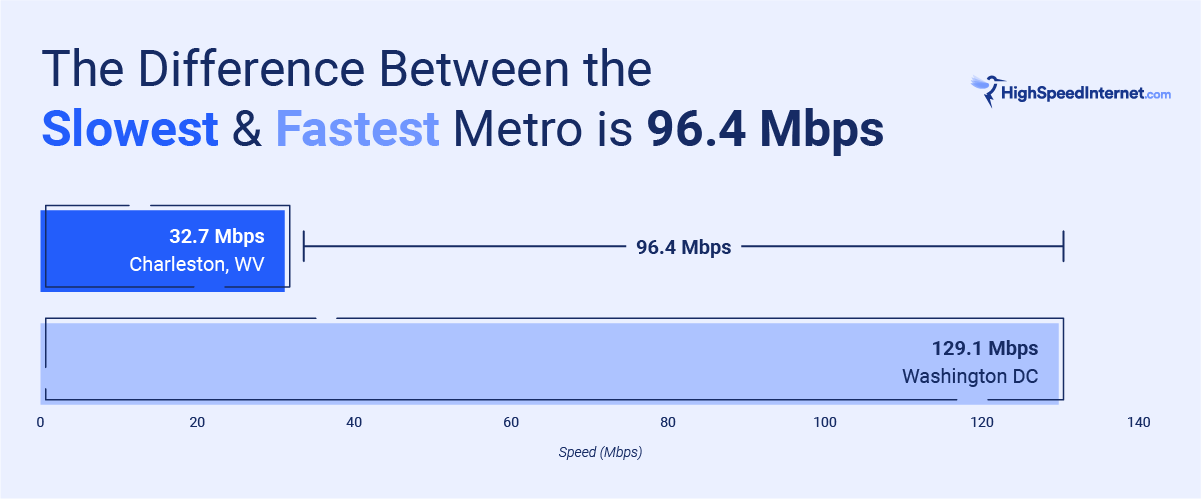 Washington, DC, was the metro with the fastest average internet speed in the US, clocking in at 129.1 Mbps.
In nearby Charleston, West Virginia, the average download speed was nearly 100 Mbps slower at 32.7 Mbps.
The difference between the fastest (Washington, DC) and slowest (Charleston, West Virginia) metros was 96.4 Mbps.
Charleston had the slowest average speeds by far out of the 100 largest metros, coming in at 32.7 Mbps. The next slowest was Boise, Idaho with 56.9 Mbps.
Only 38 of the 100 largest metros fell below the nationwide average of 89.3 Mbps.
New York City went from a median of 57.5 Mbps to 79.94 Mbps, improving by over 20 Mbps within a year.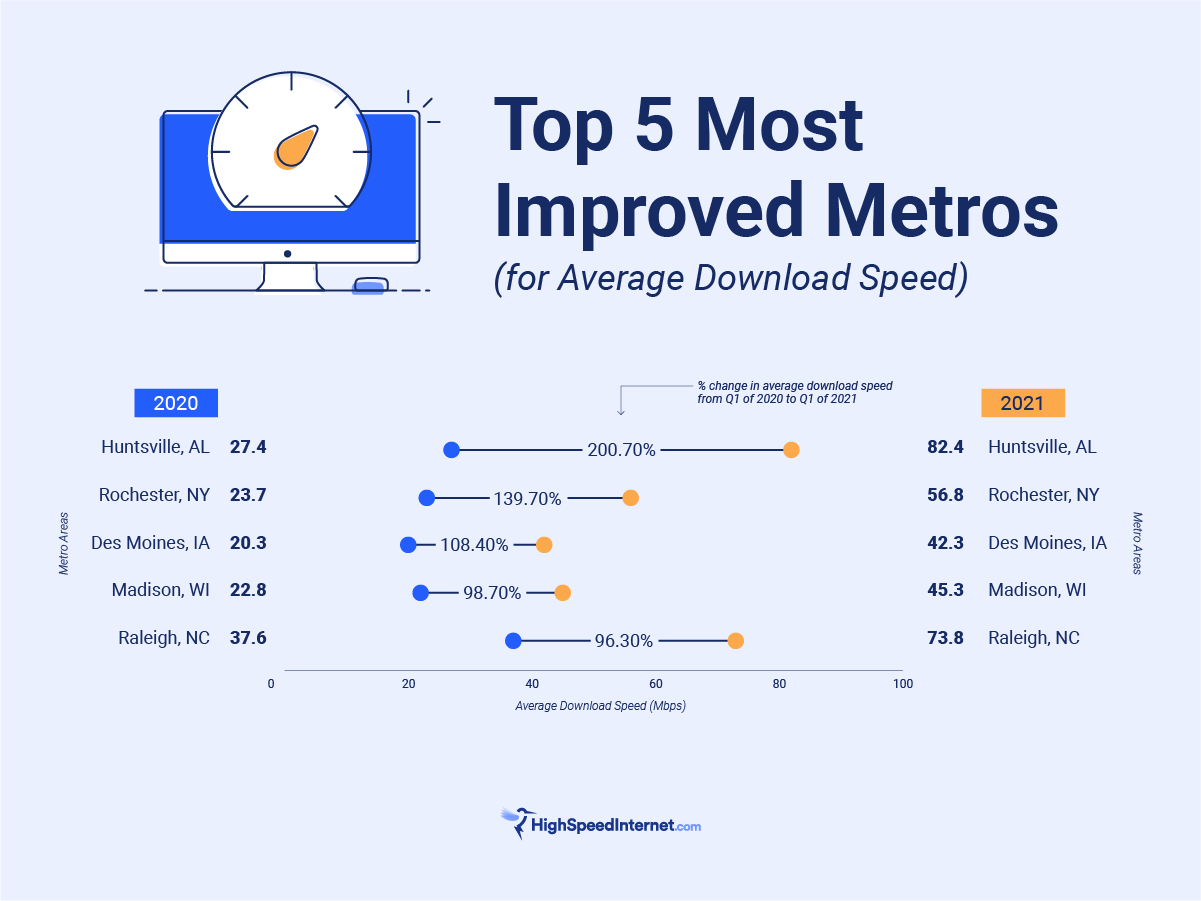 America stays connected outside of the home too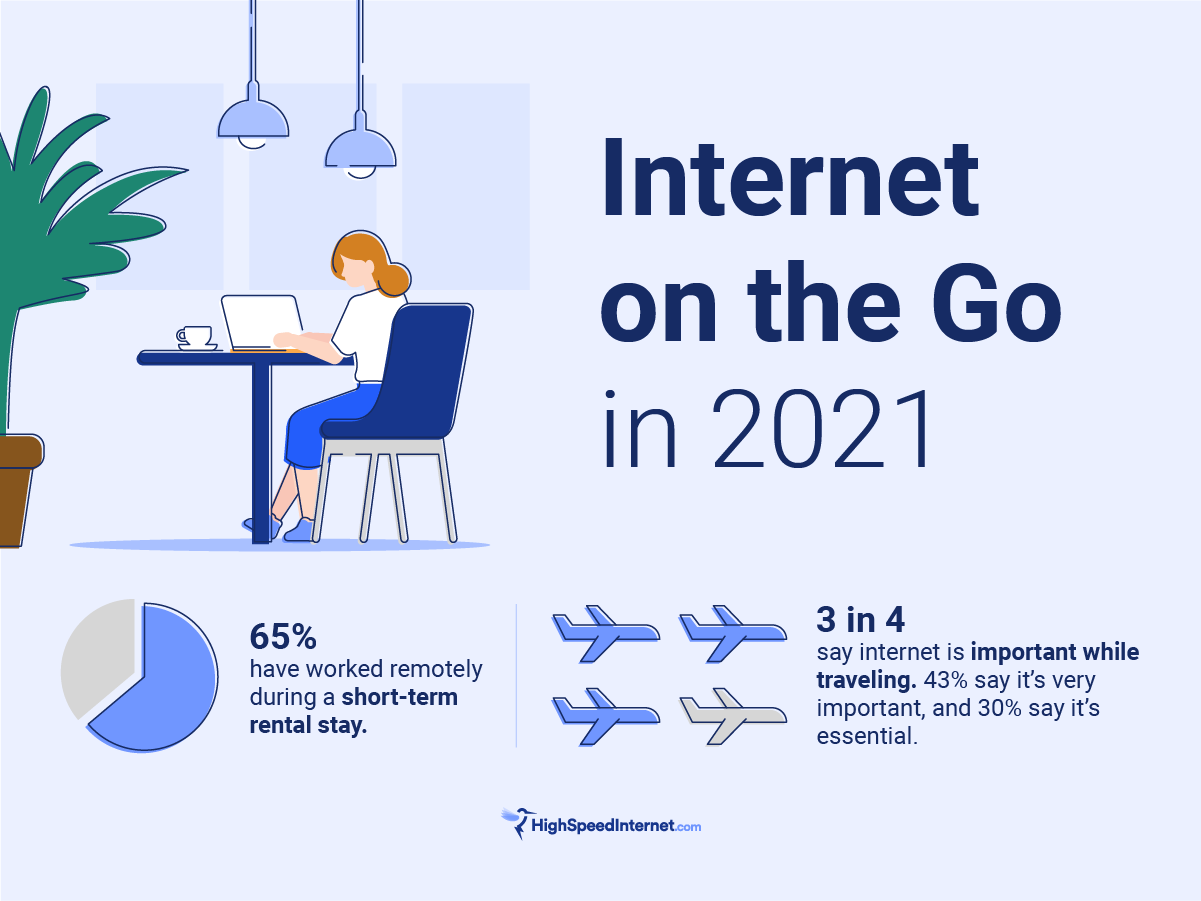 According to our recent travel Wi-Fi survey, the shift to working from home allowed some folks to travel while they work: 65% of respondents said they've worked remotely during an Airbnb or short-term rental stay.
Three in four people said having an internet connection while traveling was important, with 43% saying it was very important. Still, almost a third of our respondents said having an internet connection while traveling was essential.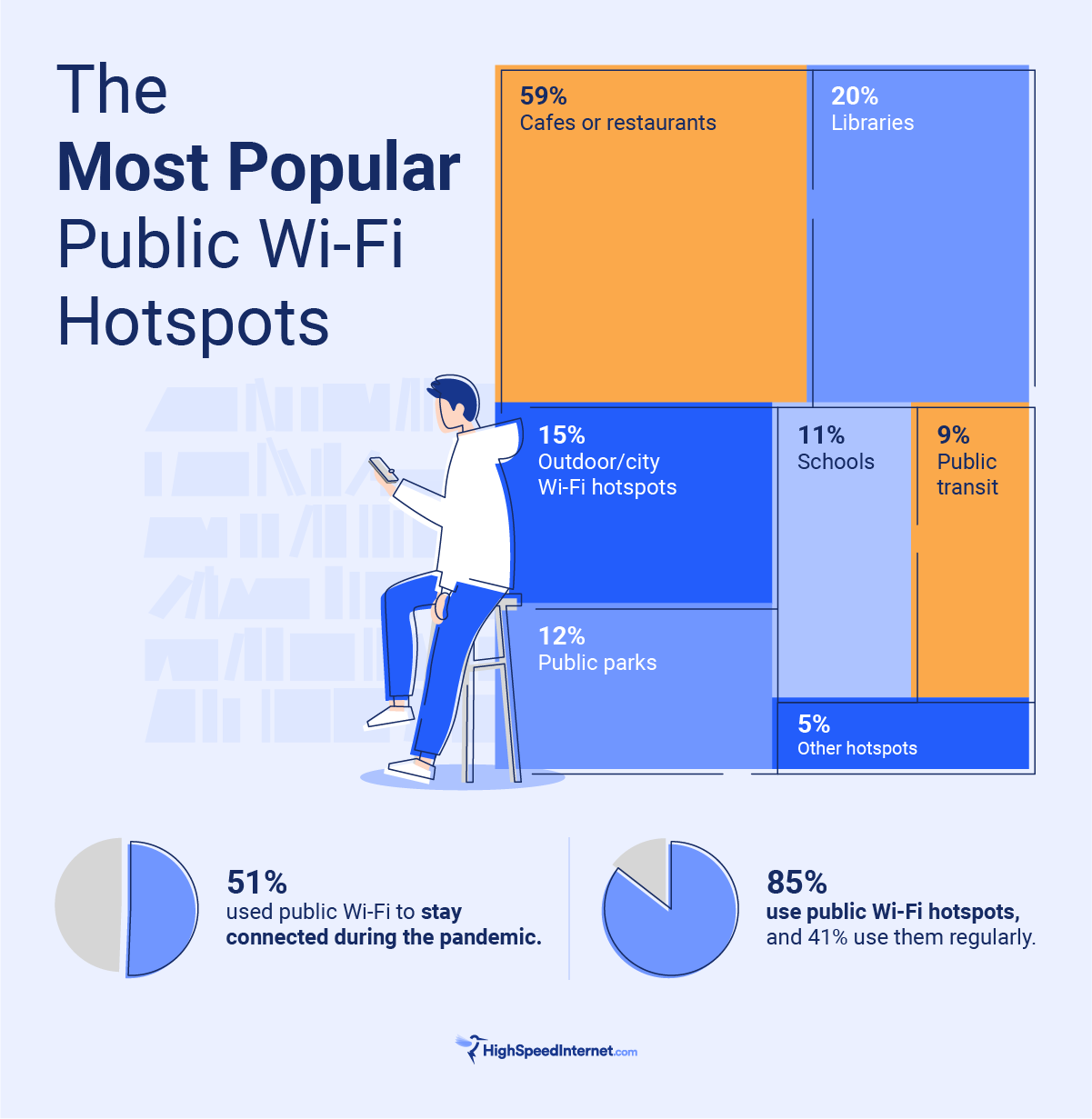 How many Americans use public Wi-Fi hotspots?
85% of Americans use public Wi-Fi hotspots, and 41% say they use them regularly.
51% have used public Wi-Fi to stay connected during the pandemic.
The most popular Wi-Fi hotspots were cafes or restaurants (28%), followed by libraries (20%), outdoor or city Wi-Fi hotspots (14.38%), public parks (12%), schools (11%), public transit (8.41%), and other hotspots (4.93%).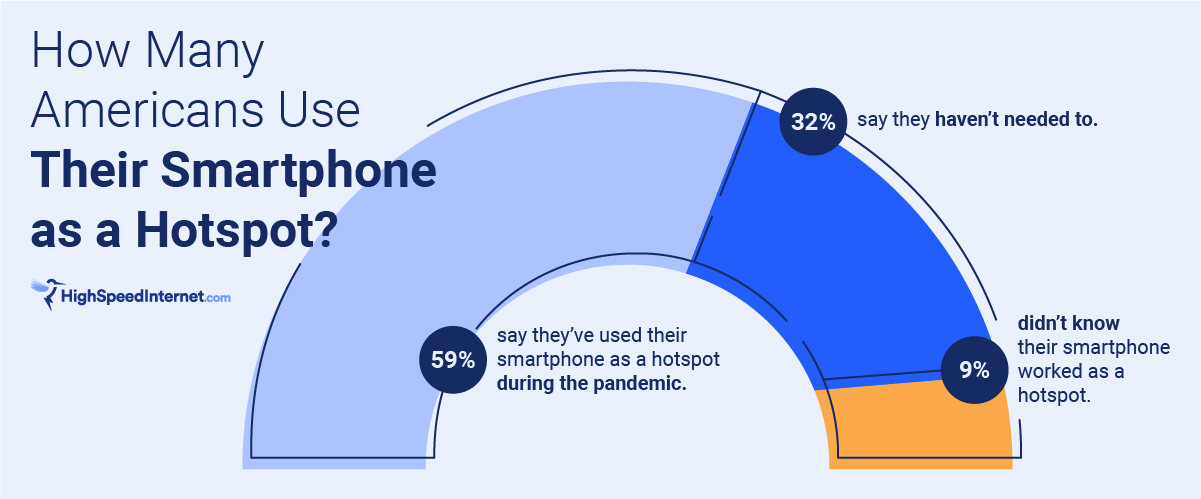 How many Americans use their smartphone as a hotspot?
Almost 60% of respondents say they've used their smartphone as a hotspot during the pandemic, 31.84% say they haven't needed to, and 8.76% said they did not know they could use their smartphone as a hotspot.
Are Americans concerned about their online safety and privacy?
Privacy was the biggest concern for our respondents (41.29%), followed by protection from cyber attacks (32.7%). Most Americans (78.75%) are concerned about their online safety when connected to public Wi-Fi.
To prevent data breaches, cyberattacks, and other malicious online activity, 47.22% of respondents say they use a Virtual Private Network (VPN); 44% use a VPN when connected to public Wi-Fi networks. Some use VPNs to access streaming content not typically available within the US (15.12%).
How satisfied were internet customers in 2021?
After the pandemic, shifting to online work, school, health care, and entertainment increased the need for better internet at home. Many Americans realized their current internet connections couldn't meet the new requirements.
As a result, 2021 saw drops in internet customer satisfaction in every category compared to our prepandemic 2020 customer satisfaction report. Performance ratings (speed and reliability) fell the most, which may have been what prompted customers to seek out faster internet plans.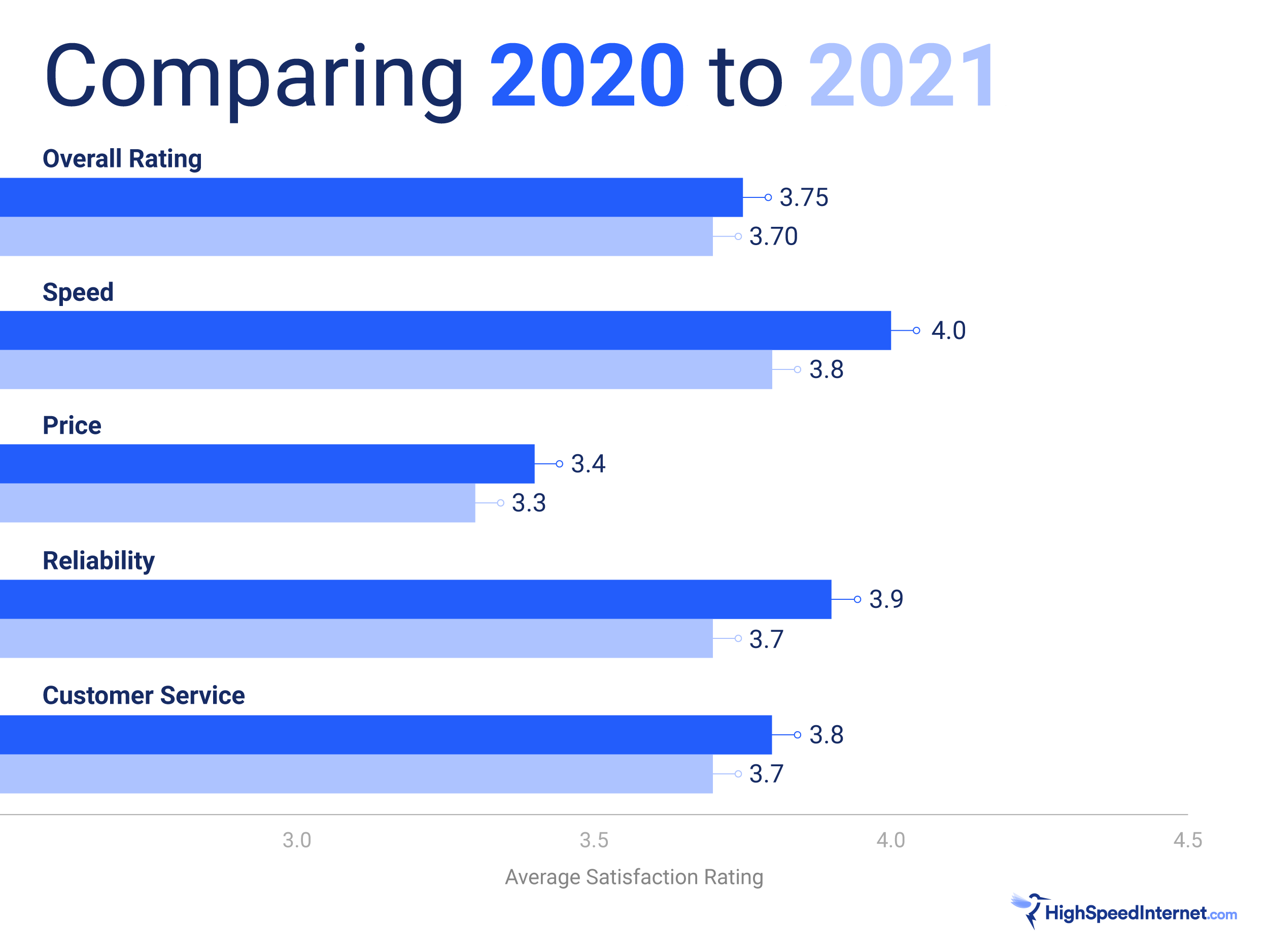 Customers still love to bundle
Bundling is still an excellent option to save some extra cash every month. A total of 58% of internet users report bundling their internet with TV service from the same provider. Those customers are far more satisfied than folks who don't bundle.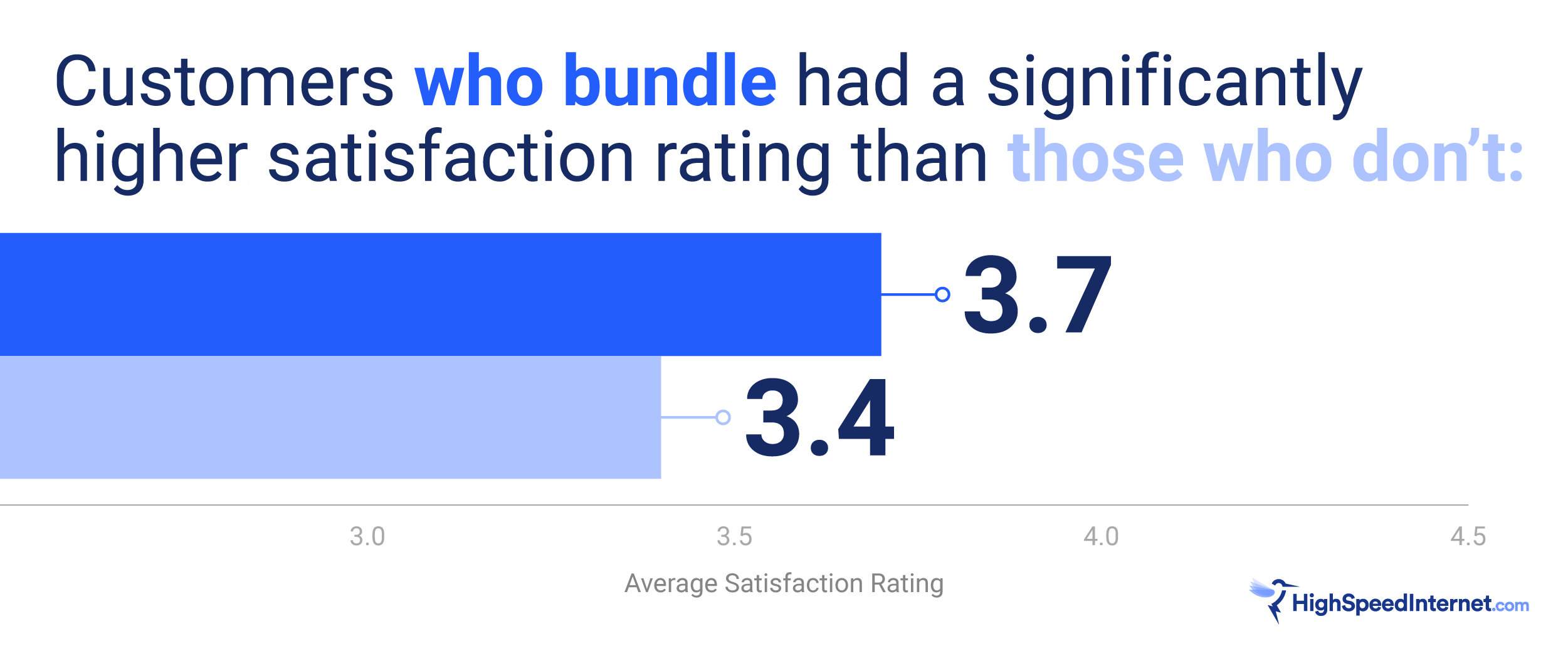 Fiber internet is king
Fiber customers show higher satisfaction ratings in every category, outdoing cable, DSL, and other internet types by a clear margin.
Surprisingly, cable customers gave satisfaction ratings on par with DSL customers, despite the fact that cable internet offers much higher speeds. Perhaps cable users ran into more throttling as overall internet use increased, whereas fiber users don't have to worry about throttling.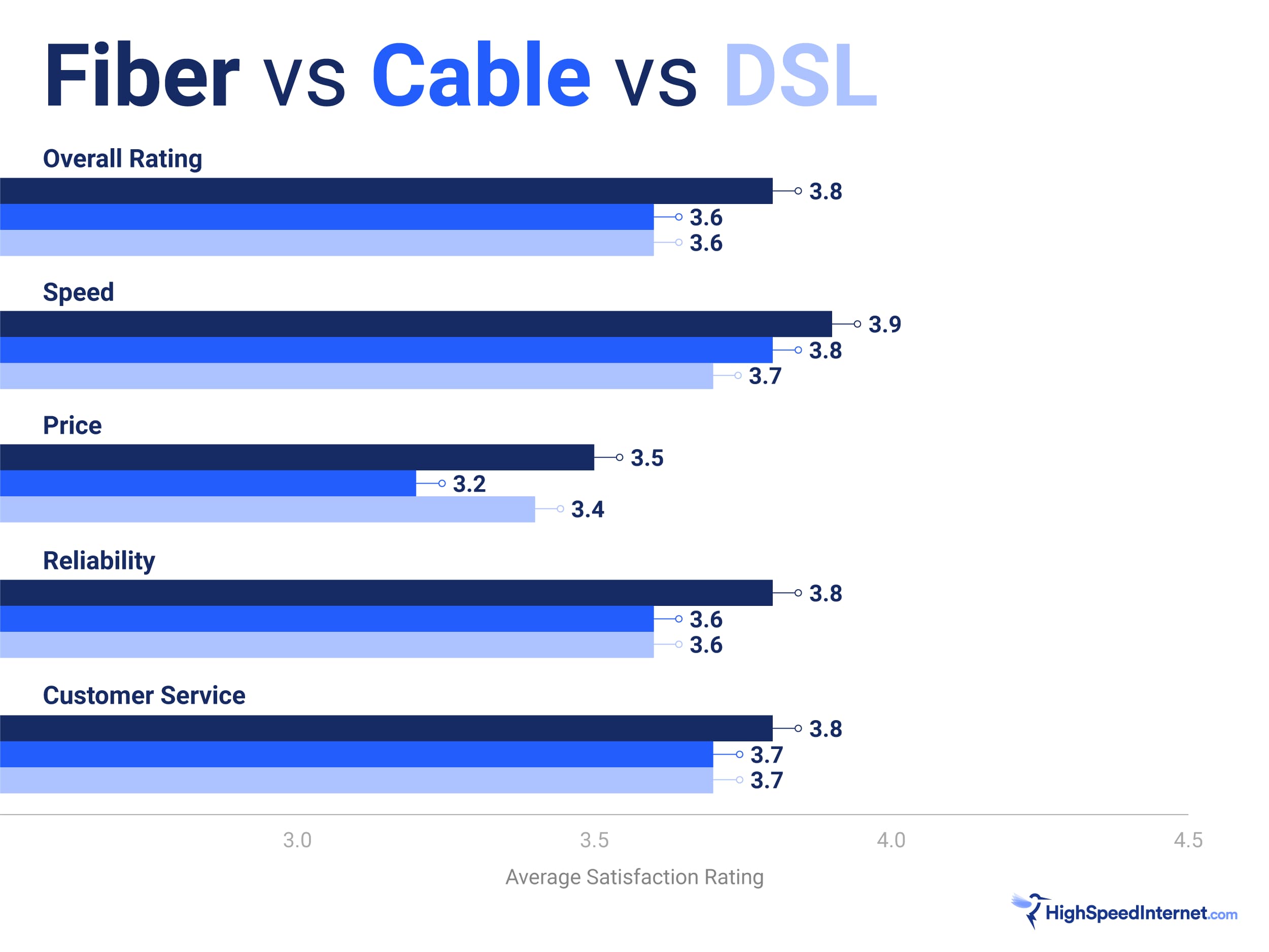 Fiber internet is in demand
With those satisfaction ratings, we're not surprised that more people want to switch to fiber internet: 75% would make the switch to fiber if it were available in their area. Nearly a third of our respondents would be willing to pay more for fiber internet too.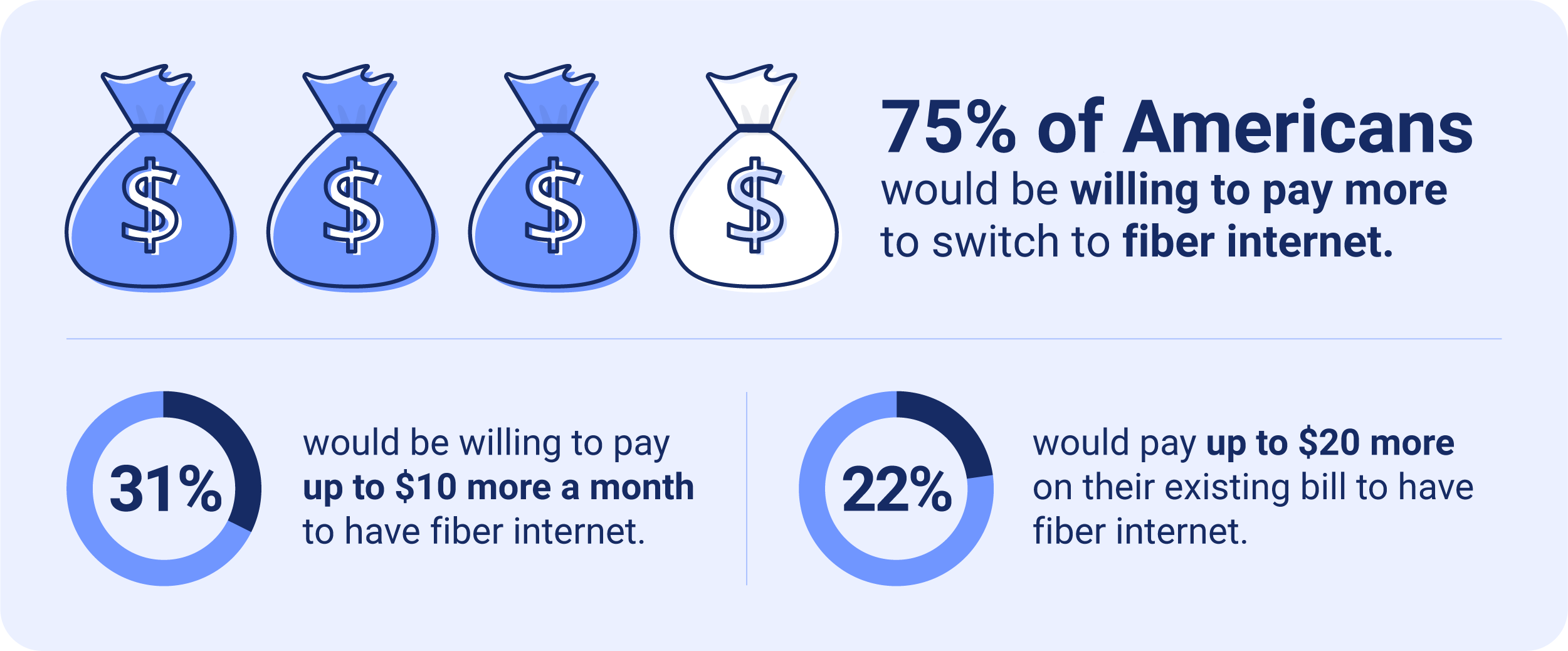 Why do people want fiber internet?
Fiber connections aren't subject to throttling. Plus, they offer max speeds of 2,000 Mbps and equal upload and download speeds.
Almost half of our survey respondents thought fiber seemed like the best internet available and 30% said their friends or family recommended fiber.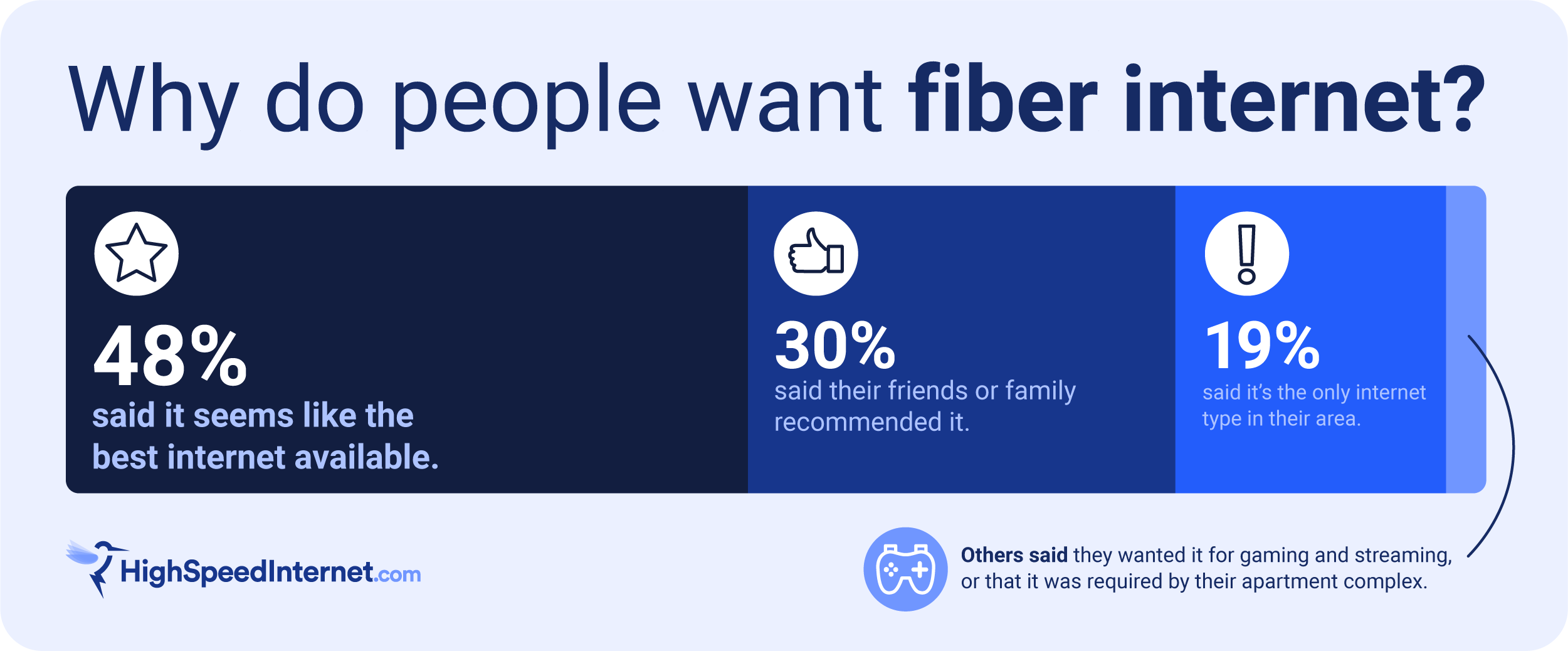 Who were the fastest internet providers in 2021?
There are many different ways to look at the fastest internet providers that go beyond pure speed numbers. The fastest internet provider for you depends on which services are available in your area.
| Rank | Provider | Integrated speed score (ISS) | Max advertised speed | Get connected |
| --- | --- | --- | --- | --- |
| #1 | | 163 | 2,000 Mbps | |
| #2 | | 139 | Up to 2048 Mbps | |
| #3 | | 138 | 1,000 Mbps | View Plans |
| #4 | | 124 | 1,200 Mbps | View Plans |
| #5 | | 123 | 1000 Mbps | View Plans |
What will the state of the internet look like in 2022?
If 2022 is anything like this year, we'll see an increase in overall average download speeds along with more access to faster service types (more fiber, please!). We could also expect to see more internet expansion and upgrades in mobility and 5G hotspot use.
Many ISPs saw improved customer satisfaction scores in our 2022 customer satisfaction survey as increased demand from the pandemic stabilized. We'd love to see this trend continue as internet providers deliver faster internet speeds to even more people.
Author - Trevor Wheelwright
Trevor's written professionally for five years for editorial publications and retail/e-commerce sites. He lives in Salt Lake City and enjoys photography and making music in his spare time, or you can catch him on your local dance floor bustin' a move.
Editor - Cara Haynes
Cara Haynes has been editing and writing in the digital space for seven years, and she's edited all things internet for HighSpeedInternet.com for five years. She graduated with a BA in English and a minor in editing from Brigham Young University. When she's not editing, she makes tech accessible through her freelance writing for brands like Pluralsight. She believes no one should feel lost in internet land and that a good internet connection significantly extends your life span.