Synology RT2600ac Review
The Synology RT2600ac is an older Wi-Fi 5 router that's better suited for business use
Jun 22, 2023 | Share

Equipment Guides, Product Reviews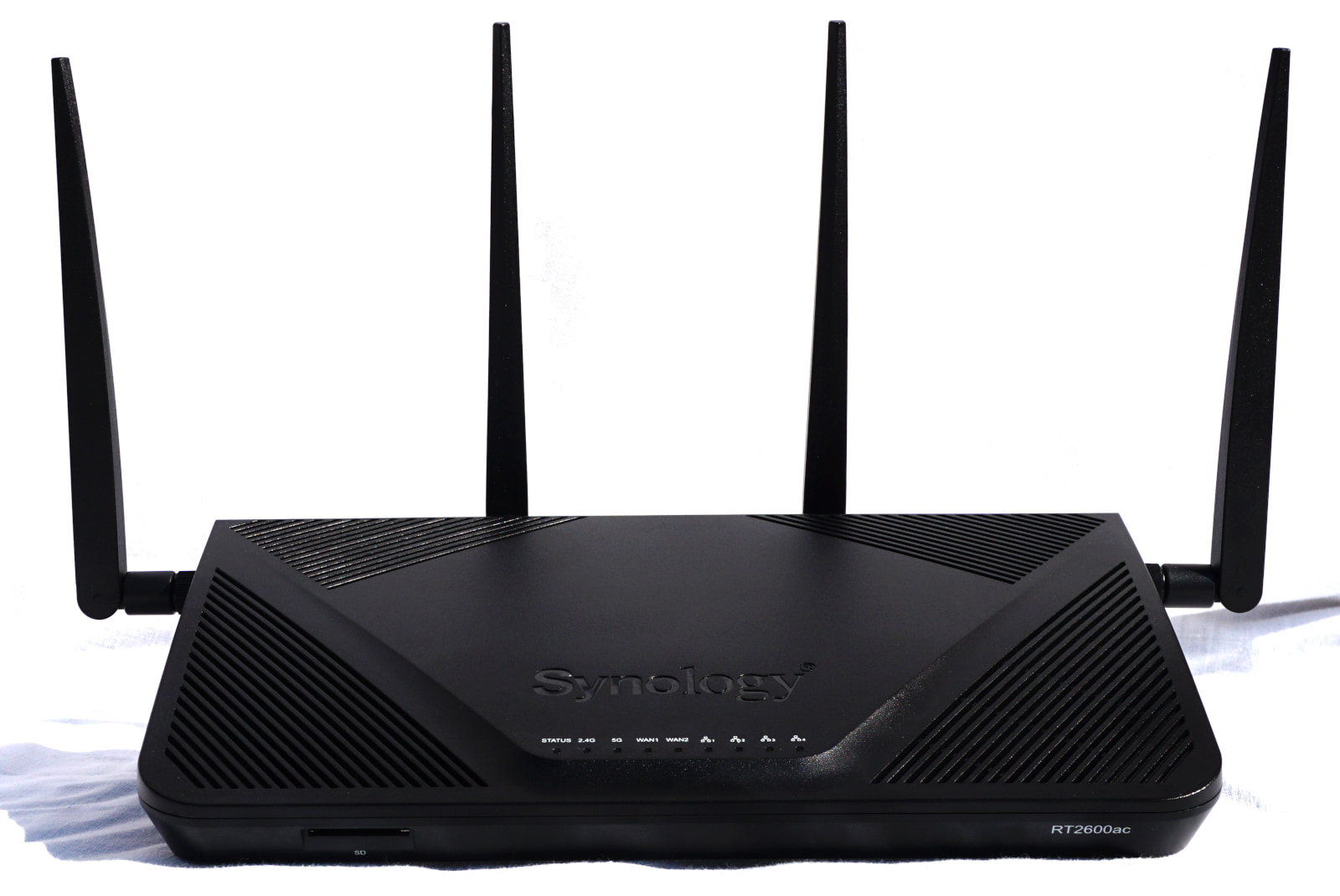 The Synology RT2600ac is an older router with mediocre Wi-Fi 5 speeds. Kevin Parrish | HighSpeedInternet.com
Is the Synology RT2600ac right for you?
Here's the deal. The RT2600ac is a Wi-Fi 5 router, so if you want the fastest wireless speeds on the planet, you should look elsewhere. The speeds are decent, although you can find faster Wi-Fi 6 routers at the same price.
But if you prefer a boatload of features over wireless connectivity, the RT2600ac has your back—and then some. Be sure to take the plunge before new units become scarce and insanely expensive.
Pros:
Free security
Free parental controls
Dual internet support
Cons:
Wi-Fi 5 speeds
No Multi-Gig wired support
An unusual desktop interface
RT2600ac standout features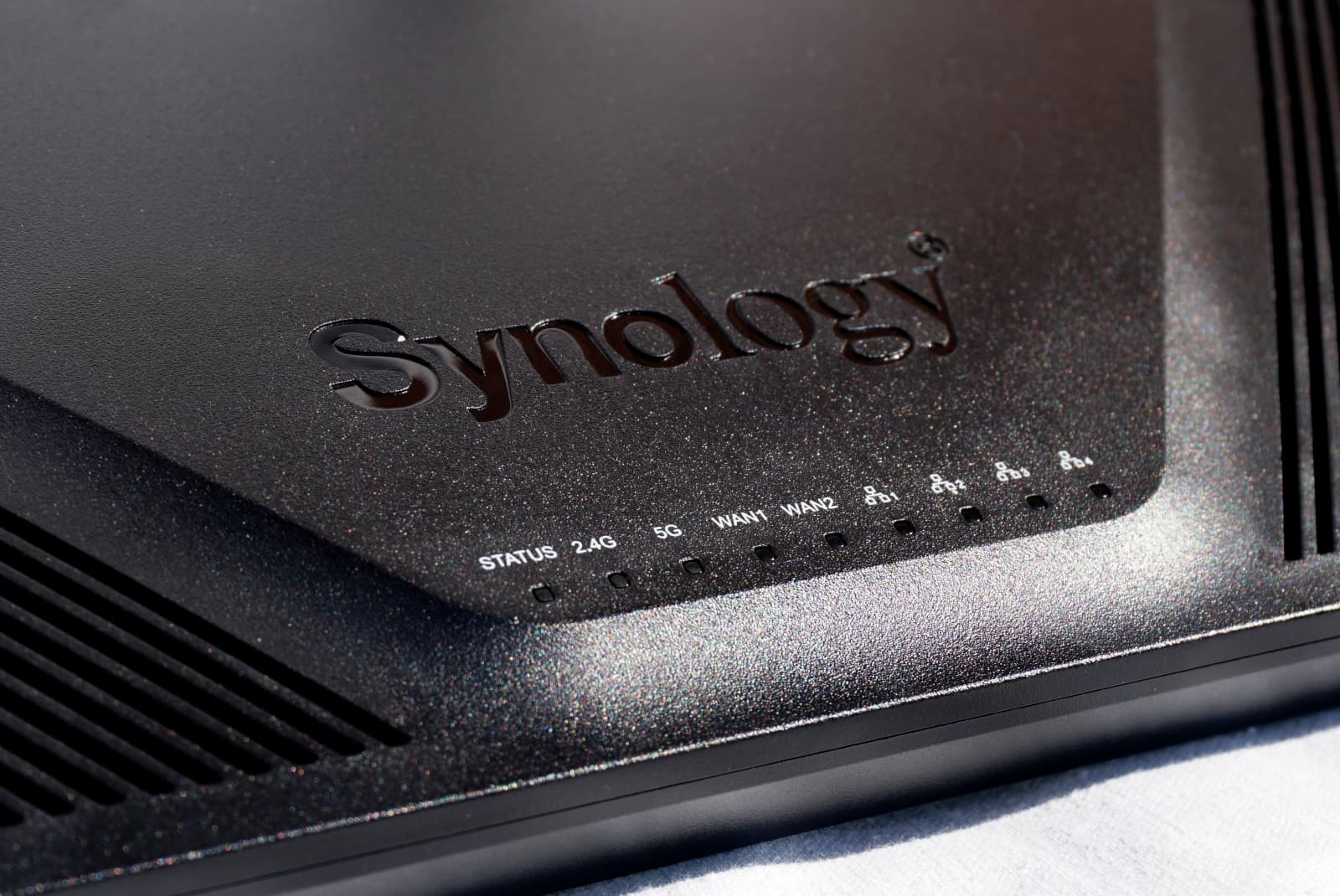 The Synology RT2600ac is loaded with features, some of which you may never need. Kevin Parrish | HighSpeedInternet.com
Although some of them are a bit difficult to locate, the Synology RT2600ac has many features. The roster includes free security, free parental controls, an app store providing even more free tools, and an SD card slot. Kablam.
Our RT2600ac scoring breakdown
| | | |
| --- | --- | --- |
| Category | Score* | Summary |
| Performance | 4 | Meets the speeds of other Wi-Fi 5 routers we've tested. |
| Features | 5 | Includes free security, parental controls, and an app store. |
| Design | 4 | Supports dual internet connections in failsafe and load balancing modes. |
| Setup | 3 | Drags you through a lengthy wait time, an introduction, and more. |
| Ease of use | 3 | Provides a desktop-like experience you don't see on other routers. |
* out of 5 points
You can easily disable Wi-Fi on the Synology RT2600ac with the press of a button. Kevin Parrish | HighSpeedInternet.com
Of the five Wi-Fi routers we had on hand, the RT200ac fell in last place in terms of tested short-range speed. The ASUS RT-AC88U led the pack in that category, although it's near impossible to find sold as new at a reasonable price. The difference in average between the two was around 44Mbps anyway, so the RT2600ac is a better deal.
Regarding long-range speeds, the RT200ac ranked fourth out of the five. We recorded 106Mbps at 120 feet, which isn't bad for Wi-Fi 5, we guess, but only half of what we recorded with the ASUS RT-AC88U and NETGEAR Nighthawk XR500, both of which are gaming routers. Even the TP-Link Archer A10 had a slightly better long-range average.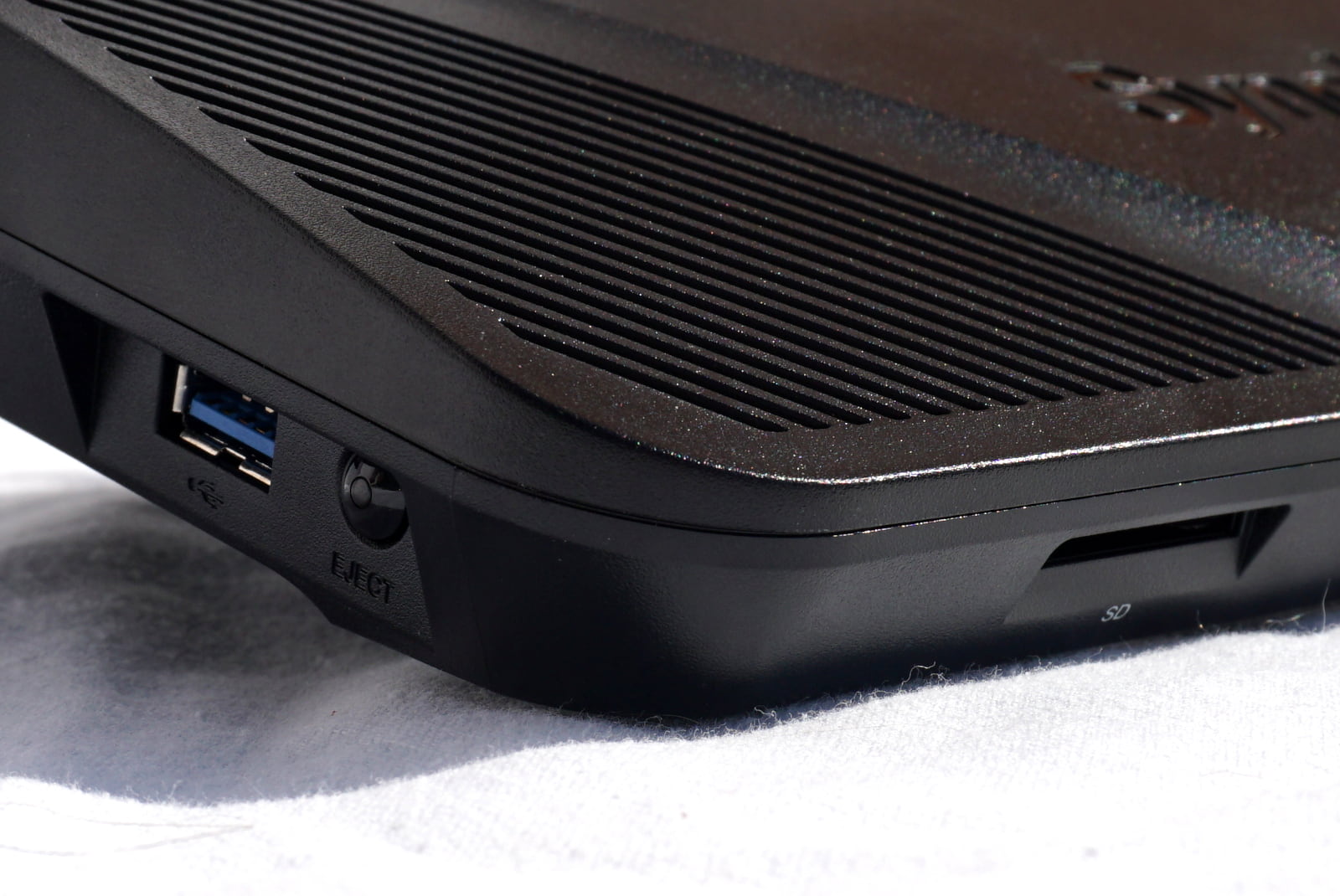 The Synology RT2600ac is the first router we've reviewed with an SD card slot. Kevin Parrish | HighSpeedInternet.com
Wowzers! We honestly can't think of a more well-rounded router in all the routers we've reviewed to date. The free security and parental controls are huge wins here, and you have access to a handful of tools you'll probably never use, like the DNS addon server.
You may find a lot of value here if you're a business owner, though. The RADIUS server alone adds an extra layer of security for remote users. But, at this point, the Wi-Fi 5 aspect makes the RT2600ac obsolete as Wi-Fi 7 smiles and looms on the horizon.
What we wish the RT2600ac did better
From what we can tell, you can't control this router with Amazon Alexa or Google Assistant. Instead, you can only use these two assistants with Synology's network-attached storage (NAS) devices.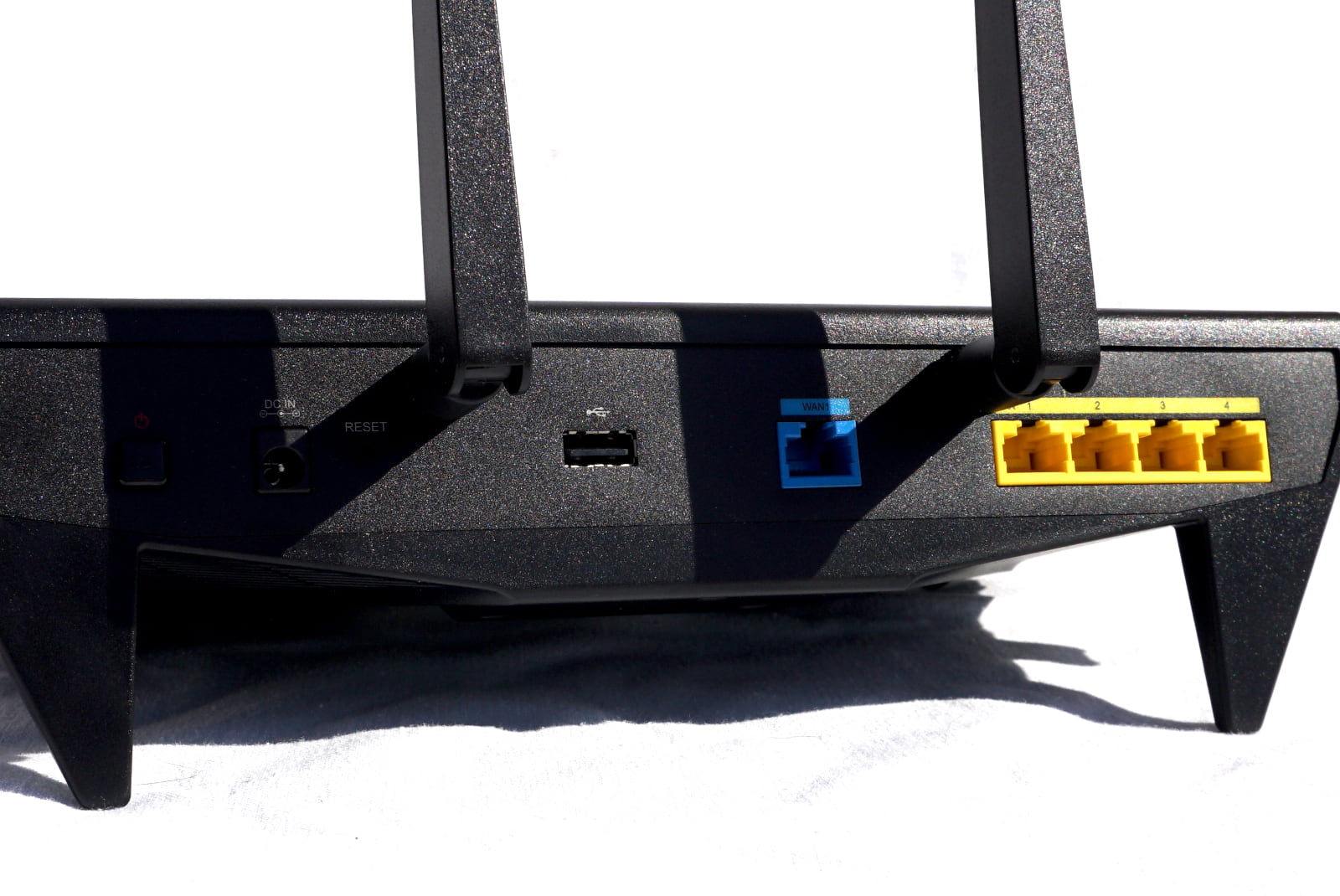 The Synology RT2600ac supports two separate internet connections. Kevin Parrish | HighSpeedInternet.com
There's a lot to love about the RT2600ac despite its age. First, it supports two wired internet connections, so one kicks in when the other connection fails, or you can use both to balance your internet traffic. The router also supports cellular internet—simply plug a dongle or smartphone into one of the USB ports.
Other callouts include four streams per band, the Wi-Fi button to disable Wi-Fi on the fly, two USB ports, and the SD card slot—which we haven't seen on a review unit until now.
We have a problem with setups that don't adequately explain things to the average user. At one point, you must enable or disable the "External Access to SRM" option. But what is an SRM? Later, we discovered it's an acronym for Synology Router Manager. Oh, okay. Why, again, is this part of the setup process?
Towards the end, you'll find a small introduction, a request to enable page view analytics, and directions to create a Synology account. And let's not forget the three-minute wait time as the router configures itself. Overall, we've endured better setups on other routers.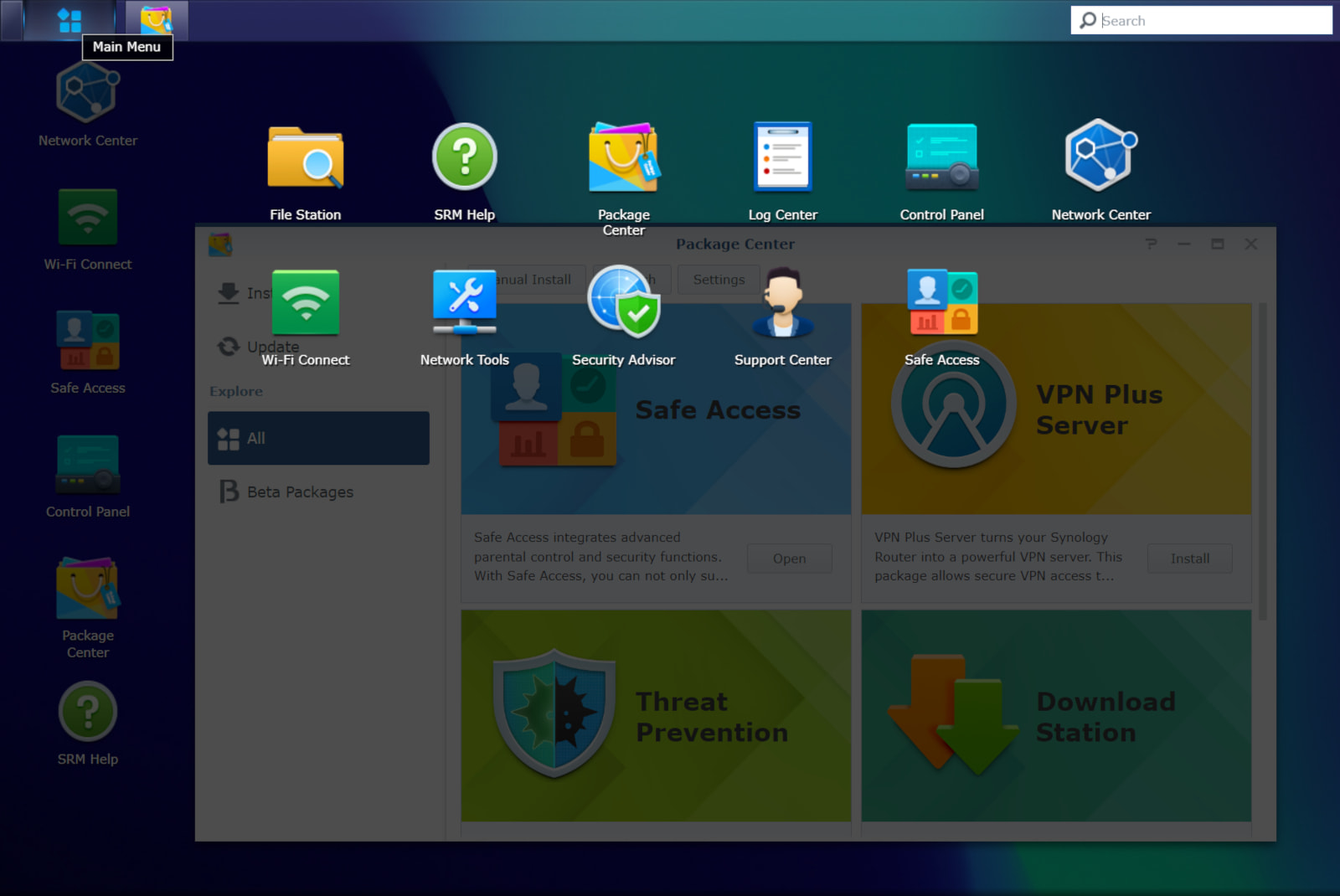 The Synology RT2600ac uses a desktop-like interface called the SRM. Kevin Parrish | HighSpeedInternet.com
Well. Where do we begin here? This analysis will be longer than usual, so bear with us.
Synology takes a different approach to router management by incorporating the desktop design of Synology's DiskStation Manager (DSM) interface used on its NAS devices. It's SRM is literally a desktop experience complete with a taskbar and shortcuts. Seems rather neat, right?
No, not really. SRM is a bit jarring after using a multitude of other routers that basically have the same layout. SRM doesn't display the network map and statistics front and center. It doesn't split settings into Basic and Advanced categories for easy access. Instead, you click on desktop shortcuts that open up to the standard resizable windows you normally see on Windows and macOS. Plus, you must click on the Main Menu button to access even more shortcuts leading to even more settings.
That all said, SRM isn't for novice users. It includes a built-in manual that explains how to use each setting, but you'll never know how to enable VPN functionality by glancing at the desktop. This step is where all other competing routers excel. Settings should be quick to find and change, not a long journey into the unknown.
But maybe we're a little harsh here. We get it. Like with Windows, macOS, and even ChomeOS, you'll eventually get the hang of finding everything you need to manage your network. Eventually.
Meanwhile, the DS Router app is a better, more modern experience in our book. Everything is divided into four tabs, although some setting adjustments still require the SRM interface, like the VPN client. If you absolutely must have the RT2600ac, you'll probably feel more at home with the DS Router app.
Are there any additional costs?
No, there are no additional costs to you.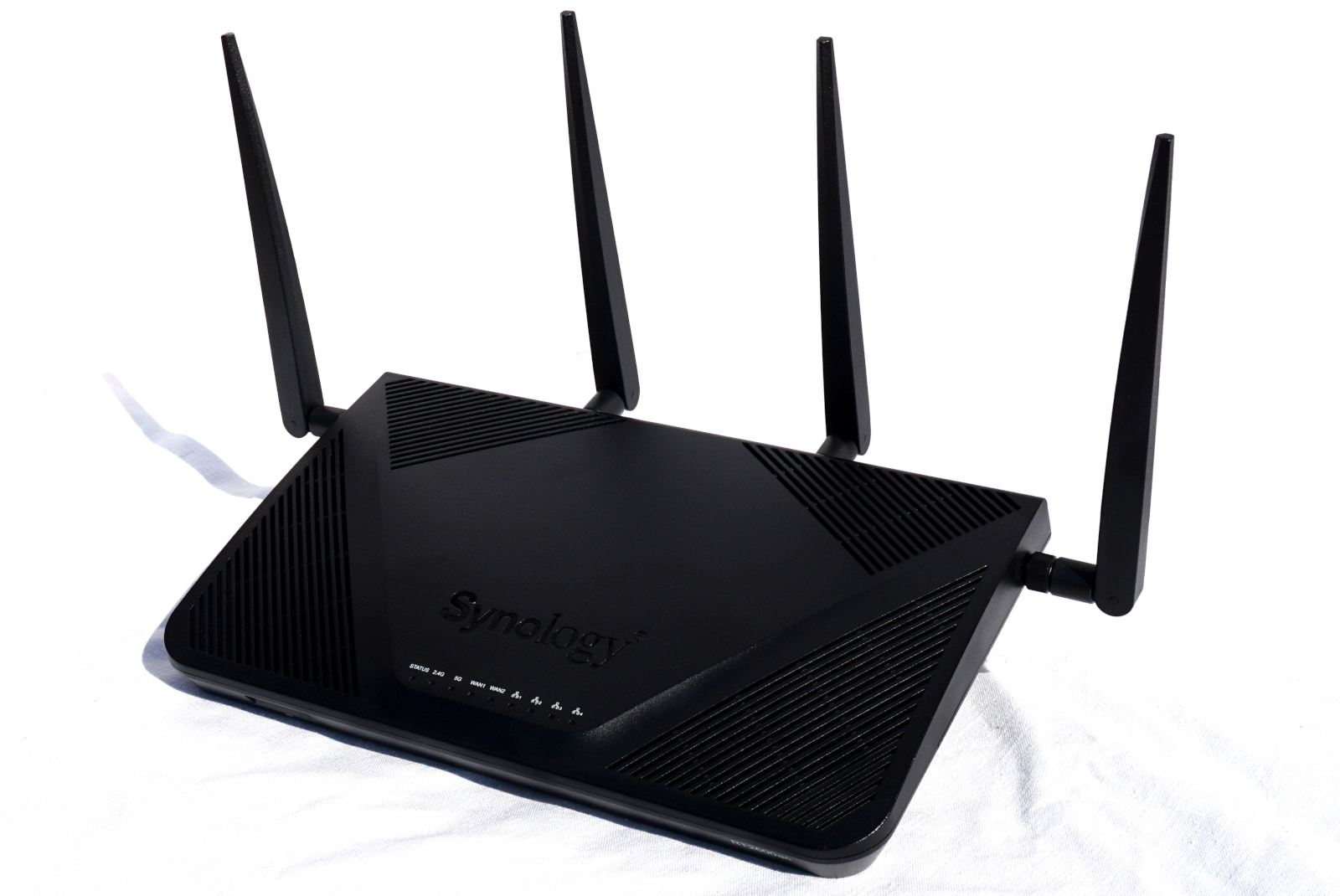 The Synology RT2600ac is an older router that's ideal for businesses. Kevin Parrish | HighSpeedInternet.com
Our RT2600ac review: The verdict
The Synology RT2600ac is a Wi-Fi 5 router, so right off the bat, we can't recommend it for wireless connectivity. The spec is dated. The spec is old news. Wi-Fi 6 and Wi-Fi 6E are in the here and now, offering faster speeds and better multi-device support at the same price.
But here's the thing: the RT2600ac has an impressive feature set. If you're more about wired connections, this router is for you. Come to think of it, the RT2600ac is probably best suited for business use thanks to its dual internet connectivity, extra security features, DNS and RADIUS servers, and VPN tools.
Look, if you own a Synology NAS, then you already know what this router is all about. But if you're swapping out a TP-Link or NETGEAR router, the desktop interface on the RT2600ac may be a bit jarring and confusing. This router isn't for novice users, so you're better off looking elsewhere if simplicity is what you need.
FAQ about the Synology RT2600ac
Safe Access vs. Threat Protection: What's the difference?
Safe Access uses external databases to identify IP addresses and domains associated with malware and other threats. In this case, Safe Access protects your home network using Google Safe Browsing and Synology's own Threat Intelligence database.
Threat Protection uses "business-grade" Deep Packet Inspection (DPI) to dynamically monitor outgoing and incoming traffic. DPI scans each packet for malware and reroutes or blocks suspicious packets. It also keeps logs of network events.
Which parental controls does the RT2600ac include?
The RT2600ac includes profile rewards, access requests, a custom block page creator, and Safe Access. With Safe Access, you can assign devices to profiles you create. After that, you can apply web filters (Child, Employee, Guest, and Custom), set a time quota, and set multiple downtime schedules for each day.
Which apps does the Package Center include?
You'll find Safe Search installed by default. However, you can install six other apps from the Package Center. These apps include:
VPN Plus Server – Adds a server you can access and use from anywhere to keep you anonymous online. It supports multiple VPN server protocols.
Threat Prevention – Scans all incoming and outgoing packets for malware.
Download Station – Allows you to download multiple files from the internet simultaneously. The protocols include BT, FTP, HTTP, NZB, FlashGet, QQDL, and eMule. The app includes an auto-unzip service too.
DNS Server – Enables your router to become a Domain Name System server. This feature is handy when you have multiple devices (zones) on your local network, but only want to type some of the IP addresses. It also helps speed up connections to websites.
Media Server – Allows you to browse and play multimedia from any DLNA or UPnP home device connected to the home network.
RADIUS Server – Adds the Remote Authentication Dial-In User Service protocol for centralized authentication.
Does the RT2600ac support mesh?
Yes. The following devices are compatible with the RT2600ac with SRM 1.3.1 installed:
We test router speed by setting up each router in an office and connecting it to a local test server. Then, we transmit test data between our wireless devices and the server, taking numerous measurements to account for fluctuations in Wi-Fi speeds.
The first tests occur close to the router, without obstructions—so the Wi-Fi is as strong and fast as it's gonna get. We repeat the process straight out at 10, 20, and 30 feet, with only a glass door obstructing our view of the router. The same glass door and an exterior door blocks our path when we test outside at 40 and 50 feet.
We also run tests in a hallway to the left of the TV room and office—where there's a glass door, three walls, and an air handler unit blocking our view of the router. The dining room, another testing point, sits to the right of the kitchen, TV room, and office—two walls and a glass door block the path in this test.
To test video streaming, we connect a fast storage device to the router and stream a 4K video to six wireless devices simultaneously—two phones, three tablets, and a laptop—connected to the same wireless band.
Client devices used in testing
| | iPhone 12 Pro Max | Google Pixel 3 |
| --- | --- | --- |
| Wi-Fi version | Wi-Fi 6 | Wi-Fi 5 |
| Stream configuration | 2 x 2 | 2 x 2 |
| Max channel width | 80 MHz | 80 MHz |
| Max 5 GHz speed (AX) | 1,200Mbps | – |
| Max 5 GHz speed (AC) | 866Mbps | 866Mbps |
| Max 2.4 GHz speed (AX) | 195Mbps | – |
| Max 2.4 GHz speed (AC) | 195Mbps | 144Mbps |
RT2600ac benchmarks (5GHz only)
| | iPhone 12 Pro Max* | Google Pixel 3* |
| --- | --- | --- |
| 2 feet | 647 | 651 |
| 10 feet | 635 | 643 |
| 20 feet | 593 | 597 |
| 30 feet | 565 | 492 |
| 40 feet (porch) | 305 | 287 |
| 120 feet (across street) | 106 | 105 |
| 20 feet (hallway) | 221 | 199 |
*speed in megabits per second (Mbps)
Amazon.com Prices as of 6/22/23 17:35 MST. Product prices and availability are accurate as of the date/time indicated and are subject to change. Any price and availability information displayed on Amazon.com at the time of purchase will apply to the purchase of this product. Highspeedinternet.com utilizes paid Amazon links.
CERTAIN CONTENT THAT APPEARS ON THIS SITE COMES FROM AMAZON. THIS CONTENT IS PROVIDED 'AS IS' AND IS SUBJECT TO CHANGE OR REMOVAL AT ANY TIME.
Author - Kevin Parrish
Kevin Parrish has more than a decade of experience working as a writer, editor, and product tester. He began writing about computer hardware and soon branched out to other devices and services such as networking equipment, phones and tablets, game consoles, and other internet-connected devices. His work has appeared in Tom's Hardware, Tom's Guide, Maximum PC, Digital Trends, Android Authority, How-To Geek, Lifewire, and others. At HighSpeedInternet.com, he focuses on network equipment testing and review.
Editor - Rebecca Lee Armstrong
Rebecca Lee Armstrong has more than six years of experience writing about tech and the internet, with a specialty in hands-on testing. She started writing tech product and service reviews while finishing her BFA in creative writing at the University of Evansville and has found her niche writing about home networking, routers, and internet access at HighSpeedInternet.com. Her work has also been featured on Top Ten Reviews, MacSources, Windows Central, Android Central, Best Company, TechnoFAQ, and iMore.