Are Emojis Really the Universal Language of the Internet?
Jul 9, 2018 | Share

Industry Exclusive/Entertainment
English speakers around the world have much in common through their language, but some communication can still be confusing. Flat versus apartment and jumper versus sweater are trouble words that spring to mind. While words have so many meanings, you'd think a simple image like an emoji would make it easier to communicate your feelings without misunderstanding—but you'd be wrong.
Even though the internet is filled with people sharing their thoughts and feelings with emojis, the fun images mean different things to different cultures and age groups. HighSpeedInternet.com ran an international survey among the major English-speaking countries, to better understand what emojis mean to people around the world. Read on to see who speaks your emoji language!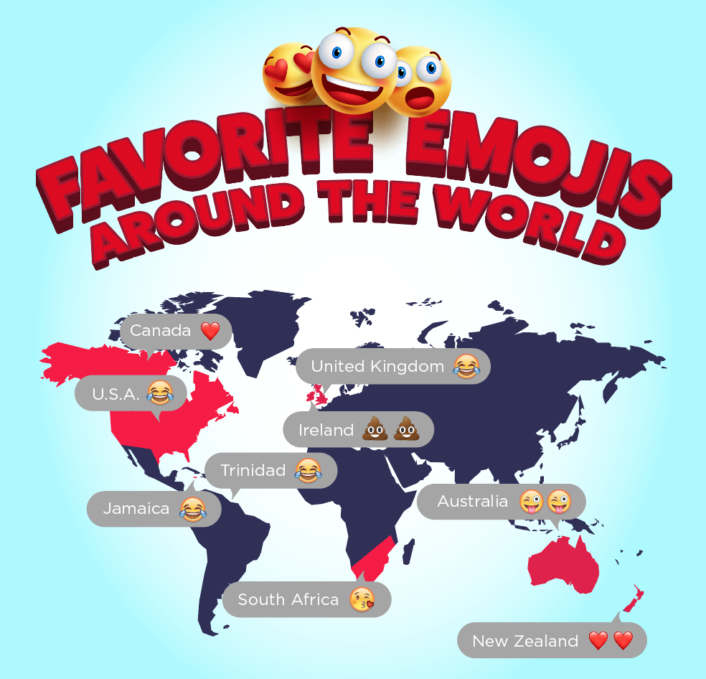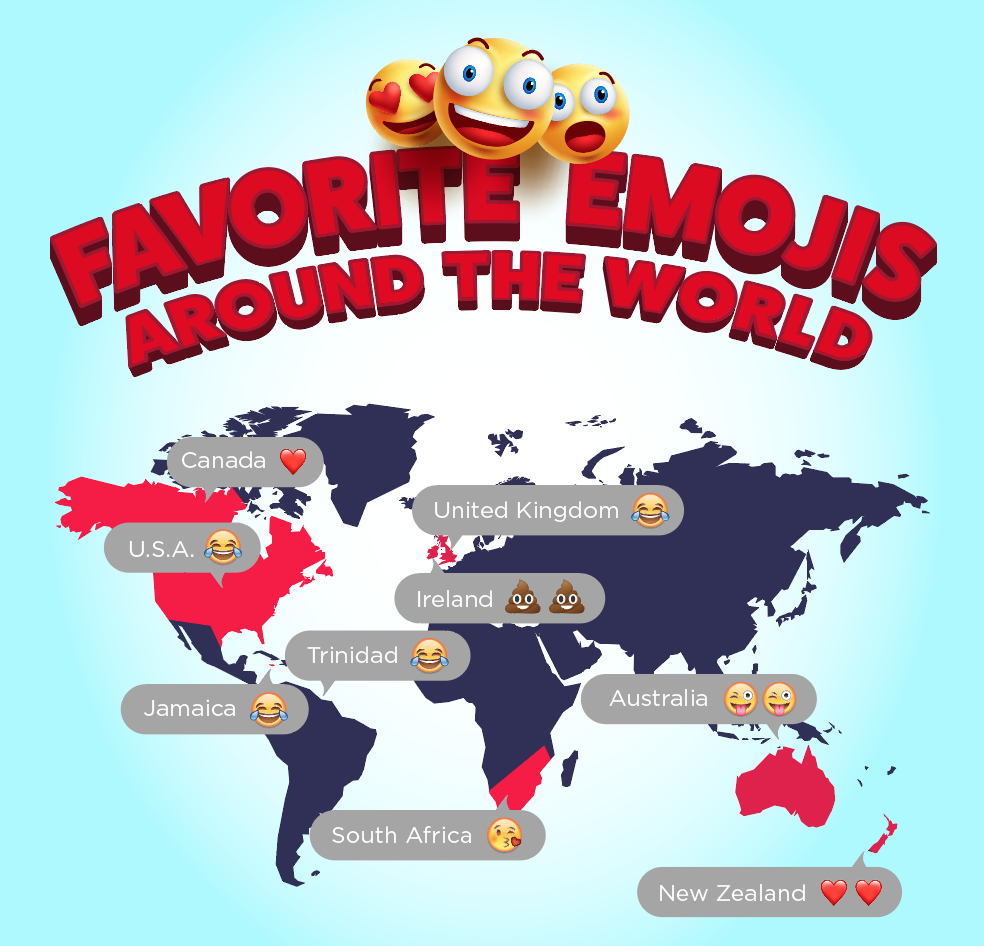 You may have noticed a distinct lack of smiley faces in the map of favorite emojis. That's because we bypassed everyone's favorite grin in favor of the second-most-used emojis to better highlight the variations between countries.
The UK, the US, Jamaica, and Trinidad share a similar response to humor as they're ROTFLing with their laughing-so-hard-I'm-crying face, but Ireland is a wee crasser in opting for the poop emoji. Australia gets cheeky with the tongue-out winking face, while South Africa keeps things sweet with a kiss and wink. Most participants in Canada say they don't use emojis, but some Canadians share the love with a heart emoji, same as New Zealand.
Same Emoji, Different Interpretations
After asking participants their favorites, we quizzed them on what each emoji means to them. While Emojipedia, an online source for all things emoji, has specific definitions, our participants saw things differently. For instance, a few poor souls from South Africa, New Zealand, and Canada mistook the poop emoji for chocolate ice cream. We can see how they were easily beguiled by those perfectly swirled, soft-serve curves, but uh . . . yuck.
On a non-gross note, most of our participants agree you can send the blowing kisses emoji to friends and family without being mistaken for flirting. Similarly, you're okay to send the fire emoji to mean literal fire, unless you're in the UK or Trinidad, where participants use the flames to express attraction. But most importantly, watch out for the eggplant in Trinidad, Jamaica, and Ireland: it's primarily used as a sexual reference in those countries.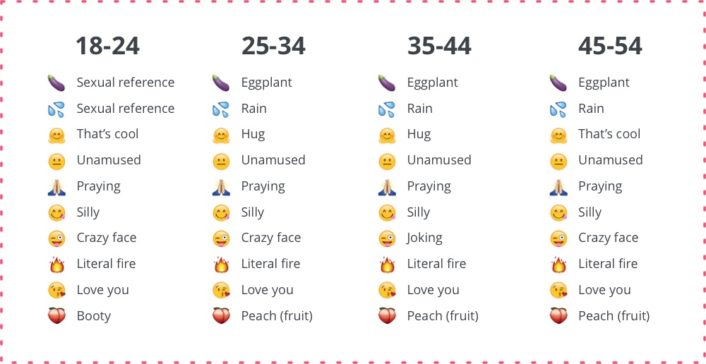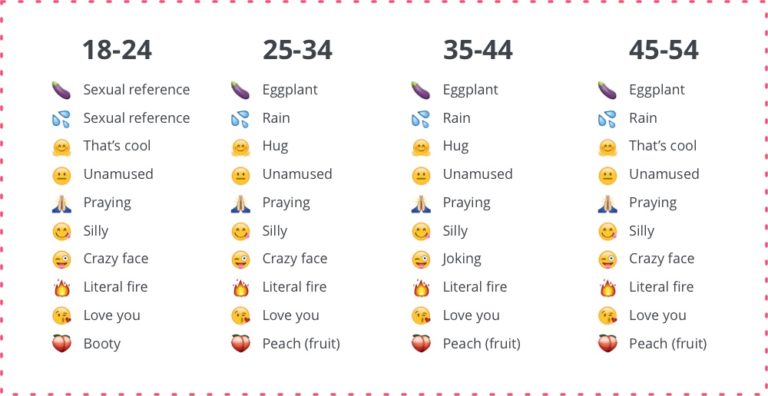 If you want to avoid emojis that reference sex in the minds of eighteen- to twenty-four-year-olds, you'll have to look out for more emojis than just the eggplant. These participants gave salacious meaning to the sweat droplets (which all other age groups referred to as rain) and peach emojis. Meanwhile, twenty-five- to thirty-four-year-olds and forty-five- to fifty-four-year-olds are prudish with blowing kisses, which they were less likely to send to platonic friends and family than other groups.
The Most Confusing Emojis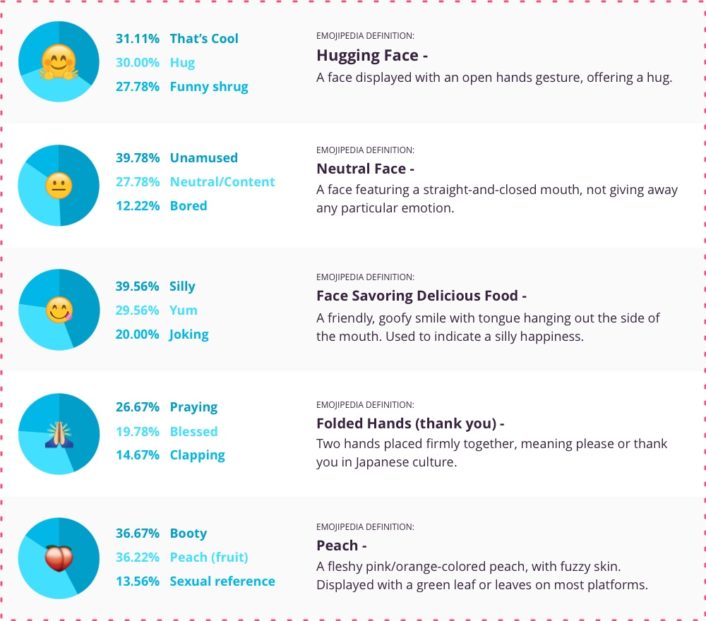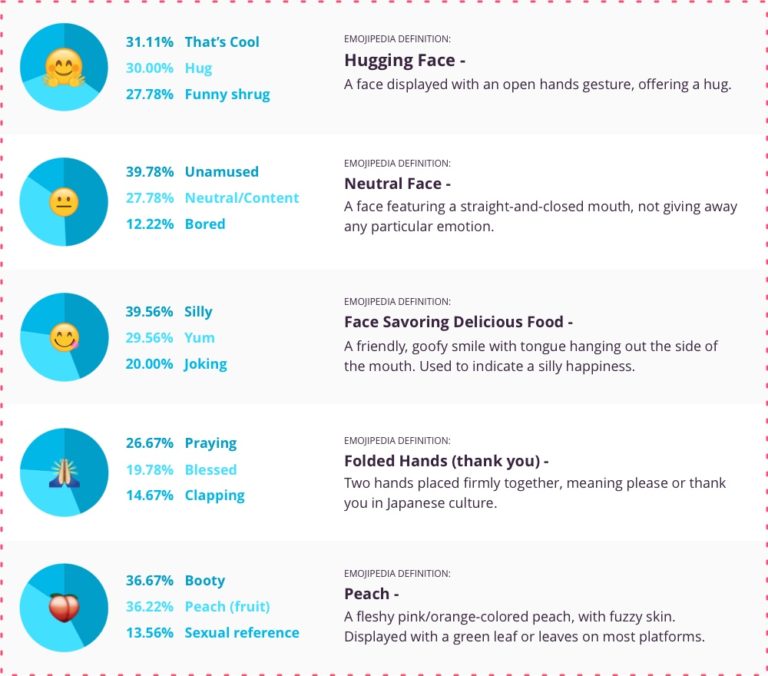 Plenty of our participants missed the mark when it came to the intended meaning of certain emojis, but really, who looks at an emoji with tiny hands by its chin and thinks "hug," like Emojipedia claims it is? Well, 30% of our participants, apparently, but everyone else thought it was a funny shrug or "that's cool." People were similarly split on the happy face sticking out its tongue. The results were close with 40% "silly," 30% "yum," and 20% "joking." Even Emojipedia was split on this one, calling the emoji a "face savoring delicious food" but going on to describe it as "goofy" and indicative of "silly happiness."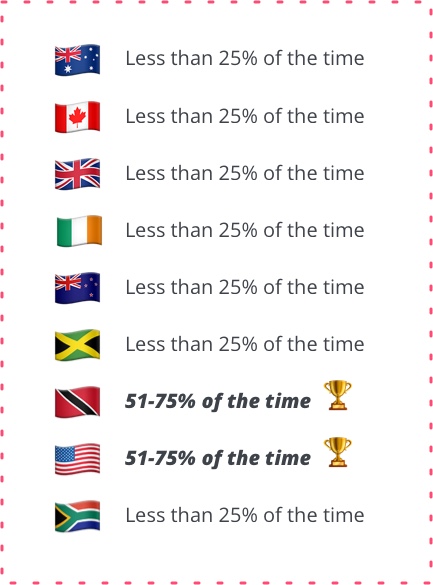 A quick note: most of the people we surveyed prefer to use emojis sparingly. While participants from most countries spice up their texts with emojis less than 25% of the time, participants from Trinidad and the US lean heavily on them, using them 51–75% of the time!
The Universal Language of the Internet
The next time you're updating your social media or sending a text, keep in mind what other people might think of your emoji choices. Culture and age differences can impact the way we perceive things, even with something as simple as a smiley face. But even if there are some misunderstandings, plenty of emojis are easily understood around the world. We would go as far as to call them the universal language of the internet! Tell us in the comments below what your favorite emoji means to you.
Author - Rachel Oaks
Rachel's catchphrase is "I'ma Google that." This go-getter writer has a talent for finding incredible and bizarre facts on the web, and she is happy to pass her knowledge on to you.